The Film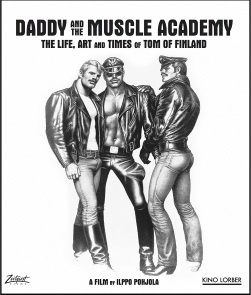 Although the name Tom of Finland is well-known among gay audiences as well as art enthusiasts with diverse tastes, little was known about the man behind the moniker Touko Laaksonen outside of his inner circle of friends. The artist behind pencil drawings of anatomically-impossible, macho male but unabashedly gay leather-clad bikers, cops, soldiers, and cowboys engaged in guilt-free and shockingly kinky sex that changed conceptions of gay masculinity, fashion trends, and other avenues of expression was an artist who entered the Finnish army in 1940 and then toiled at an ad agency for several years, developing his style as secretly as finding outlets for his sexual needs since homosexuality was illegal during the war and the years after. He would find celebrity in the United States before his native land thanks to the publication of his work by photographer Bob Mizer in his Physique Pictorial magazine, itself embattled in its early years by obscenity charges and vice raids. Daddy and the Muscle Academy presents a lengthy, wide-ranging interview with Laaksonen intercut with the recollections and anecdotes of his American peers, writers, and art critics as the documentary makes a case for his place in gay culture. In an audio interview with Mizer (who died the year after the film's release in 1992), he discusses coining the name "Tom of Finland" and their back-and-forth collaboration as Laaksonen was inspired by Mizer's photographs, and that Mizer turned a number of his drawings and graphic stories into Athletic Model Guild loops. Artist Nayland Blake discusses the originated of leather and rubber fetishism in Britain after the war, and how Tom of Finland's works depicting them created an "invisible network" between American and European gay communities. Laaksonen discusses his technique of seeking inspiration in existing photographs and photographs that he took which he would then modify (by means of drawing or pasting other objects onto them) before transferring the image to paper with further embellishments, with Blake making the case that the men as they turned out did not exist in real life but were recognizable as "perfections of type" (that being Laaksonen's notion of the "ideal Finnish type" in contrast to the American models while also embodying features that Laaksonen felt that he lacked). Dirk Dehner, co-founder of The Tom of Finland Company, recalls welcoming Tom of Finland to the US as part of a gay biker motorcade – illustrated with archival film footage – dealing with the pirating of his work, cataloguing his art, drawings, and collecting merchandise, as well as efforts to recover stolen pieces. Other topics include the use of uniforms – which not only harkens back to Laaksonen's war years during which he had sexual experience with German soldiers, but also has been defined as lampooning propaganda and its notions of masculine authority in soldiers, exaggerating the abuse of power of cops, and overall associating gay sex with the notion of "real men" (exploding the notion of the "third sex" as indeterminate) – the problematic use of women whose renderings Laaksonen was never satisfied with as they always came across as "cold", as well as the representation of black men as complementary and even reverential while adhering to negative stereotypes. Some of Laaksonen's early life in Finland is also discussed, including his twenty-eight year relationship with dancer Veli who died of throat cancer. The vocal testimonies of various offscreen gay men about the notion of being a "Tom's Man" in contrast to their notions of what being gay was when growing up are intercut with visual sequences in which various live models adapting various poses in attempts to embody Tom's men in the flesh (seemingly as much an attempt at audience titillation as a means for filmmaker Ilppo Pohjola to break up the visual monotony of talking heads with something creative).

Video


Released theatrically on VHS in the nineties by Zeitgesit Films Daddy and the Muscle Academy underwent digital remastering in 2001 with digitally recreated animation effects for its DVD editions – the US edition again from Zeitgeist Films in 2003 – and it is this version that was rescanned and restored in 2K in 2017 for exhibition to capitalize on the release of the Finnish biopic Tom of Finland (also on Blu-ray from Zeitgeist partner this month). Zeitgeist's 1080p24 MPEG-4 AVC 1.40:1 pillarboxed fullscreen transfer of this 16mm-lensed film is clean but not totally free of little bits of damage, while archival film and video footage is of more variable quality, and the sequences with the live models have some imperfect frames or shots (possibly through the addition of some noise reduction leading to some trailing grain that might also be an effect of a slower shutter speed used for the darkly lit sequence).

Audio


When the film was remastered in 2001, a new 5.1 mix was created for the DVDs, and this mix has been carried over to the Blu-ray in a lossless DTS-HD Master Audio encode in which the surrounds are employed mainly for music, the overlapping voices, and some effects to augment the drawings and animation. Optional English subtitles for the Finnish dialogue and English SDH subtitles for all of the dialogue are included.

Extras


While the DVD included roughly forty minutes of interview outtakes as an extra, the Blu-ray features an extra listed on the cover and menu as interview with Tom of Finland (97:18) that is actually the unedited rushes of the interview material used in the film, providing a much more linear testimony than seen in the film (where his comments are rearranged to compliment the subsections of the documentary). Tom's Sketchbook (9:04) is a slideshow of one hundred drawings for those who want to know what all the fuss is about. The disc also includes a trailer (0:47) and a trailer (2:11) for the Tom of Finland biopic.

Overall


Although the name Tom of Finland is well-known among gay audiences as well as art enthusiasts with diverse tastes, little was known about the man behind the moniker Touko Laaksonen outside of his inner circle of friends, and Daddy and the Muscle Academy was one of the first documentaries to shed light on him in his own words.