Charley Varrick AKA Kill Charley Varrick (Blu-ray) [Blu-ray]
Blu-ray B - United Kingdom - Powerhouse Films
Review written by and copyright: Rick Curzon (5th February 2018).
The Film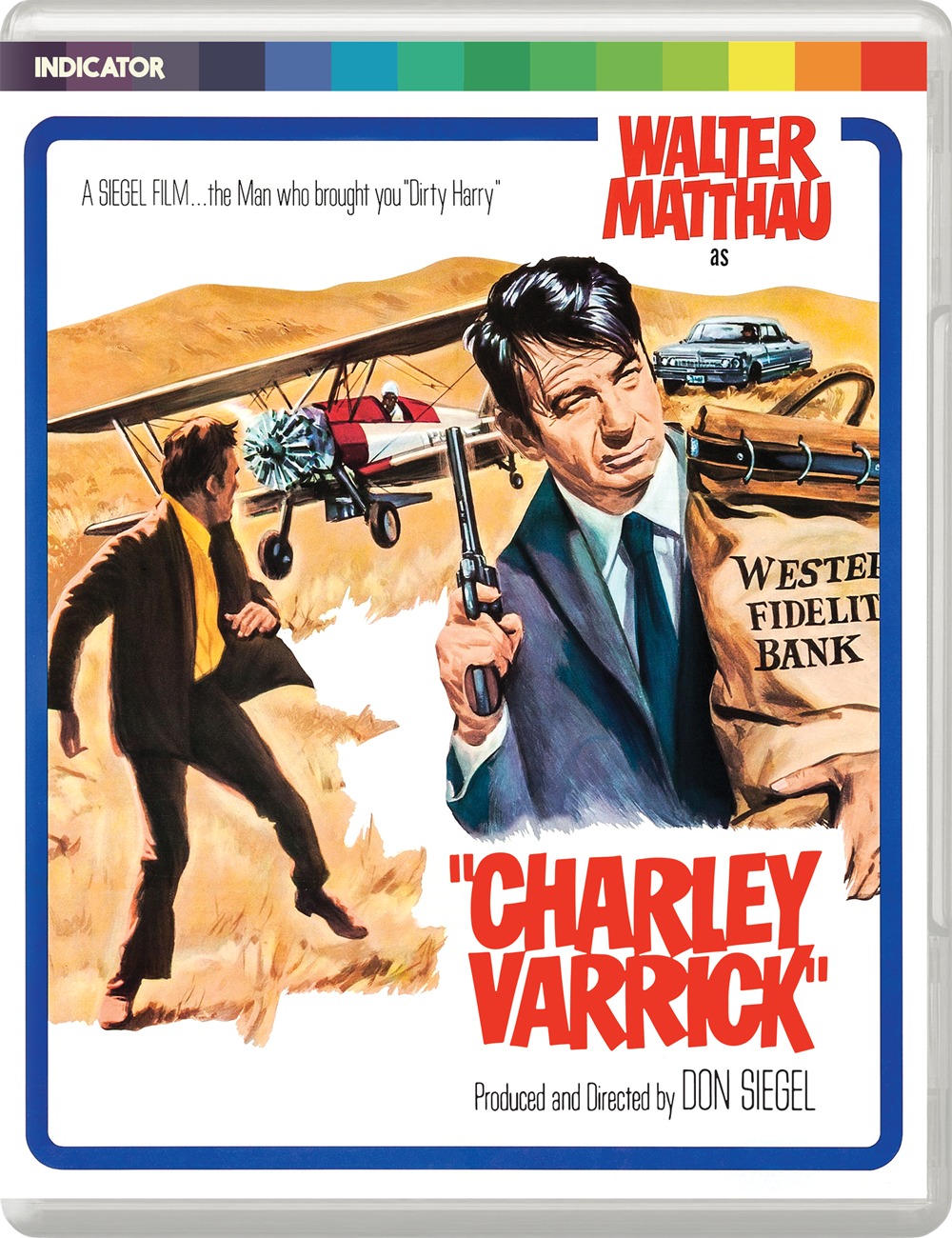 Charley Varrick (Walter Matthau) is a former stunt-pilot who makes his living robbing small banks in the American Southwest. His latest heist sees him unwittingly steal from the local mafia, setting a psychotic hit-man on his trail and unleashing a maelstrom of violence and destruction.

Directed by the great Don Siegel (Invasion of the Body Snatchers, Dirty Harry), Charley Varrick is one of the best thrillers of the 70s: action-packed, memorably lurid and gleefully unsentimental.

Video


A terrific effort from director Siegel with a great script and topnotch performances. Lalo Schifrinís score is in the vein of his work on Siegelís Dirty Harry (1971) and is typically effective.

This may well be taken from an older master but itís a corker. The film has that appealling de-glamourized look so popular at the time of itís making with a brown and red heavy colour palette; flesh tones are warm and look distinct.

The image is sharp as a tack, has a wonderful film-like appearance with plenty of appropriate grain. Detail is excellent in both fore and background. In every way the image is top notch and it goes without saying could only be improved by a modern 4K fillip and resultant UHD Blu-ray release. This has a very high, supportive bitrate which allows the image to breathe.

Colours, brightness, contrast are as good as can be achieved with the master and David MacKensieís encode is up to his usual high standards. There are no signs of damage or artefacts that I noticed.

1080/24p / MPEG-4 AVC / 1.85:1 / 110:35

Audio


English LPCM 1.0
Subtitles: English HoH

Solid mono track in lossless. Music and dialogue come over very well and sound effects donít invade causing one to need the subtitles. This film is a textbook example of how to score a film with it being used appropriately and sparingly with terrific use of silence and this track has it on itís best behaviour.

Subtitles have been provided which is a nice touch for those who need them. They should be mandatory on all DVD and Blu-ray releases at this point in the formatís lifespan.

Extras


ďLast of the Independents: Don Siegel and the Making of Charley VarrickĒ 2014 documentary (75:19)

First rate documentary about the making of the critically well received Charley Varrick a film that under performed at the box office and also seems to have been completely forgotten by the public and yet itís almost as good as the same teamís Dirty Harry (1971) which remains very much in circulation. Plenty of interview subjects here: stuntman and later action director Crag Baxley (Action Jackson), actors Andrew Robinson and Jacqueline Scott, Siegelís son Kristopher Tabori, composer Lalo Schifrin and Howard A. Rodman (the son of screenwriter Howard Rodman) all wax lyrical on the film and itís director and star.

ďThe John Player Lecture with Don Siegel: Conducted by Tony Sloman at The National Film Theatre, London in September 1973Ē (Plays as a commentary over the film) (73:59)

Siegel is surprisingly softly spoken but we have plenty of great tales of his career which would only last another nine years (his last film was Jinxed in 1982).

ďThe Guardian Lecture with Walter Matthau: Conducted by Tony Sloman at The National Film Theatre, London in August 1988Ē (Plays a commentary over the film) (88:42)

Laconic, irascible and occasionally racy; this fines Matthau at the top of his game answering questions from Sloman and the audience. Sound quality is excellent and it works well as a generalised commentary over most of the film.

Super 8 Version (Colour, sound) (17:34)

Grungy early ďhome videoĒ version which preserves every act of violence and many great lines. The image quality is better than some of these Iíve seen.

Theatrical Trailer (2:23)

Loud, hyperbole filled promo.

Trailers from Hell with Josh Olson and Howard Rodman (5:46)

Two men who are obviously very passionate about this superb film talk over the trailer. If you know the Trailers from Hell website than you know the deal.

Charley Varrick Image Gallery: Original Promotional Material (82 images)

Another fine still gallery with the usual collection of behind the scenes, production stills and advertising materials.

40-page liner notes booklet with a new essay by author and critic Richard Combs, Don Siegel on Charley Varrick, an overview of contemporary critical responses, and film credits

Combs fine article focusses on the film discussing editing, shots, the plot and where it fits within Siegelís oeuvre. I was particularly fascinated by his analysis of performances and how shots showed them off to their best; especially the discussion of the superb scene between Woodrow Parfray and John Vernon where their characters realise that the Mafia will be coming for them and Parfray lays out his whole life in one of the finest pieces of acting Iíve ever scene. For me one THE great scenes. Siegelís biography is represented by excerpts which find the tough guy director on fine irascible form as he berates stuntmen and moans about Matthauís attitude to the film; he disliked it and never understood it despite him getting some of the best notices of his career. Matthau badmouthed the film and as a result Siegel feels that the studio lost interest leading to it under performing at the box office. Excellent critical analysis of the film from Molly Haskel, Andrew Sarris and Tony Rayns. Haskellís is the most interesting in her analysis if the films female roles. Another superb and highly absorbing booklet from Indicator.

Overall


Excellent picture and sound are the pinnacle of this superb package. A classic underdog of mainstream Hollywood cinema that was well regarded by the critical fraternity but ignored and forgotten by the public. One of the finest action thrillers ever made and the extras package is second to none with a feature-length documentary and two vintage screen talks with the two main creatives (Siegel and Matthau). One of the Blu-rays of the year for me ... and itís only February!

Apparently this is one of Powerhouseís fastest ever sellers so those 3,000 copies are going to go fast; get it quick!
| | | | | |
| --- | --- | --- | --- | --- |
| The Film: A+ | Video: A+ | Audio: A+ | Extras: A+ | Overall: A+ |

---
DVD Compare is a participant in the Amazon Services LLC Associates Program and the Amazon Europe S.a.r.l. Associates Programme, an affiliate advertising program designed to provide a means for sites to earn advertising fees by advertising and linking to amazon.co.uk, amazon.com, amazon.ca, amazon.fr, and amazon.de.