Blue Collar (Blu-ray) [Blu-ray]
Blu-ray B - United Kingdom - Powerhouse Films
Review written by and copyright: Rick Curzon (6th February 2018).
The Film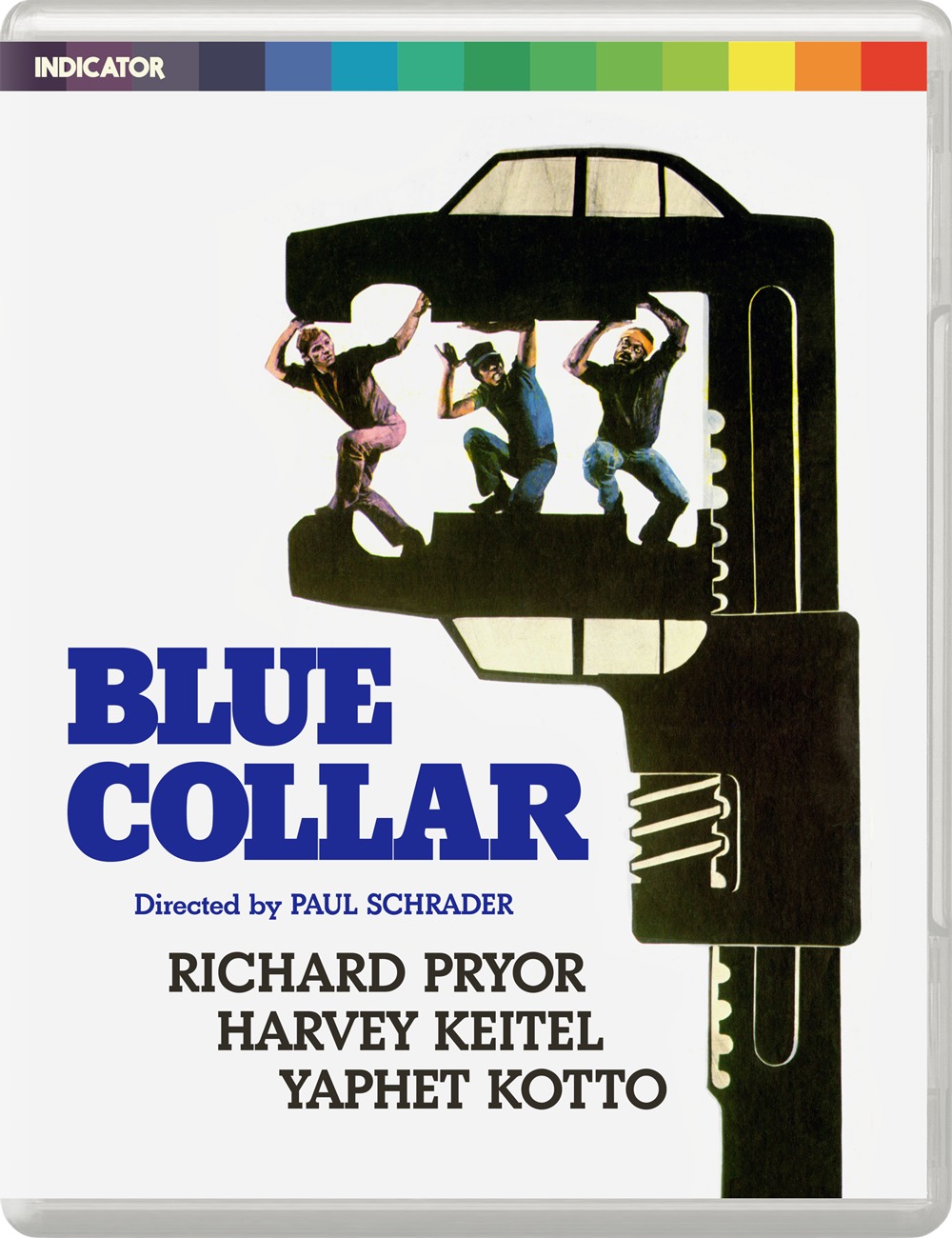 After writing Taxi Driver for Martin Scorsese, Paul Schrader made his directorial debut with this profane and profound drama about life on the factory floor of a Detroit car manufacturing plant. With explosive performances from the great Richard Pryor (Silver Streak, Stir Crazy), Harvey Keitel (The Border, Pulp Fiction) and Yaphet Kotto Live and Let Die, Alien), Blue Collar presents one of the most authentic portraits of working-class life in all American cinema, and is one of the finest films of the 1970s.

Video


Hard hitting, slice of life drama about Detroit autoworkers who are trying to make ends meet in a company that doesn't care and being members of a corrupt union. You can't fault the acting, writing or direction as all are as good as can be. But, boy is it a depressing, grim experience that offers little to no hope for it's protagonists. Very much a social drama with something to say disguised by the thriller elements.

Another older master and another great transfer. Like Charley Varrick (1973) this has a muted de-glamourized look that records the industrial and working class backgrounds in tones of brown, gray and black. Flesh tones are much more natural than those in the Siegel film which is again in keeping with this film's political stance as a gritty, realist drama.

The image is very sharp with plenty of detail in all focal levels and has that wonderful filmic appearance with plenty of grain. Once again this is in every way a great transfer that faithfully represents the film as shot. This has a maxed out bitrate which affords the film a generous amount of the BD50.

Colours, brightness, contrast are as good as can be achieved with the master and David MacKensie's encode is up to his usual high standards. There are no signs of damage or artefacts that I noticed.

1080/24p / MPEG-4 AVC / 1.85:1 / 113:32

Audio


English LPCM 1.0
Subtitles: English HoH

Solid mono track in lossless. Music and dialogue come over very well and sound effects don't invade causing one to need the subtitles. Ry Cooder's lowkey score is a marvellous counterpoint and doesn't ever hinder dialogue which comes through clearly. This being a talk piece that is very welcome.

Subtitles have been provided which is a nice touch for those who need them. They should be mandatory on all DVD and Blu-ray releases at this point in the format's lifespan.

Extras


Audio commentary with Paul Schrader and Maitland McDonagh
I've been a fan of McDonagh's writing ever since first reading her excellent book on Dario Argento back in the early '90s and she proves to be a measured moderator who gets the maximum of detail out of Schrader who is as fascinating commentator as he is an interviewee. Naturally there is some crossover with the other extras but this was such a troubled production it remains engrossing.


"Paul Schrader BFI Masterclass" 1982 National Film Theatre Lecture (plays as an audio commentary over the film) (106:43)
Another wonderfully detailed extended Film Theatre lecture with Schrader coming over as intense but calm and detail orientated. There's odd dropout here and there - the first time I've noticed that defect on one of these vintage lectures, but it doesn't hinder enjoyment.

"Visions: Cinema Q&A with Paul Schrader" 1982 featurette:
- Broadcast Version with 1982 Introduction by Tony Rayns (20:40)
- Full Interview with New 2018 Tony Rayns Introduction (57:39)

A choice here between the tightened up broadcast version of a vintage interview conducted by lauded film journalist Tony Rayns and the full, unexpurgated conversation. It was made when Schrader was in the UK promoting his the. New film Cat People. It was part of a strand featured on Channel 4 called Visions in which short episodes dealt with contemporary film.

"Keith Gordon on Blue Collar" 2018 featurette (12:11)

Excellent piece in which former actor now director Keith Gordon (Christine) discusses the film's influence on his career. He was always a movie buff and very interested in moving from acting to directing and Schrader and Blue Collar were big influences.

Theatrical Trailer (2:36)

Decent trailer sells the film well playing on highlights with plenty of soundbites from the three leads.

Blue Collar Image Gallery: Original Promotional Material (35 images)

A great collection of images and promotional material.

Trailers from Hell with Josh Olson (2:53)

Two men who are obviously very passionate about this superb film talk over the trailer. If you know the Trailers from Hell website than you know the deal.

40-page liner notes booklet with a new essay by Brad Stevens, archival interviews with director Paul Schrader, and film credits

Brad Stevens article focuses on the shifting tones in and influences on Schrader's film and also on the turbulent behind the scenes shenanigans brought on by the fact that Pryor, Keitel and Kotto all thought they were meant to be playing THE star of the piece and not part of an ensemble. Schrader's ongoing themes are also touched on; his fascination with driven, intense male, leads for instance. There's also a very detailed vintage interview with Schrader from Autumn 1978 which deals with his influences, the controversies over the original idea and with the turbulent shoot. Excellent stuff!

Overall


An eagerly awaited film that has appeared on Blu-ray only Germany previously. Apparently using the same master the Indicator release improves on that earlier disc with a first class MacKensie encode and a superb extras package. This is another killer set that no self respecting film buff should be without; a great Marxist film that mixes commentary on the plight of the working man with a thriller plot. Another candidate for one of the best Blu-ray's of the year?
| | | | | |
| --- | --- | --- | --- | --- |
| The Film: A | Video: A+ | Audio: A+ | Extras: A+ | Overall: A+ |

---
DVD Compare is a participant in the Amazon Services LLC Associates Program and the Amazon Europe S.a.r.l. Associates Programme, an affiliate advertising program designed to provide a means for sites to earn advertising fees by advertising and linking to amazon.co.uk, amazon.com, amazon.ca, amazon.fr, and amazon.de.