The Film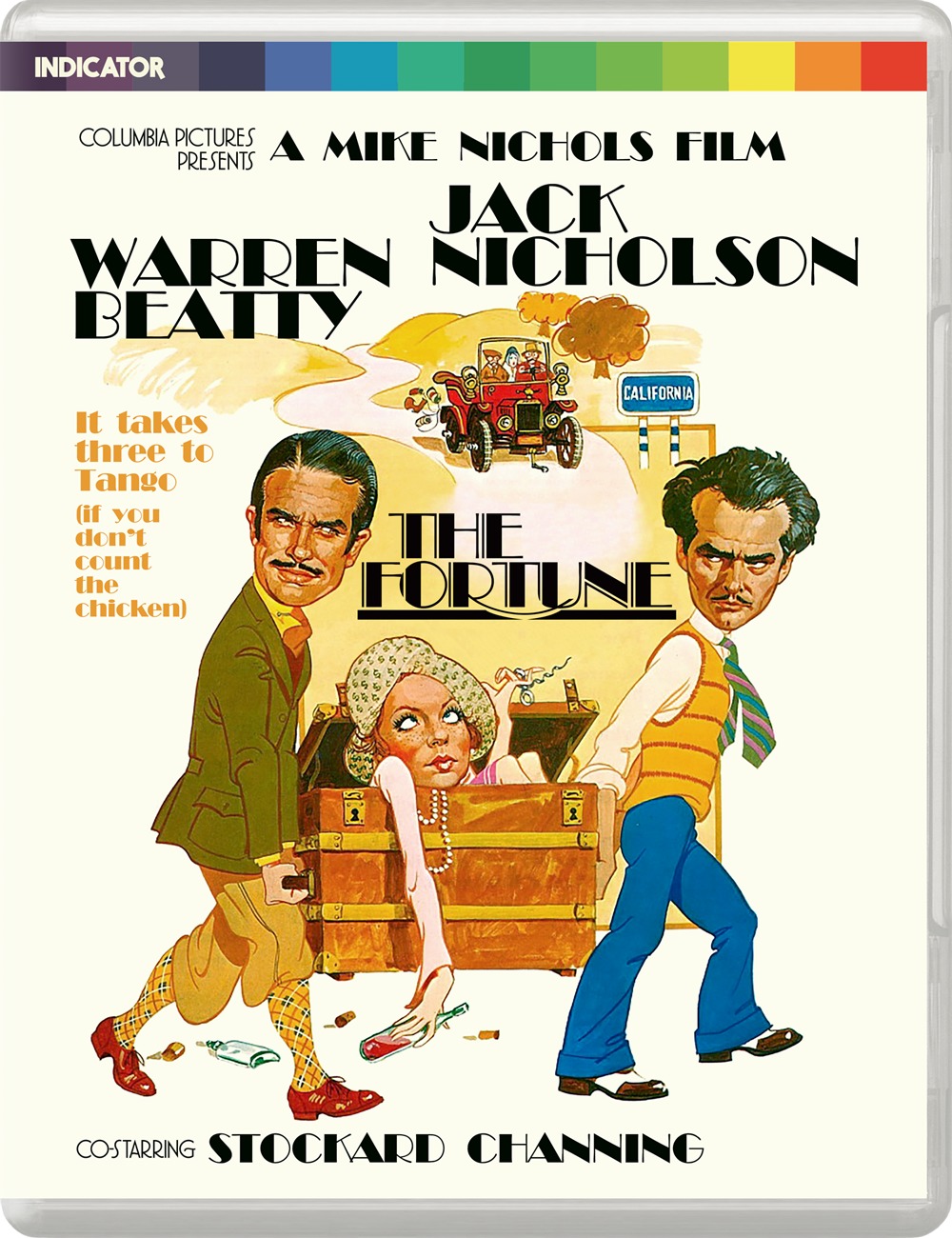 This high-concept, big-budget screwball comedy directed by Mike Nichols (The Graduate, Wolf) stars Warren Beatty (Mickey One, Bonnie and Clyde) as a slick con man and Jack Nicholson (One Flew Over the Cuckoo's Nest, The Border) as his dim-witted sidekick trying to get their hands on the fortune of a hapless young heiress played by Stockard Channing (Grease, The West Wing). A commercial failure on its initial release, this buoyant and beautifully staged madcap comedy is ripe for rediscovery and reappraisal.

Video


A disappointing, wrong headed misfire. The three leads are actually very good, especially Nicholson who is wonderfully madcap and sleazy and Channing who is funny, sexy and beautiful in a quirky unconventional way. Beatty is on less certain ground for him and he's more uneven although he doesn't disgrace himself. It's based on the Mann Act and as such has a very serious, nasty aspect at it's core that just doesn't really gel with the daffy moments which are very, very funny. Consequently it's hugely uneven in tone with some genuinely unpleasant moments. Everything else is a good as can be here with great sets, costumes, locations, music, direction, editing etc but no cigar overall.

Apparently screenwriter Carole Eastman's original screenplay was much more satirical and much longer before director Mike Nichols butchered it trying to force it into being a tribute to screwball comedy. She was fired and uses the pseudonym Adrien Joyce. It's not a disaster, but the end result just doesn't really work as it ought to.

On to the nitty gritty. We have yet another first rate transfer of an overlooked silver age feature film from a respected director trying something different. As a Panavision 2.35:1 production there is the expected softness and mild curvature at the edges of the frame but that is built into the format. The grain field is pleasingly present and very film like. This was a reasonably expensive period piece and and the colours are robust if not florid as this takes a less brightly coloured approach being set in the 1920s. Lots of browns, yellows, blacks etc.

Speaking of which, black levels are rich and deep with no obvious crush that I could see. There may be the odd very rare speckle but no other damage or print issues that I could see. encoding is excellent and there no signs of any artefacts. When all is said and done this is a minor film from 1974 and it's amazing that it's in such great condition and looks so spanking on this disc.

I suspect that this bests the US Twilight Time disc that utilises the same fine master. I can't speak for that disc but this one is on a BD50, duel layered disc with a large, supportive bitrate.

1080/24p / MPEG-4 AVC / 1.85:1 / 87:47

Audio


English LPCM 1.0
Subtitles: English HoH

The sound is standard mono circa a well financed Hollywood production from 1974. Music and dialogue are never at odds with the later coming over clearly. There are no sibilant or distortion issues that I could hear. The period tunes come over well and David Shire's (2010) score is a good one and is presented isolated in the extras package.

Extras


Audio commentary with Nick Pinkerton

Journalist and film programmer Pinkerton starts his track off with information on the Mann Act (1910) which was all about transporting women across state lines for immoral purposes which forms the basis of the plot. We have plenty of great stories about the cast, director and writer. He covers contemporary reviews, music on the soundtrack and where the film sits within director Nichols' and writer Eastman's oeuvre.

"Mike Nichols and Elaine May in Conversation" 2006 featurette (69:03)

Enlightening and extensive featurette is a Q&A with Nichols and May after a screening of Ishtar. It starts off with some funny stuff likening the plot of Ishtar as a metaphor for the Bush administration circa 2006. She patterned her comedy on the old Road films with Hope and Crosby. May's frustration at the lack of publicity for Ishtar is another great series of anecdotes. There's talk about the then current political situation and the Iraq war which leads to a discussion of Hollywood bullshit and likening advertising to a Hooker with clap.

"Professor Kyle Stevens on The Fortune" 2018 featurette (5:28)

Stevens puts the film in context of Nichols career and how it's failure sent Nichols back to Broadway for a number of years. I think he is reaching when he likens the two lead male characters as having a homoerotic connection and that Nichols made a "queer" film despite being a straight man. Still, it's an interesting piece.

Isolated Music and Effects Track

David Shire's bouncy score isolated for the edification of those who like isolated scores.

The Fortune Image Gallery: Original Promontional Material (20 images)

A smaller than usual collection of promotional pictures and posters etc.

32-page liner notes booklet with a new essay by Martyn Conterio, Nichols, Beatty and Channing on The Fortune, a brief portrait of Carole Eastman, an overview of contemporary critical responses, and film credits

Another excellent booklet with plenty of great writing on the film that makes me want to watch it again right away, this time from Conterio who gives us a fascinating piece on the film and it's woes; a 325 page script with no ending, a precious writer who didn't want any changes made and din't want to write an ending. Good stuff. The piece on the "precious" Carole Eastman was interesting in that it highlights the clash between artistic temperaments led to a film that falls between two stools. Interview quotes from the three leads down the years are always worth reading and finally we get a smattering of the "mixed reviews" the film garnered on release.

Overall


We have a decent older transfer of a fairly obscure and forgotten film that wasn't well regarded in it's day. It seems to be picking up some better notices these days but I wasn't terrible impressed. It wasn't a film that had been on my radar, but I'm chuffed to have had the opportunity to see it.

Fans however ought to be like a pig amongst the truffles with this more than acceptable special edition from Powerhouse Films as part of their Indicator Series (#71). The picture and sound are as good as can be given the archive holdings which are in excellent shale and are well served by an off the shelf master from Sony. The extras are wonderful across the board with the usual strong commentary, director lecture stunning booklet and other relevent ephemera.

I just want to say that Powerhouse's booklets have to be amongst the best of the form I've ever encountered are are worth the price of the disc on their own. Film buffs and fans should definitely invest in this excellent disc no matter what you think of the film itself.
| | | | | |
| --- | --- | --- | --- | --- |
| The Film: C- | Video: A+ | Audio: A+ | Extras: A+ | Overall: B |