The Film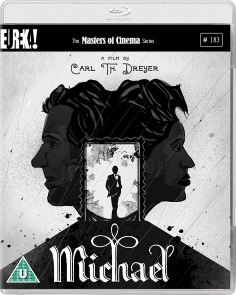 Claude Zoret (Witchcraft Through the Ages director Benjamin Christensen) is a celebrated artist who lives with his young protégé Michael (Lifeboat's Walter Slezak) who he thinks of as like a son. The sentiment is not shared, however, as once-aspiring painter Michael feels as though Zoret thinks of him as nothing more than the model who has inspired his successful works, silencing him in polite conversation with withering glares when he questions the master's perspectives on art. Zoret's live-in biographer Charles Switt (The Ship of Lost Men's Robert Garrison) also goes out of his way to inform Zoret about the current objects of Michael's infatuation when he goes out on the town. At one of Zoret's salons – during which the young Duc de Monthieu (Didier Aslan) first meets Alice (The Dreyfus Case's Grete Mosheim), the young wife of Mr. Adelsskjold (The Uncanny Room's Alexander Murski) – a discussion about fate and death inspires Zoret to announce that his next painting will portray Caesar being murdered by his adopted son Brutus; however, he agrees first to do a portrait at the persistent request of the destitute Princess Lucia Zamikoff (The Rules of the Game's Nora Gregor) who Switt suggests may be looking to "help her credit" socially with a painting. Michael is weary as of Lucia as is Switt, but they are not about to exchange confidences since Switt also sees the younger man as a user. Michael grows jealous as Lucia's sittings take up more of Zoret's time and she becomes a regular fixture in the household but eventually comes to understand that Zoret is frustrated by his inability to capture her inner essence and is soon drawn to her himself. When Zoret finds himself at a loss to capture Lucia's eyes, he tells Michael to try his hand at it and is dumbfounded by the results; more so later when a review of the piece cites the eyes as the only "true stroke of the brush" as if "painted by another hand." While Zoret has dismissed Switt's accounts of Michael's activities previously, he is angered when the other man tells him of Michael's assignations with the Lucia in his private apartment, accusing Switt of hating having to share a place in Zoret's life with the younger man. When a creditor comes to Zoret to collect on a loan taken out by Michael, Zoret covers the debt and starts a separate bank account for Michael to manage his own finances. When he tries to sell his Caesar and Brutus painting – presumably painted without Michael's sitting – to cover the money he paid out to cover the loan, however, he learns from art dealer LeBlanc (Universal's Dracula cinematographer Karl Freund, who also photographed the film) that the market is lukewarm for his work after the review of Lucia's portrait and the recent sale of "The Victor" a painting of Michael that he gifted to his protégé. Zoret instead buys back the painting privately at great cost and has it put back in place in Michael's apartment. Not realize that Michael has been borrowing money and selling items purloined from Zoret to cover the demands of Lucia's creditors, the great artist withdraws from society to paint his final masterpiece: "a man who has lost everything."

Although the subject of homosexuality had been breached in Weimar Germany, director Carl Theodor Dreyer's adaptation of gay author Herman Bang's novel Mikael – co-scripted by Dreyer and Thea von Harbou (Metropolis) – was not well-received abroad and, in some respects, not in its native Germany either as audio commentator Casper Tybjerg notes a critic's objection at the time to the portrayal of Switt as Jewish (as he is in the source novel). The film was indeed far ahead of its time in its non-judgmental approach to the ambiguous relationship between Zoret and Michael – it may indeed be father-figure and adopted son who must hold their intimacy in reserve in the company of others – with Zoret quite the opposite of the possessive older partner. However much Zoret may love Michael and crave his nearness, he does not seem to obligate the younger man for all he gives him (and perhaps comes to understand Michael's resentment even if his response comes across as affectionate but condescending). His deathbed motto is "Now I can die in peace, for I have seen true love," could refer to his understanding that Michael really is in love with Lucia, seeing his own true love of Michael in his final painting (which depicts him as the man who has lost everything against a backdrop derived from the Algerian sketches which represent shared happy memories for him and Michael), or perhaps the sincerity of Switt's concern for the suffering he goes through for Michael. Although Michael is the titular character, the finer shades of his character remain ambiguous, and Lucia even more so. Although Lucia's calling card introduces her as a princess, other characters referring to her as a countess – the reference of which in a review quotation in Philip Kemp's essay booklet of which is followed "(sic)" and is otherwise referred to throughout the essays as a princess – throughout may be a coded way of referencing her actual social circumstances even though the intertitles and the text of the review of her portrait refer to her as "fürstin" (princess). Is she a gold digger? Does she remain with Michael in the end because she truly loves him or because he will inherit everything from Zoret? Has Zoret's celebrated final masterpiece restored all that he has parted with to cover Michael's debts on the part of Lucia, including the painting he bought back? Although the adopted father-son relationship is just as possible to interpret from the film, the love that dare not speak its name – at least in other Western countries during this period – is more likely, and more intensely moving than the more traditionally melodramatic subplot triangle of the Duc, Alice, and her husband which fulfills the prophecy that "the last of the Monthieus will experience great happiness for which he will pay with his life." Although Dreyer's final silent film The Passion of Joan of Arc would be renowned for the power of its close-ups, and his first sound film Vampyr would find him at his most experimental, Michael employs a complex and stimulating visual vocabulary of its own with stately wide shots composed in depth, close-ups teaming with emotion of characters alone or in concert with one another in shot-reverse shot configurations of two or a triangle of three characters, lighting effects, vignettes, softening of focus, as well as flashbacks and the intercutting of scenes that either may be unfolding in parallel or the past illuminating the present as when widow de Monthieu (Wilhelmine Sandrock) wanders through the exhibition of Zoret's final painting inquiring as to the whereabouts of her son and we must cut to or flash back to the duel since no character there has the heart to tell her what has or is happening. Those who regard The Passion of Joan of Arc to be Dreyer's first masterpiece would do well to check out Michael.

Video


Previously released on DVD in the US by Kino and the UK by by Eureka as the third release on the Masters of Cinema line, both utilizing the 1992 photochemical restoration – with the US release featuring a "US version" with newly-created English intertitles and the UK featuring this version and the German with newly-created titles and optional English subtitles – Michael comes to Blu-ray in a 1080p24 MPEG-4 AVC 1.33:1 pillarboxed fullscreen transfer from a 2K scan of the same film restoration as number 183 in the Masters of Cinema series. The image quality is just as variable as before, sometimes from shot to shot, looking crisp at its best and unintentionally Vampyr-like at its worst. The intertitles are once again newly-created, and one assumes that the US version has not been included here because no one wanted to go through the trouble again of recreating English intertitles that were not authentic in the first place.

Audio


The sole audio track is an LPCM 2.0 stereo track featuring the Pierre Osser score from 1993 that accompanied both US and UK DVD editions. There is nothing to complain about since its "vintage" is considerably younger than the materials used for the image. Optional English subtitles accompany the intertitles. Although Lucia's calling card introduces her as a princess, her referral by others as "countess" presumably her actual social circumstances.

Extras


Extras include the audio commentary by scholar Capser Tybjerg from the US and UK DVDs. His approach certainly is "scholarly" in that he divdes the narrative of the film into five parts, describes them, and describes what aspects of the film's themes and production he will be discussing during those parts in his introduction. He points out the way in which all of the characters and their fates are revealed in the first seqeunce, the use of art to illuminate emotions, and the way in which the "hoary" subplot allows aspects of the main relationship to be conveyed in more generic terms. New to the set is a David Cairns Video Essay (17:24) in which he discusses Dreyer's life, source author Bang, notes the earlier Swedish adaptation of the book title Vingarne (Wings), suggests that Michael may not so much be growing out of a gay phase as prefering a younger partner or one with whom a power imbalance does not exist, and discusses the careers of the key participants (Slezak fled the Nazis only to become a character actor in Hollywood with one of his first major roles as a Nazi in Jean Renoir's This Land is Mine). Carried over from the UK DVD is an audio interview with Carl Dreyer (26:52) recorded in New York on the event of a screening of Gertrud, although it is noted in the preface that it includes no discussion of early works Michael, The Parson's Widow, of Master of the House. To make up for that, the collector's booklet featuring a new essay by Philip Kemp, a reprint of Tom Milne's "The World Inside Me from 1971", Jean Renoir's 1968 tribute "Dreyer s Sin", a translation of the original 1924 Danish programme, a reprint of Nick Wrigley's essay from the film's 80th anniversary DVD release, and a selection of archival imagery.

Overall


Those who regard The Passion of Joan of Arc to be Dreyer's first masterpiece would do well to check out Michael.