The Film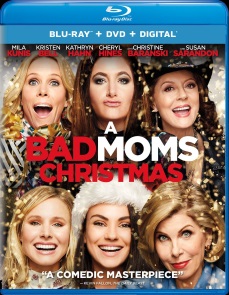 Suburban moms Amy (That '70s Show's Mila Kunis), Kiki (Veronica Mars' Kristen Bell), and Carla (Transparent's Kathryn Hahn) are sick of the all of the added stress Christmas brings to their lives with the competition and one-upmanship that goes into gift-giving, decorating, recitals, and parties ("Are these lobster Santa hats? Are these a thing now? What the fuck?") and are looking forward recapturing a simpler time with their children: Amy's Jane (The Beguiled's Oona Laurence) and Dylan (Krampus' Emjay Anthony), her boyfriend Jessie (Hostel's Jay Hernandez) and his daughter Lori (Stuck in the Middle's Ariana Greenblatt), Kiki's ADD twins and blue-balled husband Kent (American Horror Story's Lyle Brocato) , and Carla's dimwitted son Jaxon (The Free State of Jones' Cade Cooksey) and Ty (This is Us' Justin Hartley) the stripper who asked her out while she was waxing his scrotum. That all goes out the window, of course, with the sudden arrivals of their mothers: Amy's ice queen mother Ruth (Cybill's Christine Baranski) – accompanied by thoroughly browbeaten husband Hank (Sex, Lies and Videotape's Peter Gallagher) – Kiki's mother Sandy (Curb Your Enthusiasm's Cheryl Hines) whose lack of boundaries extends to stumbling upon Kiki and her husband having sex during her routine of creeping into their bedroom to watch her daughter sleep, and Carla's chain-smoking mother Isis (Thelma & Louise's Susan Sarandon) who was roadie for REO Speedwagon for fifteen years and only drops in when she needs money to feed her gambling habit or her get rich quick schemes. In the face of Ruth's plan to throw a Christmas party in her daughter's home with a hundred plus guests – not to mention dragging her and the kids along in her quest to win the Caroling Cup as well as take in a performance of "The Nutcracker" in its original five-hour version of massacred mice and warring dolls – Sandy's announcement that she has purchased the house next door to be closer to her daughter, and Carla's uncertainty as to whether her mother's newfound interest in spending more time with her daughter and her grandson is just a means of wheedling more money out of her, the three harried daughters make a pact to take back Christmas. Amy's aggressive response to her mother is no more effective than Kiki's more gingerly one to hers or Carla's caving in and cutting her mother a check, and the three are on the verge of destroying Christmas entirely for their loved ones.

An execrable sequel to the previous "women can be just as crude as men comedy" Bad Moms -- directed by screenwriting pair Jon Lucas and Scott Moore who have foisted The Hangover films, Ghosts of Girlfriends Past, Four Christmases, The Change-Up, and 21 & Over upon us – A Bad Moms Christmas is not just vulgar seems to go out of its way to be unpleasant in a desperate bid to edgy. Comedy is of the "more is less" variety with Hahn's beautician "waxing" on about "pussy" at work and then building and biting into a penis-shaped gingerbread cookie, erection sight gags, and the usual parents confiding too much about their sex lives to their children jokes. The taking back Christmas pact is never as anarchic as it could have been, and what sentimentality the film has rings false despite some character motivations that could have resulted in some real drama: while Amy is right in suspecting that Ruth's party is for her own self-glorification, Ruth does mention to her husband that this her grandchildren's first Christmas since their parents' divorce, while Sandy's clinginess to Kiki since her husband's death is turned into a "she's crazy because you've made her crazy" rant from the usually entertaining Wanda Sykes (The New Adventures of Old Christine). Bell and Sarandon seem embarrassed while wanting to be good sports, Hines is her usual grating self, Hahn is more caricature than character, while Kunis' only touching scenes are played opposite Baranski who is phoning it in here. While the film could have been a low point for Baranski and Razzie-nominated Sarandon – although her nosedive started two decades ago with Stepmom – there is a coda in which the three grandmothers decide to head to Vegas "to see Wayne Newton before he dies" that threatens yet another sequel.

Video


Shot with Red Epic Dragon cameras and Panavision lenses, A Bad Moms Christmas's 1080p24 MPEG-4 AVC 2.40:1 widescreen transfer sports vibrant holiday colors, crisp detail, and no distracting video noise even during the blue-hued party climax. It's a great-looking presenation of an unambitious production.

Audio


The sole audio option is a DTS-HD Master Audio 5.1 track that is heavy on the source music montages of Christmas music along with the usual forgettable pop and hip-hop pieces. Optional English SDH and Spanish subtitles are provided.

Extras


Extras include a gag reel (6:36) of unfunny gaffes, superflous additional scenes (3:52), crew music video (2:25), two Red Band trailers (4:45), and previews.

Overall


While the film could have been a low point for Baranski and Razzie-nominated Sarandon, there is a coda in which the three grandmothers decide to head to Vegas "to see Wayne Newton before he dies" that threatens yet another sequel.