The Film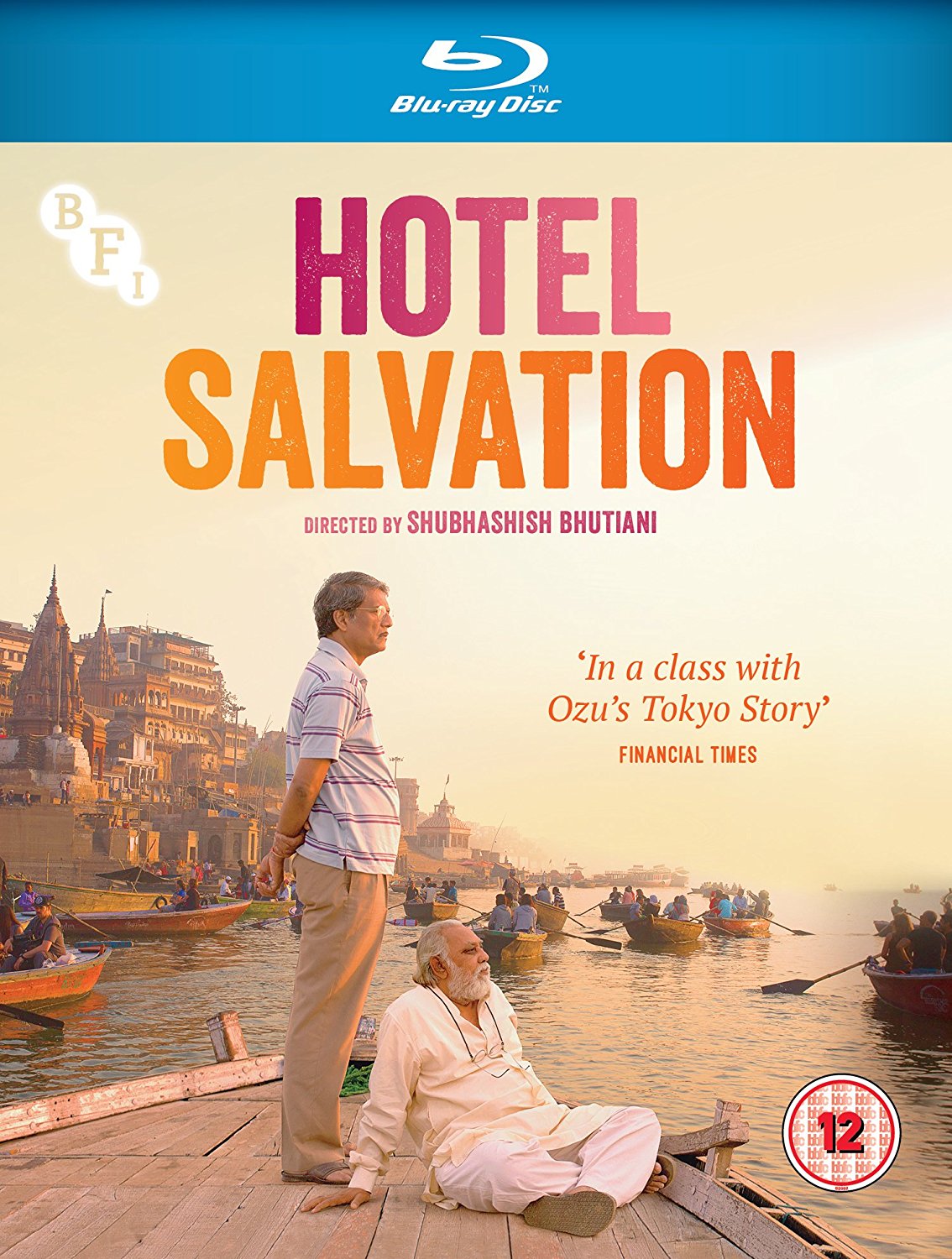 "Hotel Salvation" (Mukti Bhawan) (2016)

77 year old grandfather Daya (played by Lalit Behl) tells his family that he has a recurring dream recently that seems to be calling him towards death, and his wish is to be taken to the holy city of Varanasi where he would like to stay for his last remaining days. His son Rajiv (played by Adil Hussain) is extremely reluctant to take his father there and urges him to stop believing the nonsense and stay at home. But Daya is convinced and tells everyone that either he will be taken there, or he would go by himself. With no other choice but to accompany him for safety, Rajiv takes him on the journey to the holy city and stay at a place called Hotel Salvation. As he doesn't want to leave his father behind and having a sense that his father would eventually want to return home, he stays at the place which is filled with a handful of interesting people, mostly awaiting for their departure from the world.

Varanasi is the holiest of the seven sacred cities in Hinduism, resting on the Ganges and housing over a million people. A million may live there, but there are much more that arrive for tourism as well as religious reasons and that also includes awaiting death. In Hinduism, death is just a step towards rebirth. But it is said that if one passes in the holy city of Varanasi they will not be reborn and their soul will gain eternal salvation. What the character of Daya was hoping for was not a strange or outrageous request as some non-Hindus might think. A large number of people come to the city looking for the same result, away from hospitals or medicine to extend their lives just a little bit longer, they are looking to spend their final days in a place of peace. In addition, the hotel depicted in "Hotel Salvation" is not far off from reality. The 15 day limit on the stay, the patrons that could be there for a few days or for a few years, the relaxing freeness though with rules such as cooking and cleaning after oneself. There are a large number of these places located throughout the city offering cheap lodging but not exactly a place of service like a standard western hotel. Many people may look to a bucket list for the final remaining days or look at doing what they love to do in their last moments. But others look for true enlightenment. Not is it only about their final moments, but about what it means to experience death and look beyond that.

"Hotel Salvation" is not only about death. Nor is it a strictly dramatic work. At the center of the story is the relationship between a son and a father and the unusual road trip they take together. The characters of Rajiv and Daya are like night and day. Rajiv is a hardworking bureaucrat taking care of his family - his wife Lata (played by Geetanjali Kulkarni) and his daughter Sunita (played by Palomi Ghosh) who will be moving out soon due to an arranged marriage plans underway. He is conservative in values, quite old-fashioned, and tries to make his decisions logically in life. His father Daya on the other hand is more on the carefree side of life. He does not step out of bounds with craziness but he is one to do things that his son may not, such as teaching Sunita how to ride a moped and more. Their trip together and stay at the hotel is filled with many moments of awkwardness as well as togetherness. Their stay together starts to bond them together closer than while they lived at home, but is that enough time until time runs out? As said this is not just a drama but it is one filled with comedy. The family dynamic, the frustration the characters face during the Skype session, the cake scene does have its share of laughs and they all balance out the film very lovingly.

Films such as "Get Low" (2013) dealt with an elderly man who was ready to accept his own passing by arranging his own funeral. Films like "Little Miss Sunshine" showcased a family roadtrip featuring a yin/yang father/son dynamic - though the death in that film was more on the unexpected side. "Hotel Salvation" is a very Indian film in the sense of showcasing culture, but it is definitely not in terms of blockbuster Indian cinema. There are no song and dance numbers. There are no lavish setpieces. There are not a cast of hundreds. There has been a growing movement of independent Indian cinema over the years stepping away from the Bollywood norms. Filmmakers such as Anurag Kashyap, Ritesh Batra, Alankrita Shrivastava and many more have made challenging and sometimes controversial works in their native country going against the standards, and there has been a lot of recognition in their works which echo the independent and creative Indian directors from the decades past such as Ritwak Ghatak and Satyajit Ray. "Hotel Salvation" is the feature film debut from director Shubhashish Bhutiani, the 26 year old director who made a splash in 2013 with the short film "Kush" which won the Best Short Film prize at the Venice Film Festival and was shortlisted for the Oscars. Working with cinematographers David Huwiler and Michael McSweeney who he has both known since film school and produced by his father Sanjay Bhutiani, the film has a family dynamic behind the scenes as well as in front of the camera. It's not a film that shows off style and instead lets the environment and actors take the center stage, though there are some wonderful shots including a few extreme slow tracking shots throughout and great showcases of the colorful environment in Varanasi.

The film was first screened at the Venice Film Festival in 2016 with additional screenings at the Busan International Film Festival, Dubai International Film Festival, Sydney Film Festival and more, with a UK theatrical release on from August 25th 2017. The film won the Unesco Gandhi Medal in 2016, the Grand Prix Enrico Fulchignoni at Venice, and nominated for four awards at the Filmfare Awards and winning Best Screenplay. "Hotel Salvation" strikes a chord with it being an existential film, a road trip film, an odd-couple comedy, as well as a look at Hindu culture not glossed over in CGI and song - a reality check that crosses borders and generations.

Note this is a region B Blu-ray which can only play back on region B or region free Blu-ray players.

Video


The BFI presents the film in 1080p in the AVC MPEG-4 codec, in the theatrical 2.35:1 aspect ratio. Shot and edited digitally, the transfer comes directly from the production company Red Carpet Moving Pictures and looks very good. It is a brightly lit film with even some stylistic lighting choices done in night scenes, so dark blacks may not look as dark as they should be. The bright colors certainly stand out and the locations along the Ganges certainly stand out well. There are no errors in the transfer with the exception of one intentional scene in which Rajiv is calling his family on Skype with a weak connection (and seen in the last capture) for comedic effect. Overall a very good transfer from the BFI.

The film's runtime is 99:18.

Note the following screenshots are taken from the simultaneously released DVD edition from the BFI and not from the Blu-ray


Audio


Hindi DTS-HD Master Audio 5.1
The original 5.1 audio track is presented in lossless DTS-HD Master Audio. It is not a surround heavy film, though there are some occasional uses of effects, music, and sometimes off camera dialogue in the surround speakers. Dialogue is mostly kept centered, and there are no issues with levels as dialogue, music, and effects are well balanced. Due to some conditions such as scenes inside the car, dialogue can be a little more muffled than usual though nothing too distracting.

There are optional English subtitles in a white font for the film, translating the Hindi dialogue. It is well timed and easy to read with no spelling or grammar issues. Though in the scene they were discussing the rates with Dollars rather than Rupees or even British Pounds for that matter.

Extras


The extras on the disc have a "play all" function which play in the following order:

Hotel Salvation Q&A (26:28)
In this Q&A at the BFI Southbank took place on Jul 27th 2017, with director Shubhashish Bhutiani and producer Sanjay Bhutiani moderated by Gaylene Gould following a screening. The son/father team talk about the city of Varanasi, the writing of the script, the casting process, working with two cinematographers, as well as the independent cinema movement. In the latter half some of the questions come from the audience members.
in 1080p AVC MPEG-4, in 1.78:1, in English LPCM 2.0 with no subtitles

"The Making of Hotel Salvation" featurette (11:34)
This featurette uses rehearsals, behind the scenes footage, and interviews with the cast and crew, as they discuss the themes of the film, the music choices, casting choices, and more. Some of the sound is very poor during the Lalit Behl interview for some reason, but at least for that section it is in Hindi with subtitles.
in 1080p AVC MPEG-4, in 2.40:1, in English/Hindi LPCM 2.0 with optional English subtitles for the Hindi portions

Original Theatrical Trailer (2:06)
The original trailer is presented selling both the drama and the comedy.
in 1080p AVC MPEG-4, in 2.40:1, in Hindi DTS-HD Master Audio 5.1 with optional English subtitles

Original UK Trailer (1:40)
The full UK trailer is here, as a slightly cut down version of the original trailer.
in 1080p AVC MPEG-4, in 2.40:1, in Hindi DTS-HD Master Audio 5.1 with burned-in English subtitles

Original UK Teaser (0:31)
A short teaser is presented.
in 1080p AVC MPEG-4, in 2.40:1, in Hindi LPCM 2.0 with burned-in English subtitles

"Kush" 2013 short film by Shubhashish Bhutiani (25:13)
The directorial debut from Shubhashish Bhutiani and the Venice Film Festival award winning short is presented here. In 1984 Indian Prime Minister Indira Gandhi was assassinated by two Sikh guards which led to an onslaught of anti-Sikh riots across the country leaving thousands dead. In the short film, a teacher with her class of 17 elementary school students are returning from a field trip on a schoolbus when the news breaks out. As they have one Sikh child on the bus, they do what they can to shield him and hide him from the many angry mobs of police and citizens on the way home. The transfer looks great and sounds good, though there were one or two spelling errors in the non-removable subtitles.
in 1080p AVC MPEG-4, in 1.78:1, in Hindi LPCM 2.0 with burned-in English subtitles

"Panorama of Calcutta" 1899 documentary short (1:44)
Although it is labeled as "Calcutta", the footage taken from a riverboat on the Ganges is actually in Varanasi, taken at the tail end of the 19th century. The short is silent with no intertitles, though there is music accompaniment.
in 1080p AVC MPEG-4, in 1.33:1, LPCM 2.0

Booklet
A 20 page booklet is included. First is "Hotel Salvation and the New Indian Cinema" an essay by author and film producer Kaleem Aftab which discusses about the themes of the film and how it sits with the independent cinema movement of recent times. Next is a review of the film from Sight and Sound from September 2017 written by Naman Ramachandran. There is also words on "Kush" written by the director Shubhashish Bhutiani and notes on "Panorama of Calcutta" by BFI curator Jez Stewart. In addition, the booklet contains photos, film credits, extras credits, transfer information, and acknowledgements.

Overall


"Hotel Salvation" is a wondrous existential film that sits on a fine line of family drama and family comedy, with an exotic touch of India that is rarely seen in Indian cinema. With something so mature it does seem surprising that this was written and directed by a then-24-year-old director, and it will be interesting to see what he will do in the future. The BFI Blu-ray features very good video and audio as well as good extras making this a recommended release.
| | | | | |
| --- | --- | --- | --- | --- |
| The Film: A- | Video: B+ | Audio: B+ | Extras: B | Overall: B+ |