The Film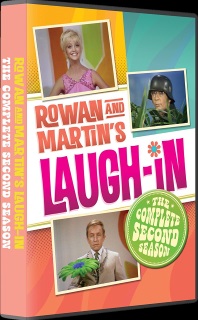 "From the heart of beautiful downtown Burbank," comes the landmark second season of Rowan and Martin's Laugh-in in which Republican presidential candidate Richard Nixon said "Sock it to me," Michael Wayne and Patrick Wayne showed up to reiterate their father John Wayne's assertion that he would not make an appearance, Tiny Tim was a fixture and Liberace sparkled, and director Otto Preminger got laughs with a stone face. Former nightclub duo Dan Rowan was the straight man and Dick Martin the parody of a ladies man whose conquests were punchlines. All the regulars are in place: Chelsea Brown (The Thing with Two Heads) made pointed racial commentary under the guise of jokes about the likes of Grand Imperial Wizard Margarine which you can only eat with white bread, i>Ruth Buzzi (The Being) as dowdy spinster Gladys Ormphby was usually the butt of her own jokes and did not wield her purse as freely here as on The Dean Martin Celebrity Roast, Judy Carne (All the Right Noises) manned the switchboards and often paid the price for uttering "Sock it to me" even when she had to be tricked into doing so ("It may be an epic poem to you, but it's 'saga to me'"), Henry Gibson (Nashville) spouted one-liners as a Catholic priest and absurd poetry in a Southern drawl, Goldie Hawn (Overboard) was the quintessential "dumbe" blonde, Arte Johnson (Love at First Bite) did several variations of his "very interesting, but…" as a bespectacled Nazi officer and beat Yakov Smirnoff's "In Soviet Russia…" jokes to the punchline with his own Rosemenko character, Dave Madden was marking time before his stint on The Partridge Family, Dewey 'Pigmeat' Markham maintained disorder in his "Here Comes the Judge" sketches, Gary Owens (The Green Hornet) allowed viewers to finally put a face to that "golden voice", Alan Sues (The Americanization of Emily) was just as flamboyant as Paul Lynde but actually out of he closet on television, and Jo Anne Worley hit the high notes even when she wasn't singing. Couple Mitzi McCall and Charlie Brill appeared in sketches about domestic strife while Gladys fended off propositions from decrepit masher Tyrone (Johnson). Guest stars included Hugh Hefner –quipping on the topic of stag films being "reviewed" in congress – Zsa Zsa Gabor, Jack Lemmon, Eve Arden, Robert Culp, Greer Garson, Kirk Douglas and his chin dimple, Sammy Davis Jr., Lena Horne, Rock Hudson, Rod Serling, Victor Borge, Phyllis Diller, Tony Curtis, Peter Lawford, Jack Benny, Bob Newhart, Peter Falk, Johnny Carson, Gina Lollobridgida, Connie Stevens, and Mel Brooks among others. Regular sketches include "Stranger than Truth", the much-imitated cocktail party, and the "Flying Fickle Finger of Fate" award for dubious achievements – just as timely as ever with their inaugural one to congress for "ignoring the wishes of two hundred million Americans and delaying passage of a gun control law" and another to the Wichita Rifle Company for making guns for children – while topics of the time included hippies and pot, the 1968 election, criticizing Vietnam while also criticizing Charles de Gaulle's criticism of American intervention, and several "Pole" jokes. The rapid mix of sketches (some the length of a single joke), one liners, cutaways to bemused and confused guest starts, and pre-recorded sight gags would be highly influential on subsequent sketch comedy shows.

Video


Time-Life does what they can with the broadcast video masters which are subject to the studio videography of the period with occasional distortion in highly saturated colors and hot spots in bright whites and light sources.

Audio


The Dolby Digital 2.0 mono audio is relatively clean with a low underlying hiss that is part of the original recording. While it is nice that English SDH subtitles have been included, they have been transcribed by someone with seemingly little knowledge of the period (guest star Robert Culp is listed in the subtitles as "Robert Folk" and Arlene Dahl is "Arlene Doll").

Extras


Disc one features three interviews. Dick Martin (20:42) discusses his early touring act with Rowan, gaining recognition with NBC co-hosting The Dean Martin Summer Show and appearances The Hollywood Palace, a pilot that was the forerunner for Laugh-in, as well as the show's influence on The Benny Hill Show. He also discusses the show's apparent politics, noting that the show was both credited and blamed for getting Nixon into office but also that they did approach Hubert Humphrey to do an appearance (like Nixon he was in the NBC building to shoot some promos) but he an advisor thought such an appearance would be "undignified." Gary Owens (20:25) recalls his audition with producer George Schlatter in a men's room in which his comment on the room's acoustics in his radio voice lead to him being cast as the announcer when he had previously been considered as just another member of the recurring cast. He discusses his earlier career and his later work, as well as how appearing on the show lead to subsequent on-camera appearances either as himself or as various radio announcers with his distinctive delivery. Ruth Buzzi (25:05) discusses working on the stage in musical revues on the East Coast and taking time off to audition for Laugh-in with the expectation that she would be returning, the mounting success of the show and her recognition in public, as well as revealing that Gladys was based on her earlier interpretation of Agnes Gooch in Auntie Mame and that the popular Laugh-in character is actually her least favorite.

Overall