Slaughterhouse Rock [Blu-ray]
Blu-ray B - United Kingdom - 88 Films
Review written by and copyright: Rick Curzon (18th February 2018).
The Film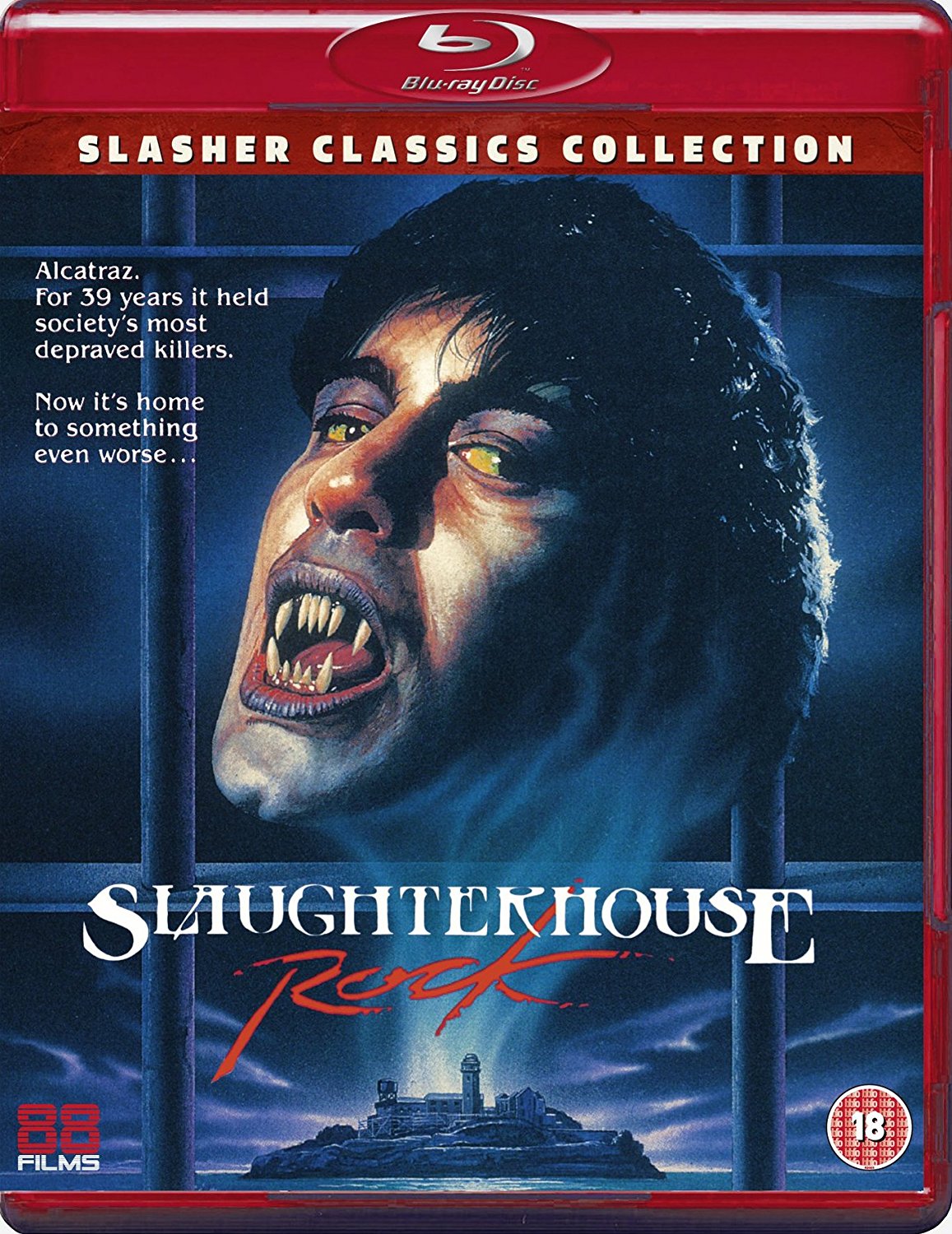 Alcatraz once housed some of America's most infamous criminals but nothing ever inhabited the island like the force of evil encountered by some unprepared youngsters in 1988's fever-dream surrealist horror SLAUGHTERHOUSE ROCK! Starring rock star Tony Basil and Playboy Playmate Hope Marie Carlton, this mainstay of VHS horror highlights plenty of plastic fantastic frights and plasma-spilling practical special effects galore. Clearly influenced by the NIGHTMARE ON ELM STREET series with its story of a supernatural stalker, SLAUGHTERHOUSE ROCK built up a well-deserved fan base of its own thanks to its marriage of eighties rock with esoteric horror and big haired babes screaming their lungs out! Finally gaining an HD bow from 88 Films - SLAUGHTERHOUSE ROCK is a terrifying trip into slasher movie history and a thrill ride of crazed and lurid images that no self respecting fear fan can afford to miss!!

Video


Entertaining, but deeply silly '80s cheese with Toni "Mickey" Basil as the ghost of a rock chick murdered along with her band whilst they performed at Alcatraz. Shot like a pop video and with a rock score by Devo this is amusing but daft and filled with ghosts, demons, big hair and gore effects that aren't completely convincing. The comedy highlight has Basil doing an interpretive dance routine ... or something; and the flashbacks showing her and her band's fate that she narrates are obviously meant to be tongue in cheek.

Being one of the most '80s looking films I've seen recently this has a typically diffuse MTV look which I love so visually this film is eye candy for me with plenty of haze, mist, backlighting and neon. I don't know for sure, but I'd say this transfer was taken from the OCN or at least an interpositive.

Grain is healthy and constantly present lending the film even more visual texture and detail is variable being especially noticeable in extreme closeups and in well lit daylight. Since much of the film is set at night it can suffer. However, I think this is most likely due to production limitations like time and budget constraints. The '80s grainy haze style also doesn't make it easy for detail to come through as much as a bigger budget studio production of the era. Cinematographer von Sternberg chose this look according to the booklet.

Encoding seems to be very good with no holes in the grain and even dark sequences being well handled. Black levels are rich and deep although there is some natural crush here and there which I put down to the production limitations. I saw no signs of any print damge.

I could detect no artefact issues like mosquito noise, aliasing, posterisation or macro-blocking.

1080/24p / MPEG-4 AVC / 1.78:1 / 85:23

Audio


English LPCM 2.0 Stereo
Subtitles: English HoH

This was made in Ultra-Stereo, the budget variation of Dolby Stereo popular for use on Hollywood productions at the time. It's a straightforward, low budget track typical of American genre fare at the time. The music and dialogue are firmly front centric and occasional surround activity does come through especially in atmospherics like wind and rain. Devo's rock score is well chosen and doesn't hinder the dialogue. Nice to see that there subtitles for the hearing impaired.

Extras


"Rock 'N' Shock: Back to the Slaughterhouse" featurette (9:43)

Excellent little piece with author Jim Harper discussing the film and it's place in horror film / slasher film history. You couldn't ask for a better interview subject; he wrote my go-to book on slasher films: Legacy of Blood: A Comprehensive Guide to Slasher Movies (2004). I've been wondering why we haven't seen Harper involved with more DVD / BD releases. Come on Jim, when are we going to get an updated volume?

Trailer (1:40)

Cheesy, flashy trailer utilises all the highlights and Devo's score to sell this nutty film hard.

Reversible sleeve

Choice of cover artwork with or without the "Slasher Classics Collection" theme. This is the only artwork I'm aware of for this film which had a fleeting US theatrical release before hitting the video shelves. It might have been better for this release to have the alternate UK cover (same art) but with the Hell's Island title.

8-page liner notes booklet "A Life in Focus: An Interview with Cinematographer Nicholas von Sternberg" by Matty Budrewicz & Dave Wain

An excellent little interview with cinematographer von Sternberg that initially discusses his background being the son of the famous Hollywood director and of an artist mum. It covers his career both in B-movie independents (like Dolomite and Disco 9000) and his mainstream films (Another You, Texasville) and then latterly his teaching career (since 2000).

Overall


Fans of horror and slasher films will welcome this great release which has decent image and sound quality. It could probably benefit from a new 4K scan and an expensive restoration which could perhaps glean more detail out of the haze, but that is unlikely to ever happen. Obviously if this ever comes to 4K UHD I'll be very interested.

Sound is lossless, robust and perfectly in keeping with the theatrical experience and could only be bettered by access to the sound stems and a 5.1 boost. Extras are also limited but choice and could be improved perhaps by an Hysteria Continues yaktrak, but I'm not complaining.

Fans can feel safe in ordering this generally excellent release that maintains the generally high quality of 88 Films releases. Well done 88 Films, keep 'em coming!!

| | | | | |
| --- | --- | --- | --- | --- |
| The Film: C | Video: B+ | Audio: A | Extras: B+ | Overall: B |

---
DVD Compare is a participant in the Amazon Services LLC Associates Program and the Amazon Europe S.a.r.l. Associates Programme, an affiliate advertising program designed to provide a means for sites to earn advertising fees by advertising and linking to amazon.co.uk, amazon.com, amazon.ca, amazon.fr, and amazon.de.