Sweet Sixteen AKA Sweet 16 (Blu-ray) [Blu-ray]
Blu-ray B - United Kingdom - 88 Films
Review written by and copyright: Rick Curzon (20th February 2018).
The Film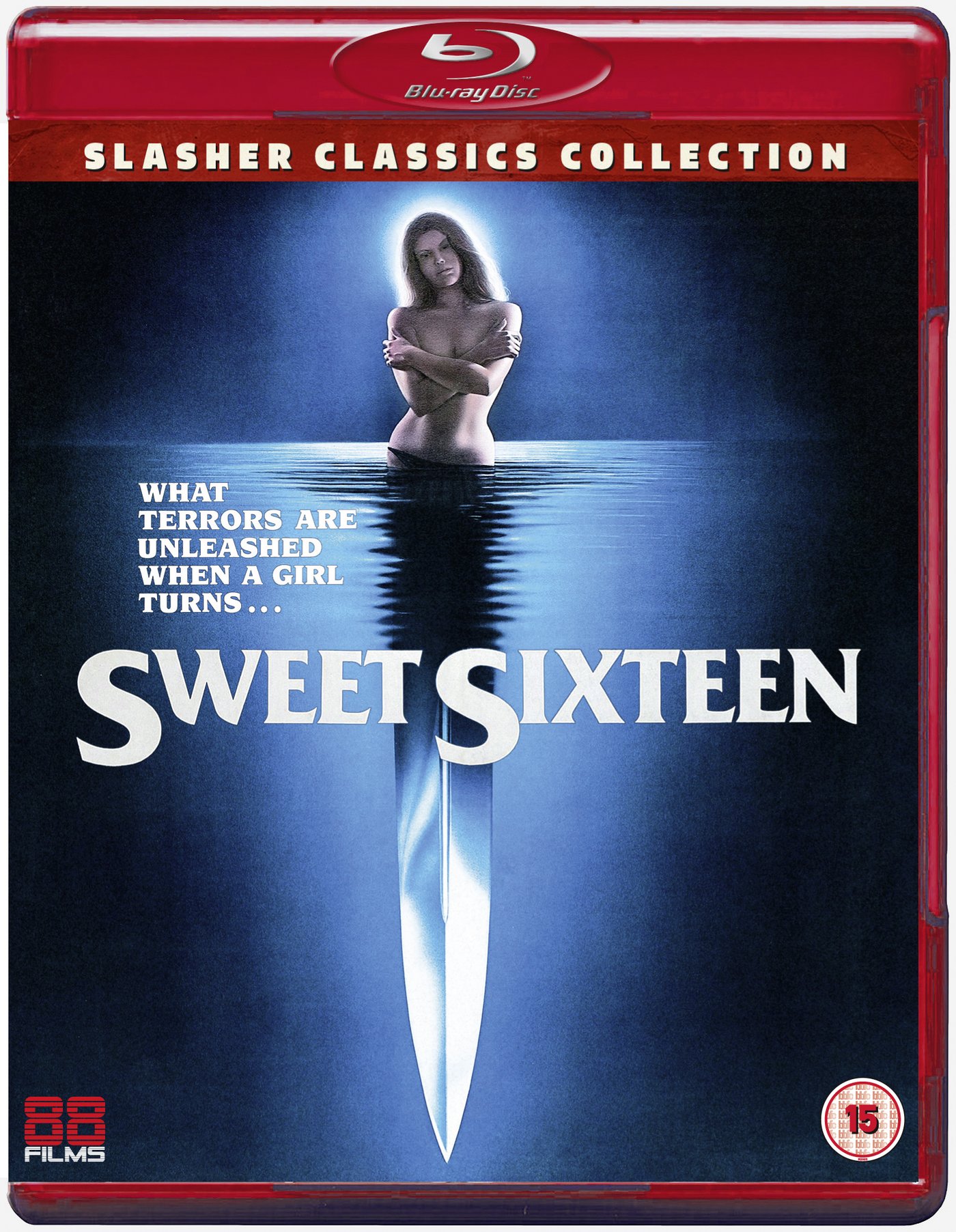 The year of 1983 was a fine time to be a slasher fan - with the genre creeping out classics from SLEEPAWAY CAMP through to HOUSE ON SORORITY ROW. And for those who embrace that golden age few knife-play flicks are as beloved as SWEET 16. With a top notch cast that includes Susan Strasberg (THE TRIP), Bo Hopkins (THE WILD BUNCH) and Scream Queen sensation Dana Kimmell (FRIDAY THE 13TH PART 3D), this tale of childhood trauma crafts a compelling whodunit mystery around some small town disappearances and a stack of dead bodies. Is the perpetrator male or female? And just what is going on with the boy-baiting Melissa... A mysterious and alluring presence who turns a tiny Texas community upside down with her sudden appearance. A tightly directed terror title SWEET 16 is a perfect addition to the 88 Films library and a slasher classic that will still spawn a few bad dreams!

Video


Professionally but indifferently made this was a bit of a chore with a low energy level and a poor pace; despite some old pros in the cast. A whack-doodle climax and explanation briefly enlivens the torpor but only for a few minutes. There's also an hilarious theme tune "Melissa" which rears it's unwelcome head a few times and caused me to chuckle.

The transfer has a thick, film like appearance which is welcome, and there is a healthy grain structure. Based on the detail levels I'd say this was transferred from the OCN or an interpositive. Detail is present up to a point but fabrics (for example) don't have the expected texture, especially in brightly lit sequences and detail disappears in the grain when scenes are darker, which will be down to the original cinematography and time constraints.

I suspect this was a low budget production shot fast and loose.

Colours are robust and the film has a generally warm set of colour values which lends the film a lusher look that many modern horror films which tend to favour a desaturated look. Black levels are generally excellent although (as with Slaughterhouse Rock) there is the odd bit of crush in dark scenes that's mostly down to production limitations.

The encode is good with no clumping of grain or holes and I could detect no digital artefacts. Apart from the opening post credits scene there is a very tiny amount of damage but it manifests itself is the odd speck. The opening dream sequence seems to have a little bit more damage but even there it is nothing to get in a tizz about. We have a strong transfer of a low budget, quickly made source and short of a new 4K scan with lots of expensive restoration work being done I don't think we can expect anything better ... unless 88 Films put this out on 4K UHD BD.

1080/24p / MPEG-4 AVC / 1.78:1 / 87:58

Audio


English LPCM 2.0 Mono
Subtitles: None

A pretty standard mono track typical of the period. Dialogue comes through loud and clear and music never interferes, unless you count the dreadful theme song ("Melissa") which assaults the ears periodically to much unintended laughter. It obviously lacks base and by comparison to a 5.1 boost, punch. A terrible shame that there are no subtitle options for the hearing impaired.

Extras


Audio commentary by The Hysteria Continues (Justin Kerswell, Joseph Henson, Nathan Johnson, Erik Threlfall)

As is typical for these guys they know their onions when it comes to slasher films. Kerswell also wrote Teenage Wasteland: The Slasher Film Uncut (2010) so we're in good hands. Subjects covered: the two different edits of the film, the mostly male nature of the victims, where each commentator first saw the film, the fact the film was shot in autumn 1981 before Kimmel's Friday the 13th, Part III and plenty of detail about the cast, crew and production.

"Birthday Bloodshed: Remembering Sweet Sixteen" featurette (10:23)

As with the Slaughterhouse Rock (1987) Blu-ray we have another excellent featurette with author Jim Harper discussing the film and it's place in slasher film history. You couldn't ask for a better interview subject; he wrote my go-to book on slasher films: Legacy of Blood: A Comprehensive Guide to Slasher Movies (2004). And again, I've been wondering why we haven't seen Harper involved with more DVD / BD releases.


Reversible sleeve

Choice of cover artwork with or without the "Slasher Classics Collection" theme and the Sweet Sixteen logos are different on the choices. Also, the images on the back cover on the reverse choice are extremely dark and indistinct when compared to the same ones on the primary choice.

This is the primary artwork for this film which had a limited US theatrical release before hitting the video shelves which is where most will have seen this. It might have been better for this release to have the alternate UK cover which had Dana Kimmel looking menacing.

Overall


Another stellar release from 88 Films in their beloved Slasher Classics range (well, I love them being a slasher film junkie). The image is as good as can be expected and the sound is solid. Extras are first rate and worth the price of the disc on their own although a meatier, longer retrospective would always bee welcome. One other demerit is that there is apparently two diffrent edits of this film and the Code Red DVD in the USA gave the viewer the choice. This really should have been carried over here to maximise the value of this release.

I'm extremely chuffed to have been afforded the opportunity to see this classic title from the heyday of slasher film epics and although the film itself proved disappointing for me personally, it has it's fans and this release is extremely good and well worth getting. I don't know how they manage it but 88 Films seem to have balanced quality and price extremely well with these releases and they never break the bank. So, slasher fanatics get out there and buy this disc!

I want to hear more from Jim Harper please.
| | | | | |
| --- | --- | --- | --- | --- |
| The Film: D | Video: A | Audio: B+ | Extras: A | Overall: B |

---
DVD Compare is a participant in the Amazon Services LLC Associates Program and the Amazon Europe S.a.r.l. Associates Programme, an affiliate advertising program designed to provide a means for sites to earn advertising fees by advertising and linking to amazon.co.uk, amazon.com, amazon.ca, amazon.fr, and amazon.de.