The Film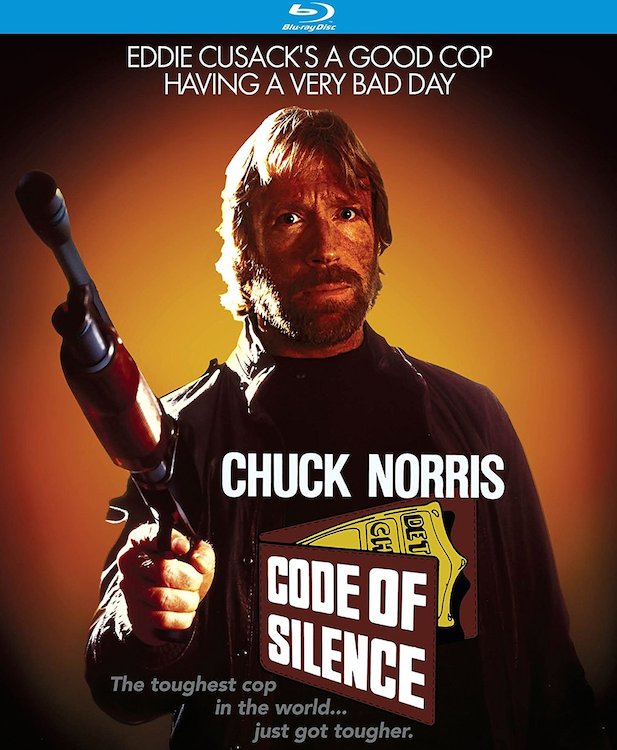 Back in the 80's, a time when men were still allowed to be men, testosterone ruled the box office when it came to action. Films were often sold not on a novel premise but by who would be wielding their weapons of choice – Arnold, Sly, Bruce, Bronson… and Chuck Norris. In the case of the latter, that weapon would usually be his hands & feet, since Norris was one of the few tough guys whose appendages were legitimately deadly. Unlike the others, Norris' films were not universally praised - not by a long shot. Since his debut leading role in "Breaker, Breaker" (1977), Norris has starred in fewer than 30 films total, his last being a cameo in "The Expendables 2" (2012), in which he only appears due to that series' central conceit. He has never had a film gross more than $23 million, and these days he is best known for "facts" than anything else.

Norris' filmography is better than the credit it is given, and there are many killer gems within his wheelhouse. It wasn't until the '90s rolled around – and Chuck started sporting a questionable mullet – that his films took a sharp nosedive into terrible territory. But, man, his work between "Breaker, Breaker" and "Delta Force 2: Operation Stranglehold" (1990) is pure fist-pumping, beer-swilling, ass-kicking, no-frills entertainment. "Code of Silence" (1985) isn't up there with the best of them, but director Andrew Davis, who would go on to helm "The Fugitive" (1993), lets Chuck do what he does best, story be damned.

Chuck Norris plays Eddie Cusack, a tough Chicago cop who works on a deep undercover unit. A scheduled drug bust on dealer Victor Comacho (Ron Henriquez) goes awry when rival mobster Tony Luna (Mike Genovese) and his crew surprise the Comacho gang, gunning them down and stealing money & drugs. The cops get caught up in the crossfire and Cusack's partner Dorato (Dennis Farina) winds up wounded. Even worse, as the police are combing a nearby apartment building old alcoholic cop Cragie (Ralph Foody) guns down a teen that scared him and, in order to avoid losing his job, plants a gun on the kid's body.

Victor's brother, Luis (Henry Silva), leader of the Comacho gang, orders a hit on the police after learning they were involved in the shootout. Tony Luna decides to leave town, but not before asking a trusted confidant to help protect his daughter, Diana (Molly Hagan). Eddie decides to tail Diana, hoping to gain intel on her father. Luis puts out a hit on the Luna family, too, and then Diana is the only one left alive aside from her father. Her safety isn't guaranteed for long, however, and soon Comacho takes her hostage, vowing to release her only after he gets his hands on Tony Luna. Eddie wages a one-man war against the gangs, taking his brand of justice to the streets and battling his way toward a man-to-man confrontation with Luis.

At 101 minutes "Code of Silence" outstays its welcome just a bit too long. The story bounces around, hitting the expected beats, with the only real salient moments coming when Norris flexes his muscle against the jobbers employed by Comacho and Luna. Like Bronson, Chuck has never been noted for his acting skills – in fact, Norris has less range than any of the 80's Tough Guys – but his ability to convincingly kick the ass of twelve men standing around him at a bar is nearly peerless. Here, with fewer scenes of him pounding paid goons the onus falls on Chuck to act his way through most of the running time. He does well enough, but again, fans don't watch these movies to see Norris' range.

The added subplot of police corruption and Eddie's odd-man-out position on Cragie's reinstatement add unexpected depth. While all the other cops are all-too-quick to sign a petition vouching for Cragie being a "good cop", Eddie knows the guy is cracking up and he should be off the streets. This stalemate puts Eddie in a compromised position, as he finds himself up against the armies of Chicago while many of his fellow officers turn their backs on a perceived traitor.

Can I just mention how perfectly cast Henry Silva is as a villain? Not just this one; but ANY villain he has played in his long career. That stone-faced gargoyle visage; the bulletproof chin; that suave hair – the man was born to play a powerful asshole and he does so with such relish.

"Code of Silence" is fairly by-the-numbers in terms of its plot, and although Davis does a fine job of keeping the action moving – as well as the locations – without Norris this would probably be a forgotten 80's relic. Norris' natural intensity and ability to play to his fans' expectations gives the film the panache it needed to be something more.

Video


The 1.85:1 1080p 24/fps AVC MPEG-4 encoded image is identical to the one MGM issued on Blu-ray back in 2012. There was nothing wrong with the picture then, and there's nothing wrong with it now. The transfer provides strong clarity and a mostly blemish-free viewing experience, with smooth (if not a bit heavy) film grain and solid contrast. Colors are well saturated and shockingly bright. There is an inherent softness to the image no restoration can fix, though it isn't much of a problem. The picture looks like a nicely polished film from 1985, which it is.

Audio


Composer David Michael Frank's score kicks off with a funky, jazzy opening that sounds clear and present thanks to a crisp English DTS-HD Master Audio 5.1 surround sound or a 2.0 stereo. No matter which you choose the audio soundly replicates the theatrical experience with a simple, straightforward, hard-hitting track that does the job and does it well. The previous release held only a 2.0 mono track, and although it appears to have been beefed up here the reality is this track doesn't have much in terms of surround activity so either option will serve well enough. Subtitles are available in English.

Extras


Unlike the old MGM BD, this release is stocked with bonus features, nearly all of which are a new audio commentary and new interviews with cast/crew members.

An audio commentary with director Andrew Davis is the first of several new bonus features included here.

"Interview with Screenwriter Michael Butler" (1080p) featurette runs for 10 minutes and 2 seconds.

"Interview with Actor Ron Dean" (1080p) featurette runs for 9 minutes and 47 seconds.

"Interview with Actress Molly Hagan" (1080p) featurette runs for 12 minutes and 58 seconds.

"Interview with Composer David Michael Frank" (1080p) featurette runs for 12 minutes and 28 seconds.

The original theatrical trailer for "Code of Silence" is included and runs for 2 minutes and 38 seconds.

Bonus trailers (1080i/p) are included for the following:

- "The Package" runs for 2 minutes and 18 seconds.
- "An Eye for an Eye" runs for 1 minute and 52 seconds.
- "Hero & the Terror" runs for 1 minute and 26 seconds.
- "Delta Force 2" runs for 1 minute and 41 seconds.

Packaging


The single disc comes housed in a standard Blu-ray keep case.

Overall


Not as much fun as some of Norris' other affairs, "Code of Silence" is the rare picture wherein Chuck Norris has to act and be serious more than running from place to place, kicking ass and getting names. It doesn't always work but it's a bit of a pace-changer and that isn't such a bad thing. The cast is stocked with recognizable names and faces and Davis knows how to keep the action feeling fresh.
| | | | | |
| --- | --- | --- | --- | --- |
| The Film: B- | Video: B | Audio: B- | Extras: B- | Overall: B- |