Brannigan [Blu-ray]
Blu-ray A - America - Kino Lorber
Review written by and copyright: Robert Segedy (20th February 2018).
The Film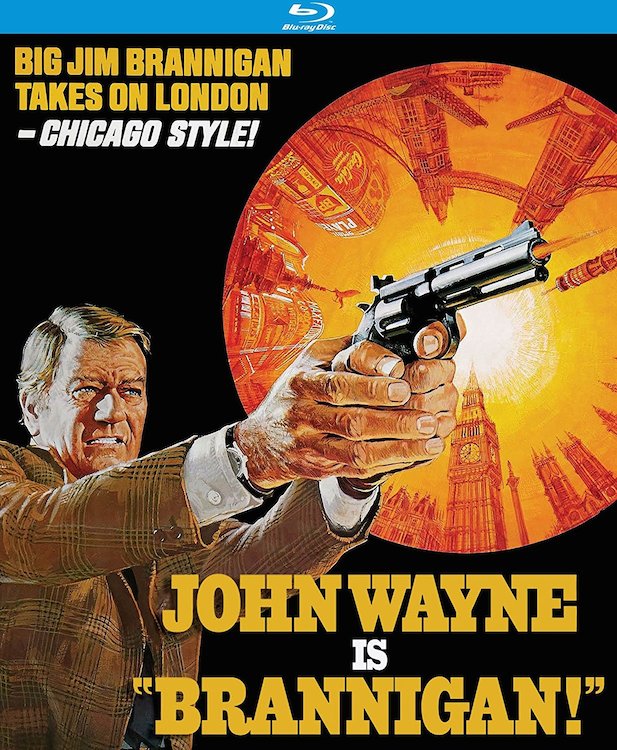 It is 1975 all over again and that means that police violence is A-OK with the audience and that the crowds are down with the antics of screen legend John Wayne as Lieutenant Jim Brannigan, a Chicago policeman sent to the U.K. to escort notorious bad guy Ben Larkin (John Vernon) back to the states after he has taken it on the lam, but not before Larkin has placed a bounty on Brannigan's head. After some brief scenes in Chicago, it is off to jolly old England where Brannigan is paired up with Detective Sergeant Jenny (Judy Geeson) and here he meets Commander Swann (Richard Attenborough) of Scotland Yard.

The proverbial fish out water plot has Brannigan playing cat and mouse with a kidnapped Larkin all the while being pursued by a hit man, Gorman (Daniel Pilon) and you know that he is a hit man because he wears darkly tinted glasses and he has very few lines; the action moves the plot along swiftly and the heavy handed gags keep on coming as Brannigan insults the Brit's idea of justice and no, he won't surrender his firearm. Some may find this film to be a joyful find, but I suffered through Wayne's acting because I had to; he is essentially a cowboy shoehorned into a cop film with some exotic locales used as substance.

The dictionary defines the word brannigan as "a drinking spree" or a "squabble" and there are plenty of both of these throughout the film. Since this is qualified as an action film, there is plenty of that as well, but please do not strain to understand the reasons for a knock down brawl in an English pub, or why the Duke needs to hijack an innocent bystander's new car and pursue a villain in a crazy chase scene. The screenwriters, four of them, obviously felt that audiences could not forget that this was a John Wayne film, and so they essentially cut and paste various plot elements into the film, with the aforementioned fight scene feeling as if it had been literally lifted from a poor Howard Hawks film. So yes, you get plenty of Wayne, inevitably being the bad American, as he cruises from scene to scene, talking the tough guy talk and walking the tough guy walk, giving his costars what for and basically being one dimensional, until finally, he boards the plane back to the states.

Video


Presented in widescreen 2.35:1 mastered in HD 1080p 24/fps using AVC MPEG-4 compression. The film looks rather soft in some scenes, skin colors look a tad limp; this is probably as good as this film can look, regardless of being on Blu-Ray.

Audio


English DTS-HD Master Audio 2.0 Mono sound is included, it's nothing to write home about, the audio is presentable with the soundtrack kicking in a bit during the more rousing actions scenes. The soundtrack by Dominic Frontiere is enjoyable and sounds dated it (well, it is from 1975 after all), the film also includes optional subtitles in English for the hearing impaired.

Extras


The disc features an audio commentary by Stephen Mitchell, producer of "King Cohen: The Wild World of Filmmaker Larry Cohen" (2017), and film historian Nathaniel Thompson. Available as a secondary audio track throughout the film in Dolby Stereo. Plenty of discussion, but more information regarding Wayne and his films than this film in particular.

The original theatrical trailer is included (2:21).

There are also a collection of bonus trailers:

- "Legend of the Lost" (3:32)
- "Thunderbolt and Lightfoot" (1:59)
- "The Taking of Pelham 123" (2:32)
- "The Laughing Policeman" (3:35)

Overall


Nothing really interesting here at all except a snapshot of swinging London in the 70's with the Duke giving you a rushed tour of the sites.
| | | | | |
| --- | --- | --- | --- | --- |
| The Film: B- | Video: B | Audio: B+ | Extras: C+ | Overall: B- |

---
DVD Compare is a participant in the Amazon Services LLC Associates Program and the Amazon Europe S.a.r.l. Associates Programme, an affiliate advertising program designed to provide a means for sites to earn advertising fees by advertising and linking to amazon.co.uk, amazon.com, amazon.ca, amazon.fr, and amazon.de.