Snorkel (The) (Blu-ray) [Blu-ray]
Blu-ray B - United Kingdom - Powerhouse Films
Review written by and copyright: Rick Curzon (24th February 2018).
The Film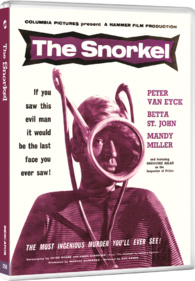 Four classic thrillers from the vaults of Hammer Films released on Blu-ray for the very first time, including premiere presentations of the complete, uncensored UK theatrical release versions of Val Guest's The Full Treatment and Cyril Frankel's Never Take Sweets from a Stranger and a host of new and exclusive extra features. This stunning Limited Blu-ray Edition Box Set from Indicator is strictly limited to 6,000 numbered units.

Never Take Sweets from a Stranger
Cash On Demand
The Full Treatment
The Snorkel

Video


Early Hammer thriller is a fun little movie with a gimmicky plot about murderer Peter Van Eck killing his wife and making it look like suicide with the help of a snorkel (don't worry about spoilers, he's shown doing this in the opening scene). Mandy Miller as the annoying teen step daughter who is on to him and the story becomes a "how will she prove it" mystery. The best aspect of this is it's amazing B&W lensing by Jack Asher which looks stunning on this new disc. As for the film, a solid, middle of the road Hammer Horror thriller with a decent script, good performances and effective direction and production.

Shot in the matted ratio of 1.66:1 (and probably safe up to 1.85:1) this was made very early on in the Hammer Horror glory years not long after The Curse of Frankenstein (1957) and around the same time of Dracula (1958). At this point the meticulous and exacting Jack Asher was the company's main cinematographer and he was busy establishing the visual template for which Hammer would become justly celebrated. Sadly, economics being what they are his time consuming methods would not be tolerated long term and by the early '60s Asher had moved on.

The Snorkel looks ravishing on Powerhouse Films new disc with a splendid balance of contrast and darkness displaying plenty of highlights and lovely, velvety deep blacks with absolutely no signs of crush. The contrast ratio is so good details in some of the darker areas (Gregoire Aslan's suits for instance) still stand out. Background detail is sharp as a tack and closeups are ravishing with skin and fabric textures very much in evidence.

Much of this film is set in bright sunny daylight and consequently has a plenty of eye candy on offer for those of a technically minded disposition. The grain field is very fine and dense with David Mackensie's encode handling everything supremely well. No clumping or holes in the grain to distract, even when the viewer sits extremely close to the screen or is watching the image projected large.

The picture remains sharp and clear throughout with the only notable degradation being at obvious moments where optical effects are used; usually at scene changes and in the credits sequences. There are no signs of print damage that I noticed and it would seem the source materials have been looked after beautifully. Also no signs of digital artefacts or tinkering with the image such as DNR or edge enhancement.

A stunning looking disc.
1080/24p / MPEG-4 AVC / 1.66:1 / 90:16

Audio


English DTS-HD Master Audio 1.0 Mono
Subtitles: English HoH

Most of the discs I'm sent to review are lossless mono and my comments tend towards being much of a muchness on that score. This is very much a dialogue heavy film and it's obviously the main focus of the soundtrack. Nice and clear with no distortions in the recording that I could detect and Francis Chagrin's melodramatic score never gets in the way of the plot and used very judiciously; a common trait I find of cinema from this era. With Van Eck and William Franklyn at the fire this is one of those films of the era of great men's wear and silky voices which come off particular well here.

Extras


Audio commentary with Michael Brooke and Johnny Mains

Authors and journalists Brooke and Mains headline a detailed chatty track that charts the background to Hammer in the build up to The Snorkel; it came just over a decade into their postwar revival. It was sold as part of three film package with The Camp on Blood Island and Revenge of Frankenstein to Sony and marked a long a lucrative partnership. They also point out the fundamental flaw in the use of the snorkel in the plot. Hitchcock is touched on as are the usual rounds of production trivia, filming dates, location shooting and indeed the various locations themselves, the budget, the trend of the charming serial killer.

"Undercover Killer: Inside The Snorkel" featurette (20:58)

Another in the range of "Inside" featurette retrospectives with Jonathan Rigby, Jo Botting and John J. Johnston. Botting is new to these are acquits herself well, with Rigby and Johnston being their usual affable, knowledgeable selves with plenty of trivia on hand.

"Hammer's Women: Kat Ellinger on Betta St John" featurette (10:23)

The chief editor of Diabolique magazine covers the career of St. John an American actress who was quite well known in the 1940s and 1950s. She appeared in roles opposite Richard Burton and Cary Grant.

"Peter Allchorne and Hugh Harlow Remember The Snorkel" featurette (7:48)

Allchorne Hammer's floor props chargehand and Harlow, second assistant director in a shart piece about their experiences working on The Snorkel on location in Italy. A pleasurable experience for both.

"Four-Note Fear: David Huckvale on Composer Francis Chagrin and The Snorkel" featurette (23:18)

Huckvale is a force of nature and always at his best with a piano at his side as he discusses a film's score and the composer concerned. In this case Huckvale discuuses the life and career of Romanian born, "light composer" Chagrin who wrote many scores for films and TV commercials.

Original Script Ending (9:58)

An alternate ending preferred by scriptwriter Sangster has a much darker resolution to the tale.

Theatrical trailer (1:54)

A trailer typical of the period.

The Snorkel Image Gallery (42 images)

The usual round of stills both behind the scenes and promotional.

28-page liiner notes booklet with new writing on the film by Kat Ellinger, an excerpt from his book on Hammer by Jimmy Sangster plus an overview of contemporary critical responses

Ellinger's excellent essay focusses on the unique nature and feminist credentials of the character of Mandy in the film. Also touched on are the film's place in the Hammer cannon, specifically the studio's thriller strand that been providing Hammer with it's bread and butter before they hit on gothic horror and scifi. The excerpt from Jimmy Sangster's excellent Inside Hammer (2001) is well chosen and the affable writer is on fine form describing the genesis and making of The Snorkel. If you can find a copy of the book for a reasonable price, snap it up. Last up is the usual roundup of contemporary reviews with the general view being that the film was nothing special.

Overall


A largely forgotten little Hammer gem gets the deluxe treatment as the first film in the superb 4-film set, Hammer Volume Two: Criminal Intent. It's typical of the films here. All are B&W and image quality is superb as is the lossless sound; at least good as they could possibly be shy of full blown 4K UHD releases.
| | | | | |
| --- | --- | --- | --- | --- |
| The Film: B | Video: A+ | Audio: A+ | Extras: A+ | Overall: A+ |

---
DVD Compare is a participant in the Amazon Services LLC Associates Program and the Amazon Europe S.a.r.l. Associates Programme, an affiliate advertising program designed to provide a means for sites to earn advertising fees by advertising and linking to amazon.co.uk, amazon.com, amazon.ca, amazon.fr, and amazon.de.