Never Take Sweets from a Stranger AKA Never Take Candy from a Stranger (Blu-ray) [Blu-ray]
Blu-ray B - United Kingdom - Powerhouse Films
Review written by and copyright: Rick Curzon (25th February 2018).
The Film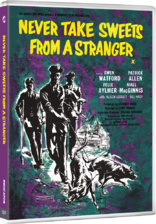 Four classic thrillers from the vaults of Hammer Films released on Blu-ray for the very first time, including premiere presentations of the complete, uncensored UK theatrical release versions of Val Guest's The Full Treatment and Cyril Frankel's Never Take Sweets from a Stranger and a host of new and exclusive extra features. This stunning Limited Blu-ray Edition Box Set from Indicator is strictly limited to 6,000 numbered units.

Never Take Sweets from a Stranger
Cash On Demand
The Full Treatment
The Snorkel

Video


Hammer melodrama based on a stage play, The Pony Cart (1954) about a family dealing with the possible molestation of their daughter by local town bigwig Bill Nagy's old dad (Felix Aylmer). Beautifully crafted and I'm sure very shocking in it's day, this does seem a tad unconvincing looked upon from a 2018 standpoint with the sexual politics being dated; Gwen Watford's mother is somewhat hysterical and sidelined in favour of Patrick Allen's stoic father. Very well acted and directed this is a fascinating artefact.

Shot in the Hammerscope ratio of 2.35:1 by Academy award winning cinematographer Freddie Francis this was one of a handful of dramas aimed at a more serious market than the studios usual output; see also Yesterday's Enemy and Hell is a City (both 1959).

Never Take Sweets from a Stranger looks strong on Powerhouse Films new disc. As with the the other three films in this set, this has a splendid balance of contrast and darkness displaying plenty of highlights and lovely, velvety deep blacks with absolutely no signs of crush. The contrast ratio isn't as robust on both Never Take Sweets from a Stranger and The Full Treatment due to them being shot anamorphically which lends the image a slight softness when compared to the two non-anamorphic films in the set. However, this is not to say that the image is any way lacking. The images are about as good as can be expected given the transfers provided by Sony and shy of a 4K release.

Background detail is sharp and closeups are ravishing with skin and fabric textures very much in evidence. The grain field is very fine and dense with David Mackensie's encode handling everything supremely well. No clumping or holes in the grain to distract, even when the viewer sits close to the screen or is watching the image projected large.

The picture remains sharp and clear throughout with the only notable degradation being at obvious moments where optical effects are used; usually at scene changes and in the credits sequences. There are no signs of print damage that I noticed and it would seem the source materials have been looked after beautifully. Also no signs of digital artefacts or tinkering with the image such as DNR or edge enhancement.

Another winner from Powerhouse Films.

1080/24p / MPEG-4 AVC / 2.35:1 / 81:10

Audio


English DTS-HD Master Audio 1.0
Subtitles: English HoH

This is a dialogue heavy film and it's obviously the main focus of the soundtrack. Nice and clear with no distortions in the recording that I could detect and Elizabeth Lutyens score never gets in the way of dialogue.

Extras


"Conspiracy Theories: Inside Never Take Sweets from a Stranger" featurette (24:36)

Another in the range of "Inside" featurette retrospectives with Jonathan Rigby, Jo Botting and John J. Johnston. All are up to their usual affable, knowledgeable selves with plenty of trivia on hand. Obviously the focus here is on the touchy subject matter of Never Take Sweets from a Stranger which is still very relevant today.

"Hammer's Women: Laura Mayne on Gwen Watford" featurette (7:59)

A straightforward summation of Watford's career made interesting by Mayne's delivery.

"An Interview with Janina Faye" featurette (14:23)

Faye was an experienced child actress by the time she did Never Take Sweets from a Stranger as she had appeared as little Tania in Dracula (1958) amongst many other roles and would also appear in The Two Faces of Dr. Jekyll (1960) later in the same year. She discusses her Hammer roles with fondness here.

"Matthew Holness on Never Take Sweets from a Stranger" featurette (11:52)

The creator of Garth Marenghi's Dark Place (2004) is also a major film buff and Hammer fan and talks passionately about Never Take Sweets from a Stranger.

"The Perfect Horror Chord: David Huckvale on Composer Elizabeth Lutyens" featurette (43:10)

Maestro Huckvale cuts loose on a the life and career of Elizabeth Lutyens in his most detailed and extensive analysis of a Hammer composer yet covering many of her film scores with a focus obviously on her Hammer and Amicus work.

US theatrical Trailer (2:29)
Trailers from Hell with Brian Trenchard Smith (3:21)

Trenchard-Smith is a great raconteur and in the late '60s worked on many film trailers and specifically Hammer trailers. He discusses eloquently as usual this most controversial of Hammer dramas. I also agree with Trenchard-smith regarding the X-certificate granted to Hammer. Socially conscious film or not, it should not be something that should be widely seen by children at the time.

Never Take Sweets from a Stranger Advertising and Publicity Gallery (34 images)
Never Take Sweets from a Stranger Press Material (48 images)

Plenty of great vintage images both in front of and behind the camera.

40-page liner notes booklet with new writing by Julian Upton, a reprint of the introduction to an information brochure on the film Hammer issued, an article on the film vs the BBFC by Jeff Billington and excerpts from the films promotional manual issued by Hammer

Upton covers the background to the film thoroughly discussing the plot and the behind the scenes aspects of the film. The introduction taken from Hammer's brochure stresses the worthy aspects and serious message and we even get an endorsement by magistrate Sir Basil Henriques which was used at the time to promote the film's worthiness and the serious message. A detailed analysis of Hammer's dealings with the BBFC over the film and the controversy surrounding it's release.

Overall


One of the hardest films to see in Hammer's catalogue and one of their more serious minded and socially conscious efforts. We have a yet another peach of a transfer from Powerhouse Films which presents Freddie Francis' shadowy cinematography to it's best advantage. The sound is up to par and the extras package is thorough and satisfying. The film is very much a timepiece in terms of it's sexual politics but the theme of child molestation and murder is very timely.
| | | | | |
| --- | --- | --- | --- | --- |
| The Film: B | Video: A | Audio: A+ | Extras: A+ | Overall: A+ |

---
DVD Compare is a participant in the Amazon Services LLC Associates Program and the Amazon Europe S.a.r.l. Associates Programme, an affiliate advertising program designed to provide a means for sites to earn advertising fees by advertising and linking to amazon.co.uk, amazon.com, amazon.ca, amazon.fr, and amazon.de.