The Film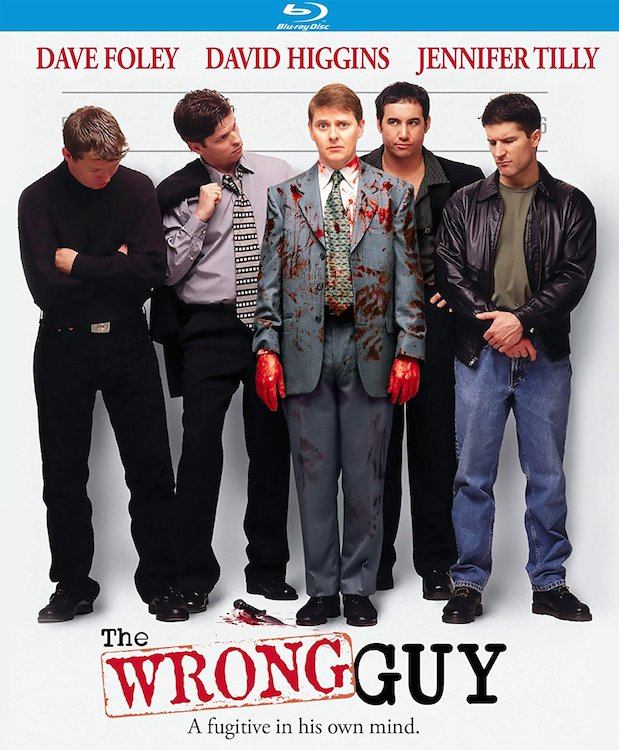 According to my IMDb research, Dave Foley has headlined one feature film in his career, that being the subject of this review, "The Wrong Guy" (1997), and it is more than apparent why. Although Foley cut his teeth splitting sides as a member of "The Kids in the Hall", a comedy troupe with its own eponymous show that ran from 1989-1995, his singular attempt to segue into a leading comedic man doesn't fare so well. Spoofing Alfred Hitchcock's love of wrongly-accused persons, Foley and his writing partners drafted up a screenplay that actually works quite well. The problem is Foley; more specifically, his acting. He's a guy who works well in spurts, doing sketches on "The Kids in the Hall" or playing a snarky supporting character to someone with greater comedic timing and delivery. But here, Foley seems woefully inadequate for the part, which is, again, a shame because the material shows promise that is never quite fully realized.

When milquetoast executive Nelson (Dave Foley) gets passed over for a big promotion he had been expecting – from his future father-in-law, Mr. Nagel (Kenneth Welsh) no less – he snaps and quits, threatening his boss while being dragged away by security. When Nelson settles down and goes to Nagel's office to smooth things over he finds the man dead, knifed in the back of the neck. Nelson does the sensible thing: grabbing the knife, pulling it out, getting himself covered in blood, and then running from the office, screaming, holding the knife, covered in blood. Everyone in the building sees this gory scene and Nelson knows it, so in order to avoid being arrested for a crime he didn't commit, he runs.

What he doesn't know is there was video surveillance in Nagel's office. The police view the video and very clearly see the real murderer, as well as watching Nelson make an ass of himself. The cops put out an A.P.B. on their suspect, while Nelson continues his self-imposed fugitive mindset. During his journey Nelson keeps crossing paths with the actual killer (Colm Feore), who believes this bumbling fool is following him for one reason or another. Nelson also meets Lynn (Jennifer Tilly), a local farmer's daughter who has a bad case of narcolepsy.

This is a film where the comedy is predicated on stupidity more than wit or anything resembling sharpness. The conceit and some moments are genuinely amusing, and there may have been one or two bits that elicited a hearty guffaw, but overall this movie is far too dumb to be engaging. Foley is his own worst enemy, portraying Nelson as a screechy-voiced, inane, spastic nebbish with half a brain and no common sense. The scene where he comes upon Mr. Nagel's dead body is excruciatingly executed, with Nelson making every stupid decision in the Big Dumb Idiot Book, nearly causing me to reach for the "stop" button on my remote out of sheer panic knowing there would be 80-ish more minutes of THIS. Although, as a big of counterpoint my girlfriend thought it was much funnier. Comedy may be the most subjective genre of them all, so if the premise or players are intriguing then maybe potential viewers will find my opinion doesn't align with their own.

Video


Looking very much like a film straight out of 1997, the 1.85:1 1080p 24/fps AVC MPEG-4 encoded image is slightly flat, though there is a pleasing level of definition and the overall consistency of the picture is surprisingly strong. Film grain is moderate, providing a nice filmic look without smothering the image. Contrast is tight; colors show accuracy and good saturation. The print is clean and did not exhibit any signs of damage or debris.

Audio


An English DTS-HD Master Audio 2.0 stereo track capably handles delivery of the dialogue and sound effects. This is a talky picture, with more emphasis on line delivery than a gripping score, and every word is discernible with no hissing, pops, or other deficiencies. Sound design is limited but the bigger effects that require a bit of weight behind them receive it. There are no subtitles.

Extras


The only real bonus feature included is an audio commentary track with director David Steinberg, star/co-writer Dave Foley, co-star/co-writer David Higgins, and co-writer/actor Jay Kogen.

An original theatrical trailer (SD) runs for 1 minute and 35 seconds.

Bonus trailers (1080i/p) are included for the following:

- "Delirious" runs for 2 minutes and 22 seconds.
- "Life Stinks" runs for 2 minutes and 1 second.
- "Miracle Beach" runs for 2 minutes and 1 second.

Packaging


The single disc comes housed in a standard Blu-ray keep case.

Overall


Good concept, decent execution, poor choice for leading man. Foley should have handed this off to a more capable comic but the appeal to star in his own film was likely too great – and who can blame him? Too bad the results prove otherwise.
| | | | | |
| --- | --- | --- | --- | --- |
| The Film: D+ | Video: B | Audio: B | Extras: C- | Overall: C |