The Film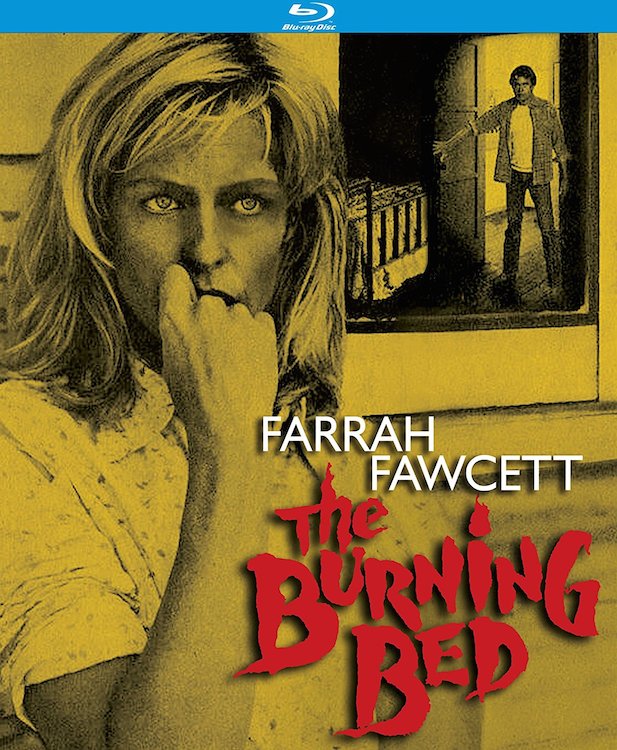 The image most hot-blooded American men have in their mind of Farrah Fawcett is likely her infamous 70's poster, hung on millions of walls, mechanic garages, bathrooms, and anywhere else it could fit. That image defined an entire generation of adolescence. Fawcett was more than just a pretty face, though, and she proved it by taking on a role that allowed her money maker to be abused and damaged. "The Burning Bed" (1984) is a landmark TV movie for many reasons: it was a breakthrough dramatic role for Fawcett; it highlighted the trauma experienced by battered housewives; and, it became a ratings hit, exposing millions of Americans to an epidemic to which many were unfamiliar. Based on the true life story of Francine Hughes, the film is a tough watch, but also a necessary one. It's almost too incredible to believe there was a point in time when a clearly abused woman had no recourse through police unless they witnessed her husband being abusive. Otherwise, it was treated as "he said, she said" and dropped. A tipping point was coming – and it eventually came, in March of 1977, when Francine acted out the film's title and silenced her alcoholic, abusive husband once and for all.

The film opens with Francine (Farrah Fawcett) hurrying her three children out to the family car before going back inside her home, lighting a blaze, and driving off as the inferno explodes. Francine is arrested shortly thereafter. In jail, she meets with her lawyer, Aryon Greydanus (Richard Masur), who sees this as an un-winnable case… until Francine finally opens up and begins to tell her story. It begins as most love stories do, with the initial meeting between woman, Francine, and man, Mickey (Paul Le Mat). At first Mickey is slightly charming, just enough so he can try getting into Francine's pants. But she's a good girl who won't budge on sex until there's a ring on her finger, so, in a blind rush of ecstasy Mickey asks Francine to be his wife… practically just so they can have sex.

The already-rocky relationship quickly becomes a mistaken marriage as Mickey's abuse ramps up past verbal and into the physical realm. After the two have their first child, Francine considers herself "locked in" and any thoughts of leaving Mickey are scuttled for concern of the child's well-being. Mickey's drinking increases, as does his love of domestic abuse. Striking Francine in front of party guests is done as nonchalantly as offering a beer. Francine literally has no one to turn to as both Mickey's parents and her own mother suggest "dealing with it" and sticking with Mickey, both for the kid (soon to be plural) and because "it's not that bad, right?" Yea, sure… Even with a growing brood Francine makes a firm decision to divorce Mickey and go back to school. Not long after, Mickey nearly dies in a car accident and is left bedridden for some time, prompting empathy from Francine. Cautiously optimistic, she allows her now-ex to stay in her home both for his betterment and the kids'. But an abuser is an abuser is an abuser and all events finally lead Francine to her combustive final option.

This is a rough film made rougher with the knowledge these events are true. Hollywood has a history of non-fiction fabrication but, if anything, Francine's abuse was worse than what is depicted on screen. By all accounts, such as the few on her Wikipedia page, Mickey was a rotten son of a b*tch who excelled at mental torture and prolonged abuse. It's no wonder Francine was SPOILER ALERT - found not guilty by reason of temporary insanity at her trail - END SPOILER. At times it almost feels like the film is piling it on too thick; the repetition of seeing Mickey beat Francine, she runs to find some aid, and is rebuffed, occurs time and again. And this is important because it drives home the futility of her actions. Even calls to the police do no good since, as they explain, if they don't see Mickey assaulting her it's simply his word against hers – even with bruises and fresh wounds plastered all over her face. Seeing how Mickey treats his wife, even in front of his own parents, should be enough to make any viewer want to snap – and this is over the span of a feature film. Imagine Francine, living this for years…

Fawcett gives a career-high performance as Francine. She's just a simple country girl who wants a loving family and to be educated so she can make something of herself; notions that are anathema to Mickey's line of thought. Fawcett turns Francine into a three-dimensional character; a woman who is trying to do right by her children and hoping for the best, while also knowing to expect the worst. Was the real Francine this effervescent and bookish? Mickey is the antagonist and aggressor in every confrontation, which seems slightly skewed but by no means outside the realm of possibility. Le Mat excels at playing a troubled loser who just can't get his life together. Instead of working hard and doing the right thing, he often craps out, drinks, and blames his problems on everyone but himself. But in his eyes, those doleful eyes, viewers can glimpse a man ashamed of who he has become; the only recourse heavy intoxication. These are flawed people, deeply so, brought to life by capable acting.

Video


Kino Lorber has provided a 1080p 24/fps AVC MPEG-4 encoded image in both the original 1.33:1 aspect ratio and a widescreen 1.78:1 aspect ratio. Unless you are the sort of heathen that doesn't care about OAR (Original Aspect Ratio) then the choice here should be obvious. The widescreen transfer feels cramped and there is a definite loss of picture information on the top and bottom. Film grain is active and organic, lending a distinctly 70's flair to the picture. Colors appear accurate though not terribly vivid. Contrast is a little weak, with black levels losing a shade of their deeper hue. Definition is average for HD.

Audio


The English DTS-HD Master Audio 2.0 stereo track does a fine job of carrying the film's dialogue, which is clean and free from hissing and pops. The scoring here is extremely minimal, leaving this to be a mostly dialogue-only affair. Subtitles are available in English.

Extras


Kino has included only a small collection of supplements that include an interview, and a series of bonus trailers

Interview with director Robert Greenwald (1080p) runs for 15 minutes and 54 seconds.

Bonus trailers (1080i/p) are included for the following:

- "Coming Home" runs for 2 minutes and 3 seconds.
- "Silkwood" runs for 2 minutes and 18 seconds.
- "Hidden Agenda" runs for 2 minutes and 3 seconds.
- "Ulee's Gold" runs for 1 minute and 56 seconds.
- "The Crucible" runs for 1 minute and 1 second.

Packaging


The single disc comes housed in a standard Blu-ray keep case.

Overall


Anchored by stirring performances and highlighting an issue that still plagues domestic couples to this day, "The Burning Bed" is an important, powerful film that offers up some hope thanks to the changes it was able to institute after Francine Hughes temporarily lost her mind.
| | | | | |
| --- | --- | --- | --- | --- |
| The Film: B+ | Video: B | Audio: B | Extras: C- | Overall: B |