The Film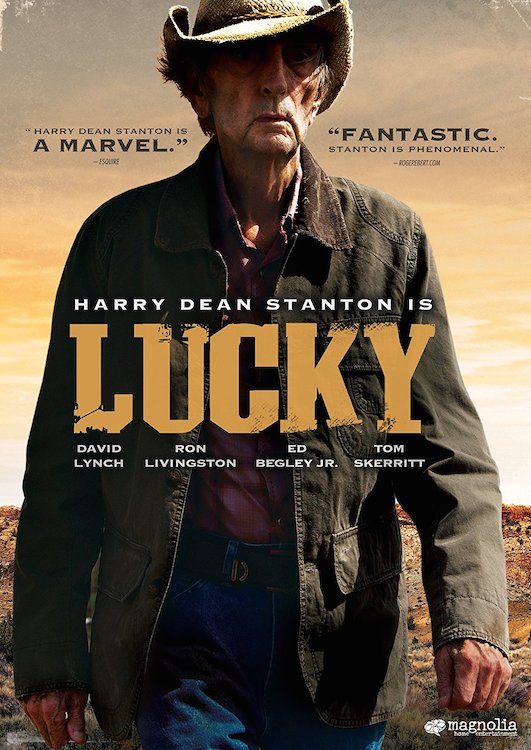 The spectre of death haunts "Lucky"; Harry Dean Stanton, 89 years old and an actor's actor, gives a life fulfilling performance, giving it his all. Stanton would die weeks before this film premiered, but we are given this great film as a lasting memory of a character actor that enriched many a film with his presence: "Cool Hand Luke" (1967), "Kelly's Heroes" (1970), "Alien" (1979), "Escape from New York" (1981), "Repo Man" (1984), "Wild at Heart" (1990), "Paris, Texas" (1984), "Inland Empire" (2006), and many others. Stanton has over a 100 film appearances on his lengthy resume and he was often many director's favorite actor. Born in West Irvine, Kentucky in 1962 to working class parents, Stanton was a multi-talented man: an actor, a musician, and a singer. He served in World War II in the Navy as a cook aboard a tank landing ship which Stanton makes reference to in the film. He was a versatile actor and played a wide variety of supporting roles, ranging from gangsters to cowboys, in his long career. My favorite Stanton role was playing the main character in Alex Cox's film "Repo Man", as Bud, a man that follows a strict moral code of ethics. Up to this film, that was as close to a leading man position as Stanton would come.

The film opens with a shot of a desert landscape, where only the hardy survive: cacti decorate the land and eventually a tortoise slowly lumbers into the frame. Moving ever so slowly but steadily, the tortoise is named President Roosevelt, and his story will enfold later on, but the tortoise represents Lucky's spirit animal; the two are similar in many ways. Neither is in a hurry to get where they are going, but each is determined to make his way there. The film starts with Lucky as he rises from bed to Mexican music on the radio and as he does his daily yoga poses. We are witness his to his daily routine and Lucky is a creature of habit as he goes about his daily journey. Walking everywhere, Lucky strolls into town where he has breakfast at a local dinner, puzzles over a crossword puzzle, trades insults with the owner (Barry Shabaka Henley), heads to the convenience store where he purchases cigarettes and milk, heads home to watch his game shows, and then ends up in a local bar where he is a fixture.

That is it for plot, but somehow the screenwriters, Logan Sparks and Drago Sumonja, have managed to make things much more interesting than the final days of a cranky elder, making this a film about the absolute finality of death and the importance of routine and community.

The film is populated with plenty of minor characters that are given time to become authentic and much is revealed through their snippets of dialogue and interaction with Lucky: David Lynch is Howard, a pal of Lucky's that is upset about the disappearance of his pet tortoise (not a turtle, dammit!), complete as a dandy in a linen suit and ascot; there's Loretta (Yvonne Huff) the waitress at the diner who worries about Lucky's health and checks in on him; Elaine (Beth Grant) is the spirited owner of the local bar that Lucky goes to nightly; Fred (Tom Skerritt) is a fellow soldier that Lucky meets at the diner and they discuss their military experiences. Life is a random mix of characters, and they all encounter Lucky, who is resolute in how he views the world. An avowed life long atheist Lucky, he gets the subtle message that he is not invincible and that mortality is not something that will last forever.

Rarely does a modern film address the issues of death, memory, purpose, and fulfillment like "Lucky" does. We are shown the ravages of time on Stanton's hangdog face, with those sad eyes that shine with wisdom, but Lucky is not a character that is prone to nostalgia and mourning the past; he embraces the current situation with a slight smile on his face and a fierce eagerness to see what the future holds. The film is a meditation on death and endings, but director John Carroll Lynch, does not bludgeon us over the head with his message; the mood is light and elegant, filled with characters speaking in monologues worthy of a stage presence, and the film is ultimately a goodbye present from Stanton. The great thing about Stanton and this film is that everything that he does appear to be completely authentic; the blending of Stanton's real life and some fictional elements makes for an interesting point to ponder: where does the actor stop and where does reality enter the scene? Not that it really matters, because this is easily the performance of a lifetime.

If you have been a long time fan of Harry Dean Stanton and have been delighted to see his name appear in the credits of a film, or if you are just coming to recognize that weather worn face of his(oh, you mean that guy!), then please do yourself a favor and see this film. This film stayed with me for days later and I know that I will eagerly watch it again and again. Harry Dean Stanton was an genuine performer and he brought a sense of legitimacy to the screen with his portrayals of lost souls, authentic survivors, and men of some urgency and need.

Video


Presented in the film's original theatrical ratio of 2.40:1 anamorphic widescreen, cinematographer Tim Suhrstedt lovingly captures Stanton in his lens and he makes great use of filming the desert and it's small town in real light and shadow. The last scene of the film when Stanton looks directly at the camera and issues a shy smile is a showstopper. Colors both inside and out are warm and strong, the image is cleanly reproduced.

Audio


English Dolby Digital 5.1 surround is the only audio track included, nice and clear, the scene where Stanton reluctantly breaks out into spontaneous song at the young boy's birthday part is memorable and extraordinary. Stanton also supplies the harmonica playing "The Red River Valley" throughout the film. All dialogue is presented clearly and the use of the music throughout the film is a thoughtful compliment to the action seen on the screen. Optional subtitles are included in English for the hearing impaired and Spanish.

Extras


Magnolia has included a selection of extras that include a couple of featurette, a couple of interviews, a theatrical trailer, and a collection of bonus trailers. Below is a closer look.

"A Few Words from Harry Dean Stanton" featurette, "Everybody did a great job and I'm worn out." runs for 1 minute 40 seconds.

"Behind-the-Scenes: Harry Dean Stanton's Final Film Take" featurette, a look at shooting the last and final scene of the film, runs for 2 minutes 17 seconds.

There's an interview with director John Carroll Lynch, a brief interview with the director of "Lucky" runs for 13 minutes 52 seconds.

Interview with writers/producers Logan Sparks and Drago Sumonja, the men speak of their friendship with Harry Dean Stanton and how the film came together, runs for 27 minutes 23 seconds.

The film's original theatrical trailer is included and runs for 1 minute 58 seconds.

Bonus trailers are for:

- "The Square" runs for 2 minutes 25 seconds.
- "Blade of the Immortal" runs for 2 minutes 17 seconds.
- "Permanent" runs for 2 minutes 13 seconds.

Packaging


Packaged in a standard DVD amaray keep case.

Overall


"Lucky" is easily one of the best films that I have had the pleasure of reviewing here. A complete gem of a film that an older audience will easily appreciate.
| | | | | |
| --- | --- | --- | --- | --- |
| The Film: A | Video: A | Audio: A | Extras: A | Overall: A |