The Film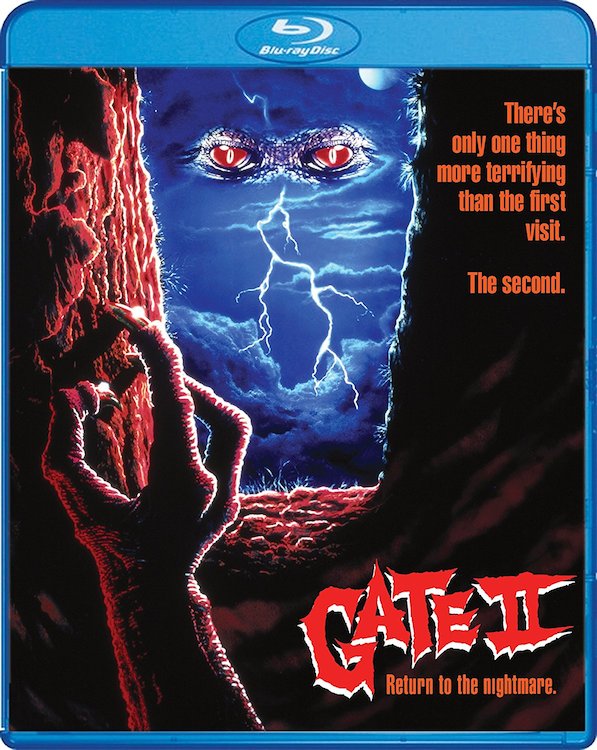 As far as childhood favorites go, "The Gate" (1987) is a seminal film that is partly responsible for galvanizing my lifelong love of all things horror. It was the first horror film I remember fully watching, at the ripe age of six or seven, and the image of those demonically adorable little minions stuck with me for years until I finally learned the film's title. Unbeknownst to me for years, though, was the fact that a sequel got produced a mere three years later. "Gate II" (1990, aka "Gate 2: The Trespassers") picks up not long after the events of the first film, with many of the most notable and important cast & crew returning for another go-round. The central triumvirate of director Tibor Takács, screenwriter Michael Nankin, and special effects creator Randall William Cook ensured the sequel would be commensurate with the first, and the return of actor Louis Tripp as the demon-summoning loner Terry provided the perfect dovetail between both pictures. Although "Gate II" doesn't reach the cult-favorite heights of its predecessor, this is an overlooked sequel that deserves a place on the shelf alongside its more popular older brother.

Following the events of "The Gate", Glenn and his family have left town and abandoned their now derelict home. Terry (Louis Tripp), Glenn's best buddy in dimensional demon conjuring, is still hanging around, though. He's still living in the basement of the home he shares with his alcoholic, widowed father. He still listens to metal. He's still a loner. He still holds the same interest in performing rituals and black magic, this despite the catastrophic havoc wreaked when he and Glenn first opened "the gate". According to Terry the ritual wasn't done the "right way", but using technology and new knowledge he heads back to Glenn's for another go at it. During Terry's incantation a trio of local burnouts – John (James Villemaire), Moe (Simon Reynolds), and Liz (Pamela Segall) – stumble upon his ritual and, after giving him a modicum of sh*t for being a weirdo, they join in to complete the circle.

Success! Terry and his new cohorts open a door to another dimension – and out pops a minion. John blows it away with a shotgun but opening the gate gave the four participants unexpected powers – they can grant wishes. Burning an object and making a plea to the Old Gods gives Terry and Liz, his new object of desire, anything they want. John and Moe learn they have the same abilities, too. But what everyone finds out not long after is their dreams have an expiration date, after which point they literally turn to sh*t. Soon all the good they did for themselves becomes a nightmare. John and Moe are changing into… something. Terry's life is becoming a bigger mess. The only way to end their torment is to pass through the gate and finish the ritual once and for all.

Tibor Takács is a director who showed incredible promise, literally right out of "The Gate". His next picture, "I, Madman" (1989) is one of my favorite cult horrors, filled with some fantastic stop-motion creature action and a cool noir vibe. Then, he directed "Gate II"… and after that there isn't a single title even remotely close in quality to his first three films. Takács took this sequel in a natural direction, following the one character that would still be dumb enough to mess around with demons. Terry isn't just into blindly causing mischief, though, and he feels like a rich character. His home life is a mess, he misses his mom, he has a troubling relationship with his father, he's lonely, and the most excitement he's probably ever had was opening up a gateway to some sort of hell. The wish fulfillment storyline isn't as tense or creepy as a trio of kids being attacked in their house by creatures but the final act begins to make up for the lack of creature action with a killer ritual sacrifice scene.

Takács provided a similar sense of direction, and Nankin wrote a screenplay that feels tonally in line with the first film, but I give the lion's share of credit to special effects creator Randall William Cook. He has a style to his creatures that is unmistakable - heavily detailed and textured in a way that gives them a true sense of life. His stop-motion animation work is reminiscent of something Ray Harryhausen might've done. "The Gate" is filled with memorable monster moments, whereas "Gate II" has only some minion action in the first two acts with most of the FX work saved for the grand finale. Cook still delivers the goods, but the scarcity of his effects here only makes you yearn for more.

Nankin writes the three characters that aren't Terry with deeper strokes, too. Liz is the obvious love interest and she doesn't stray too far from what viewers would expect out of the role. John and Moe, though, are painted as stereotypes from the onset but the film eventually reveals nuances about their lives that provide a little bit of empathy. When so many horror characters wind up being little more than eventual fodder for the killer it's nice to watch something that tries to show them as three-dimensional people and not just caricatures. "Gate II" isn't a perfect sequel by any means but it does things differently and ultimately presents a story that works well as the continuation to what came before. Even if some viewers aren't rabid fans of "The Gate" as I am, those who enjoy that film should appreciate what has been done here.

Video


Other than a VHS in 1992 the only other home video release "Gate II" saw was a terrible full-frame DVD from Canada. Scream Factory has sent every previous version straight to hell with this stellar 1.85:1 1080p 24/fps AVC MPEG-4 encoded image. This first-ever widescreen picture shows no major signs of damage or debris, with surprisingly strong definition and organic, moderate film grain. Colors are natural and show good saturation. Black levels are a touch hazy but stable. The HD image nicely reveals minute details in skin and fabric textures. This is a necessary release that has been 28 years in the making.

Audio


The English DTS-HD Master Audio 2.0 stereo track doesn't have any momentous moments or unexpectedly brash sound design cues that will surprise listeners, but this track does have a robust presence with a minor sense of direction. Dialogue is strongly prioritized in the mix; sound effects have a genuine quality. George Blondheim's score works well, hitting the right cues to be either supportive or dominant. Subtitles are available in English for the hearing impaired.

Extras


"Return to the Nightmare – A Look Back at "Gate II"" (1080p) is a featurette that runs for 27 minutes and 21 seconds. Director Tibor Takács, screenwriter Michael Nankin, and special effects creator Randall William Cook all sit down together for a candid and highly informative discussion about the genesis, production, and legacy of this sequel. This is a must-watch piece for fans that have been dying to know more about this forgotten feature.

"From the Depths with Make-up Artist Craig Reardon" (1080p) is an interview featurette that runs for 14 minutes and 46 seconds, hear some firsthand knowledge from another one of the FX artists that brought the film's creature creations to life.

A theatrical trailer (SD) runs for 1 minute and 10 seconds.

A video promo (SD) runs for 1 minute and 41 seconds.

Audio of a video store contest promo runs for 2 minutes and 10 seconds – and it is awesome.

A still gallery (1080p) runs for 4 minutes and 37 seconds.

Overall


I'd say "Gate II" is better than viewers remember but chances are many don't know it exists. Maybe it was the direct-to-VHS release or the fact it isn't as good as the first but "Gate II" is far from a terrible sequel and I enjoyed where the creative team took the story. Scream Factory's release is a revelation for fans that have waited years to see a proper home video release.
| | | | | |
| --- | --- | --- | --- | --- |
| The Film: B- | Video: B+ | Audio: B | Extras: B- | Overall: B- |