Full Treatment (The) AKA Stop Me Before I Kill (Blu-ray) [Blu-ray]
Blu-ray B - United Kingdom - Powerhouse Films
Review written by and copyright: Rick Curzon (27th February 2018).
The Film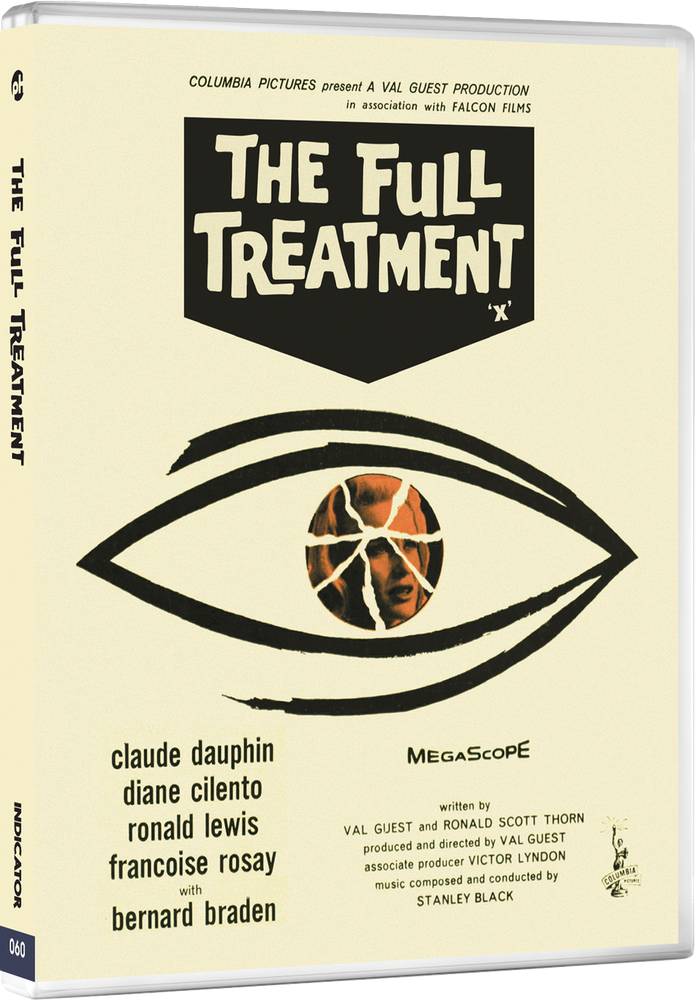 Four classic thrillers from the vaults of Hammer Films released on Blu-ray for the very first time, including premiere presentations of the complete, uncensored UK theatrical release versions of Val Guest's The Full Treatment and Cyril Frankel's Never Take Sweets from a Stranger and a host of new and exclusive extra features. This stunning Limited Blu-ray Edition Box Set from Indicator is strictly limited to 6,000 numbered units.

Never Take Sweets from a Stranger
Cash On Demand
The Full Treatment
The Snorkel

Video


Psychological melodrama about a racing driver (Ronald Lewis) who after an accident starts to become violent towards his wife (Diane Cilento) in moments of intimacy. Whilst it sticks to this storyline it's pretty interesting with Lewis giving a good performance but in the last third or so we have a more conventional thriller element to the plot which is less convincing, frankly contrived and more than a bit silly.
One of the most unusual and hard to see of the Hammer-Horror thrillers and the studio's longest ever film. It feels like they may have been building this up as a more prestigious production. I enjoyed it a great deal more on this second viewing than I did the first which was about a decade ago on the old, cut US DVD. The scene that was missing then, now restored is actually quite key in understanding Lewis' predicament and does lend his mostly unsympathetic character a little more sympathy.

My comments for Never Take Sweets from a Stranger also apply here because both were shot around the same time using the same format (B&W Hammerscope 2.35:1).

The Full Treatment looks very strong on Powerhouse Films new disc. Made in black and white aas with the the other three films in this set, this has a splendid balance of contrast and darkness displaying plenty of highlights and lovely, velvety deep blacks with absolutely no signs of crush. The contrast ratio on both of the scope films is mellower due to them being shot anamorphically which lends the image a slight softness when compared to the two non-anamorphic films in the set, although of the the two Full Treatment is a brighter film in it's first half so comes over slightly better. Once again, this is not to say that the image is any way lacking. The images are about as good as cam be expected given the transfers provided by Sony and shy of a 4K release.

Background detail continues to be sharp and closeups are stunning with skin and fabric textures once again coming to the fore. Grain is fine and dense with another Mackensie's encode ensuring that the image is even and well processed. No distracting clumping or holes no matter how close to the image the viewer sits.

The picture remains sharp and clear throughout with the only notable degradation being at obvious moments where optical effects are used; usually at scene changes and in the credits sequences. There are no signs of print damage that I noticed and it would seem the source materials have been looked after beautifully. Also no signs of digital artefacts or tinkering with the image such as DNR or edge enhancement.

Powerhouse Pictures continues to knock it out of the park with another obscure British production that's afforded a top notch release that's as good as can be with the given materials.

Both versions of the film are identical being seemlessly branched.

1080/24p / MPEG-4 AVC / 2.35:1 / UK version: 109:51 / US version: 107:42

Audio


English DTS-HD Master Audio 1.0
Subtitles: English HoH

This is a dialogue heavy film and it's obviously the main focus of the soundtrack. Nice and clear with no distortions in the recording that I could detect and Stanley Black's jazzy score never gets in the way of dialogue and is a welcome accompaniment to the cosmopolitan shenanigans.

Extras


"Mind Control: Inside The Full Treatment" featurette (21:15)

The latest instalment of the "Inside" featurette retrospectives with Jonathan Rigby, Jo Botting and John J. Johnston. All are up to their usual affable, knowledgeable selves with plenty of trivia on hand. This piece focusses on Val Guest and his love of screen nudity and of fine living, the novel on which the film is based and the real life experiences of the author that form the basis of the plot. The sad life and death of lead Ronald Lewis is also mentioned; he seems to have considered an actor of promise who's career never took off like it should have and committed suicide in 1982. Claude Dauphin is covered in detail with comments on his "stillness" and "Gallic charm". We also hear interesting stuff on veteran French actress Françoise Rosay who is perhaps not well served by this script. Cilento is covered but she gets her own featurette ...

"Hammer's Women: Melanie Williams on Diane Cilento" featurette (11:05)

A straightforward summation of Cilento's career starting with her early life in Australia and her early training as an actress in the New York academy and at RADA. In the mid '50s her stage role as Helen of Troy got her a contract with Alexander Korda and from thence her screen career followed although William's is of the view that producers didn't quite know what to do with her and that she didn't behave as the press felt a film star should behave. Cilento's Oscar nomination for Tom Jones (1963) is mentioned and her marriage to Sean Connery which seems to have overshadowed her career.

"A Subject for Analysis: Vic Pratt on Val Guest" featurette (14:35)

A welcome piece on Val Guest who was a flamboyant figure who was always very well dressed. Pratt is of the opinion that he enjoyed playing the role of director and considered himself a jobbing director who had no time for the auteur theory and made a raft of films on a variety of subjects from comedies to scifi. He began his career as a writer in the 1930s working for Marcel Varnel and Will Hay. Pratt considers him a very cutting edge, modern film maker who made films for the moment commenting on many of the then modern gimmicks and trappings of domestic life on display in the film.

Censored Scene (4:11)

A short featurette comparing the contentious bathroom scene and how it differs between the two edits of the film on the disc.

US Trailer (1:56)

"These eyes pierce the mind!" American, hyperbole filled, sensationalistic trailer typical of the period with a macho male voiceover.

The Full Treatment Advertising and Publicity Gallery (57 images)
The Full Treatment Press Material (71 images)

Plenty of great vintage images both in front of and behind the camera.

40-page liner notes booklet with new writing by Kim Newman, excerpts from the promotional manual on the film Hammer issued that discusses the cast, an excerpt from an interview with Val Guest, a gimmick interview with George the cat, extracts from Columbia's exploitation manual and vintage critical responses

Plenty of good stuff here with Newman being a favourite of mine; all film extras are better with a serious dollop of Newman! Everything else is par for the course except for the interview with the cat which is great fun. Another superb booklet!

Overall


Yet another of Hammer's more oddball and hard to see films in their back catalogue; sadly, it's not an undiscovered gem but a silly psychological melodrama with an unsympathetic lead. None the less, the transfer from Powerhouse Films displays this lavish-looking, widescreen film on it's best behaviour; very probably the best it's looked since it was first projected. The sound is up to par and the extras package is thorough and satisfying. The film is very much an artefact as regards it's handling of mental illness but the performances are good, the film looks fabulous and we get some previously censored Diane Cilento nudity from a time when such scenes on screen were shocking.
| | | | | |
| --- | --- | --- | --- | --- |
| The Film: C+ | Video: A+ | Audio: A+ | Extras: A+ | Overall: A+ |

---
DVD Compare is a participant in the Amazon Services LLC Associates Program and the Amazon Europe S.a.r.l. Associates Programme, an affiliate advertising program designed to provide a means for sites to earn advertising fees by advertising and linking to amazon.co.uk, amazon.com, amazon.ca, amazon.fr, and amazon.de.