The Film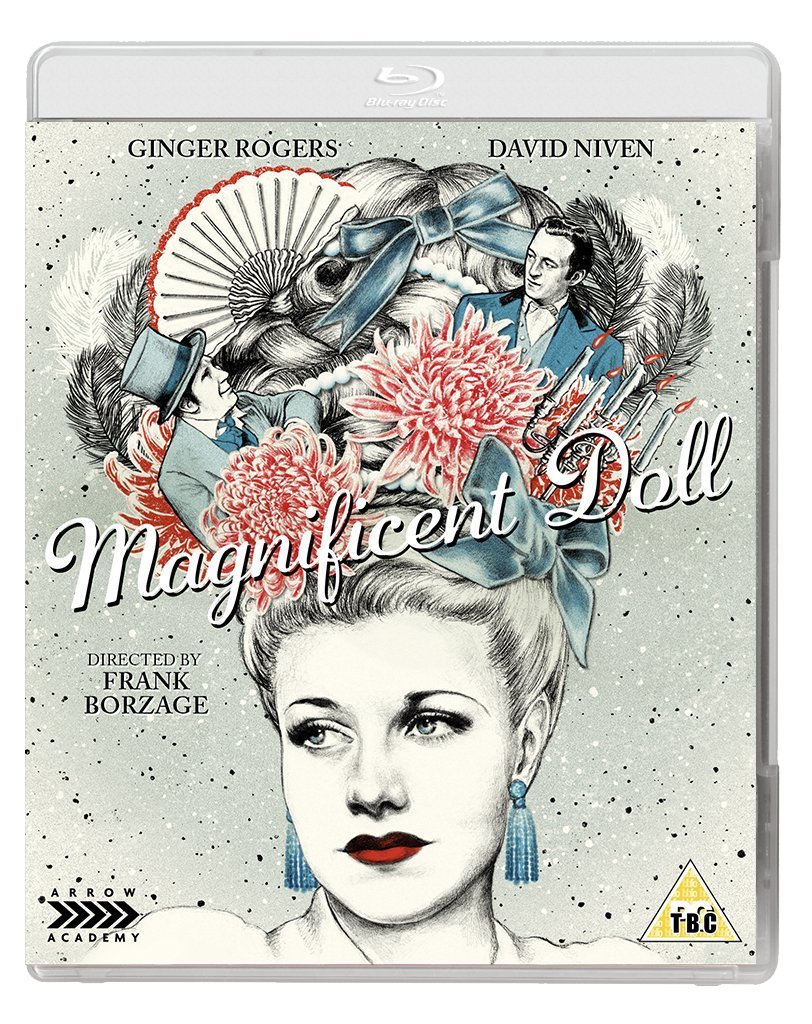 Magnificent Doll (Frank Borzage, 1946)

The 'doll' of the film's title is Dorothea 'Dolley' Madison, the wife of James Maddison, successor of Thomas Jefferson to the title of President of the United States. Dolley is played by Ginger Rogers, in one of the star's few forays into the world of historical drama. Rogers struggled to escape from her past as Fred Astaire's dancing partner, and roles such as this were always overshadowed by her association with RKO's 1930s musicals. Magnificent Doll was written by the novelist Irving Stone, who had written a number of books about various figures from American history, including Abraham Lincoln, Jessie Benton Fremont and Rachel Jackson.

After an opening sequence during which Dolley, the wife of President James Madison, is shown during the 1812 Burning of Washington cutting the Stuart portrait of George Washington from its frame in order to save it from destruction by the British, the rest of the film's narrative is presented as an extended analepsis. Dolley recollects her youth on her family plantation in Virginia; her father (Robert Barratt) returned home after being seemingly mortally wounded in the Battle of Kings Mountain. He was only saved when an old friend, a devout Quaker, shielded him from a bullet with his own body. In honour of his deceased friend, Dolley's father has vowed to return to the Quaker faith and has also promised that his daughter, Dolley, will marry his late friend's son, John Todd (Stephen McNally). Dolley is distraught and though she concedes to marrying Todd, she refuses to ever tell him 'I love you', stating that she resents being 'mated as the beasts in the field are mated'. Nevertheless, Todd treats Dolley with kindness and respect, and the couple have a son together. However, during the 1793 epidemic of yellow fever that tore through Philadelphia, both Todd and the child are killed.


Dolley and her mother (Peggy Wood), who has also been made a widow by the yellow fever epidemic, decide to take in lodgers. They are approached by a charming man who reveals himself to be Senator Aaron Burr (David Niven). Burr wishes to rent rooms in Dolley and her mother's house. Burr is smitten with Dolley, and she eventually falls for his charms. However, Dolley also draws the eye of Burr's friend James Madison (Burgess Meredith).

Madison pledges to submit an anti-slavery bill and believes in freedom and liberty. On the other hand, Burr soon reveals himself to be nothing more than a power-hungry would-be despot who believes that 'not only [would banning slavery] be impractical; it would be impossible to enforce'.

When Thomas Jefferson becomes President of the United States, Burr is to become his vice-president. However, Burr kills Alexander Hamilton in a duel and flees the country, leaving a hole into which Madison willingly steps, taking the position that will eventually lead to Madison becoming the third American President. Burr plots to stage a rebellion against government troops but is arrested for treason. From his cell, he plots to use the hatred directed against him by the public to manipulate the people into overthrowing the government. However, Dolley catches wind of his plans and seeks to reinforce the importance of government and democracy.

During the widowed Thomas Jefferson's tenure as President, Dolley helped to furnish the White House and acted as hostess for ceremonial and social functions organised by Jefferson. Jefferson was succeeded as President by Dolley's husband, during whose presidency the second American war of independence was fought. The film begins with the Burning of Washington in 1814, with Dolley cutting the Stuart portrait of George Washington from its frame to be saved from the British, an act which consolidated Dolley's role in the national imagination. (In reality, it seems that the house slaves would have been the ones responsible for saving the painting, acting on orders from Dolley and her staff.)


The film acknowledges the appeal of the would-be tyrant Burr ('I want to sow hate and reap a harvest of power', Burr tells Dolley), with Dolley commenting to him that 'You have a very odd way of making danger attractive'. Burr takes Dolley for a walk on the seedy side, visiting a tavern with her and encouraging her to watch a duel. His association with the nihilistic and the destructive is seductive, and Dolley is almost suckered in but instead chooses to ally herself with Madison following an impassioned speech in which Madison expresses his belief in freedom and democracy. 'Freedom is the right of every man to look upon every other man and say, "I'm no better than you are, and you're no better than I am"'. In response to this, Dolley finally declares 'I love you'. As Herve Dumont has noted, Burr represents 'the power of an attraction which the script can only counter with courageous democratic convictions' (Dumont, 2009: 333). For Dumont, the film reduces Burr to 'a Fascist dandy, promoting an American-style totalitarianism' (ibid.). 'There's too much talk about democracy these days', Burr rants at one point in the film, 'and too little purpose in rule', later adding that 'I'll preach freedom and rebellion in the same breath. I'll lead and the rebel will follow; and then I'll rule. I'll rule without election; I'll rule without Congress'.

The film's emphasis on Dolley's personal relationships is foregrounded during its opening sequence, when in her narration Dolley asserts that 'When a woman has lived in exciting times and has taken part in great events, it would seem as though these occasions would be what she remembers most vividly, but I don't find that true at all'. Though the plot reduces the historical events to a series of vignettes focusing on Dolley's search for love, the picture features some lavish production design, the sets and costumes reputedly costing almost $2 million (see Dumont, 2009: 332). Rogers is decked out in the finest costumes and hats, and the film focuses on the elaborately staged social events for which Madison is remembered and which helped to secure the popularity of her husband when he became President. However, there's a disjuncture between Rogers' screen persona and her character: as J E Smyth has observed, 'Just as Astaire was the epitome of the modern man, Rogers was the essence of the modern woman, and historical films seemed inconsistent with their image' (Smyth, 2006: np).


Made towards the end of Borzage's directorial career (following this film, Borzage signed a six picture deal with low-budget studio Republic Pictures and directed five more films), Magnificent Doll is a lavish period production that plays fast and loose with the historical facts, concocting an affair between Dolley and Aaron Burr and depicting Burr in a manner that strips the real figure of his complexity. During the film's final sequences, Burr becomes little more than a pantomime villain, skulking about and deriding 'these so-called "United States"' whilst plotting a coup that will climax with Burr being made a martyr. The film imagines a love triangle involving Burr, Madison and Dolley. Furthermore, the real Dolley had two sons by her first husband, John Todd: John Payne Todd and William Temple Todd. William was killed by the yellow fever epidemic, at only three months of age, but Payne survived and lived with Dolley when she became married for the second time, to James Madison. Borzage handles the material confidently if unexceptionally: in her autobiography, Ginger Rogers asserted that Borzage 'was a nice man; however, his drinking interfered with his attention to the script' (Rogers, 1991: 277).









Video



Taking up 21Gb of space on the Blu-ray disc, the 1080p presentation uses the AVC codec and is in the film's original aspect ratio of 1.37:1. The 35mm monochrome photography is presented very nicely on this Blu-ray release. Contrast is pleasing, with midtones having a strong sense of definition to them, and blacks are good and deep. Fine detail is present in the image but there's a slight softness which may be a result of the lenses used during production. Some minor damage is present here and there: a few scratches and blemishes in the emulsions. Finally, a good encode ensures the presentation retains the structure of 35mm film.












Audio


Audio is presented via a LPCM 2.0 mono track. This track has good range and is clear throughout, with dialogue always being audible. Optional English subtitles for the Hard of Hearing are included, and these are easy to read and offer an accurate transcription of the dialogue.

Extras


The disc includes:
- An audio commentary by David Del Valle and Slaon De Forest. Del Valle and De Forest note that Magnificent Doll is a fairly little-known film though it has an 'amazing' pedigree. The commentators discuss the production design, with De Forest offering a suggestion that 'the point' of the film is to offer a sumptuous 'look at history' with emphasis on the costumes and mores of the era. They discuss the work of Borzage and the film's actors, situating their discussion of the picture within a consideration of the careers of its cast and crew. Irving Stone's input is also examined in some detail.

- 'Ginger Rogers: Following Her Own Lead' (19:20). This is a video essay by Farran Smith Nehme. The video essay focuses on Rogers' performance and the film's relationship with Rogers' other roles, acknowledging the manner in which the film plays fast and loose with the historical facts in its exploration of a theme of falling in love with 'the nice guy'.


Overall



Given its focus and the historical figures who walk in and out of the narrative (Dolley herself, Madison, Burr, Thomas Jefferson), Magnificent Doll is handled in a curiously 'flat' manner by Borzage. The film is sumptuously made and features some excellent sets and costumes, but the narrative stops and starts, breaking its stride to allow characters to make speeches loaded with political meaning but staged and photographed in an oddly uninspired manner. The result is a very pretty but flatly-staged and disjointed film. Its insistence on painting the political landscape in brushstrokes that emphasise the interrelationships between the personal and the political, and its focus on Dolley, could be said to make it a subtly proto-feminist picture.

Whilst not a great film, and far from the best of both its director Borzage and stars (Rogers, Niven, Meredith), Magnificent Doll is not without its charms. If one can get past the historical inaccuracy – and, to be fair, many Classical Hollywood films centred on historical events displayed a similar sense of inaccuracy – it offers an engaging albeit piecemeal story, sumptuous production design and solid performances. The presentation of the film on this Blu-ray release is pleasing and the commentary and video essay offer good 'added value'.

References:
Dumont, Herve, 2009: Frank Borzage: The Life and Films of a Hollywood Romantic. London: McFarland

Rogers, Ginger, 1991: Ginger: My Story. London: HarperCollins

Smyth, J E, 2006: Reconstructing American Historical Cinema: From 'Cimarron' to 'Citizen Kane'. University Press of Kentucky

Click to enlarge: