Cash on Demand (Blu-ray) [Blu-ray]
Blu-ray B - United Kingdom - Powerhouse Films
Review written by and copyright: Rick Curzon (27th February 2018).
The Film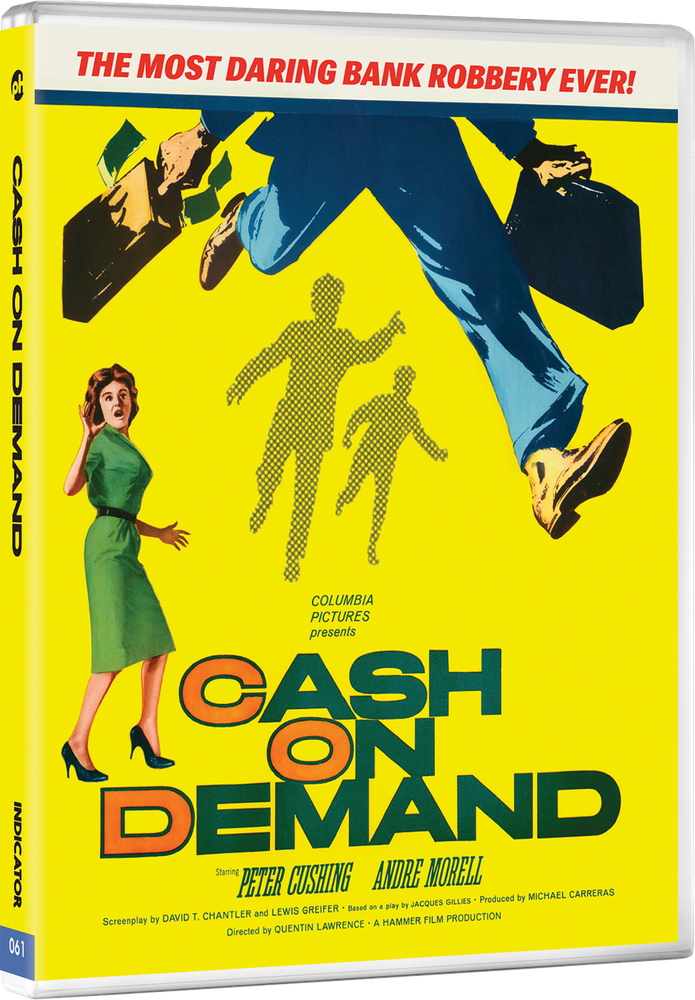 Four classic thrillers from the vaults of Hammer Films released on Blu-ray for the very first time, including premiere presentations of the complete, uncensored UK theatrical release versions of Val Guest's The Full Treatment and Cyril Frankel's Never Take Sweets from a Stranger and a host of new and exclusive extra features. This stunning Limited Blu-ray Edition Box Set from Indicator is strictly limited to 6,000 numbered units.

Never Take Sweets from a Stranger
Cash On Demand
The Full Treatment
The Snorkel

Video


Early Hammer thriller-drama based on a TV play (The Gold Inside) is a superb movie, one of Hammer's very best and most interesting films. Essentially it's a thriller variation on A Christmas Carol (1843). It has been very hard to see until the US DVD release about a decade ago, but this Blu-ray blows the earlier disc out of the water for quality.

Shot in the matted ratio of 1.66:1 (and probably safe up to 1.85:1) and in inky black and white which would become less and less frequent as the '60s wore on. At this point the chief cinematographer for Hammer was Arthur Grant; a solid professional who was more of an artisan to Jack Asher's artist. His work was slick and atmospheric but lent itself to faster production.

Cash on Demand looks very sharp on Powerhouse Films new disc. As with the other black and white films in this set with the usual fabulous balance of contrast and darkness displaying plenty of highlights and lovely, velvety deep blacks with absolutely no signs of crush. The contrast ratio is so good details in some of the darker still stand out. Background detail is sharp as a tack and closeups are ravishing with skin and fabric textures very much in evidence and being a film shot almost entirely on studio interiors faces, fabrics and set dressing are the whole show.

Grain is very fine, finer than the grain field on The Snorkel with David Mackensie's encode handling everything supremely well. No clumping or holes to distract, even when the viewer sits extremely close to the screen or is watching the image projected large. The only notable flaws being at moments where optical fades between shots are used; usually at scene changes and in the credits sequences. There are no signs of print damage that I noticed and it would seem the source materials have been looked after beautifully. Also no signs of digital artefacts or tinkering with the image such as DNR or edge enhancement.

Both versions of the film are almost identical in quality.

A stunning looking disc.
1080/24p / MPEG-4 AVC / 1.66:1 / US version - 80:04 / UK version - 66:49

Audio


English DTS-HD Master Audio1.0 Mono
Subtitles: English HoH

This is very much a dialogue heavy film and it's obviously the main focus of the soundtrack. Nice and clear with no distortions in the recording that I could detect and the score never gets in the way of the plot and used very judiciously and sparingly.

Extras


Audio commentary with David Miller and Jonathan Rigby

Miller wrote The Complete Peter Cushing and Rigby the triumvirate of English-American-European Gothic so we are good hands and both men have perfect voices for commentaries. Plenty of fascinating trivia and detail covering every possible aspect of the production. The commentary kicks off discussing the stars career and continues on discussing Hammer's slate of production for 1961 and how Cash on Demand sits within it. I was particularly interested in hearing about Quentin Lawrence; an experienced director who had worked with Hammer many times and he also made one if the better Quatermass clones - The Trollenberg Terror (1958) which was written by Hammer's Jimmy Sangster. A joyous audio commentary!

"The Perfect Crime: Inside Cash on Demand" featurette (18:50)

Another in the range of "Inside" featurette retrospectives with Jonathan Rigby, Jo Botting and John J. Johnston. Much is made of Cushing's performance and how he makes the stern, humourless bank manager Fordyce into a new man in incredibly subtle way. The origins as a TV play from September 1960 Theatre 70 strand. Morell's character is liked to the Ghost of Christmas present in the narrative. Everyone is effusive in praising the film.

"Hammer's Women: Becky Booth on Lois Daine (9:51)

We have an interestingly little piece about an actress I didn't know much about. Unfortunately due to circumstances Booth was forced to read her narration in an inferior recording. The information is still interesting however despite the technical issues.

Lois Daine on Cash on Demand (7:36)

We hear Daine's story from making Hell is a City (1959) and Cash on Demand. She got the latter role when she bumped into producer Michael Carreras just after giving birth to her first child. She recalls it as a very cheap production and that she may have worn her own dress for filming.

Theatrical trailer (2:21)

A trailer typical of the period with a very excited sounding Englishman narrating.

Cash in Demand Advertising and Publicity Gallery (54 images)
Cash on Demand Press Material (5 images)

The usual round of promotional stills and posters and a brief gallery of the press kit.

40-page liner notes booklet with new writing by Kim Newman, excerpts from the 64-page promotional manual on the film with extracts from interviews with Peter Cushing and producer Michael Carreras, plus profiles of actor Andre Morell, director Quentin Lawrence and vintage critical responses

Plenty of good stuff here with Newman being a favourite of mine; all film extras are better with a serious dollop of Newman! Another superb booklet!

Overall


A largely forgotten little Hammer gem gets the deluxe treatment in the superb 4-film set, Hammer Volume Two: Criminal Intent. Cash on Demand is far and away this best of the films here and easily one of the greatest films in their catalogue. All four are B&W and image quality is superb as is the lossless sound; at least good as they could possibly be shy of full blown 4K UHD releases.
| | | | | |
| --- | --- | --- | --- | --- |
| The Film: A+ | Video: A+ | Audio: A+ | Extras: A+ | Overall: A+ |

---
DVD Compare is a participant in the Amazon Services LLC Associates Program and the Amazon Europe S.a.r.l. Associates Programme, an affiliate advertising program designed to provide a means for sites to earn advertising fees by advertising and linking to amazon.co.uk, amazon.com, amazon.ca, amazon.fr, and amazon.de.