The Film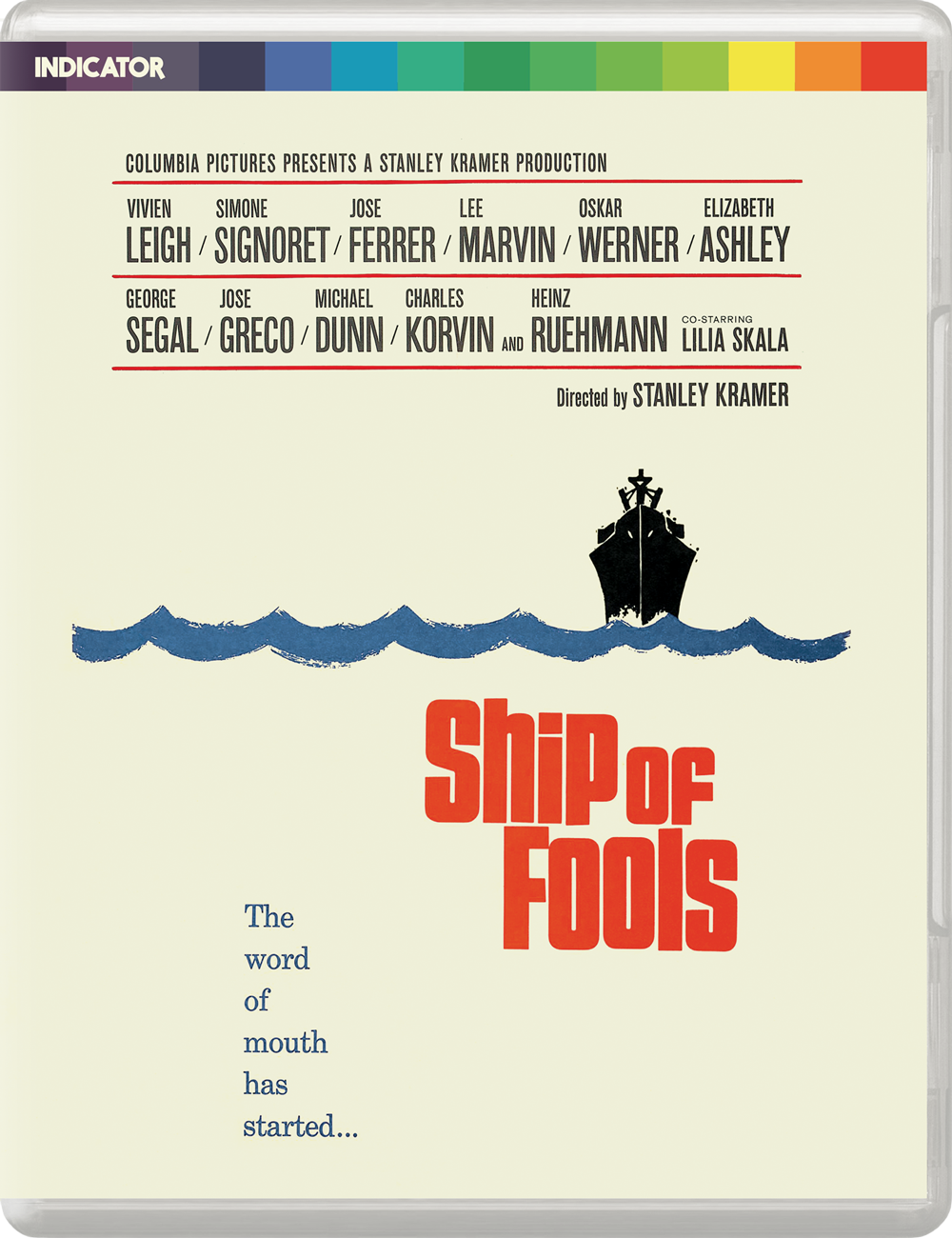 Stanley Kramers star-studded, Oscar®-winning adaptation of Katherine Anne Porter's novel about passengers aboard an ocean liner bound to Germany from Mexico in 1933 forms a potent allegory of a world drifting inexorably towards war. With its incredible cast, including Vivien Leigh (in her last screen role), Simone Signoret, Lee Marvin, George Segal, Oskar Werner and Jose Ferrer, Ship of Fools is a powerful drama and a compelling viewing experience. It remains one of the finest ensemble pieces of the period.

Video


Big, sprawling melodrama set on board a ship headed from Mexico to Germany in early 1933 and the crew and passengers are a microcosm of the world as it moves towards war. Heaps of great actors all giving splendid performances with no one letting the aide down; perfect lazy afternoon's viewing. Michael Dunn is particularly impressive as a philosophical, existential man who understands exactly where the world, and specifically Germany is going.

A film that I've been wanting to see ever since becoming a fan of Michael Dunn's performances as Doctor Miguelito Loveless in the classic television series The Wild, Wild West (1965-69) and as a villain in Jack Cardiff's The Freakmaker (1973 AKA The Mutations). I thank Powerhouse Films for the opportunity to review the film after all these years.
It looks splendid having been shot by Ernest Laszlo largely on sound stages with a minimal amount of location work. There is plenty of grain to be seen but it's very fine and even, handled very well by the encoding wizardry of David Mackensie. No clumping, no holes in the grain. The only times I noticed a harshening of the grain field was during a couple of artificial zooms that director Stanley Kramer ordered in post production (the scene where Vivian Leigh hits Lee Marvin for instance). Obviously, any scenes of optical work like opening and closing credits also show a drop in quality.

Shot non-anamorphic 1.85:1 the film has a splendid greyscale look with a generally sharp image untouched by any digital artefacts. I didn't notice any signs of damage from first frame till last but this is a big budget, prestigious Hollywood production so I suspect it had everything money could buy including the best film stocks and a generous production schedule. When compared to the four black and white Hammer films released by Powerhouse with this release you can see the difference when viewed side by side; especially in terms of scale of production.

The Hammer productions are mostly shot with location work (bar Cash on Demand which was studio bound) and the grain is courser, or at least it looked that way to me.
A cracking disc that is very much a must for fans of '60s cinema and great acting. Powerhouse have done fans proud taking an off the shelf master a presenting it about as well as it's possible to do so short of a 4K release.

1080/24p / MPEG-4 AVC / 1.85:1 / 149:33

Audio


A solid, clear 1.0 mono track that obviously had a great deal of care spent on it. Jack Gold's powerful score never once gets in the way of dialogue but comes through as aggressive when the dance numbers start (Flamenco routines, ball room dancing). The main purpose of the score though on a drama like this is deliver dialogue and subtle background "walla" (conversation and ambient noise). In some respects I'm surprised that a prestige production from the Roadshow era didn't warrant a stereophonic track (Perspecta sound?)

Extras


Audio commentary with Nick Redman, Lem Dobbs and Julie Kirgo

Newly commissioned yaktrak by Powerhouse Films features the usual team behind many commentary tracks for the US company Twilight Time. Redman is a noted film buff, documentarian, writer and owner of Twilight Time. Kirgo writes that company's excellent essays that accompany every one of their releases (I have over 50 in my collection). Dobbs is also a noted writer of books on film. The point of all this is to say that you're good hands with this commentary which is filled with trivia about Kramer, the cast, the film and it never falters for a solid 150 minutes. Anyone who has heard one these guys yaktraks before will know what to expect.

"Karen Kramer Introduction" featurette (1:50)

Short, slick vintage piece taken from the old DVD special edition; featuring Stanley Kramer's widow (he died in 2001). She notes the film's place in her husbands career as well as some trivia from the production.

"On Board the Ship of Fools" featurette (28:01)
"Voyage on a Soundstage" featurette (10:51)

Two vintage retrospective pieces also hailing from the R1 Stanley Kramer Collection from 2008.

Once again we get Kramer's widow Karen and some surviving cast and crew members, Barbara Luna, Elizabeth Ashley, George Segal and editor Robert C. Jones. Alec Baldwin is a celebrity fan and turns up to discuss the film.

The second piece focusses on shooting the film almost entirely on sound stages and features comments from cinematographer Ernest Laszlo, script supervisor Marshall Schlom. Laszlo Kovac who knew was a great pal and colleague of Laszlo puts his two penneth in.

Both are perfectly fine retrospective puff pieces and although they're nowhere near as good, or as interesting as Powerhouse's own produced extras it's nice that they've been included.

Original theatrical trailer (3:38)

Trailer that emphasises the cast and literary origins.

Ship of Fools Image Gallery: Promotional Material (83 images)

Extensive gallery of promotional stills, on set stills and poster artwork.

40-page liner notes booklet with a new essay by Neil Sinyard, an overview of contemporary critical responses, and historic articles on the film

Sinyard is an old pro who has been contributing to home video releases for over twenty years and has written an excellent overview of the film and where it sits within Kramer's oeuvre. Author of a book on Lee Marvin, Dwayne Epstein has given us an interview with Kramer about casting Marvin. We then get Epstein supervised interview snippets with several who worked with Marvin. Tom Milne's vintage 1965 review of the film is also included.

Overall


Another superb release from Powerhouse Films in their Indicator series of releases. Top notch Hollywood entertainment given topnotch handling of an older master. Both picture and sound are as good as can be. The vintage extras have been ported over and although they're superficial they're worth having. The new commentary and booklet are however, second to none.
| | | | | |
| --- | --- | --- | --- | --- |
| The Film: B+ | Video: A+ | Audio: A+ | Extras: A | Overall: A+ |