Blood Harvest AKA Nightmare AKA The Marvelous Mervo (Blu-ray) [Blu-ray]
Blu-ray ALL - United Kingdom - 88 Films
Review written by and copyright: Rick Curzon (28th February 2018).
The Film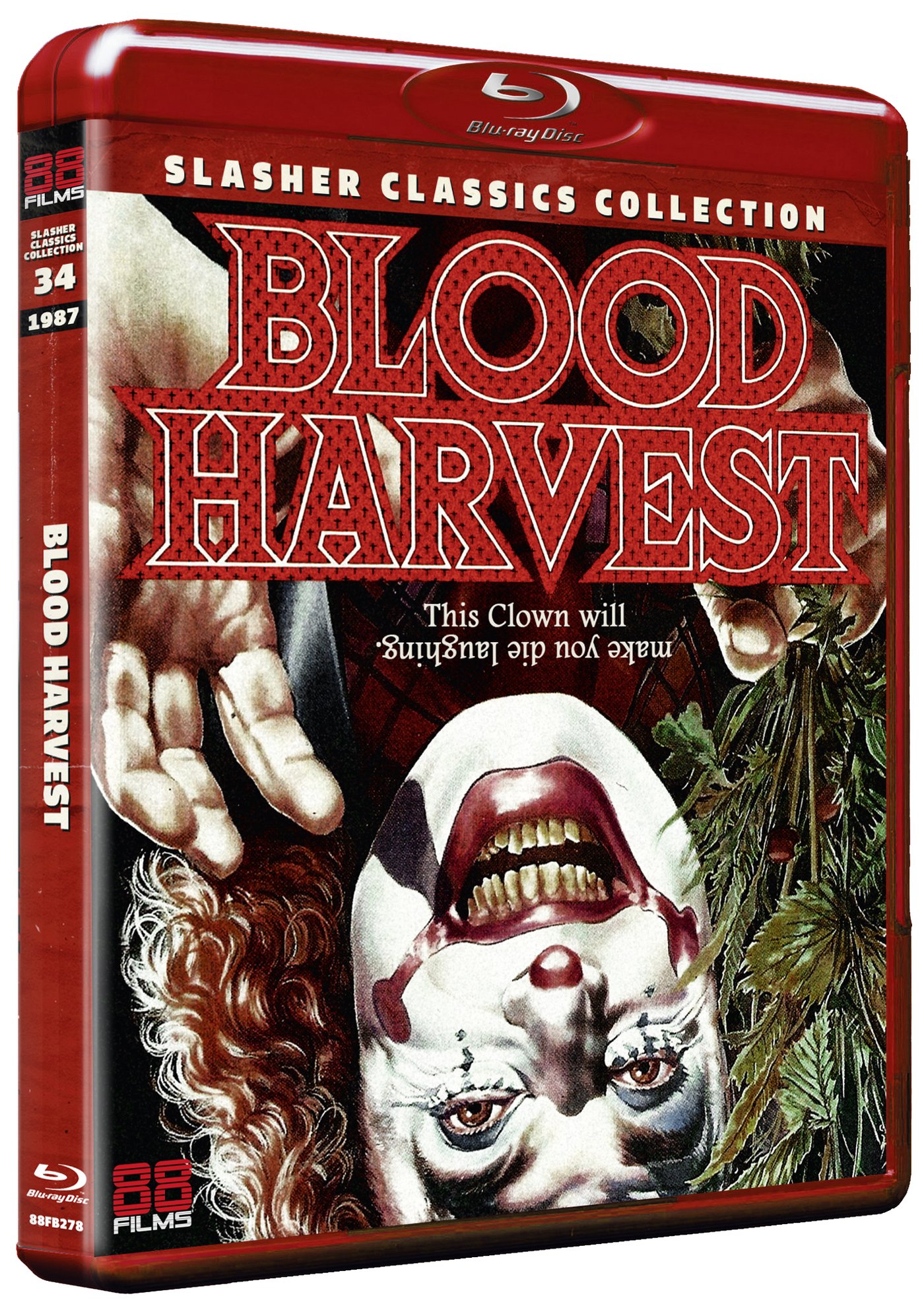 Prolific B-movie maverick Bill Rebane (The Giant Spider Invasion) opted for some contemporary 'real world' horror carnage and caught wind of the slice and dice craze with his classic Blood Harvest (1987).

Unleashed at a time when the slasher movie was awash with sequels, Blood Harvest stood out thanks to a lunatic performance from Tiny Tim; the legendary American television personality who offers up a creepy and instantly-cult sing-song scene. Featuring a masked man on the rampage, twists and turns that will keep you glued to the gore, and a final reel that packs in plenty of sadism and shocks, Blood Harvest gets its high definition worldwide premiere from the celluloid plasma-addicts at 88 Films!

Video


Jill (Itonia Salchek) returns to her hometown of Winchester to find that her parents have disappeared and a series of murders are being committed. Her boyfriend Scott (Peter Krause) arrives to help her investigate along with childhood friend Gary (Dean West) and his oddball brother Mervo (Tiny Tim) who's obsessed with clown makeup.

Ultra cheap, Wisconsin-lensed 16mm horror opus from the director of The Giant Spider Invasion (1975). This sat on the shelf for a couple of years before getting a very limited theatrical run before going straight to video, which is where most saw it. Tiny Tim is a fair amount of fun in the eccentric loony local role and he gets to perform some songs on the soundtrack. Apart from that this is your typical cheesy, sleazy '80s slasher epic with a very obvious villain. Still, enjoyable if it catches you in the right frame of mind.

This being a low budget effort shot down and dirty in 1985 on 16mm don't expect a stunning visual experience. Grain is course and ever present in both daylight and especially in night scenes. This looks like it has had minimal restoration with speckles and mild damage throughout and at one point a green tramline scratch appears on the left hand side of the frame for about twenty seconds (38:00). There is also reddish light bleed at about 3:45 to 4:00 down the left as well.

It's been said that this is scan of the OCN but due to the subsequent legal argy bargy it would seem that this has been taken from a print. In any case, fans should be very pleased with the overall presentation which looks good in motion. Detail is about as good as can given the source with closeups obviously benefitting the most in that area.

Black levels are deep and healthy and although there is crush it's no more than I'd expect for a 16mm lensed production of the era. The transfer is pleasingly film like and has a mild grindhouse aesthetic. Encoding is satisfactory with the occasional clumping in the grain but only if you are really looking are you likely to notice.

1080/24p / MPEG-4 AVC / 1.33:1 / 87:34

Audio


English LPCM 2.0 mono

Subtitles: English HoH

The sound fares about as much as the picture with a fairly harsh sounding unsubtle sound field. The strident electronic score at times gets in the way of dialogue but not too often. There is occasional distortion on the high end but nothing to get upset about. Short of a full-blown, ground up restoration we're unlikely to get anything better.

Extras


"Tiny Tim in Niagara Falls Sept. 3, 1987" featurette (71:41)

A chunky amount of home video footage shot around the time Tim was starting to promote the Blood Harvest. We get to see his act in a circus setting, annoying fans pestering him and some journalists interviewing him. A sad reminder as to what can happen to performers past their prime.

"Behind the Scenes on Blood Harvest" featurette (13:17)

This starts off with an excerpt from a 1992 children's TV pilot with Tim with his most famous hit (Tip Toe Through the Tulips) playing and then we get some interview footage with the great man just prior to him shooting Blood Harvest (here referred to as Nightmare) discussing various subjects like the ukulele, having long hair in the '50s before it was trendy. We get an interview with director Bill Rebane conducted some time after the film was made mainly talking about Tim. We also get some B-roll videotaped footage from the set in which we see some deleted scenes and finally a brief interview with Tim on the set.

"Tiny Tim Performs at the Blood Harvest Wrap Party" featurette (17:15)

What it says on the tin. We get an excerpt of highlights from a two hour non-stop performance of Tim doing Elvis impressions and showing his range as a singer.

Alternate Nightmare Opening Credits Sequence (2:12)

An alternate opening from the director's cut of Nightmare (director Rebane's preferred title) with tacky looking video-generated credits.

Reversible sleeve with choice of artwork

Choice of artworks both seem to be vintage.

4-page liner notes leaflet "Marvelous Mervo, at Your Service ..." by Justin A. Martell

Decent little article about Tiny Tim and the film.

Slipcase

Initial copies direct from 88 Films have a collectable slipcase that reproduces the key video art.

Overall


We have a trashy, sleazy little slasher epic that has reasonable production values given it's low budget and it gets a decent transfer but no restoration. The print is generally in fine condition however and has a pleasing film like, mildly grindhouse appearance. The extras are very centric to it's star Tiny Tim and don't have much to offer horror buffs, but what there is, is choice and very welcome and is more of a tribute to a talented and unusual performer of an era long gone.

Bravo once again to 88 Films for bringing a long forgotten, '80s slasher epic back into circulation in a worldwide Blu-ray premiere. Fans should snap this one up.

(18.3.2018: This title has been pulled from sale due to rights issues)
| | | | | |
| --- | --- | --- | --- | --- |
| The Film: C | Video: B+ | Audio: B | Extras: C+ | Overall: B |

---
DVD Compare is a participant in the Amazon Services LLC Associates Program and the Amazon Europe S.a.r.l. Associates Programme, an affiliate advertising program designed to provide a means for sites to earn advertising fees by advertising and linking to amazon.co.uk, amazon.com, amazon.ca, amazon.fr, and amazon.de.