The Film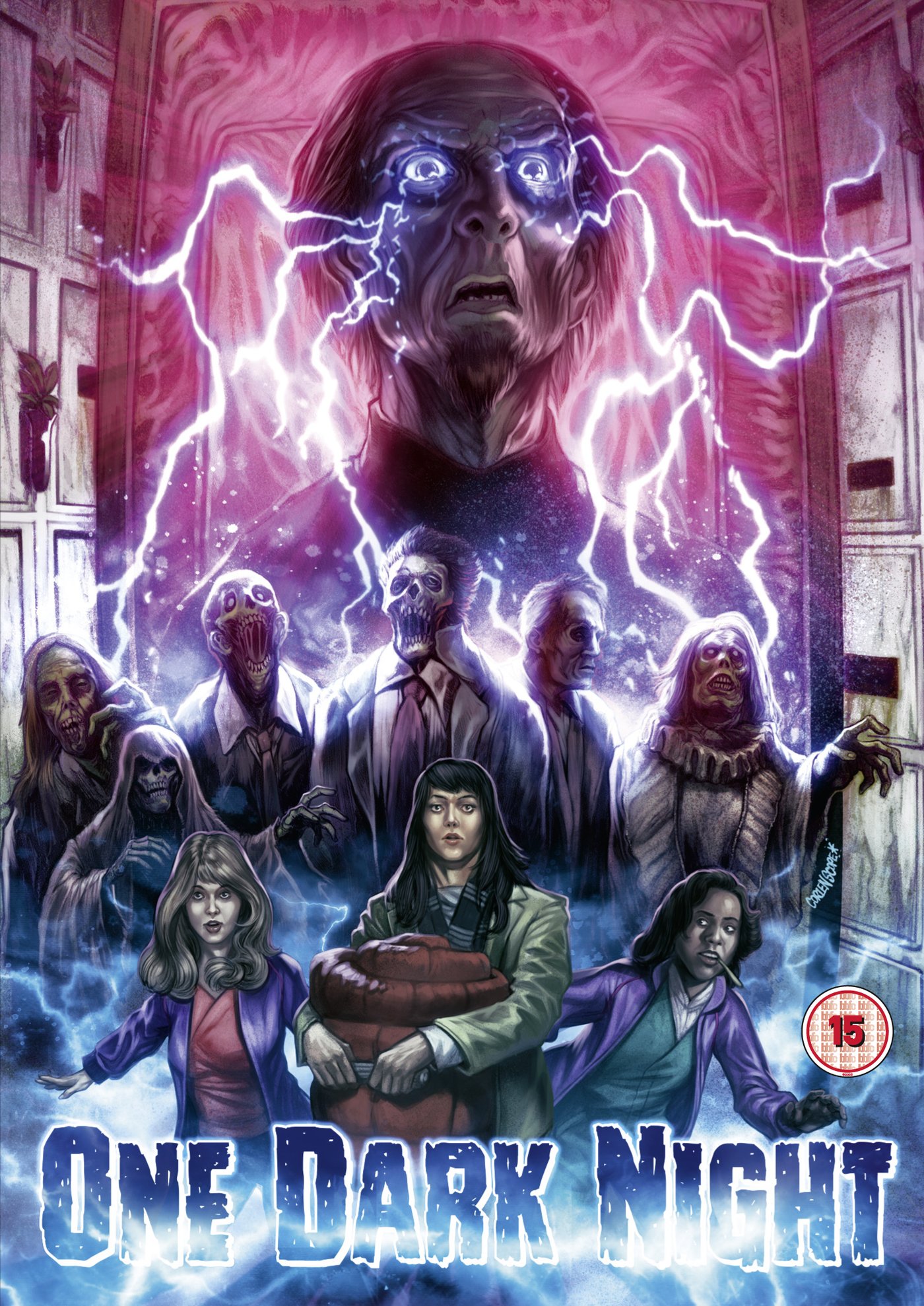 American horror starring Adam West in which high school student Julie Wells (Meg Tilly) agrees to stay in a mausoleum overnight as part of an initiation process, in the hopes of getting accepted into an elitist group of friends called The Sisters. Julie is unaware that she is joined by two girls from the group, Carol (Robin Evans) and Kitty (Leslie Speights), who sneak back into the mausoleum after dropping Julie off in an attempt to frighten her by donning costumes and playing pranks on their hopeful member. The playful pranks soon come to an end, however, when an occultist is resurrected from the dead and begins to terrorise them, causing them to fight for their own survival.

Video


Two strands to the plot: in the first an evil telekinetic is found dead in his flat with the bodies of several young women. Everyday objects are embedded in the walls and the police are baffled. The second strand involves a teen (Meg Tilly) who is being initiated into a gang and has to spend the night in the mausoleum where the telekinetic has been interred. Her pals (Robin Evans, Elizabeth Daily, Leslie Speights) are out to scare her but things don't go to plan.

The script is indifferent but has some good ideas and it gets decent low budget production values, good direction (Tom McLoughlin), a creepy score (Bob Summers), some slimy SPFX and makeup and above all decent performances from it's mostly young cast. A PG in the US when released to cinemas in '83 this plays very much like a creepy, after school Halloween special and would be a perfect introduction to the genre for younger would be fans. It'd make a great double bill with House (1985) for the younger set.

As for the technical merits of this disc. It seems obvious to me that it's been taken from a surviving 35mm print, probably at least two generations off the OCN. It's contrasty and has some blowout on white highlights and correspondingly although blacks are true and deep there is crush, mainly in darker moments ... of which there are many.

Colours are generally rich but flesh tones tend towards pinkish; again, a factor I assume due to the aging print. I'd love to know the provenance if the source here and wish 88 Films would provide that information on their packaging or in their booklets ala Arrow, Indicator and Criterion. Detail is generally pretty good in both background and foreground but grain is ever constant and heavy. Once again, I put this down to to the source; were someone to do a new 4K of the OCN we'd see a massive uptick in detail, colour resolution and black details.

I can detect absolutely no signs if digital tinkering, there is plenty print damage of a minor variety, occasional tramline scratches etc. The encode does an adequate job without blowing me away in it's even handling of grain.

What we have is a rock solid little disc that is well worth getting.

1080/24p / MPEG-4 AVC / 1.78:1 / 88:35

Audio


English LPCM 2.0 Mono
Subtitles: English HoH

Standard mono track typical of low budget fare of the era. It's robust but does have some minor distortion here and there. The score comes through nice and clear, but occasionally sound effects and dialogue clash and lack base.

Extras


"Memories of Darkness: An Interview with Tom McLoughlin" featurette (45:50)

Excellent, chunky interview discusses McLoughlin's earlier career moves being a rock musician, from thence to mime (working with Marcel Marceau in Paris) and then to choreography on productions like Sleeper (1973), Prophecy, The Black Hole (both 1979) and The Incredible Shrinking Woman (1981). As he was a member of the Screen Actor's Guild he had the Captain STAR part in The Black Hole written especially for him. One Dark Night and it's origins are covered; it was based on McLoughlin's experiences in the Paris Catacombs and influenced by Edgar Allan Poe. How it was produced by Mormon producers, and the slideshow pitch etc., how the film was taken over when the original backers went bankrupt, the hiring of Adam West. His experiences working on Jason Lives!: Friday the 13th, Part VI (1986) are also covered.

Theatrical Trailer (2:14)

A splendid early '80s trailer that's rare in so far as it has virtually no voice over and avoids dialogue scenes.

Reversible sleeve

New artwork on the primary side and then a great piece of vintage work on the reverse.

Slipcase

If you purchase via the 88 Films' website you get a slipcase of the new artwork.

8-page liner notes booklet "The Ghoul: The Directorial Career of Tom McLoughlin, from One Dark Night to Liftime" Dave Wain and Matty Budrewicz

A great overview of McLoughlin's career and an analysis of his approaches to film making. It also covers his TV work.

Overall


A fine release of a fun, family-suitable horror film. I thoroughly enjoyed getting to see it having heard of it for years. What few extras we have are choice and very, very good. It's a shame that the work print and extensive extras off the US disc couldn't have been ported over.

Don't let that put you off this disc, it's an excellent purchase. A true fan would have both as they compliment each other very well.
| | | | | |
| --- | --- | --- | --- | --- |
| The Film: B | Video: B+ | Audio: B | Extras: B+ | Overall: B |