Handmaid's Tale (The) (Blu-ray) [Blu-ray]
Blu-ray B - United Kingdom - Fabulous Films
Review written by and copyright: Rick Curzon (2nd March 2018).
The Film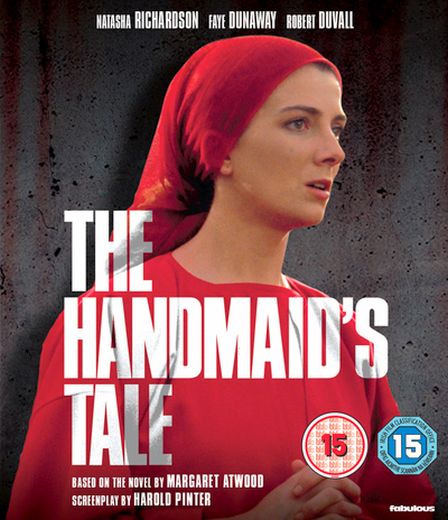 Adapted from the bestselling dystopian novel by Margaret Atwood and with a screenplay by Harold Pinter The Handmaidís Tale stars Natasha Richardson, Faye Dunaway and Robert Duvall. In Atwoodís nightmarish fable, the United States of America has become The Republic of Gilead, a right-wing totalitarian state. Women are subjugated and powerless in society. The world is rife with disease and infection, and few women remain who can have children: those who can are taken by the government, and christened handmaids. Kate, a handmaid, is sent to the house of Fred, the Commander. There she must submit to his demands, and those of Serena Joy, his jealous, vindictive wife. But some things cannot be controlled by The Republic - like Kate s growing feelings for The Commanderís chauffeur Nick. Or the secret resistance, who meet under darkness. This chilling and memorable film retains all the power of Atwoodís feminist classic, and is at once a stinging critique of a totalitarian society, and a moving story of one womanís fight for freedom.

Video


A future USA faced with 99 women out of 100 being sterile enslaves those who are fertile in an attempt to maintain itís population. Couching it fundamentalist religion and as something for the greater good. Behind the scenes this was a troubled production but the final result is an effective dystopian scifi flick. Sadly, it seems much more likely in itís premise now than when the original novel was first written (1985) or when this film first hit theatres (1990).

Performances couldnít be bettered and itís far less of a time commitment than the better received recent TV adaptation which Hobbit-like has spun itís source out to approximately ten hours and has been green-lit for more series that will chart new territory not in the book. Excellent score by Ryuchi Sakamoto.

The master used by Fabulous Films is undoubtably the same one used by Shout! Factory in the USA and it bears the MGM Logo. When need be the film has a naturalistic but colourful look but is also frequently favouring a colder feel to emphasise the bleak nature of the story. The famous red dresses of the Handmaids standout vividly and are well handled by the encode which is more than satisfactory.

Grain is ever present but remains very fine and dense lending the whole film a filmic texture that is very welcome. Apparently on this master there is a feint tramline scratch late in the film but I didnít see it; perhaps Fabulous have done some additional damage removal. Black levels are well handled with no signs of crush and there doesnít seem to be any egregious digital tinkering.

A fine looking film given a supportive bitrate, decent encode and matches the content of the American disc in terms of picture, sound and extras.

1080/24p / MPEG-4 AVC / 1.85:1 / 108:37

Audio


English DTS-HD Master Audio 2.0 Stereo
Subtitles: None

Very solid Dolby Stereo track that faithfully replicates the original cinematic experience. Itís active with plenty of surround activity, particularly in the brothel scene and in the infrequent bouts of action. Dialogue is crisp, clear and mainly front and centre and Ryuchi Sakimotoís score never gets in the way and is mainly confined to the front left and right. A shame this didnít warrant a 5.1 boost as it couldíve lent the track some greater spacial effects and depth.

No subtitles is very disappointing.

Extras


Trailer (2:52)

Ancient, letter boxed 4:3 trailer for the film with an ominous voiceover emphasising the dire world depicted in the film. Itís very spoilerific, so donít watch this before you watch the film.

A shame some vintage UK-only extras couldnít have been found or some new ones created as Iím sure this interesting production couldíve done with some context around itís creation.

Overall


A troubled production with screenwriter Harold Pinter giving up due to exhaustion and then subsequently disowning the finished product. However, for those just seeking a solid piece of grim, dystopian scifi this delivers the goods. The disc is a clone of the US release and seems to have similar quality image and sound, which are strong. Fans should be pleased. The paucity of extras on both releases is regrettable but given the film's low critical and public image, not surprising. Still, any film by Volker SchlŲndorff is well worth seeking out even if itís one of his less well regarded works.
| | | | | |
| --- | --- | --- | --- | --- |
| The Film: B- | Video: A | Audio: A | Extras: E | Overall: B |

---
DVD Compare is a participant in the Amazon Services LLC Associates Program and the Amazon Europe S.a.r.l. Associates Programme, an affiliate advertising program designed to provide a means for sites to earn advertising fees by advertising and linking to amazon.co.uk, amazon.com, amazon.ca, amazon.fr, and amazon.de.