The Film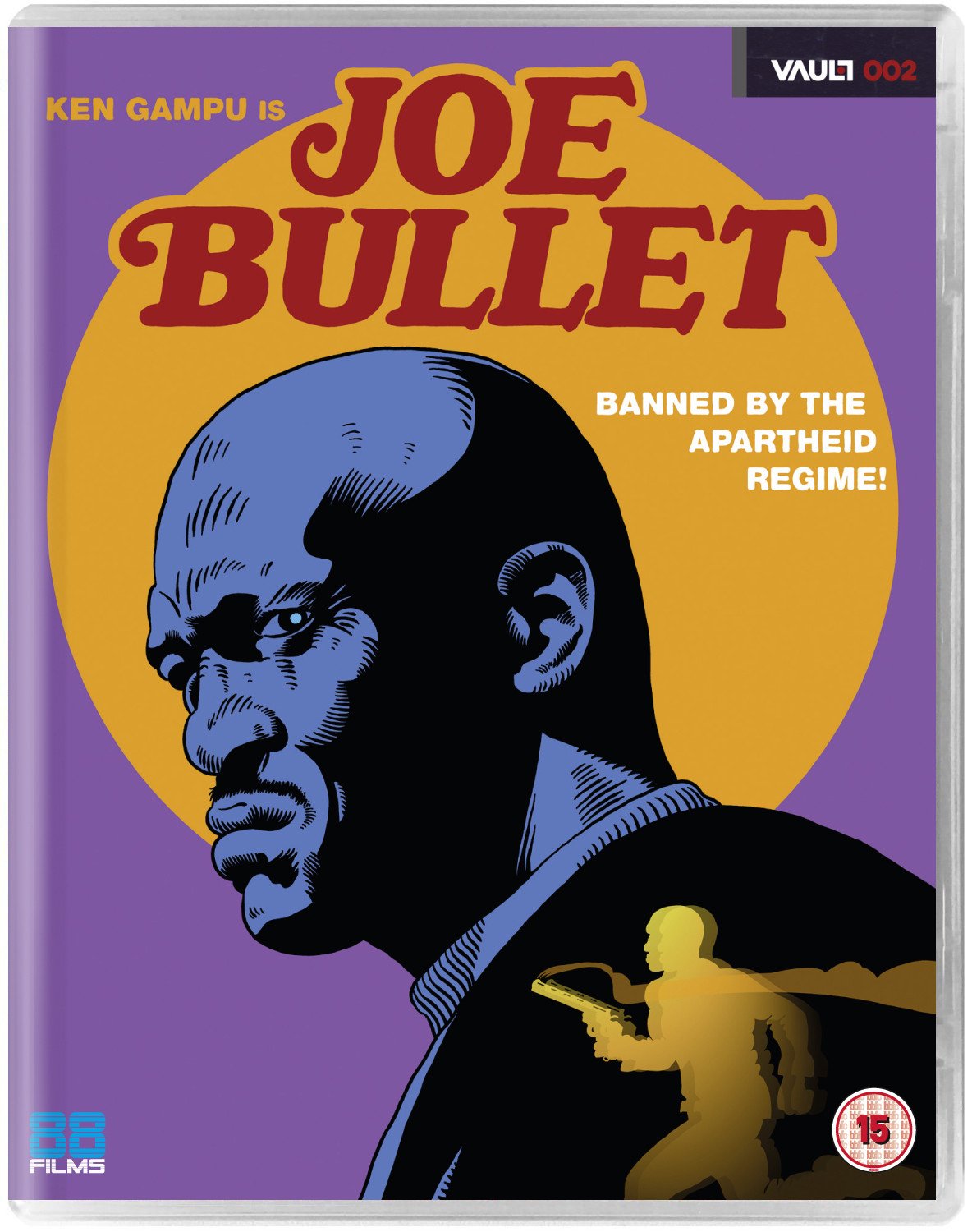 When local soccer team The Eagles fall prey to a series of onslaughts from a mysterious gangster only a week before the championship final, the team turns to the one man that can help save their chances at victory - Joe Bullet (Ken Gampu). Joe will have to battle against villainous henchmen, escape booby-trap bombs and bring his martial arts expertise to the fore in order to survive an attack from a deadly assassin. In the end he will have to infiltrate the mysterious gangster's hide-out in a dangerous cat-and-mouse rescue mission to save not only The Eagles' two kidnapped star players, but that of his beautiful love interest, Beauty (Abigail Kubeka). The odds will be stacked against him, but he's the man that fights crime, the man that no one can tie down! Joe Bullet!

Video


A football team is being bullied, harrassed and it's trainer murdered by gangsters. Tough guy and all-round decent dude Joe Bullet (Ken Gampu) gets involved and the gangsters will live to regret it! The late Gampu is the whole show here; a powerful, charismatic actor who also appear in international,productions like The Wild Geese (1978).

Shot on 16mm in 1971 this scrappy little South African Blaxploitation action flick is seemingly influenced by Dirty Harry (rough justice) and James Bond films (plentiful action). It's a very amateurish, unevenly directed production with an indifferent script but earnest sometimes heartfelt performances.

Considering the films rarity, its controversial, truncated release and its historical significance it's a wonder that we actually have a restored copy to see. It has a very heavy film-like appearance which reflects it's rushed, harried, shotgun production and always displays it's fuzzy, 16mm origins. IMDB lists this as having a negative ratio of 1.33:1 and a projection ratio of 1.85:1 but it wouldn't surprise me if it came out that originally it was hard matted because so much info seems missing at the sides. I suspect given the nature of it's production this could just be inexperience with little consideration being given over to framing and aspect ratio.

There's plenty of damage throughout the film and occasionally skipped frames and film weave. Black levels aren't uneven tending towards a very, very dark grey at times and deep black at others. Being taken from 16mm projection prints rather than an OCN there is evidence of crush here and there but nothing too egregious. Contrast and detail is generally pretty good and colours are rich if favouring a brownish cast. This may be down to the state of the surviving prints however.

I could see no signs of any digital artifacting like posterisation, mosquito noise etc but I suspect that there may be a small amount of DNR because there's not as much film grain that I would expect to see taken from 16mm prints. Grain is present as is a small amount of noise and encoding is merely adequate with some clumping in sky scenes.

Overall the image is very pleasing given what the restoration team had to work with and this Blu-ray is likely to be THE last word on this valuable, rare title for a long time to come. It's unlikely that we'll ever see a 4K UHDBD release any time soon.

1080/24p / MPEG-4 AVC / 1.33:1 / 89:32
(the film starts at :53 after restoration company logo and captions informing the viewer of the films history and ends at 88:44 with the remainder being modern cast and credits)

Audio


Solid, if tinny mono track has little by way of base and by normal standards is pretty poor but this is to be expected considering the source elements and the nature of the original production. Dialogue is mostly clear but subtitles have been provided for the film and are useful at the odd moment when it is occasionally muffled and quiet. Music is occasionally canned sounding.

English LPCM 1.0
Subtitles: English HoH

Extras


Audio Commentary by Tonie van der Merwe, Benjamin Cowley and moderated by Calum Waddell

Cowley is from Gravel Road Entertainment Group who restored the film, van der Merwe wrote and produced the film and Waddell is a journalist and academic who is familiar to all film buffs for his work at festivals and for video labels such as Arrow and 88 Films. Plenty of interest here with van der Merwe being probed by the others about how hard it was producing this film which began production in 1970, using stock footage of football matches, it's controversial release, van der Merwe's career in SPFX, his inexperience about most aspects of film production, the political aspects of the film, how everyone regardless of race remained "quiet" about apartheid, being watched during production! by the security forces (they raided frequently and took film away). The most interesting aspect is how the film only existed as two 16mm prints which were used for the restoration and how Waddell came across a blog by a New York based individual who saw the film in Lagos, Nigeria and who was inspired by it.

Theatrical Trailer (2:18)

HD trailer produced for the recent reissue has the same caption explaining the films history as that the main film has upfront. The catchy theme song plays over exciting moments from the film with the odd bit of key dialogue dropped in.

Reversible sleeve

A choice of the new artwork or of the vintage poster design.

Slipcase

Collectable slipcase features the new artwork done by 88 Films and is only available when the disc is ordered from their website.

8-page liner notes booklet "Bullet to the Head" by Callum Waddell

An excellent overview of the film, covering South African cinema and where this film sits within that oeuvre. Key players are covered as well as the history of the restoration and Waddell ends by saying he introduced it to Eli Roth.

Overall


A fascinating artefact of South African cinema gets a solid release from 88 Films that's about as good as can be expected. Despite there being signs of age and damage on the print the restoration is remarkable and the rarity of the film more than makes up for any issues. Sound is mixed but again considering when, where and the technology involved in production probably as good as can be. Extras are good few but choice.
| | | | | |
| --- | --- | --- | --- | --- |
| The Film: D | Video: A | Audio: B | Extras: B+ | Overall: B |