Legend of the Lost [Blu-ray]
Blu-ray A - America - Kino Lorber
Review written by and copyright: Robert Segedy (5th March 2018).
The Film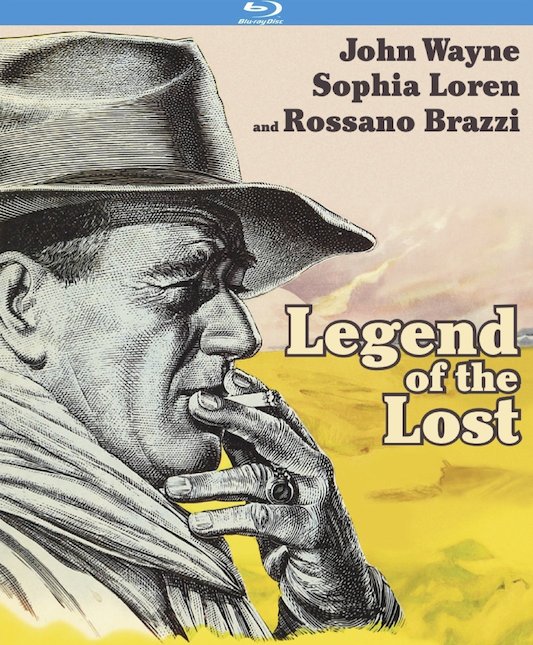 ďHotter than 1000 Suns!Ē

Dita (Sophia Loren) and Joe January (John Wayne) are together for the first time in a desert adventure that finds them hired by a foreigner Paul Bonnard (Rossano Brazzi) to go deep into the Sahara desert and help him locate his father and a lost treasure. Shot on location in Libya, the film features stunning cinematography, a plot filled with suspense and intrigue, and of course the swagger of John Wayne and the sex appeal of Sophia Loren.

Wayne is Joe January, a hard drinking, hard living tour guide in Timbuktu and Loren is Dita, a woman of the night that is tired of living the hard life; together they are swept away by Bonnardís convincing talk of the lost city of Timgrad containing millions of dollars in gems and gold, all they have to do is locate it. Apparently Bonnardís father had written him detailed letters explaining exactly where the treasure could be found, and all the details are in Bonnardís head, nonetheless the two start off into the desert with six mules where they are later joined by Dita. After various trials and tribulations, including a sandstorm and a close encounter with some hostile Bedouins, the trio discover the lost city, but that isnít all that is revealed. Bonnard had spoken of his father in revered tones and how he was such a great man, with a dream of setting up a hospital to aid the sick and poor of Africa, but when they discover the skeletons of three explorers, a terrible truth is revealed. The beautiful cinematography by Jack Cardiff is impressive and the desert is incredibly daunting, a place of unforeseen twists and turns. The story by Ben Hecht and Robert Pressnell Jr. is mildly entertaining but there isnít any that we havenít witnessed countless times before.

ďHe didnít believe in anything but being a big-shot with God as a front. Iíve seen these do-gooders before Ė usually doiní the most good for themSELVES! Believing in God is different than drooling over rubies and emeralds.Ē- Joe January.

This is a John Wayne film through and through, so if you are a fan of the Duke then you will enjoy this adventure in the desert, but otherwise this film is a pass. The cinematography and the score by Angelo Francesco Lavagnino are more than fair and help this beleaguering film along, but it still felt like a chore watching this. Loren, of course, looks completely fresh and beguiling, with several scenes of her wearing a tight wet dress which only accents her beauty. The only character of any depth is played by Rossano Brazzi as he progresses from uptight pious man into an untethered madman by the filmís close.

Video


Presented in widescreen 2:32:1 mastered in HD 1080p 24/fps mastered in AVC MPEG-4 compression. Kino Lorberís transfer to Blu-ray is impressive with the color composition being unusually clear, especially in the outdoor scenes with a strong HD presentation.

Audio


The single audio us in English DTS-HD Master Audio 2.0 Mono, there's nothing very exciting in this area but the constant sound of the desert winds, with the occasional blast of gunfire and some sound effects during a fight scene are present, and all of the dialogue is very clear. Optional subtitles are included in English.

Extras


Kino Lorber hasn't included a lot of extras, there's only the film's original theatrical trailer which runs for 3 minutes 42 seconds.

There are also a collection of bonus trailers for:

- "Brannigan" which runs for 2 minutes 21 seconds.
- "Boy on a Dolphin" which runs for 2 minutes 25 seconds.
- "Five Miles to Midnight" which runs for 3 minutes 18 seconds.
- "23 Paces to Baker Street" which runs for 2 minutes 14 seconds.
- "Rawhide" which runs for 2 minutes 26 seconds.
- "Cast a Giant Shadow" which runs for 3 minutes 40 seconds.

Packaging


Packaged in a standard Blu-ray keep case.

Overall


The film might have been entertaining way back in 1957, but it unfortunately does not hold well to current times. The Blu-ray is very clear and the photography is distinct.
| | | | | |
| --- | --- | --- | --- | --- |
| The Film: B | Video: A | Audio: B+ | Extras: D- | Overall: C+ |

---
DVD Compare is a participant in the Amazon Services LLC Associates Program and the Amazon Europe S.a.r.l. Associates Programme, an affiliate advertising program designed to provide a means for sites to earn advertising fees by advertising and linking to amazon.co.uk, amazon.com, amazon.ca, amazon.fr, and amazon.de.