Ghost Lovers (The) AKA Yan nu huan hun (Blu-ray) [Blu-ray]
Blu-ray B - United Kingdom - 88 Films
Review written by and copyright: Rick Curzon (6th March 2018).
The Film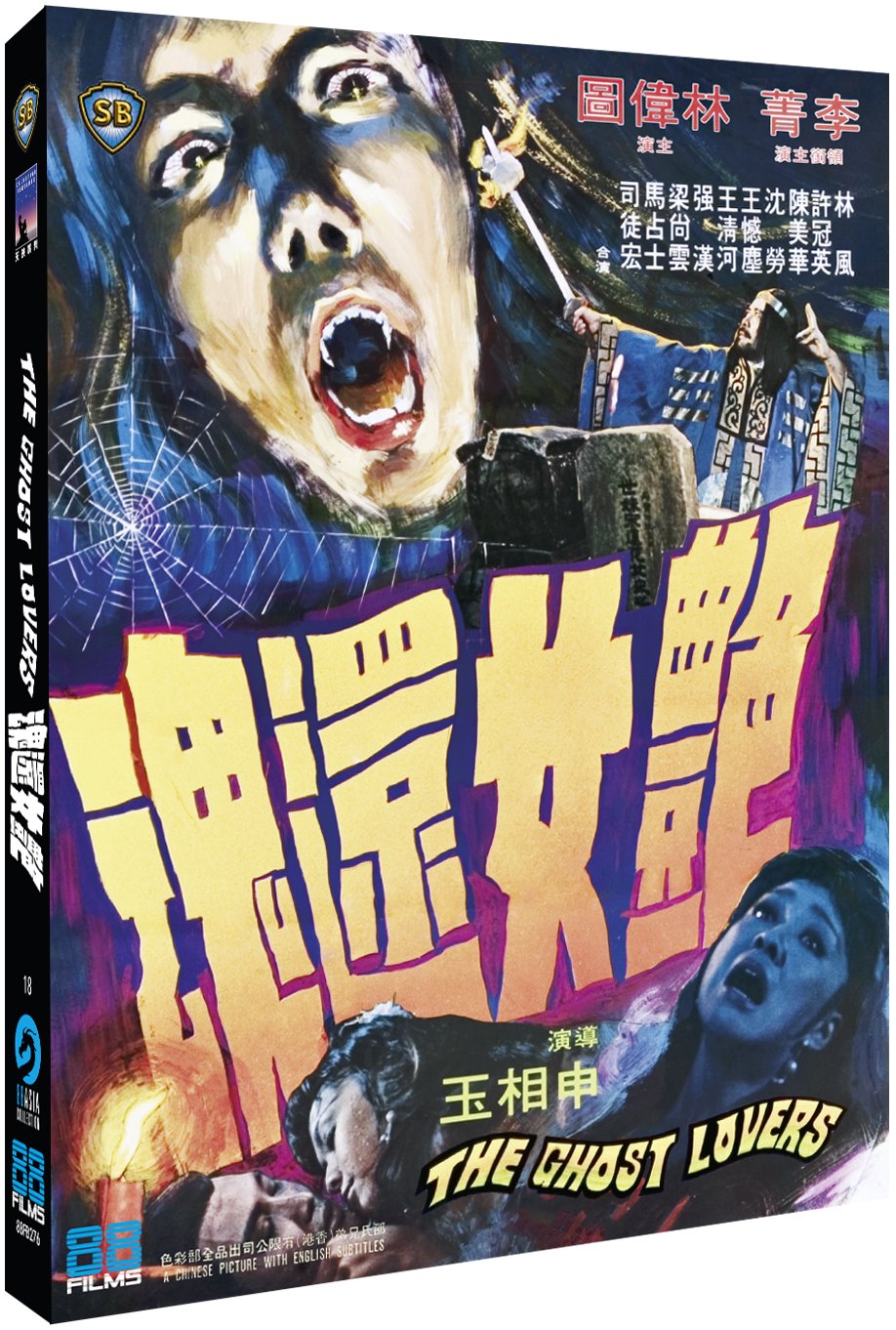 "Long before South Korea became a pop culture phenomenon the country still possessed a fascinating pool of filmmaking talent and few were more prolific than the late Shin Sang-ok. Creating several genius genre efforts, such as the early K-horror creeper THE SNAKE WOMAN (1969), the director helmed one of his most famous and acclaimed creep-shows with THE GHOST LOVERS (1974). Made in Hong Kong for the Shaw Brothers, this ghoulishly effective supernatural horror classic has a beautiful babe from beyond-the-grave reach out to her beau... but, unfortunately for our feisty femme fatale, the struggles and shocks of a romance that includes outer-body terror and spirited surprises is difficult to contain! Both deceivingly romantic and eerily effective, this five star spine-tingler has been remastered for BluRay by the Asian cinema junkies at 88 Films. THE GHOST LOVERS has returned to British shelves in colourful and creepy HD condition to once again steal your soul!!!"

Video


Beautifully crafted romantic ghost story is apparently one of the Shaw Brothers rarer productions. Great widescreen Shawscope compositions, beautiful mise en scene with mist wisping its way through most scenes, creepy ghosts and comedy peasants who feint whenever a ghost appears.

Song Lian-Hua (Li Ching) the heir to the Song family fortune dies before her betrothed Han Shi-Long (Lam Wai-Tiu), whom sheís never met, can get to her. He had been attacked on the road and was saved by a childhood chum and nursed back to health. As the ghost of Lian-Hua visits Han night after night consolidating their marriage he weakens, seemingly loosing strength ...

Made by Korean director Shin Sang-Ok in Hong Kong who would end up being kidnapped by North Korean dictator Kim Jong-Il between 1978 and 1986 when he escaped. Apparently the dictator admired his work and forced him to make films for the North. A romantic, melancholy fantasy that deserves to be much better known and more widely seen.

We have a nice clean image probably taken from a negative; there is not a single sign of damage that I could see here. Colours are rich and florid with plenty of coloured gel lighting used to heighten the fantasy effect and create atmosphere. The transfer handles this generally very well with no signs of bleed.

Contrast and black levels are more problematic. The former is for the most part very good and the very few daylight scenes and / or location shots are bright enough. Most of the film is shot on soundstages and has a very controlled look which favours a more subtle contrast. As with many other Asian transfers Iíve seen down the years black levels tend towards milky and extremely dark grey with some evidence of crush here and there. At other times detail in blacks is quite good. I found that if I ticked my brightness down a notch or two it brought the blacks more in line and they became darker, richer and more pleasing.

Now hereís the rub. I could detect very little grain, which I simply donít trust certainly not on a 35mm production like this from this era and the lack of striking detail leads me to believe that the master supplied by Celestial Pictures has had a fair amount of DNR baked in. There is detail to be had but it rarely is very sharp and faces have a waxy quality. Thankfully I could detect no signs of edge enhancement. The image is all a bit too clean.

The encoding is adequate, certainly not up to David Mackenzie standards established on his Arrow and Indicator releases.

Should any of this put anyone off this disc. No. The film almost certainly looks better than it ever has and on the whole I found this very stylised film with itís beautiful visuals looked very good. However, the bigger your screen the more youís likely to notice the tinkering. I watched it in a 58Ē 4K Hisense TV at a distance of ten feet that has been set up properly using the Joe Kane setup disc. The only way I could see the scant texture in the picture was to go and sit practically on top of the image at about two feet.

1080/24p / MPEG-4 AVC / 2.35:1 / 91:57

Audio


Mandarin LPCM 2.0 Mono
Subtitles: English (Optional)

Audio is a pretty standard post synced dub. These films were shot in the Shaw Brothers studios which were not soundproofed and therefore all sound was created in post production; just like many European productions of the time. Itís a standard mono track with poor base and occasionally tinny, but that is about as good as itís going to get on a soundtrack from this era at this budget. Short of returning to the sound stems were not going to get a robust 5.1 soundscape out if this. Dialogue is slightly muffled sounding but again that is par for the course. If has a breathy, too close to the microphone quality. Music is clear and well balanced as are sound effects.

Extras


Reversible sleeve

The default option is a photomontage cover and on the opposite side is the original Shaw Brothers poster artwork which is much better

Slipcase

Collectable slipcase featuring the original Shaw Brothers artwork which is pretty snazzy and as usual printed on quality card.

4-page liner notes leaflet ďGhost and GhoulsĒ by Callum Waddell

Excellent article is a paen of love for the generally under appreciated and unseen Shaw Brothers ghost horror films and specifically this little gem under discussion here. Director Sang-Ok is discussed in some detail along with his famous kidnapping and lovely leading lady LimChing gets a potted career overview as well.

Overall


Thank you 88 Films for providing the UK market with this wonderful, rare fantasy ghost tale. The master used has several issues baked in but not much can be done about that unless Celestial Pictures allows the original elements or a raw scan to be restored by 88 Films. This is probably the only HD master in existence and it provides us with clean, clear undamaged image and basic mono sound. Extras are scarce but what there is is good. I wouldíve liked to have had a commentary, and / or a retrospective documentary on the Shaw Brothers horror films, but we canít always have everything

Fans should snap up this disc, especially as itís pretty cheap at the moment.
| | | | | |
| --- | --- | --- | --- | --- |
| The Film: A | Video: C+ | Audio: B | Extras: C+ | Overall: B |

---
DVD Compare is a participant in the Amazon Services LLC Associates Program and the Amazon Europe S.a.r.l. Associates Programme, an affiliate advertising program designed to provide a means for sites to earn advertising fees by advertising and linking to amazon.co.uk, amazon.com, amazon.ca, amazon.fr, and amazon.de.