The Film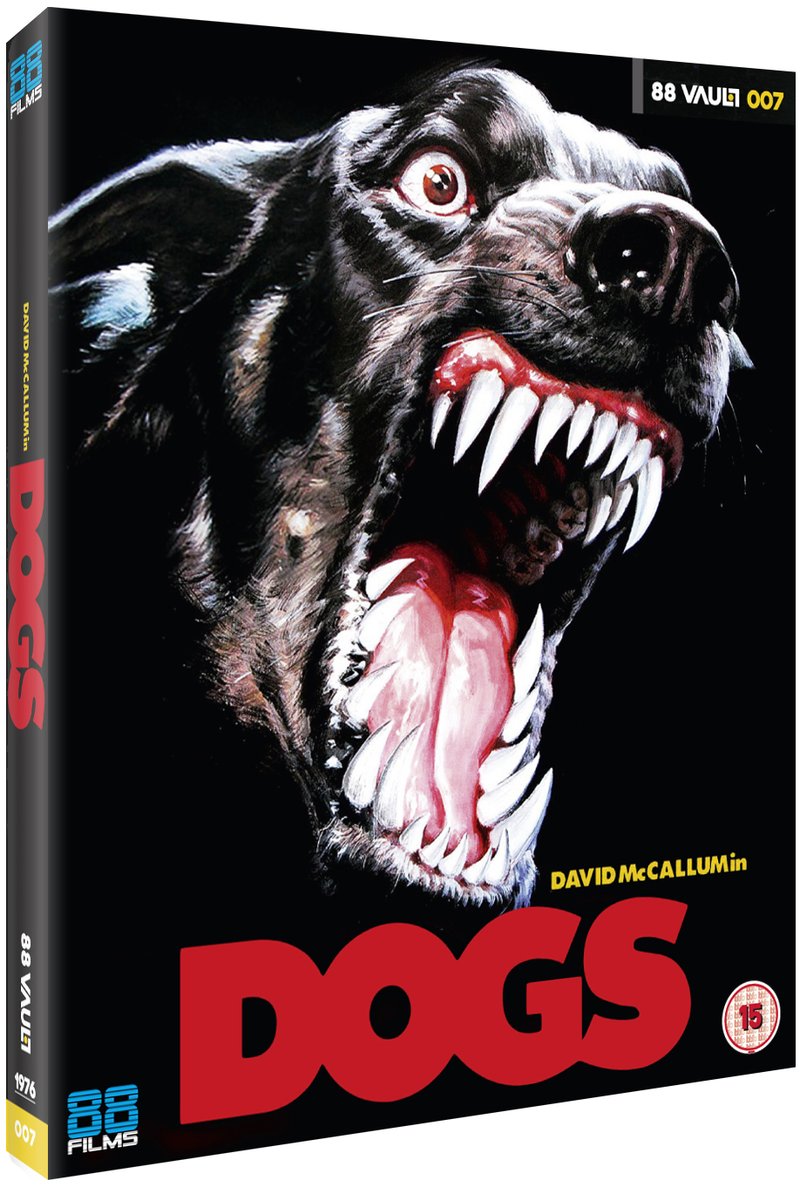 In the wake of JAWS (1975) audiences were treated to all number of nature-run-amok movies - from Jeff Lieberman's killer worm outing SQUIRM (1976) to the national park nightmare GRIZZLY (1976). Equally quick off-the-bat was DOGS, also unleashed in 1976, and treating terror-hungry audiences to an outbreak of canine carnage in a small California town. Featuring the thespian talents of British actor David McCallum (THE GREAT ESCAPE), the action comes thick and fast as 'man's best friend' is turned against its owner and chows down on human flesh - in the streets, in the corridors of a university and even in the shower... no one is safe from being mauled by a pack of blood thirsty four-legged fiends! Best compared to Stephen King's gut-wrencher CUJO (1983), few fans of 42nd Street ferocity will deny that DOGS is a B-movie masterpiece that you would be barking mad to miss!

Video


Funky revenge of nature flick made in the wake of Jaws and in the same year as Grizzly and Day of the Animals has the odd unintended giggle due to the fact domestic dogs just don't look threatening, however the film is well made and well played with a great performance by David McCallum in the action man lead role and George Wyner is fine as a fellow boffin.

A surprising amount of gore in what could have been, indeed feels like, a TV movie of the week. I could've done without the endless screaming from Sandra McCabe's character; an aspect unlikely to have been scripted these days.

No world beater but a fun little horror film with a whiff of scifi and a pretty hilarious final shot implying that cats were about join in the fun.

The image is very filmic and seems to have been taken from the 35mm OCN, or at the very least an interpositive. It looks pretty sweet considering it's age and budget with plenty of healthy grain well handled by a decent encode. I could see no clumping or wholes in the grain. Also, no signs of print damage beyond the odd speckle here and there. The image is occasionally a tad contrasty but on the whole it's a decent picture with plenty of detail to be had in both foreground and background.

Flesh tones are rich but natural and black levels are deep and although there is some crush in some of the darker night scenes detail is still present. This was a very low budget production and as such was probably shot fairly quickly and this must be born in mind by anyone viewing this disc.

No signs of any digital tinkering like DNR or edge enhancement; this is a pleasingly low budget, filmic, 1970s era image.

1080/24p / MPEG-4 AVC / 1.78:1 / 90:24

Audio


English LPCM 2.0 Mono
Subtitles: English HoH

The films rather TV-ish and dull score never gets in the way of the dialogue, and sound effects come through clearly. Love the creepy dog-pack howling. The track lacks base and can sound a tad tinny but that is typical of the era and of mono tracks for low budget films like this. About as good a rendering as we're likely to see short of someone locating the sound stems and recreating the soundtrack in 5.1.

Extras


"The Making of Dogs" featurette (19:10)

Retrospective from 2003 featuring several folks discussing the film: Don Enright (Advertising Specialist), Roger Riddell (Media Expert), Burt Brickerhoff (director), Sandra Shaw (Head of Advertising, Publicity & Promotion), David Miller (Head of Distribution), George Wyner (Actor) and Eric Server (Actor). Directed by Eric Karson who directed the Chuck Norris film The Octagon (1980) for the same production company American Cinema. Plenty of fun anecdotes about the cast and production; my favourite being Brickerhoff's technique to get birds to stop singing at dawn during shooting.

"How American Cinema Changed Hollywood Forever" featurette (27:59)

This 2003 featurette is also available on the UK BD of The Octagon (1980) and is predictably all about the production company of the title. We get detail-filled interviews with Alan Belkin (President, American Cinema), Jean Higgins (Head of Production), David Miller (Head of Distribution), Sandra Shaw (Head of Advertising, Publicity & Promotion), Roger Riddell (Producer, Media Expert) and Don Enright (Producer, Writer). American Cinema pioneered the saturation technique starting out with huge advertising campaigns and saturate several cities with film prints and adverts. In the end when the majors got in on the act and competition increasing from the limited numbers of screens and the company collapsed. An excellent snapshot of a interesting company and the shenanigans that went into marketing their films.

Films discussed:

The Late Great Planet Earth, Dirt, A Force of One, Good Guys Wear Black, The Octagon, Charlie Chan and the Curse of the Dragon Queen .... amongst many others.

TV Spot (:30)
Theatrical Trailer (2:23)

Standard, silly promotional material of the period; TV spots and trailers like this were used to flood TV and cinema screens to get the punters in. Cheezy voice overs and exciting moments.

Reversible sleeve

A simpler version of the main cover with a brief blurb in the back, no BBFC certificate or company logos.

Slipcase

Collectible slipcase available when you order direct from 88 Film's website.

Overall


A fine release from 88 Films bringing us a decent transfer with good image and sound of this forgotten revenge of nature ditty from the '70s. David McCallum - trying to dispel his Man from UNCLE image - as a hirsute, unshaven, action man scientist is tons of fun and this manages to have it's creepy as well as unintentionally funny moments. Extras are vintage and obviously done on a low budget but they're good with plenty of interest.

I recommend this disc, well worth a purchase for those who are so inclined to enjoy old horror films .... just don't try watching it with your pet dog in attendance.
| | | | | |
| --- | --- | --- | --- | --- |
| The Film: C+ | Video: B+ | Audio: B+ | Extras: B+ | Overall: B+ |