Silence and Cry [Blu-ray]
Blu-ray ALL - United Kingdom - Second Run
Review written by and copyright: Eric Cotenas (9th March 2018).
The Film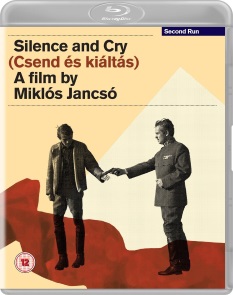 At the height of the "White Terror" when the National Army executed a Communist campaign of counter-revolutionary violence on leftists and Jews, young soldier István (The Red and the White's András Kozák) has fled to the countryside and is taken in by Károly (Red Psalm's József Madaras) who lives on a farm with his wife Teréz (Electra, My Love's Mari Töröcsik), her sister Anna (The Confrontation's Andrea Drahota), and their ailing mother (The Round-Up's Ida Siménfalvy). He discovers too late that Károly is under "police supervision" for his suspected revolutionary sympathies and/or activities. This has left the family vulnerable to the whims and arbitrary abuse by the police under the guise of "punishment" designed to break Károly while the women can only report to gendarme Kémeri (Szindbád's Zoltán Latinovits) improprieties committed by lower-ranking officers since he regards them as "his women." István has silently observed the situation and has grown to as disgusted with Károly's passivity and the ways Teréz and Anna have adapted to their circumstances which have gained them a degree of influence over the other village women whose men are also under police supervision – among them a woman who begs Teréz to introduce her daughter to the soldiers, believing that she will have a better life traveling with them as a whore than remaining in the village – but he cannot leave since it would make things worse for them since he has been posing as Anna's farmhand lover. A former academy colleague of István's, Kémeri has kept his secret and advised him to keep his head down, but the younger man may be forced to sacrifice his own safety when he discovers that the two sisters have been slowly poisoning their mother and have started to do the same to Károly.

Plunging viewers right into the story with little preamble other than a montage of stills before the opening titles of a march lead by admiral Miklós Horthy, Silence and Cry – co-scripted by director Miklós Jancsó and regular collaborator Gyula Hernádi – is less a historical drama than a study of the mechanics of oppression. The victimized all walk around in a sort of stupor as if believing that keeping their heads down will save them from further abuse, but Károly has already been broken, István can barely contain himself, and Teréz merely comes across as cold and unfeeling (with Anna's less-weathered features softening the effect). The manner in which the police as members of the community exercise their control over the populace with apparent benevolence and giving orders by proxy, not only "reifying their authority" and "distancing themselves from their acts of cruelty" as critic Tony Rayns describes in his booklet essay, but also further dehumanizing their victims even as the violence becomes most personal. As they knock down an elderly woman's house, they instruct her that it is a punishment and to tell "everyone the same thing can easily happen to them if they're not careful enough" before ordering someone else to tell "her not to cry so loudly." Although Kémeri seems to be fond of István, he orders Teréz or Anna to tell him to summon him or send him away, and it may indeed be his way to venting his resentment that over the inferiority he feels because István volunteered to go to the front and he did not. Teréz mirrors Kémeri by ordering István through Anna, and she seems to despite weak Károly even more than usual when Kémeri tells her relay orders to her husband. It also seems that as they start poisoning Károly they expect István to take his place as an embrace between István and Anna lacks any of the warmth that exists between Anna and Teréz as the latter at first seems to join the two and then push István aside. Although on the run from unjust punishment, István must ultimately expose himself in order to do what he believes is right and finds his complaint dismissed as much because the women are more useful to Kémeri as how the revelation of István's true identity would reflect on him as incompetent or a collaborator. Bookending segments show what happens to those suspected dissidents when Kémeri orders his officers to escort them back to the village from the police station "over the sand hill" with the actions of István in the final scene futile yet idealistic. The first film of Jancsó projects photographed by János Kende shows their interest in staging action in mobile long takes, although they are not so sustained or fluid as later works in which the pair erected long lengths of dolly track and also employed zoom lenses as part of the movement, but the monchrome images are nonetheless gorgeous.

Video


Released theatrically in the UK in 1968 and not available on home video since in English-speaking countries, Silence and Cry comes to Blu-ray in a 1080p24 MPEG-4 AVC 2.35:1 widescreen encode of a 2012 restoration by the Hungarian Digital Archive and Film Institute under the supervision of cinematographer Kende. The image exhibits a sensuous depth in the exterior scenes while roughhewn textures make themselves known in the locations, wardrobe, and facial features. The brevity of the film and extras allows for the maximum bitrate on a BD25.

Audio


The 24-bit LPCM 2.0 mono Hungarian track is clean with dialogue dominating with few sound effects and little atmospheric support, and a infrequent deployment of music. The optional English subtitles are free of errors.

Extras


The only video extras are the three short film Presence I (8:04), Presence II (10:14), Presence III (13:56), the first two - shot more than a decade apart - documenting the same act as two Rabbis enter an abandoned synagogue and pray. The third one shot in 1986 introduces some variations. Included in the case is a booklet by Tony Rayns that offers up an appreciation of the film and provides some welcome historical context.

Overall


Although the third installment in an unofficial trilogy dealing with Hungarian political revolutions, Miklós Jancsó's Silence and Cry less a historical drama than a study of the mechanics of oppression.

---
DVD Compare is a participant in the Amazon Services LLC Associates Program and the Amazon Europe S.a.r.l. Associates Programme, an affiliate advertising program designed to provide a means for sites to earn advertising fees by advertising and linking to amazon.co.uk, amazon.com, amazon.ca, amazon.fr, and amazon.de.