The Film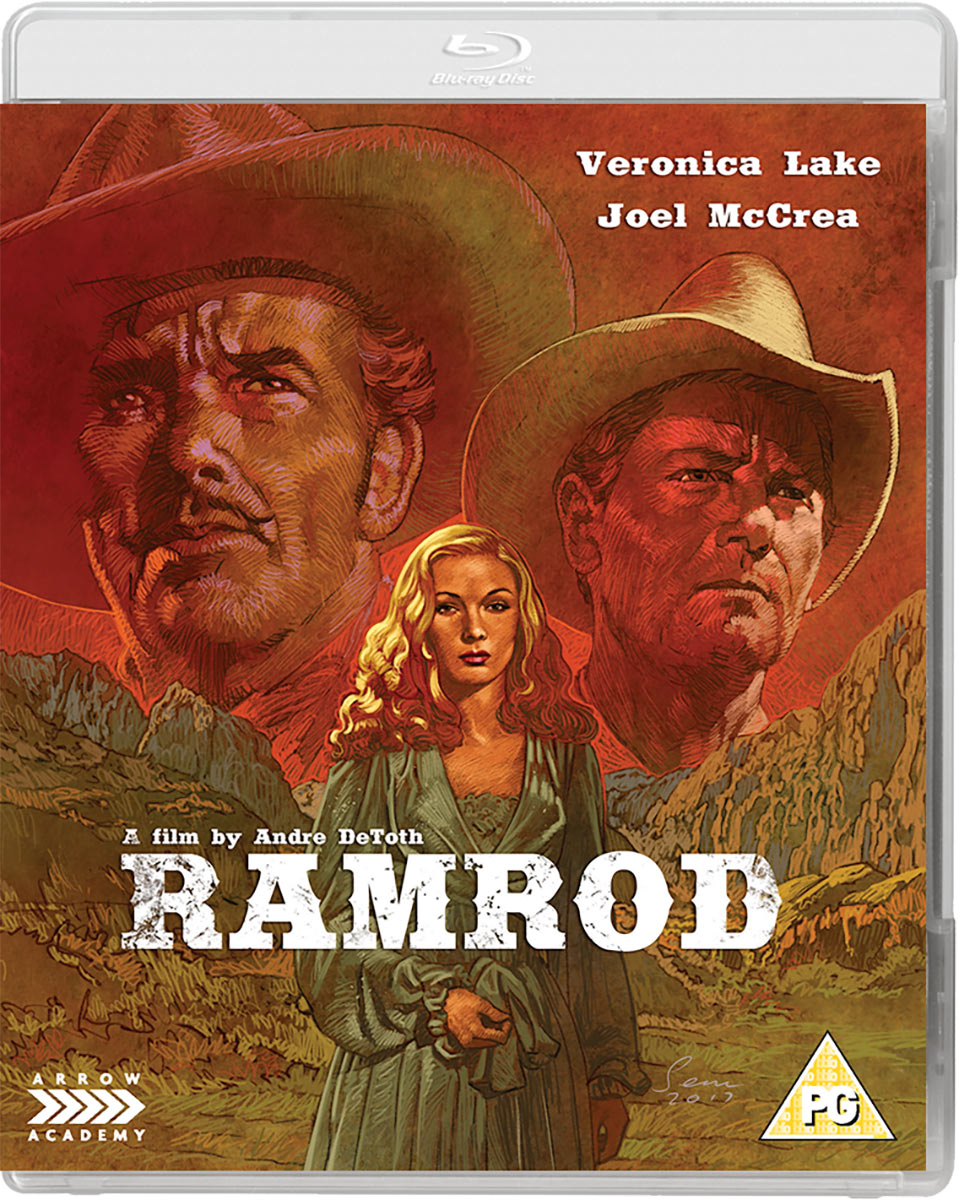 Ramrod (Andre De Toth, 1947)

Town drunk Dave Nash (Joel McCrea) is deeply indebted to 'free grazer' Walt Shipley (Ian McDonald): Shipley was the only person who would break ranks and give Dave a job. Walt is engaged to Connie Dickason (Veronica Lake), the daughter of wealthy landowner and cattle baron Ben Dickason (Charlie Ruggles). However, Connie and her father don't see eye to eye: Ben hates free grazers, and he has also planned for his daughter to marry his ruthless 'ramrod' (foreman) Frank Ivey (Preston Foster). To make matters worse, Walt has expressed plans to bring sheep into the valley, and as Dave reminds Connie, 'You know how sheep run a country for cattle'.

Ivey chases Walt out of town. Dave vows to help Connie establish her business in opposition to Ben Dickason and Ivey. In need of a crew, Dave visits the town dressmaker Rose Leland (Arleen Whelan) in search of his old friend, outlaw Bill Schell (Don DeFore). Bill has a deep dislike of Ivey and promises to help Dave find a crew: as Bill suggests, there's no shortage of men willing to stand against Ivey. However, Dave reminds Bill that everything they do must be within the law so as not to lose the sympathy of town sheriff Jim Crew (Donald Crisp).

Things are compounded when one of Ivey's men, Virg Lea (Wally Cassell), beats an employee of Connie's, Curley (Nestor Paiva), so badly that Curley dies of his injuries. In retaliation, Bill provokes Ivey's associate Ed Burma (Ray Teal) into drawing his gun; Bill shoots Burma dead.

Connie thinks that Dave's way of doing things by the book will result in an outcome that is too slow. She orders Bill to stampede her cattle, knowing that Dave will believe Ivey has done it. Her intention is to provoke a reprisal against Ivey's gang. After the stampede, Jim Crew rides out and speaks with Ivey, who refuses to go with Crew and guns the sheriff down, before spreading the word that Virg killed Crew.


Dave rides out, looking for Virg Lea. He finds him and kills him; though with his dying breath, Virg tells Dave that Ivey shot the sheriff. In the shootout with Virg, however, Dave has been shot and wounded. He makes it back into town, where he is cared for by Rose. When Ivey ransacks Rose's home looking for Dave, Bill helps Dave to flee to the countryside. When Connie inadvertently leads Ivey and his men to Dave's hiding place, Bill makes plans to sacrifice himself in order that Dave might escape.

One of several excellent noir-tinged Westerns directed by Andre de Toth, a trend within de Toth's career that arguably culminated in the 1959 picture Day of the Outlaw, Ramrod was based on a book by Luke Short. Short's novel was morally complex, the most 'innocent' character (Sheriff Crew) coming to a sticky end thanks to the machinations of Connie and Bill Schell. De Toth's film adaptation is similarly complex, though in the film Dave Nash emerges as a more 'pure' and well-intentioned, albeit utterly tragic, protagonist.

Like many films noir, the picture contrasts the femme fatale (Connie) with the 'pure' girl (Rose, the dressmaker). Connie's bitterness towards her father is just in motivation, but Connie's methods result in the deaths of Curley, Jim Crew, Burma and Bill Schell. When Dave confronts her at the end of the picture, Connie shows barely an ounce of regret. She is utterly self-motivated and scrupulous, Lake's performance as this character having much in common with her roles in films noir. Like the traditional femme fatale, Connie uses her sexuality to lead Bill Schell astray, convincing him to stampede her cattle knowing that Dave will blame Ivey's crew, and she also makes a sucker out of Dave, who until the final sequences of the film believes that Ivey ordered the stampede. Where Ivey and his crew are obviously destructive, Connie is equally destructive in a manner which is much more insidious. Through its depiction of Connie as a powerful, independent woman, Ramrod preceded such female-led Westerns as Anthony Mann's The Furies (1950), Nicholas Ray's Johnny Guitar (1954) and Sam Fuller's Forty Guns (1957). 'From now on, I'm going to make a life of my own', Connie tells her father after Walt has been run out of town, 'And being a woman, I won't have to use guns'. Connie is contrasted with Rose, the 'pure' woman. 'Your fight is costing too many lives', Rose tells Connie midway through the film, 'You're letting him [Dave] break himself on your greed and ambition'. 'You told him that, I suppose', Connie responds sharply. 'You don't tell a man about a woman', Rose philosophises, 'He has to find out for himself'.


Dave begins the film as a drunk, the subject of ridicule by Ivey's gang, who has a profound sense of loyalty to Walt owing to the fact that Walt was the only person in town to break ranks and offer Dave a job. ('He helped me when I needed it', Dave reminds Connie.) A tragic figure, Dave has become a drunk following the deaths of his wife and young son. Dave's wife died in childbirth, and his young son was killed during a fire at the home of Dave's friends, where the boy was staying whilst Dave worked. Dave is utterly loyal: after Walt has been chased out of town by Ivey, Dave vows to help Connie establish herself against Dickason and Ivey's gang. Where Connie and Bill are willing to break the law in order to overcome Ivey and his gang, Dave insists that they must do things by the book and only strike when they have legitimate and justifiable motive to strike. When Dave approaches Bill for the first time, Bill tells Dave that he has a dislike of Ivey because 'He makes too big tracks', and Bill offers to help Ivey gather a crew of men together 'I can get fifty men to work for free, just for one crack at Ivey'. However, Dave reminds Bill that they must operated within the law and then men 'have got to pass with Jim Crew': 'Anything we do against Ivey has got to be legal', Dave asserts. After Jim Crew has been killed by Ivey, who places the blame on Virg Lea, Dave becomes wracked with guilt. 'VIrg wasn't the real killer', Dave tells Connie, 'I killed him [Crew] by playing it safe and using the law as a weapon. The law was just a tired old man'. Judging by his other films, de Toth was a filmmaker for whom conscience and moral integrity were key values, and these are represented in Ramrod through the character of Dave.

Ramrod makes excellent use of its locations: the film was shot at Zion National Park in Utah during May of 1946. It's an excellent film, not the best of de Toth's Westerns but certainly a picture that distinguishes itself from many of the Westerns of the 1940s. This picture and a couple of others made around the same time (Robert Wise's Blood on the Moon, 1948; Raoul Walsh's Pursued, 1948; and William A Wellman's Yellow Sky, 1948), with their shades of moral ambiguity and psychological complexity, helped to usher in the era of the 'adult' Western and psychological Western during the 1950s. However, these forerunners of the complex 1950s Westerns weren't always well-regarded by their audiences and even their personnel. In the case of Ramrod, McCrea later criticised de Toth's direction, suggesting that it needed to be more 'fluid' and that de Toth was under the thumb of Lake, de Toth's wife at the time: 'when you work with the director's wife, this is for the birds. Because he's not going to be tough with her, you know, or she'll kick his ass when he gets home at night' (McCrea, quoted in McGilligan, 2014: np). On the other hand, de Toth asserted that he didn't like McCrea and 'wanted somebody like a Cooper or somebody with a little more guts' (de Toth, quoted in Nott, 2000: 33). There was some tension on set, McCrea reputedly urging producer Harry 'Pop' Sherman to fire de Toth partway through the shoot (ibid.). For his part, de Toth argued that Sherman only understood a morally simplistic version of the Western, 'where villians [sic] – always in black […] – charged from the left and never won the final battle; the good guys in white hats rode to victory from the right' (de Toth, 2011: 51). Nevertheless, the film was a modest success commercially, helping to consolidate McCrea's association with the Western genre and remains one of the actor's most interesting Western pictures, alongside his late-career role in Sam Peckinpah's Ride the High Country (1962).


Video



Shot on 35mm monochrome stock, Ramrod is presented here in its original aspect ratio of 1.37:1. The 1080p presentation uses the AVC codec, and the film is uncut, with a running time of 94:45 mins. The film takes up 26.2Gb on the Blu-ray disc.

The optically-printed opening titles look in rough shape, but this quickly gives way to a mostly very pleasing and filmlike presentation. Minor damage is present throughout the film: vertical lines and both white and black flecks, suggesting that the presentation has been taken from a positive source. There's a little warping in a handful of shots. On the whole, there is an excellent level of fine detail present throughout the film, the strong depth of field in the exterior scenes being communicated very well. However, there are some very soft shots that appear intermittently, as if some scene fragments have been patched with material from a much lower quality source. Contrast is excellent, with defined midtones being present throughout and sharp curves in shadows representing the harsh sunlight and high contrast exterior lighting conditions. Finally, aside from the aforementioned inserts, the presentation is very organic and filmlike, the structure of 35mm film being retained by the robust encode.

Some large screengrabs are included at the bottom of this review. The second frame in the sequence of images is taken from what seems to be an insert from a lower-quality source.





Audio


Audio is presented via a LPCM 1.0 track. This has good range and is clear for the most part, though in some passages of the film there's some noticeable hiss and warble. Optional English subtitles for the hard of hearing are included. These are easy to read and accurate.

Extras



The disc includes:
- An audio commentary by critic Adrian Martin. Martin is a sensitive critic who begins his commentary by quoting Andre de Toth's assertion that a filmmaker shouldn't make films for critics or for her/his audience but instead according to their 'own selfish personal satisfaction. And if you think the audience is stupid, then you are a dumb-dumb to make pictures for them'. Martin suggests that de Toth's reputation is not as strong as it should be, and he admits that little published information is available about Ramrod's production history, so Martin's commentary is focused on an analysis of the film. He talks about the picture's position within de Toth's career and in the genre of the Western generally. He discusses the relationships, especially the complex relationship between Rose, Bill, Connie and Dave, suggesting this is at the core of the film.

- 'Peter Stanfield on Ramrod' (21:04). Stanfield, lecturer in film and media at the University of Kent, discusses Ramrod's place in the history of the Western, identifying the film as a hybrid of the paradigms of the Western and the film noir – alongside the aforementioned Pursued and Rawhide (Henry Hathaway, 1951).

- 'Andre de Toth at the NFT' (47:29). This shot-on-video interview with de Toth, conducted at the National Film Theatre in 1994 by Kevin Jackson, looks back at de Toth's career. De Toth offers some fascinating anecdotes from his career and an insight into his ideas regarding the filmmaking process and cinema's relationship with the concept of 'art'.

- 'Andre de Toth interviewed by Patrick Francis'. This audio interview with de Toth by Patrick Francis, who spoke with de Toth about his films prior to the director's death, plays as an additional audio track accompanying the main feature. The audio interview focuses specifically on Ramrod.

- Gallery (7:10). This gallery contains promotional images (onset stills and posters) relating to Ramrod.


Overall



Ramrod is a fascinating film from a pivotal period in American cinema generally, but specifically within the genre of the Western – marking the point at which the Western began to become more 'adult', depicting its characters in shades of grey and offering a greater sense of the psychology of its characters. The film was originally planned as a project John Ford, and in terms of the evolution of the 'adult' Western this picture offers a staging post between Ford's Stagecoach in 1939 (which also pushed the envelope in terms of its paradigm-bending depiction of Claire Trevor's character) and later psychological Westerns with strong female roles, such as Forty Guns and The Furies. Ramrod may not be de Toth's best Western, but it takes its place alongside roughly contemporaneous noir Westerns such as Blood on the Moon and Pursued.

Arrow's presentation of Ramrod is excellent. The main feature has a very natural, organic and filmlike presentation, though there are some shifts in quality owing to what seems to be lower-quality inserts being used to 'patch' presumably heavily damaged or missing portions of the film. The pleasing presentation of the main feature is supported by some impressive contextual material – particularly the two interviews with de Toth, though Adrian Martin's commentary and the interview with Peter Stanfield are superb, offering a very strong sense of context for the film. This is a superb release of an excellent hybrid of film noir and Western.

Reference:
De Toth, Andre, 2011: Fragments: Portraits from the Inside. London: Faber & Faber

McGilligan, Patrick, 2014: Film Crazy: Interviews with Hollywood Legends. New York: St Martin's Press

Nott, Robert, 2000: Last of the Cowboy Heroes: The Westerns of Randolph Scott, Joel McCrea and Audie Murphy. London: McFarland & Co

Click to enlarge: