The Film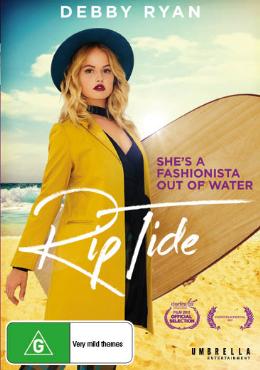 "Rip Tide" (2017)

Cora Hamilton (played by Debbie Ryan) is a 17 year old fashion model who has a nervous breakdown during a photoshoot that leads to the tabloids covering the incident. Her manager and former model mother Sofia (played by Danielle Carter) tries to fix the PR mess but Cora has other plans. She is not interested in a career in modeling and is more concerned about life after high school graduation. Taking an invitation from her aunt that lives in Australia to visit anytime, she decides to leave the big city behind and fly to the rural seaside town where her aunt Margot (played by Genevieve Hegney) runs the surf shop "Blue Surf Soul" which was formerly run by her late husband.

Cora hasn't touched ocean water since childhood but starts to find solace and excitement through her introduction to surfing through two kids that hang around. Chicka (played by Naomi Sequeira) is a quirky one that doesn't seem to connect to the mainstream. Tom (played by Andrew Creer quickly becomes the love interest for Cora with his beach bod and kind attitude. Will Cora give up the modeling life for good and will she really find happiness in a life she had never imagined?

"Rip Tide" is a basic coming of age story with a fish out of water tale, but in this case the fish is unfamiliar with the water. It certainly plays for a dramatic angle while still having room for comedy, with a teen audience placed in mind. The plot is not all that original. Girl seeks to find her way in life, girl is displaced but eventually finds people that inspire her, then in turn she becomes the one to inspire them back. While predictable and safely played, "Rip Tide" is not at all a bad movie, but an average one that doesn't break new ground.

Disney Channel star Debbie Ryan is an interesting casting choice. She certainly has beauty but she doesn't necessarily evoke "supermodel", and the fact that she was over 20 when playing a teenager does raise eyebrows - but then again how often are actual teens cast as teens in productions? She does play the character fairly well though it the scenes of Cora learning to surf - it seems like they missed a montage scene because she became fairly adept very quickly to the waters, and that is not an easy thing for a person that hasn't experienced the waves of the ocean for over a decade. Genevieve Hegney's character of Margot is an interesting one in background. Her reluctance to sell off the business is because the place is a memory of her late husband, and the reason she hasn't surfed in over a year is due to her husband's death at sea. She is caught in a place where she is equally happy and unhappy - a free spirit that is essentially trapped. The flashback scenes of her remembering her husband plays almost like a Terrence Malick film where the memories are intertwined with the present. Naomi Sequeira as Chicka is easily the comic relief of the story with her slight weirdness but heartfelt sincerity. The Disney Channel (Australia) star plays a manic-pixie-weird-girl to the fullest, but as it later seems she is fairly down to earth and becomes the playful yin for Cora's strict yang. Andrew Creer as the love interest Tom is possibly the weaker of the characters, as his scenes should have more bravado that seen, as he has a connection with nature and the world and gives Cora the mental comfort she desires. There are certainly interesting characters throughout and each can stand out on their own, but there isn't much to be said as someone being flat out amazing, but more adequately cast for the roles.

Director Rhiannon Bannenberg made sure to capture the beauty of New South Wales and the film certainly showcases the gorgeous waters, open fields, and great mountains and hills in the area. The recent Australian tourism ads starring Danny McBride in a fake "Crocodile Dundee" reboot were an interesting way to get people interested, and "Rip Tide" is an actual movie in which an American returns to Australia after a long absence and is treated to the unique culture as well as experiencing the landscape. Gorgeous to look at and a feel-good story of growing up, "Rip Tide" is a safe movie that plays to its audience as expected and if that was the purpose, well done. As for cineastes and cinephiles, it will do little to entice.

Note this is a region 0 NTSC DVD which can play back on any DVD or Blu-ray player worldwide

Video


Umbrella Entertainment presents the film in 1.78:1 with anamorphic enhancement in the NTSC format. Considering it is a new movie shot in HD, the transfer is excellent as expected. Colors are very vivid with the blue waters, green fields, and wide range of costumes and outfits donned by the characters. It is a very bright movie throughout that truly shows off the south Australian coastline and the natural surrounding areas.

The film's runtime is 87:05.


Audio


English Dolby Digital 5.1
The 5.1 track is a very active one as almost every scene has a song playing or having incidental background music playing. Balance-wise it is fair with the music never overpowering the dialogue. For dialogue it is almost always center based, while the music featuring artists such as Gemma Hayes, DIIV, Yeast, and Red Triangle is used for the surrounds. Overall it is a good track though some of the surfing scenes could have used more in terms of surround effects.

There are optional English HoH subtitles for the main feature in an off-yellow font. The subtitles also caption the songs played. There are no spelling or grammar errors to be found.

Extras


Interview with Debby Ryan (3:00)
This EPK interview features Ryan talking about her character Cora as well as the others that surround her life in the film. There are behind the scenes clips, clips from the film interspersed.
in anamorphic 1.78:1, in English Dolby Digital 2.0 with no subtitles

"The Making of Rip Tide" featurette (3:40)
This EPK featurette features various interviews with the cast members talking with their impressions of the film and locations. The volume on this featurette is mixed slightly too loud so prepare to use the volume control.
in anamorphic 1.78:1, in English Dolby Digital 2.0 with no subtitles

"Behind the Scenes" featurette (2:08)
This featurette includes interviews with director Rhiannon Bannenberg, screenwriter Georgia Harrison, and producer Steve Jaggi on the production with behind the scenes footage.
in anamorphic 1.78:1, in English Dolby Digital 2.0 with no subtitles

Trailer (2:09)
The original trailer is presented.
in anamorphic 1.78:1, in English Dolby Digital 5.1 with no subtitles

It's a fairly standard set of EPK extras but nothing quite heavy in content.

Packaging


The packaging states the disc is region 4 only, but it is in fact a region 0 disc.

Overall


"Rip Tide" comes off as a fairly average story of a girl finding her way in life by experiencing Australia and surfing, though it is visually wonderful to watch with the amazing landscapes and beautiful shots of the ocean. The Umbrella Entertainment release has some minor extras which is nice but it does feel a bit on the lacking side to know about the production more.
| | | | | |
| --- | --- | --- | --- | --- |
| The Film: C+ | Video: A- | Audio: A- | Extras: D+ | Overall: B |