The Film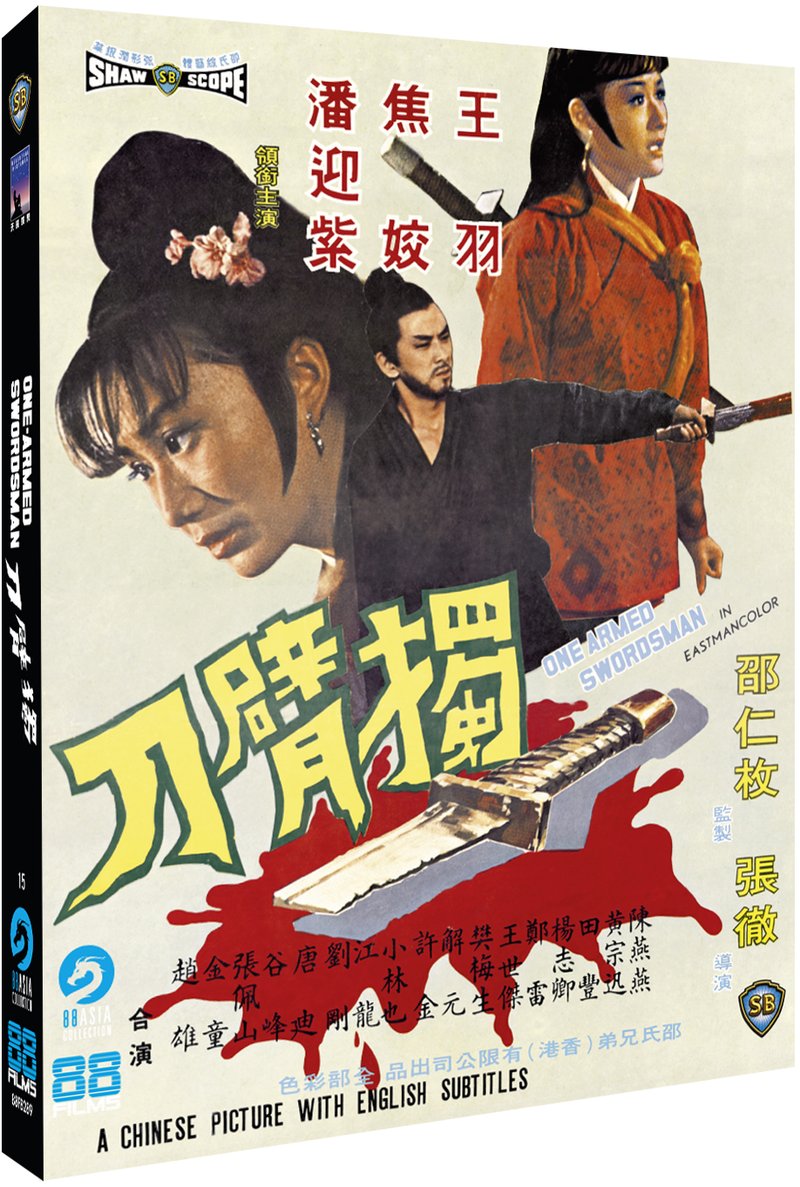 Cheh Chang co-writes and directs this Hong Kong action drama. Accepted to the Golden Sword School after his father sacrificed his life to save his master, Fang Kang (Yu Wang) is resented by his fellow pupils and decides to leave. However, his master's daughter Chi Pei-erh (Yin Tze Pan) challenges him to a fight and chops off his arm. After being nursed back to health by Hsiao Man (Chiao Chiao), Fang Kang attempts to master the art of sword fighting with one arm and finds himself returning to the Golden Sword School on a desperate mission to save his master.

Video


Superb martial arts extravaganza and one of the key examples of the Wuxia film (pronounced woosh-ia). It has all the ingredients in place: splendid Shawscope widescreen compositions, lavish period sets, spectacular fight scenes, lavish production values, broadly drawn but well played characters, lots of moral dilemmas and a sweet romance at it's heart.

Jimmy Wang Yu (aka Yu Wang) gives an intense, heart felt performance as the title character and Lisa Chiao Chiao is impossibly lovely and long suffering as his saviour and love. The villains are properly dastardly and hissable with names like the Long-armed Devil and the Smiling Tiger Cheng; both of whom meet deservedly nasty fates ... as you'd expect in a fairy tale like this. There's a nice little whiff of the fastastique with the martial artists being able to leap over walls and up through openings in the roof when needed. Spectacular fun.

This being a Shaw Brothers production we have a lavishly shot and produced period epic with wonderful use of the widescreen Shawscope frame. Colours are florid, robust and any another kind of superlative you could care to use. We're in fairytale territory here folks and the image is lush and vibrant .... in the original cinematography.

The basic transfer here is superb with no print damage in evidence and a nice stable image. I find that with many transfers from that part of the world (Hong Kong, Japan) that they favour rather grey black values and as a result if I want to create deeper blacks I just tick the brightness down a notch or two on my TV. This transfer is no different, and when done the blacks are deep and rich although there are signs of crush but it's nit a major problem and may well be a side effect of when the film was shot, the budget, the conditions of shooting etc.

To summarise, we have an essentially terrific basic transfer taken from - probably - the camera negative, with decent contrast, no blown out whites and good black levels. Colours are strong with a palette that favours browns, blues, blacks, greens and when they occur reds are warm and have real impact.

Sadly, the effect of this is muted by the fact that the master has been subjected to a fair amount of DNR and digital manipulation. This is apparently typical of Celestial Pictures transfers from a decade ago (this transfer is copyrighted 2007) and this is my first knowing encounter with their work. I suspect this was created for DVD and HD TV broadcast which would have been broadcast as 1080i and as such.

The end result is that from a distance - and I watched this upscaled to 4K from a distance of ten feet on a 58" 4K telly - it's a pleasing presentation, but the closer you get to the screen the waxiness and lack of fine detail become obvious. Grain is also almost entirely absent and being shot on 35mm in 1966-67 in Hong Kong, I'd expect to see plenty of lovely grain.

If you watch this on anything bigger than 60" and especially projected then the flaws in the presentation will become much more evident. However, we're unlikely to get anything better. 88 Films have given this a BD50, a high bitrate, a reasonable encode and from a distance it was a pleasing view, but hardcore techno-savvy folks will not be happy. The bast majority of punters will be perfectly happy as it is a definite improvement on DVD or HD TV broadcasts.

1080/24p / MPEG-4 AVC / 2.35:1 / 116:01

Audio


Mandarin LPCM 1.0
English LPCM 1.0
Subtitles: English (optional)

Pretty standard mono tracks of the era which lack base and the kind of fidelity we are accustomed to with modern soundtracks. There are some issues with sibilants and a certain "recorded in a booth" quality to both tracks, but this is too be expected given that the Shaw Brothers shot their films silently and produced the soundtrack in the studio afterwards.

Obviously, the Mandarin track is the only real choice here as it was the language spoken on set and the one that matches the lip movements. It also lends the film more credibility; the English dubs on these kind of films always sound to me as if those creating it aren't taking it all too seriously.

Extras


Audio commentary with Bey Logan

Typically meticulous commentary from Logan who lives in Hong Kong and works in the local film industry. He has been providing interviews and commentaries for releases such as this for well over a decade and is a dab hand. There's not an ounce of fat to be found here and no silent passages with masses of trivia and information ranging across the whole production covering key players in the cast and crew, notes on the production etc. I was especially interested in hearing about Jimmy Wang Yu who I had not heard of until recently when I watched Brian Trenchard Smith's The Man from Hong Kong (1975).

"Blade of Glory: An Interview with David West" featurette (17:25)

I'm not familiar with West but he gives good value here covering the history of the film, where it sits in martial arts film history and he discusses the production in a fair amount of detail. There's little crossover with the commentary. I look forward to seeing or hearing more from West and may have to get a copy of his book Chasing Dragons: An Introduction to the Martial Arts Film (2006).

4-page liner notes leaflet "Armed and Dangerous" by Dr. Calum Waddell

Another in the long line of fine essays by Waddell; this one obviously covering the film under discussion and it's cast and crew.

Reversible sleeve

A choice between a photoshop style mashup or the rather wonderful original poster art; I know which one I prefer.

Collectable slipcase available when you order the film directly from 88 Films.

The slipcase reproduces on fine card stock the original poster art.

Overall


We have a classic film that 88 Films have done their best with, given the master supplied by Celestial Films which dates from over a decade ago and has baked in digital gack. The sound is as good as it can be without being given a 5.1 boost and a complete overhaul. The extras although not extensive, are very welcome and of a high quality and 88 Films have put together a choice high quality package. Until the film gets a brand new 4K restoration that is handled by sympathetic folks this is probably the best we're likely to get for quite some time and at the price this disc is heartily recommended.
| | | | | |
| --- | --- | --- | --- | --- |
| The Film: A | Video: C | Audio: B+ | Extras: A | Overall: B+ |