The Film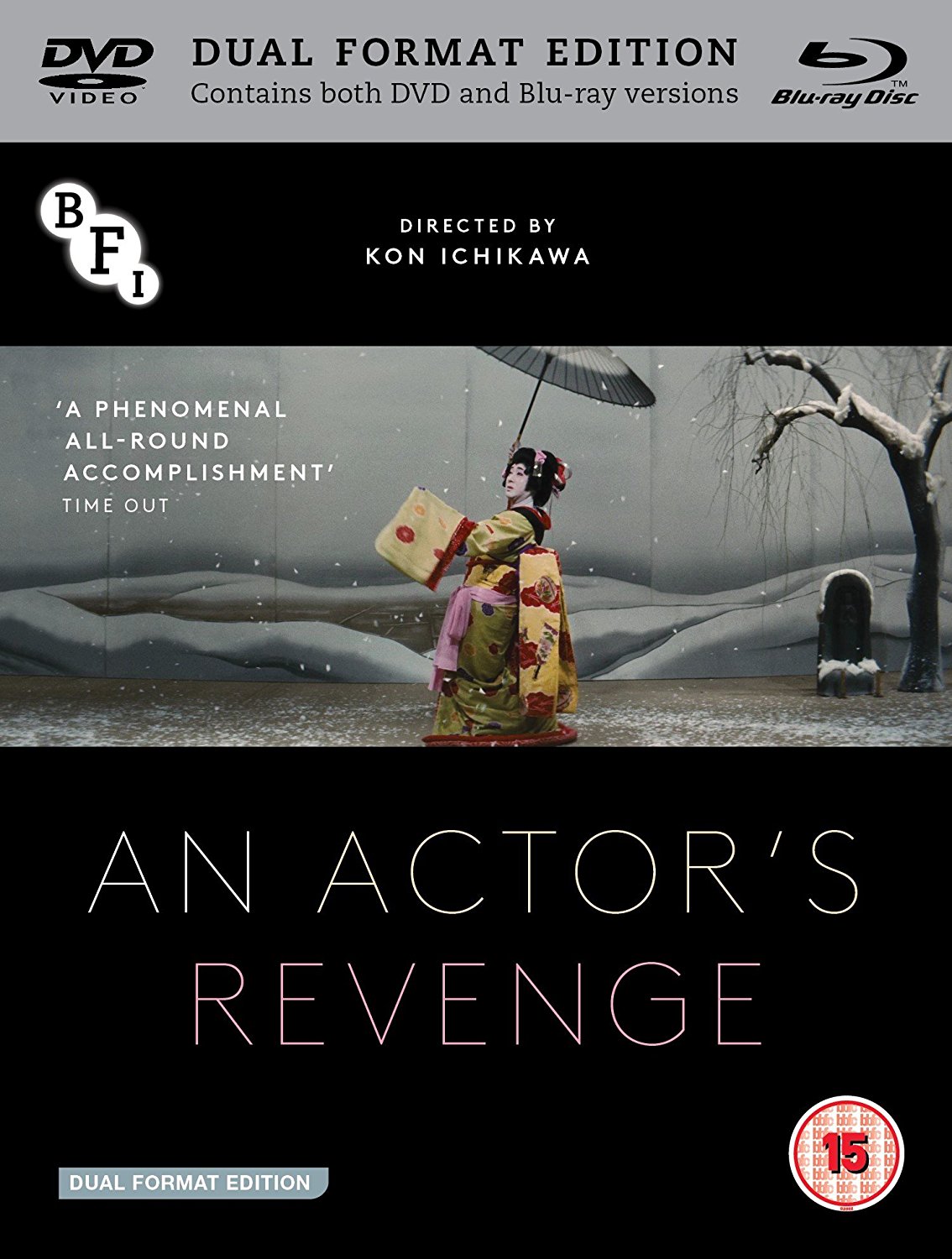 "An Actor's Revenge" 「雪之丞変化」 (1963)

Yukinojo (played by Kazuo Hasegawa) is the lead performer of the Nakamura Kikunijo Company - the highly respected Kabuki troupe from Osaka. As an onnagata - a male actor that specializes in female roles, he is at the top of his game in the world of stage performance, but fame cannot erase the trauma from his childhood. His father and mother were killed through the means of three men - Sansai Dobe (played by Ganjiro Nakamura), Kawaguchiya (played by Saburo Date), and Hiromiya (played by Eijiro Yanagi) when he was just seven years old. From there on he was brought up by the leader of the Kabuki troupe Kikunojo Nakamura (played by Chusha Ichikawa who knew about the vengeful broken heart of the young boy and supported him through the art of stage performance.

When the troupe play in Edo at the Ichimura theatre, they encounter two of the three men at a performance in the audience. Yukinojo is ready to exact revenge and the plan is intricate, but befriending the higher class men and their families and taking them out from the inside. Yukinojo's plan is to capture the heart of the young Namiji (played by Ayako Wakao, the daughter of Dobe, but not all goes according to plan as there are obstacles along the way. A disgraced actor and former rival Heima (played by Eiji Funakoshi is out to kill Yukinojo as his hopes and dreams of the bright life on stage was brought to an end and blames Yukinojo for the downfall. Will Yukinojo be able to carry out his acts of revenge that he had planned all his life, will Heima kill Yukinojo first, or will Namiji turn Yukinojo's heart around?

In 1934 writer Otokichi Mikami's serial novel was first published in the Asahi Newspaper, becoming one of his most celebrated works. Influenced by Johnston McCulley's serial novels "The Avenging Twins" from 1923, the kabuki plays "Five Men of the White Waves" and "Three Kichisaburōs Go Shopping at the New Year in the Pleasure Quarters" as well as William Shakespeare's epic tale of vengeance "MacBeth", the story was a hit that inspired a number of stage adaptations, films, and TV dramas over the years. It was first adapted in 1935 as a three-part film series produced by Shochiku, with "Yukinojo henge Part 1" and "Yukinojo henge Part 2", and concluded with "Yukinojo hente Final Part" the following year, all directed by Teinosuke Kinugasa and starring film and stage actor Kazuo Hasegawa in the lead role. In 1939 "Yukinojo henge: Yamitaro's Confession" was released, again produced by Shochiku. In the post-war period the story was adapted again into a three-part film series by Toei in 1954, as "Yukinojo henge - Love of Vengeance", "Yukinojo henge - Dance of Vengeance", and Yukinojo henge - Sword of Vengeance". Shintoho adapted the story in 1957 as "Three Roles of a Lark - Competition of Yukinojo henge" as a two-part film, and Toei et again adapted the story for 1959's "Yukinojo henge". With the fair number of adaptations gracing the screen over the years, it seemed like a recycled effort of yesteryear to make yet another adaptation, but in 1963 Daiei greenlit their own film adaptation, to be helmed by celebrated director Kon Ichikawa with a script mirroring that of the 1935 production adapted by Daisuke Ito and Teinosuke Kinugasa, with a screenplay by Kon's wife and collaborator Natto Wada. In addition to having the story closer to the 1935 adaptation, the original actor Kazuo Hasegawa to play the lead again. While in the original film he played three roles- Yukinojo, flashbacks of Yukinojo's mother, and the thief Kagetaro, the new film would have him down to two roles as the flashbacks would be omitted. 1963's "Yukinojo henge" or as the English title "An Actor's Revenge" would be promoted as Hasegawa's 300th film which may or may not be entirely accurate depending on what projects are counted or not but overall is very close to that number. For the 55 year old actor to be playing a role which he played nearly thirty years prior can seem quite a stretch, but with the use of his character being an Onnagata, the age was covered up fairly well.

Kabuki started in Japan in the early 1600s. In 1629 women were completely banned from kabuki productions which led to males performing the female roles - a tradition that would last for centuries on to the present day. While there are all-female kabuki troupes that have emerged in recent times and groups like the Takarazuka Revue which for over a century has had all-female stage productions, for a woman to stand alongside men at Kabuki-za is still a concept that has not taken place in modern years. For men playing the female roles - Onnagata - it was fairly common in the past for the actors to not only play roles for women on stage but to even live their lives offstage with a female persona. High voices, female garments, make-up, and mannerisms were part of their everyday lives, blurring the lines between reality and stage. The performance of Hasegawa benefits from this as his stage persona and offstage persona is there to fool all audiences and people into seeing one side - a performer on a high pedestal of respect. But behind the mask and in his heart is a crushed soul vent on vengeance, which others cannot see firsthand as all is hidden. Hasegawa performing double duties as a thief that sometimes interacts with Yukinojo and serves as a partial narrator witnessing events shows the range of the actor highly, and if one hadn't known may not realize it was the same actor playing two roles. He may have acted in hundreds of titles, many of the early films are lost and most of his work has not been seen in the west, though non-Japanese audiences may recognize him in roles in "The Crucified Lovers" from 1954 directed by Kenji Mizoguchi and "Gate of Hell" from 1953 directed by Teinosuke Kinugasa, though his lead in "An Actor's Revenge" is his most well known globally.

Director Kon Ichikawa's version of the film is a heavily stylized piece of work, which like the 1959 film utilizes the 2.35:1 scope aspect ratio. The widescreen frame is very similar in size to the kabuki stage with the wide stage and short height compared to Western stages. Scenes of Yukinojo on stage as well as scenes offstage blend together with the heightened backgrounds and set pieces, the performances of the actors are sometimes stylized as well. Visually it is a marvel not only of what is on screen but how everything is visually composed. Characters may be on the edges of the frame, the center of the frame, in the depths of the frame, or a combination of all of the above depending on the scene, almost like a manga rather than a film. Considering Kon's earliest film work was in animation, there is definite influence on the cutting and visual styles shown throughout. Not all is a serious tale of vengeance as there are comical elements such as a small role from Shintaro Katsu as well as Hasegawa's secondary role as the thief providing a bit of comical flow in the mostly dramatic art film.

"An Actor's Revenge" is not the typical revenge film of fast paced action and bodies left and right, but a calculated one that is more about the consequences of love, hatred, and secrets that can ultimately destroy more than it can heal. The 1963 film was highly regarded by critics in Japan as well as abroad, though it was not a huge winner in awards circles, only receiving the Best Art Direction award from the Mainichi Film Concours in 1964. The film was released in the UK in 1967 and in the US in 1971 to high praises, but considering it was the time for a new cinematic movement of independent spirit, the kabuki inspired slow-paced film felt a little behind on the times. The 1963 adaptation would be the last to be made for cinemas, though it would later be adapted for television - the first in 1959, the second in 1970, and the third in 2008.

Note this is a region B Blu-ray and a region 2 PAL DVD set, which can only be played back on region B/2 Blu-ray players with PAL capability or region free Blu-ray players

Video


The BFI presents the film in the original 2.35:1 aspect ratio, in 1080p in the AVC MPEG-4 codec. In 2015 the Kadokawa Corporation restored three of Kon Ichikawa's Daiei films in 4K: "Conflagration" (1958), "Her Brother" (1960), and "An Actor's Revenge" (1963). The restored edition restores the deep colors and fine details that were missing from previous DVD and video transfers. While it may seem a tad bit too dark at times, the film looks outstanding. Blacks are deep, bright colors are subdued, damage is basically non-existent while film grain is still visible. The 4K restoration looks excellent bringing new life into the half-century old production. An excellent restoration by Kadokawa and an excellent transfer by the BFI.

The runtime of the film is 113:10.

Note the following screenshots are taken from the standard definition DVD copy and not from the Blu-ray


Audio


Japanese LPCM 2.0 mono
The original monaural audio has also been remastered. Dialogue, music, and effects are well balanced with no issues of hisses pops or cracks in the track. The score by Tamekichi Mochizuki and Masao Yagi mixes traditional film music cues, kabuki music, and jazz to create a very unique score that is anachronistic yet fitting to the film. There is no unnecessary stereo or surround remix and the mono track would be the most fitting anyway. Another excellent job on the restoration with the soundtrack.

There are optional English subtitles for the film in a white font. They are clear and easy to read with no spelling or grammar errors. Some might be surprised that at the start of the film when there is no dialogue or credits at all the subtitles suddenly start to caption the cast and crew credits on screen. It is because when the opening credits sequence comes in a few minutes later, there is a heavy amount of exposition dialogue that takes place while the credits are on screen, so instead of filling the screen up with heavy amounts of text, the BFI has timed the English translated credits earlier, while the credit sequence has English subtitles for the dialogue only.

Extras


The BFI's release of "An Actor's Revenge" is a dual format Blu-ray+DVD release, with the film and extras presented on the Blu-ray disc and repeated on a region 2 PAL encoded DVD.

DISC ONE (Blu-ray)

Audio commentary by Tony Rayns
Film critic Tony Rayns gives an exclusive new commentary for the film, where he discusses a variety of topics and trying not to narrate what is happening on screen. He talks about the film's production as a remake of the 1935 film, the lives of Onnagata kabuki actors, biographies and filmographies of the actors and crew, the history of Daiei motion pictures and much more.
in English Dolby Digital 2.0 with no subtitles

"100 Years of Japanese Cinema" 1995 documentary directed by Nagisa Oshima (51:39)
In this television documentary broadcast on BBC in 1995, famed and controversial director Nagisa Oshima delves into the archives of Japanese cinema from the silent age to the 1990s as he gives his own look at the history of the country's cinematic achievements. From the early silent works of Daisuke Ito and Yasujiro Ozu, the golden ages of cinema in the 1930s and 1950s, the independent rise in the 1960s with Shohei Imamura as well as Oshima's own work, the documentary does give glimpses into a handful of the various movements by various pictures. But does it cover entirely everything? Absolutely not. Oshima probably had no interest in Kaiju movies such as the "Godzilla" franchise or the massive hit music comedy films from Crazy Cats or The Drifters. Nor does he touch on the horror films of the various periods. The documentary is more or less "100 Years of Japanese Cinema as How I Remember It" by Oshima. There are many clips of classic films shown throughout - "I Was Born But..." (1932), "Humanity and Paper Balloons" (1938), "Cruel Story of Youth" (1960), "The Insect Woman" (1963), "Sonatine" (1993) and many more. To note, this is an English language documentary with Oshima's notes read by an English narrator, with the Japanese language portions from the original films kept intact. While the film is in 1080p, it is from a standard definition source upscaled, so many of the film clips do look a bit weak.
in 1080p AVC MPEG-4, in 1.33:1, in English/Japanese LPCM 2.0 with burned-in English subtitles

"Japan: To Rid Their Souls of Evil" 1929 short (0:49)
"In Old Japan" 1930 short (0:49)
"Oriental Splendour" 1927 short (0:50)
"Japan Pays Homage" 1928 short (1:07)
Topical Budget was an English newsreel service. These four silent short films were presented scenes of Japan for English audiences who in the late 20s or early 30s most likely only knew Japanese culture from photos or stories, but these travelogue films provided a glimpse into the country (as well as other foreign lands) through the means of motion picture. From religious ceremonies to a funeral procession of Emperor Taisho, these are a fascinating glimpse into the past, and also how strangely sensational the intertitles make them. (I highly doubt that Shinto priest was 102 years old!) The films were newly remastered in 2K and look surprisingly good, and includes musical accompaniment.
in 1080p AVC MPEG-4, in 1.33:1, Music LPCM 2.0 with English Intertitles

The extras have a "Play All" function with a total runtime of 55:14.


DISC TWO (DVD)
The film and the extras are repeated on the region 2 PAL DVD.


Booklet
A 24 page booklet is included with essays, photos, credits, and technical information. First is "The Eclectic Cinema of Kon Ichikawa" written by Sight & Sound magazine editor James Bell in which he discusses Ichikawa's cinema and where "An Actor's Revenge" sits in his filmography. Next is a review of the film from the May 1967 issue of Monthly Film Bulletin by David Wilson. Biographies follow, with one of Kon Ichikawa and another for Kazuo Hasegawa, both written by BFI's Espen Bale. Special features credits are next, as well as transfer information and acknowledgements.


While the extras are plentiful especially with the audio commentary, it is questionable as to why the other extras were included in this set. The Oshima documentary does not even mention the film, nor does Oshima have anything to do with "An Actor's Revenge". The newsreels were from the 1920s and 1930s, while the film was released in 1963 and the timeframe of the story taking place in the 1830s. Fascinating stuff, but seemingly out of place.

The film was previously released on Blu-ray in Japan as part of the Kon Ichikawa 4K Master Blu-ray Box which included "Conflagration", "Her Brother", and "An Actor's Revenge", with a bonus DVD which contained a 1991 interview with Kon, originally produced for the Toho Laserdisc for "The Inugami Family" (1976). While the LD had a 22 minute interview, an additional 20 minutes were restored for an extended interview on the 3-disc DVD edition from Toho in 2006. For the Blu-ray set an additional 8 minutes of outtakes were reincorporated for a 50 minute interview. In addition the boxset includes a CD with soundtrack selections from the three films. In February 2018 the film received its first English language Blu-ray from The Criterion Collection which included a rare 1999 Directors Guild of Japan interview with director Kon Ichikawa, conducted by film critic Yuki Mori (57:59) and a new interview with critic, filmmaker, and festival programmer Tony Rayns (13:26).

Overall


"An Actor's Revenge" is one of Ichikawa's most stylized films crossing cinema with kabuki and manga inspired work, with an excellent performance by Kazuo Hasegawa in the vengeful lead. The BFI's release has an excellent transfer in video and audio from a 4K restoration, and good extras including a packed audio commentary. Very recommended.
| | | | | |
| --- | --- | --- | --- | --- |
| The Film: A | Video: A | Audio: A | Extras: C+ | Overall: B+ |