Breathless [Blu-ray]
Blu-ray B - United Kingdom - Second Sight
Review written by and copyright: Eric Cotenas (25th March 2018).
The Film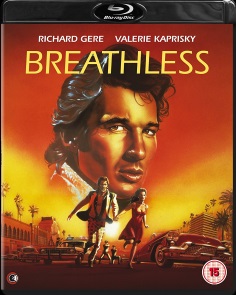 Transporting stolen cars from Las Vegas to Los Angeles chop shops, Jesse Lujack (Pretty Woman's Richard Gere) lives his life by a role of the dice. His luck is about to change, however, on his way back to Los Angeles to collect a large sum with plans to run off to Mexico – or "Méjico" as he puts it – with French student Monica (La Femme Publique's Valérie Kaprisky) who is studying architecture at UCLA. When his stolen Porsche is run off the road by a highway patrolman (Jack Leustig), Jesse shoots at the officer and starts to believe he is jinxed when he actually hits him. In shock, Jesse takes off on foot and discovers as soon as he arrives in Los Angeles that the shooting has already made the papers and the officer is in critical condition. After making himself home in Monica's apartment, he then crashes her thesis presentation but his perceived romantic rival in professor Paul (Bachelor Party's William Tepper) manages to smooth things over for her. Although exasperated by Jesse dropping into her life after what she sounds like a one night stand from her perspective, Monica is as noncommittal about running off to Mexico with him as she is ambivalent about her choice of career. When Jesse goes to collect the money owed to him by pawnbroker Tomachoff (Liebestraum's Waldemar Kalinowski), he receives it in the form of a check and now has to find someone to cash it. He is just missed by Lieutenant Parmental (It's Alive!'s John P. Ryan) and Sergeant Enrigth (Robert Dunn) who are on his trail after the patrolman dies. Branded a cop killer with his picture all over the newspapers and television, Jesse tries to conceal the truth from Monica who has started to warm to his reckless and impulsive lifestyle. As Jesse runs around town trying to find criminal mentor Berrutti (Escape From Alcatraz's Garry Goodrow) to cash his check and changes cars as often as he does his wardrobe, Monica is tailed by Paremental and Enright who hope she will lead them directly to Jesse.

A "remake" of Jean-Luc Godard's A Bout de Souffle – indeed, it was cheekily released in France as A Bout de Souffle Made in USA – Breathless is as imaginative as director Jim McBride's earlier efforts David Holzman's Diary and Glen and Randa while also possessing the mainstream gloss of his subsequent Great Balls of Fire! and The Big Easy. While the Godard film's protagonist framed his existence through American gangster movies and pulp fiction, Gere's preening Jesse – a garish deconstruction of his American Gigolo-styled sex symbol image – models himself on Jerry Lewis and Silver Surfer. That he keeps coming across vintage cars when he needs one to steal is less a plot contrivance than perhaps evidence to him of his luck; while even in scenes where he is not playing specific songs on a tape deck or singing them aloud, the non-diegetic song choices form the soundtrack to his life (it is even possible that he may be hearing something else entirely to what is actually playing in some sequences like his visit to Berrutti's parking structure disco). Back projection is used to artificial effect in three driving sequences suggesting Gere's revelry while the one in which both Jesse and Monica call each other on their "bullshit" is shot in the more realistic fashion. It is not entirely due to director McBride's style of not placing film references at the forefront that Kaprisky's Monica seems two-dimensional compared to the original's more enigmatic Jean Seberg as Monica is not the femme fatale but an ideal not just as an exotic French beauty but as an embodiment of the Silver Surfer's assertion that "Love is the power supreme." Monica's scenes without Jesse find her wandering about in a fog – her meeting with an fictional architect played by Jean Renior's art director Eugène Lourié may be more of an in-reference than the more recognizable Jean-Pierre Melville as writer Parvulesco in the original film – and her willingness to throw herself into danger seems even more impulsive than some of Jesse's action. The two are at their most human in their love scenes during which they shockingly are able to find the intersection between Silver Surfer and William Faulkner; as such, the eighties fleshy physicality of these scenes seeming less gratuitous despite the amount of nudity but also appropriately prettified photographically. Without the specter of the film noir genre hanging over the film, the structure feels much more unpredictable in the final act as the pair are on the run through a Los Angeles nightlife of New Wave neon and Old Hollywood ruins (they hide out in the burned out remains of Errol Flynn's The Pines), leading to a final scene perhaps less iconic than Jean-Paul Belmondo's fate but better suited to the character and the verve of MacBride's take.

Video


Released theatrically by Orion Pictures in the United States and Rank in the United Kingdom, Breathless was released to VHS by those companies while Vestron handled the 1983 laserdisc (followed by a letterboxed reissue by Image in 1995) in the former territory and Rank in 1986 the latter. When MGM acquired the Orion library, they released the film to DVD in the U.S. in an unmatted fullscreen transfer and in the U.K. and other European territories in a non-anamorphic matted 1.85:1 edition. Olive Films released the film on barebones Blu-ray in 2015, and Second Sight has presumably used the same master for their 1080p24 MPEG-4 AVC 1.85:1 widescreen Blu-ray. The image can be quite vibrant at times and crisply detailed, although a degree of crush in the black combined with overcast shadows that lean toward the blue can give an impression of dullness.

Audio


Breathless was released to theaters with a mono mix, and nothing has been done to enhance this on home video; however, the LPCM 2.0 mono track here is quite vibrant in its rendition of music – with a soundtrack bookended by Jerry Lee Lewis' performance of his song "Breathless" and a cover by X – some screeching car tire effects, and clear dialogue. Optional English HoH subtitles are included.

Extras


While not a packed special edition, Second Sight's Blu-ray does include two nice featurettes. In "Mark Kermode on Breathless" (24:42), the critic espouses his love for the film upon its release and being more open to its innovation since he regarded the Godard film as a classic film text but was not as enraptured with it as other film snobs, draws comparison between its reception and other successful American remakes of European films like Sorcerer (after The Wages of Fear) and Steven Soderbergh's Solaris, the contribution of co-scripter L.M. Kit Carson (The Texas Chainsaw Massacre 2), and the performances of Gere and Kaprisky. In "Still Breathless" (11:28), actress Kaprisky recalls auditioning for McBride and Gere in Paris and then flying to Los Angeles to audition for producers – comparing her first visit to Hollywood to the Purple Rose of Cairo – and the necessity of the sex scenes for characterization despite her discomfort shooting them.

Overall




---
DVD Compare is a participant in the Amazon Services LLC Associates Program and the Amazon Europe S.a.r.l. Associates Programme, an affiliate advertising program designed to provide a means for sites to earn advertising fees by advertising and linking to amazon.co.uk, amazon.com, amazon.ca, amazon.fr, and amazon.de.