Gumshoe (Blu-ray) [Blu-ray]
Blu-ray ALL - United Kingdom - Powerhouse Films
Review written by and copyright: Rick Curzon (25th March 2018).
The Film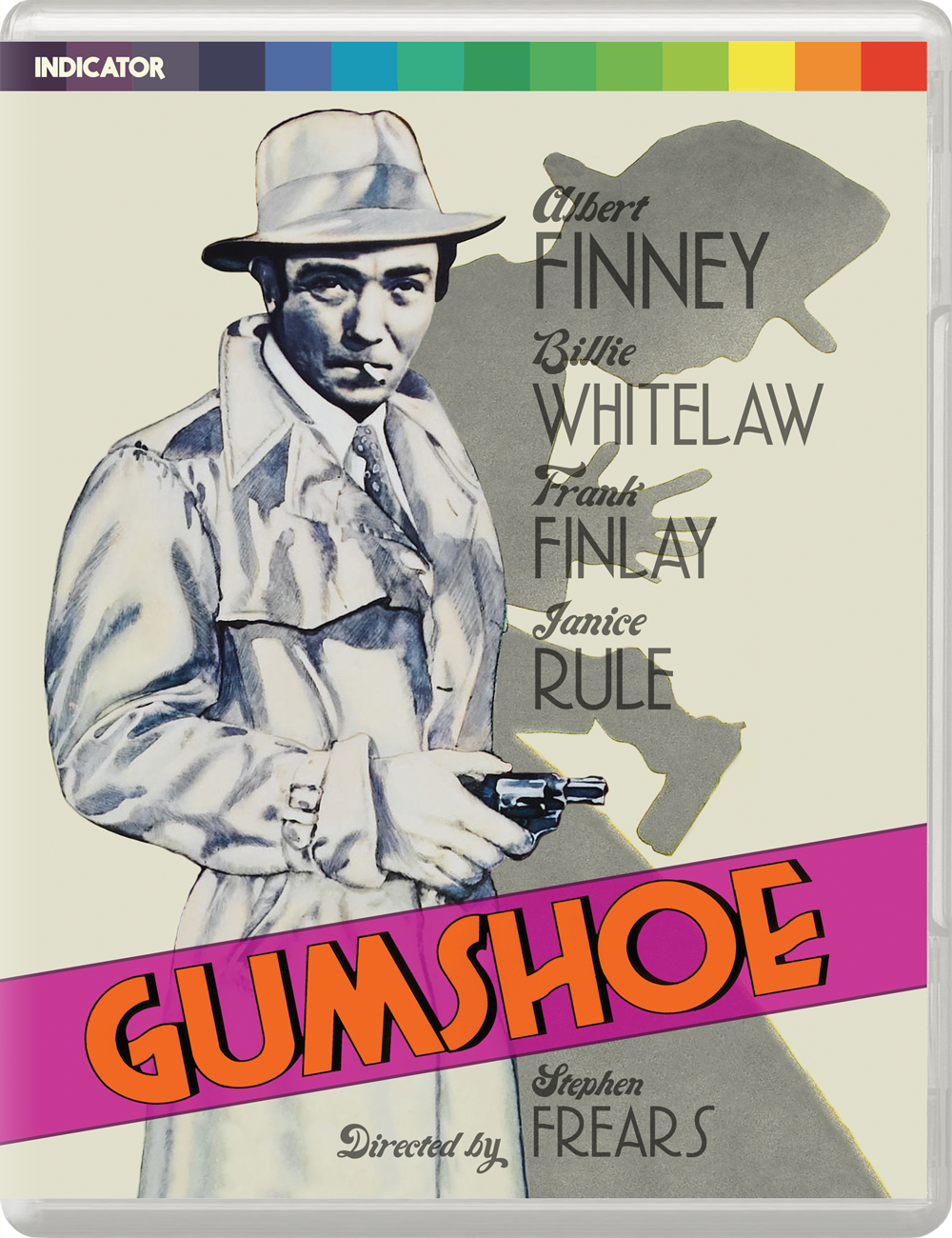 This brilliant feature debut from director Stephen Frears (My Beautiful Laundrette, Dangerous Liaisons, The Grifters) is an affectionate – and uniquely British – tribute to the Hollywood detective movies of the 1940s. Starring the great Albert Finney (Saturday Night and Sunday Morning, Murder on the Orient Express, Skyfall) as a Liverpool bingo caller who dreams of being a private eye and then finds himself suddenly contacted for what appears to be an actual piece of detective work.

Video


An odd film. It's mainly a serious, down and dirty mystery film given an edge as an homage to '30s-'40s film noir with an (I think) unsuitable and melodramatic score by Andrew Lloyd Webber and scenes with quick fire, hard boiled dialogue. Early scenes seem more lighthearted but as the film progresses things turn darker and more realistic with the noirish spoof scenes becoming less frequent. Everyone is very good in this but Fulton Mackay is superb as a hanger on.

It's all very watchable and enjoyable and I'm glad to have finally seen it, but it doesn't work 100%; feeling a mite schizophrenic. In any case it's stunningly shot by Chris Menges, is short and in the end an interesting, fun film but no world beater.

Powerhouse's transfer is another taken from the Sony archive and is most likely one supervise by the great Grover Crisp. They have a great track record for producing strong masters and Powerhouse have worked their usual magic on it as well; a top notch encode by David Mackenzie. It also has a very generous and supportive bitrate. There are very few signs of damage, no digital tinkering and the fine layer of grain is even and without clumping or holes which are the telltale signs of a weak encode.

Colours are full and lush with some mild fluctuation but that's not a major issue; colours remain even in some of the more gritty locations with some healthy reds and oranges that show no signs of bleeding. Flesh tones are natural so no complaints there. Contrast is pitched at a subtle level allowing detail to shine through in closeups, medium shots and long shots with plenty of opportunities for the viewer to appreciate the various fabrics worn by the cast. Facial closeups also fare very well with masses of detail in evidence. Much of this is also down to the cinematography of Menges who would win the Oscar twice for The Killing Fields (1984) and The Mission (1986).

Black levels are rich and deep and mostly free from crush although I noticed the odd shot where it was present; mainly in sequences that are already dark so almost certainly down to conditions of shooting; this was a low budget feature. In any case this is yet another stunningly presented disc with topnotch image, or as good as it can possibly be given the master provided and shy of a 4K UHD Blu-ray release.

1080/24p / MPEG-4 AVC / 1.66:1 / 85:50

Audio


English LPCM 1.0
Subtitles: English HoH

A nice clean mono track that allows Andrew Lloyd Webber's unsubtle score to come through in all it's glory; a deliberate throwback to the style of score found in films like The Maltese Falcon (1941), Murder My Sweet (1944), The Big Sleep (1945) and Kiss Me Deadly (1955). Dialogue is usually very clear and easy to hear although some of it is so rapid fire that I had engage the subtitles once. A decent mono track from the period and given the budget handled as well as it can be possible by the maestros at Powerhouse Films.

Extras


"Stephen Frears on Gumshoe" featurette (17:44)

Frears covers his early career working with the likes of Karel Reisz and Albert Finney on other projects which is how he got his first film gig with Gumshoe made for Finney's company. He would go on to mainly TV work until getting everyone's attention with the superb The Hit (1984) (come on Powerhouse, lets have a BD of that classic!) and follow it with My Beautiful (1985) and Dangerous Liaisons (1988).

"Neville Smith on Gumshoe" featurette (15:44)

Liverpudlian actor-writer Smith is on fine form discussing his career and the film in question with some amusing anecdotes about execs who could weigh scripts and know how many pages they had and other on set and behind the scenes shenanigans.

"Producer Michael Medwin on Gumshoe" featurette (1:51)

Interesting little snippet in which the veteran producer ventures the view that Ginley is a troubled soul with mental issues. He's certainly prone to racist and homophobic epithets but that's probably not too out of place in 1970 when this film was shot.

"Editor Charles Rees on Gumshoe" featurette (25:12)

Fascinating piece which covers in detail the editing process. Rees doesn't seem to have worked on a huge number of credits but he edited Tony Richardson's Hamlet (1969) another good choice for Powerhouse Films' Indicator series.

"Production Designer Michael Seymour on Gumshoe" featurette (2:22)
"Actor Tom Kempinski on Gumshoe" featurette (1:33)

Two very brief mini interviews that are fairly limited like the Michael Medwin vignette but do provide some interesting anecdotes.

"The Burning" 1967 short film (upscaled) (31:54)

Good looking upscale of a standard definition source although there are traces of damage. This is the jewel in this discs extras and it's a shame a standard definition source was all that was available. Frear's maiden directorial effort is an interesting and rather stark short from 1967 about a family in South Africa faced with a riot that has tragic consequences.

Theatrical Trailer (2:59)
VHS Trailer (2:43)

Poor quality, cheesy VHS trailer and the usual theatrical trailer playing up the thriller aspects.

Gumshoe Image Gallery: Original Promotional Material (27 images)

Modest but choice selection of images from the production.

40-page liner notes booklet with a new essay by Robert Murphy, an archival set report, an interview with Billie Whitelaw, an overview of contemporary critical responses and film credits

Typically excellent booklet from Powerhouse Films who always do a bang up job and produce the best booklets in the business; at least in my humble opinion. Murphy's overview of the film was fascinating and engrossing covering a large amount of ground for this well regarded but minor and forgotten film. He makes a case for the film being a hidden gem and although I probably liked it less than Murphy, it's hard to really disagree. I was particularly interested in hearing about actor-writer Neville Smith's career. The vintage articles are also of good value and the positive vintage reviews are also interesting, especially considering this films slip into obscurity since.

Overall


A lovely transfer with strong picture and sound and a choice extras package is the icing on the cake. The image and sound are about as good as can be on the Blu-ray format for a film of the era and budget. This hasn't been the most easy of films to see but it was one I was aware of and wanted to view so thanks to Powerhouse Films for getting it out on the shelves for all of us to enjoy.
| | | | | |
| --- | --- | --- | --- | --- |
| The Film: B | Video: A | Audio: A | Extras: A | Overall: A |

---
DVD Compare is a participant in the Amazon Services LLC Associates Program and the Amazon Europe S.a.r.l. Associates Programme, an affiliate advertising program designed to provide a means for sites to earn advertising fees by advertising and linking to amazon.co.uk, amazon.com, amazon.ca, amazon.fr, and amazon.de.