The Film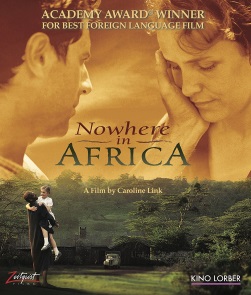 Oscar (Best Foreign Language Film): Caroline Link (won) - Academy Awards, 2003
Golden Globe (Best Foreign Language Film): Germany (nominated) - Golden Globes, 2003
Audience Award: Caroline Link (won) - Bavarian Film Awards, 2003
Film Award in Gold (Outstanding Feature Film): Nowhere in Africa (won), Film Award in Gold (Best Direction): Caroline Link (won), Film Award in Gold (Best Film Score): Niki Reiser (won), Film Award in Gold (Best Cinematography): Gernot Roll (won), and Film Award in Gold (Best Performance by an Actress in a Leading Role): Juliane Köhler (nominated) - German Film Awards, 2002

The situation in Germany is becoming increasingly dire for the Jewish community in 1938 when lawyer Walter Redlich (Bridge of Spies' Merab Ninidze) seeks refugee status in Kenya and writes to his wife Jettel (Downfall's Juliane Köhler) to board a ship to Africa as soon as possible with their young daughter Regina (Lea Kurka and later Karoline Eckertz). Reluctant to leave her cozy middle class existence for poverty in Africa and as unaware as much of the non-Jewish German population at that point about the Nazi persecution of the Jewish people, Jettel thinks of the excursion to Africa as a temporary move (even using space in their luggage needed for supplies for her family's heirloom china and the allocated funds for an evening dress) but Regina regards the sights during the voyage and the long drive into the middle of nowhere with the same wonderment as the German mythic lands and beings of her bedtime stories. Walter has taken a job supervising a remote farm belonging to British subject Morrison (Steve Weston) with the help of faithful Owuor (The Constant Gardener's Sidede Onyulo) who nursed Walter back from malaria, and fellow German Jewish Süsskind (The Reader's Matthias Habich) who now thinks of Kenya as his homeland. While Regina settles in quickly, befriending the village children, learning from Owuor, and testing her own boundaries, Jettel not only is reluctant to mix with the black locals but also assumes that Walter's willingness to embrace their new home means that he does not miss Germany and his father Max (Gerd Heinz) as deeply as she does her mother Käthe (Regine Zimmermann) and sister Liesel (Maritta Horwarth) who are in as much denial as Jettel about how bad things are becoming at home. Having grown up as German and rather lax in practice of Jewish traditions, Regina only becomes more confused when war breaks out and Walter is arrested and interned in a camp at Nairobi as a German alien. The women and children are first put up at the Norfolk Hotel – who refuse to lower their standards even though the British army is footing the bill – where Regina meets Inge (Julia Leidl), the child of another Jewish refugee who tells her about her father's and uncle's treatment by the Germans. A formerly helpless Jettel appeals to the leaders of the Jewish community in Kenya who are able to convince the army that Walter, Süsskind, and others Jewish men were not on Hitler's side; however, they cannot leave the camp without work and Morrison has fired Walter as an enemy alien. Just as when Walter tries to make the distinction between the Germans and the Nazis when she voices her hatred of the former only for Süsskind to interject that anti-Semitism did not begin with Hitler, Jewish community leader Mr. Rubens (Fawlty Towers' Andrew Sachs) is just as put off when Jettel naively mentions her hope that their "civilized friends" would have put a stop to Hitler when she appeals to him to help Walter find work. Out of a combination of desperation and loneliness, Jettel agrees to an "indecent proposal" from British soldier Robert (As Time Goes By's David Michaels) in exchange for help finding another farm job for Walter. Reunited with Ouwar and Süsskind at the new farm, Jettel starts to adapt to her circumstances and Regina finds a new friend in Jagona (Peter Lenaeku later Silas Kerati) while Walter becomes increasingly restless and nostalgic about Germany and his former life as a lawyer. Receiving a letter from Poland in which Jettel's mother tells them that she and Liesel are being sent to Poland, Walter reveals to a devastated Jettel the truth Auschwitz and his agony over not knowing whether his father is alive or dead. As Regina starts at an English boarding school in Nairobi – where she learns more about the outcast status of Jews in spite of strained efforts at inclusiveness – Walter sees a new opportunity for action when he is allowed to join the British Army; the separation putting further strain on their marriage as Jettel refuses to follow him to Nairobi, insisting on making a home for the family on the farm as Walter still dreams of returning to and rebuilding a new Germany.

Based on the autobiographical novel of journalist Stefanie Zweig – no relation to Austrian author Stefan Zweig – as scripted by director Caroline Link (Beyond Silence), Nowhere in Africa is less Zweig's own description of it as "the story of a courageous father who taught his daughter not to hate" as it moves emphasis to the mother's character and bringing to the forefront the love story to the extent that the framing of the story from Regina's point of view becomes more of an awards-baiting cinematic affectation that provides plenty of gorgeous vistas and more interaction with the African supporting characters while only touching upon the feelings of the Jewish characters about being regarded as German aliens by the British and having their nationality and part of their cultural heritage stolen from them by the Nazis who see them as less than human. The performances, however, cannot be faulted, nor the rich cinematography of Gernot Roll (The King's Whore) or the diverse scoring of Niki Reiser (Cold Is the Breath of Evening). Comparisons to Out of Africa are apt since the then just-published Karen Blixen source novel was a favorite of Zweig's father and likely motivated his decision to seek refugee status in Kenya; as such, both Zweig's autobiographical novel has some of the qualities of a de-romanticized version of the Blixen tale (the prettified film perhaps less so).

Video


Although released theatrically in the United States by Zeitgeist Films, Nowhere in Africa was released on DVD by Columbia Pictures Home Entertainment in a two-disc set with commentary by director Link and producer Peter Herrmann in German with optional English subtitles (a track not included on the German DVD edition). The film was released to Blu-ray first in Germany from Ascot Elite, and it is presumably this master which has been used by Zeitgeist Films and Kino Lorber for their 1080p24 MPEG-4 AVC 2.35:1 widescreen encode. The image is clean and generally crisp, although some softer moments may be less of an age or digital restoration issue than a combination of heat wave distortion and the zoom lens which is occasionally used to pick out detail from a couple overhead POV long shots. The coloring appears to be faithful to the look of a film of the period with skintones that remain pale even when sunwarmed and blue night scenes rather than the dread orange-teal combinations that are sometimes digitally implemented with recent digital restorations of older films. It appears as though the credits have been digitally-recreated, but the master lacks a "Six Months Later" card which does not appear on a black screen during a fade-out even though the subtitle translating it does.

Audio


An early Dolby Digital title, the Kino Lorber disc features the original 5.1 mix of German, Swahili, and English dialogue in a lossless DTS-HD Master Audio track along with a 2.0 stereo downmix. The mix is rich with clear dialogue, a surround presence to the music with occasional percussive effects and vocalizations, and a contrast of pervasive but subtle atmospheric effects in the countryside scenes and busier surrounds in the town sequences. Optional English subtitles translate the German and most of the Swahili dialogue.

Extras


While the director/producer commentary was carried over to the German Blu-ray from the American DVD, it has not been included on Kino Lorber's Blu-ray. The rest of the extras, however, are present and accounted for starting with deleted scenes (10:21) which offer a few more scenes of Jettel speaking proudly of her social prominence back in Germany as well as a couple more conversations about whether there is a distinction between the Germans and the Nazis. Also carried over is a series of interviews starting with a television appearance by director Caroline Link, producer Peter Herrmann, and author Stefanie Zweig (31:33) in which Zweig discusses some of the ways in which the film differs from her book, displays some mementos (she only had ten photographs because the British confiscated their cameras out of concern of spying and then film as too expensive for them when they were returned), reveals her reflections on the casting, and points out some inaccuracies while also conveying some interesting (while they did not eat meat, their dogs were able to be fed because her father allowed the workers to hunt with the dogs). Sidede Onyulo (8:31) describes his role as a connection between the three characters and representing the both spiritual and practical aspects of Kenyan life in the film while Merab Ninindze (19:28) emphasizes the love story over the background aspects as well as the effect on characterization of living on location. Juliane Kohler (20:31) discusses her character as one of the Jewish people who had believed that the persecution and ghettoization of the Jewish people was propaganda and caught off guard when things became worse. Matthias Habich (17:24) also reflects on his character as well as Süsskind's decision to disown Germany as his homeland. The making-of documentary (28:36) is a vintage piece in which Link also emphasizes the film's love story over the contrasts between the existence of refugees and colonials in Kenya while also a behind the scenes look at the shooting as well as the cast and crew living and working on location. The disc also includes a storyboard comparison (2:57) as well as the U.S. trailer (2:21) and the German trailer (3:14). It is unfortunate that there are no new extras, although that is also the case with the German edition.

Overall


Comparisons between Nowhere in Africa and Out of Africa are apt since the then just-published Karen Blixen source novel was a favorite of Zweig's father and likely motivated his decision to seek refugee status in Kenya; as such, both Zweig's autobiographical novel has some of the qualities of a de-romanticized version of the Blixen tale (the prettified film perhaps less so).