Otley (Blu-ray) [Blu-ray]
Blu-ray ALL - United Kingdom - Powerhouse Films
Review written by and copyright: Rick Curzon (30th March 2018).
The Film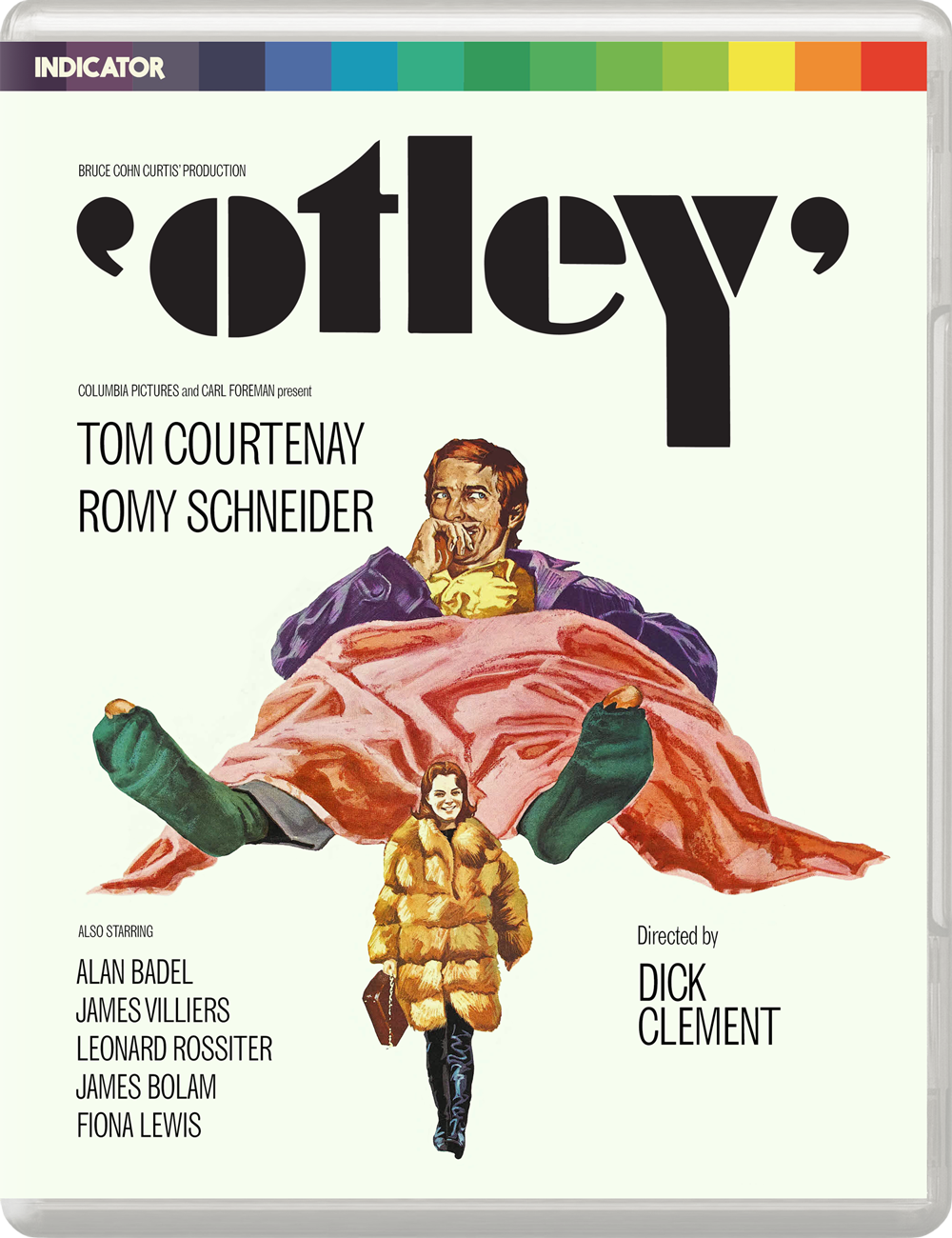 Gerry Otley (Tom Courtenay The Loneliness of the Long Distance Runner, Billy Liar, 45 Years) is a charming scrounger who stumbles unwittingly into espionage, murder, espionage and double crossing as he is mistaken for a spy, kidnapped, and becomes romantically embroiled with a sexy foreign agent, played by Romy Schneider (Purple Noon, Ludwig, Death Watch).

Adeptly balancing thrills and laughs, this Sixties comic spy thriller from writer-director Dick Clement (TV s The Likely Lads, Porridge, Auf Wiedersehen, Pet)is a stellar addition to the British canon of post-Bond spy flicks.

Video


Gerald Arthur Otley (Tom Courtney) is your average cheeky chappie, antiques expert, occasional petty thief and all-round middleclass wide boy. Through various circumstances he ends up being sought by the police for murder and two conflicting secret service cells; one bad, one good but which one means him no harm?

Bright, breezy late '60s timepiece is filled with the kind of cheeky wit and humour I'd expected and was very enjoyable without blowing me away. Courtney is the whole show really although there's plenty of interest in the supporting cast from character actors and familiar faces. A solid, enjoyable view.

The image is typical of a UK-lensed production done on a relatively low budget. Colourful, grainy and with a certain gritty edge. The film stocks vary at times with the scene in the London Underground being the biggest culprit as the sharpness and density changes from one shot to the next.

The overall look is soft, with fine grain but detail is much in evidence in closeups, medium shots and in backgrounds. The grain is ever present and is at it's coarsest in darker interiors but is also very noticeable in some exterior shots. Black levels are rich and deep but shadow detail suffers from some crush. I suspect that much of this will be down to lighting conditions during production.

Contrast is good and doesn't allow for blown out whites or eclipsing detail. There are no signs of digital artefacts but when I scrutinised the image up close I did see the odd sign of print blemishes or damage but they're not very noticeable. The encoding is up to the usual nigh standards set by Powerhouse's other Indicator releases.

As good as can be shy of a 4K UMD disc and a brand new 2018 transfer. We have a generous bitrate and the usual roomy BD50 disc.

1080/24p / MPEG-4 AVC / 1.85:1 / 90:58

Audio


English LPCM 1.0
Subtitles: English HoH

Standard mono track which has limited range and base but gets the job done sufficiently and is presented as good as can be on this disc in a lossless format. As good as can be given the limited range of the sound recording done in 1968. Glad to see subtitles which ought to be a must on all DVD and Blu-ray releases in 2018.

Extras


Audio commentary with Dick Clement and Sam Dunn

Amusing and fact filled yaktrak with one of the foremost UK TV and film comedy writers of the last fifty years. Dunn keeps Clement on the task at hand and we get plenty of trivia and discussions of the cast and locations.

"The Guardian Interview with Dick Clement & Ian La Frenais: Conducted by Dick Fiddy at the National Film Theatre, London on 17 June 2008" (plays as an audio track over the film) (76:35)

Here we have a chunky interview from the NFT archive which being a modern recording has greater fidelity and quality than on some of the older tracks that have appeared on other discs. It opens with Fiddy apologising for the absence of Bill Nighy who was supposed to conduct the interview but due to filming commitments had to give backward. Plenty of great info here discussion the boys' extensive career in film and TV scripting.

"Tom Courtney on Otley" featurette (5:58)

The veteran actor reminisces about the production recalling plenty of stories and anecdotes.

"Ian La Frenais on Otley" featurette (16:15)

After the Clement solo commentary we get the other half of the writing partnership going solo imparting plenty of trivia.

Theatrical Trailer (2:47)

Standard trailer playing up the spy and comic elements with some of the wittier lines given the foreground.

Otley Image Gallery: Original Promotional Material (15 images)

Modest but choice selection of images.

40-page liner notes booklet with a new essay by Laura Mayne, an extract from Martin Waddell's original novel, location reports, archival interviews with Tom Courtenay, an overview of contemporary critical responses and film credits

Chunky booklet done to a turn as we've seen previously from Powerhouse Films. Mayne opens with a solid appraisal of the film and it's history, cast etc. And the other articles all represent good value; I was interested to read what the American critics thought of the resolutely British film.

Overall


An interesting sixties time piece is a decent adaptation of the Martin Waddell literary character, but didn't blow me away. The disc however, is yet another winner from Powerhouse Films as part of their Indicator series, so buffs will want to snap up this rarely seen film.
| | | | | |
| --- | --- | --- | --- | --- |
| The Film: B- | Video: A | Audio: A | Extras: A+ | Overall: A+ |

---
DVD Compare is a participant in the Amazon Services LLC Associates Program and the Amazon Europe S.a.r.l. Associates Programme, an affiliate advertising program designed to provide a means for sites to earn advertising fees by advertising and linking to amazon.co.uk, amazon.com, amazon.ca, amazon.fr, and amazon.de.