Boneyard (The) (Blu-ray) [Blu-ray]
Blu-ray B - United Kingdom - 88 Films
Review written by and copyright: Rick Curzon (11th April 2018).
The Film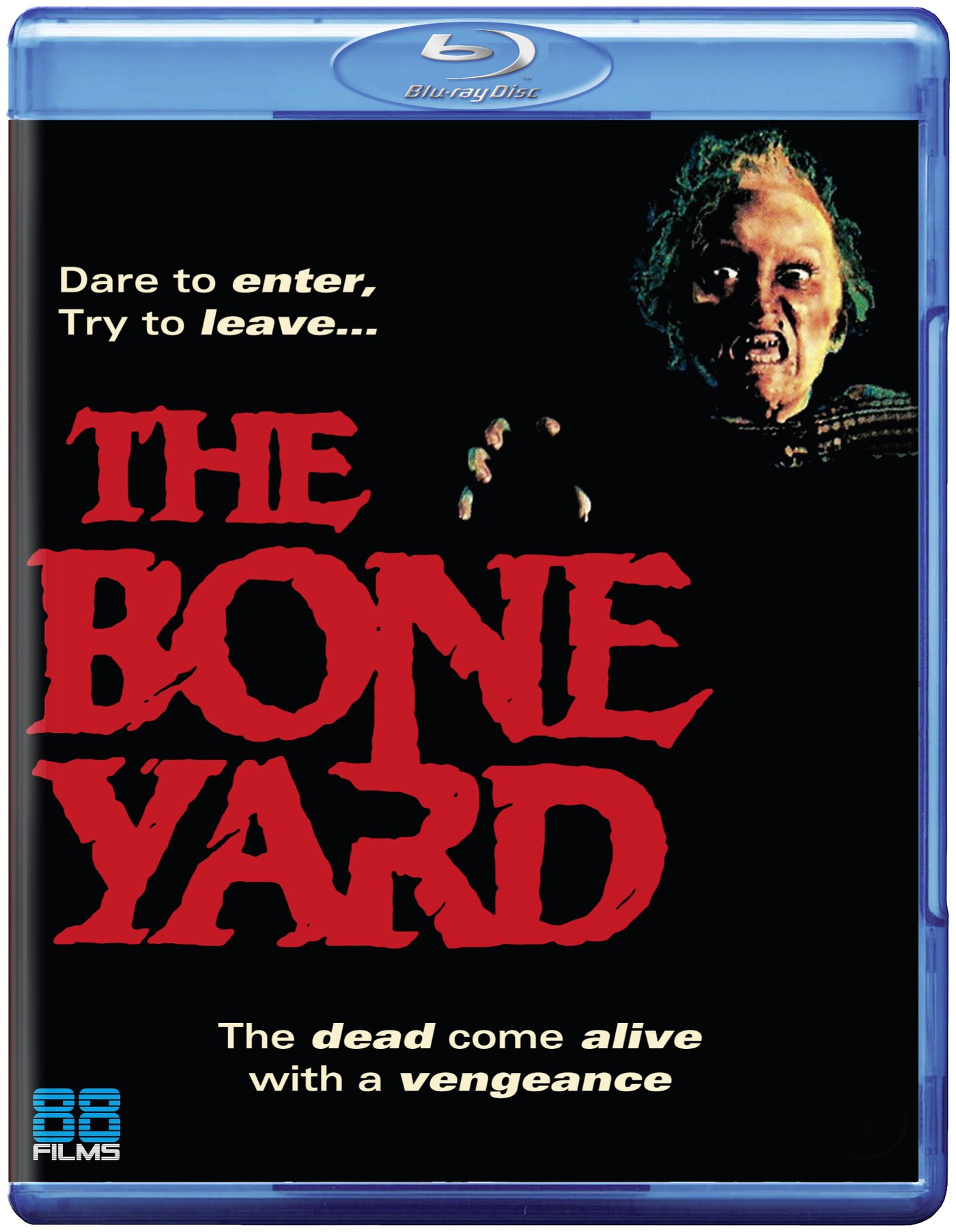 One of the greatest zombie movies you probably never saw is finally back to chew its way into your 88 Films collection!

Released in 1991, THE BONE YARD is a certified cult classic of the VHS era that mixes the bad taste splatter humour of such classics as THE EVIL DEAD and RE-ANIMATOR with enough corpse-shambling thrills and ghoulish chills to make for an essential late night watch.

Telling of a living dead outbreak in a coroner's office, THE BONE YARD is a claustrophobic love letter to George A. Romero that inotrduces some original ideas to the well-worn meat-munching trope. With a cast that includes television legend Phyllis Diller and B-movie veteran Ed Nelson (A BUCKET OF BLOOD) and with ertswhile makeup effects genius James Cummins (THE THING) as director - this is one low budget bout of blood-splattered brilliance that more than deserves its HD premiere from 88 Films!!

Video


A psychic + cops and coroners vs zombies at the morgue.

Slackly paced zombie horror film went straight to video back in the day and has a reputation for being goofy and funny, but it isn't really ... at least not consistently. Only some of the make ups qualify as deliberately silly and it's not enough; much as I enjoyed seeing a giant, mutant zombie Phyllis Diller and a zombie poodle. This needs a much tighter edit to remove dead air in scenes and to pace it up. The cast try very hard, especially lead Deborah Rose who is excellent in her only starring film role.

Colours are generally strong favouring the warmer end of the spectrum with naturalistic Flesh tones. Interiors fare better than exteriors but most of the film is set in the confines of the city morgue.

Black levels are pleasing and are deep and rich; crush is only very occasionally present but is almost certainly a part of production conditions re budget, time and original lighting.

Contrast is par for the course for modern transfers avoiding blown out highlights; when this was put on VHS and Laserdisc back in the day the transfer would have been more contrasty to compensate for the lack of definition but here allows detail to show through nicely. This will never touch a new digitally shot production for textures but still pleasing and about as good as we can expect.

There little or no print damage, at least nothing stood out for me. Nor could I see any signs of digital tinkering like edge enhancement or DNR and the encoding and grain management are decent; 88 Films are improving on that with the passing months.

1080/24p / MPEG-4 AVC / 1.78:1 / 93:16

Audio


English LPCM 2.0 Mono
Subtitles: English HoH

A solid mono track with no complaints; it has good base and clear presentation of the dialogue. Silence is well handled with no hiss or distortions. The sparse score comes over well.

Extras


Audio Commentary with James Cummins and Richard F. Brophy
"The Boneyard: Interview with Actor Phyllis Diller" featurette (17:08)
"The Boneyard: Interview with Director James Cummins" featurette (18:22)
"The Boneyard: Interview with Producer Richard F. Brophy" featurette (12:17)

Three vintage featurettes that collectively give us a decent making of and a commentary all hailed from the 2003 special edition DVD release in the USA.

Diller is total hoot in the best of the three interview pieces. The late actress was a real character and a force of nature and that comes across strongly. She discusses her fantasy film work and how that sits alongside her career in general and has lots of banter with the interviewer who laughs quite a bit.

Cummins and Brophy's pieces are less lively and more conversational but impart plenty of great information about the production. I preferred the interview pieces to the commentary but that is just me; others may differ. There is some crossover obviously but they compliment each other generally very well.

Trailer (2:39)

Comedy orientated trailer emphasising Diller and the goofy makeup SPFX.

Reversible Sleeve with Alternate Comedy Artwork

When this was first released the VHS cover was the more serious default artwork used on the Blu-ray but was provided with a slip case featuring the giant poodle zombie and dubbed the "comedy" poster. And, that is what we get here. The comedy poster is the better of the two images in my view.

Overall


The film doesn't quite succeed at either of it's ambitions; to be a horror zombie effort and a comedy. It's too slackly paced and edited with scenes stretching and on. The use of music is sparse but means that there's too much dead air in the film and it lacks atmosphere. It's not consistently funny nor frightening but is of interest and worth a one-time look with a great cast. That said, it has a fervent cult following and may improve with subsequent viewings for thosemkeen to try.

88 Films disc has good image and sound quality so fans should be pleased with a decent encoding job and no notable flaws. The extras are also ported over from the old special edition DVDs and are good solid pieces that add a huge amount of value.

Fans and the curious should snap this up ASAP.
| | | | | |
| --- | --- | --- | --- | --- |
| The Film: C- | Video: A | Audio: A | Extras: B+ | Overall: B+ |

---
DVD Compare is a participant in the Amazon Services LLC Associates Program and the Amazon Europe S.a.r.l. Associates Programme, an affiliate advertising program designed to provide a means for sites to earn advertising fees by advertising and linking to amazon.co.uk, amazon.com, amazon.ca, amazon.fr, and amazon.de.