The Film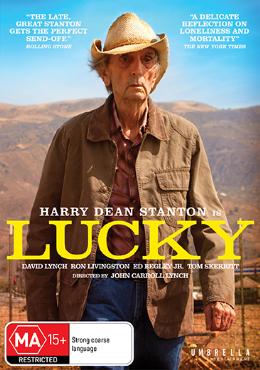 "Lucky" (2017)

Lucky (played by Harry Dean Stanton) is a 90 year old living a simple life in rural the southwest. He lives alone but never feels lonely, as he makes small talk with the townsfolk every day. He likes watching television and doing the crossword puzzles. He smokes but stays healthy by doing simple yoga exercises every morning. But one day he suddenly collapses in his kitchen with no explanation. The doctor (played by Ed Begley, Jr.) is dumbfounded as he finds Lucky in perfectly good health at an almost miraculous level considering the age and the years of smoking, and cannot do anything to help as the cause of the fall cannot be determined. But for Lucky this was a moment of awakening. Death can come at any moment and whether it is helping his friend Howard (played by David Lynch) not get scammed by the lawyer (played by Ron Livingston or attending Bibi's (played by Bertila Damas son's tenth birthday party, Lucky makes sure to do whatever he can with his time in life.

With over 200 film and television credits over 60 years, Harry Dean Stanton was one of the most prolific and recognizable actors in the industry, but almost never the lead role. "Cool Hand Luke", "The Godfather Part II", "Alien", "Repo Man", "Wild at Heart", "The Green Mile", and the list goes on and on, from small roles to co-starring, though his biggest in his career was having the lead role in "Paris, Texas" becoming one of his most iconic and emotional roles. He was never nominated for a Golden Globe or an Oscar for his performances yet was beloved by cinephiles across generations. It took a very long time for Stanton to be cast in another lead role but with 2017's release of "Lucky", it earned rave reviews for the heartfelt performance and a fitting role that was almost entirely written for Stanton to play.

Shot when Stanton was 90 years old himself, "Lucky" is a film that equally stares at life and death on a fine line. The most interesting aspect is that barely anything happens during the course of the film. There are no major plot points that move the story to various directions with conflict or definite conclusions. Lucky does not take huge risks either, with dialogue being simple yet deep. When the character Howard becomes distressed when he loses his pet turtle, it seems jokey and mundane at first. But later when he explains the lengthy life of turtles, how its shell is like its own coffin being carried throughout its life, and how the little pet was his one saving grace, the absurdity suddenly becomes existential. The same that goes for other characters such as the lawyer talking about his near death experience, as well as when the character of Fred (played by Tom Skerritt shares with Lucky his experiences during WWII. The dialogue in the screenplay written by Logan Sparks and Drago Sumonja are the bright spots, that has its hilarious moments as well as its heartwrenching ones. They are not accompanied by flashbacks or fancy editing and feel genuine rather than forced emotional feelings from the audience. Character actor John Caroll Lynch makes his directorial debut with "Lucky" and while he is not flashy in the cinematic style, he lets the actors do the acting and wonderfully so.

"Lucky" was first screened at the South by Southwest Film Festival on March 11th 2017 followed by various other festival screenings to extremely positive reviews, especially for Stanton in the lead, winning 4 "Best Actor" awards at festivals and nominated for five more "Best Actor" awards. The US theatrical release opened on September 29th 2017, which was unfortunately two weeks after the death of Harry Dean Stanton, who died on September 15th 2017 at the age of 91. Although he was getting some of the best reviews of his career, it may seem... well, unlucky that Stanton had passed away, but the film "Lucky" is an absolute fitting tribute and fitting final role from one of the most unlikeliest stars in cinema.

Note this is a region 0 NTSC DVD which can play back on any DVD or Blu-ray player worldwide

Video


Umbrella Entertainment presents the film in the theatrical 2.40:1 aspect ratio anamorphically enhanced in the NTSC format. Considering it is a 2017 production there is very little to fault with the transfer. Bright scenes are absolutely bright, dark scenes are very dark. Colors pop out in scenes such as the nightmarish one scene but otherwise it does play with the color palate very safely. There is no damage or framing errors in the transfer. The only downside may be that there was no HD edition of the film available for Blu-ray as this is being released on DVD only for Australia. But then again the United States also got a DVD only release.

The film's runtime is 88:04.


Audio


English Dolby Digital 5.1
The film gets a full 5.1 track but it is not exactly the most active one. It is dialogue centered and the surrounds only come in subtly during the film with music and some effects. On the positive side there are no issues with audio dropouts or errors in the track with dialogue sounding very clear.

There are no subtitles available for the film.

Extras


Unfortunately there are no extras on this DVD. No menus either, with the film starting from playback and the disc stopping once the film has finished.

The US DVD release from Magnolia had some featurettes and sadly none were carried over for the Australian release.

Packaging


The packaging claims this is region 4 only disc, though note it is actually a region 0 release.

Overall


"Lucky" turned out to be Stanton's final film but a fitting one at that. It's simple, it's deep, and though sometimes seemingly goes nowhere, but that's how life can sometimes be. The Umbrella Entertainment release features good audio and video yet it has no extras at all, sadly.
| | | | | |
| --- | --- | --- | --- | --- |
| The Film: B | Video: B+ | Audio: B | Extras: F- | Overall: C+ |