The Film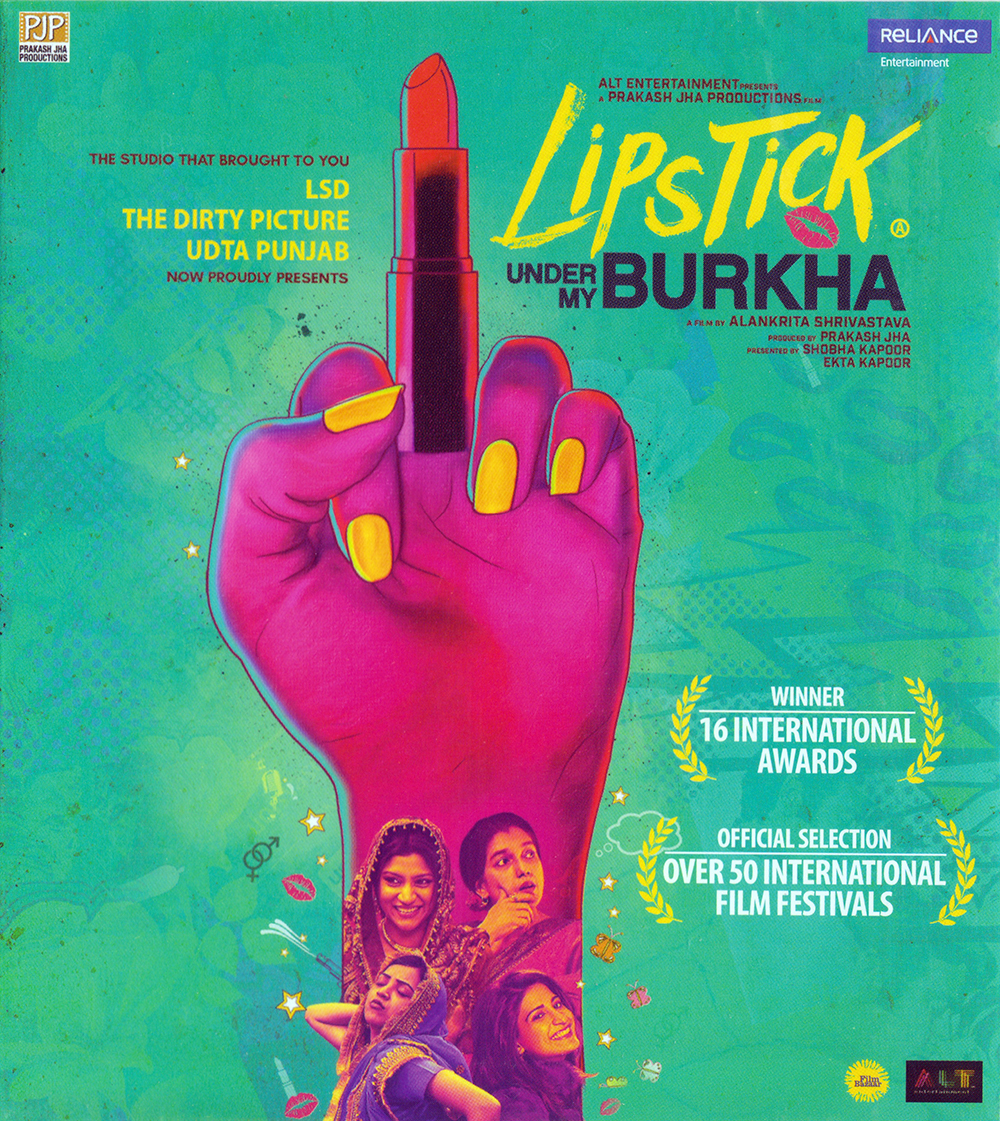 "Lipstick Under My Burkha" (2016)

In the small Hawai Manzil complex in Bhopal, India lives a small community of tenants, and it is a special time. One of the tenants is getting married soon and an engagement party is underway for everyone to celebrate. But not all is happy as local real estate moguls are constantly barraging the living complex in order to buy the property and transform the area and its surroundings into a shopping mall. While a large number of families live there and a buyout would affect all the families there, the story centers around four women who live there lives there.

Rehana (played by Plabita Borthakur is a college student whose family sews and sells burkhas, and their strict lifestyle requires the women in the family to wear burkhas outdoors. For Rehana she makes sure to remove her burkha before arriving at school, dressed in western clothes, being interested in western music including Miley Cyrus and Led Zeppelin. She does wear her burkha for special situations - and that is stealing from the local shopping mall from lipstick to boots, as the security guards wouldn't dare unveil or look under a burkha for stolen goods. It is at college that she tries to join the cool kids, smoke cigarettes, drink alcohol, and fall in love - all activities forbidden by her family.

Leela (played by Aahana Kumra) is the lucky woman getting married to finance Manoj (played by Vaibhav Tatwawaadi). While he is financially stable and a wonderful person, the arranged marriage is not to the liking of Leela who is having an affair with Arshad (played by Vikrant Massey) the carefree photographer. How long will she be able to continue the affair without being caught?

Shirin (played by Konkona Sen Sharma) is a married woman. Her husband Rahim (played by Sushant Singh) is away working in the Middle East for most of the year and to make ends meet she works as a salesperson for cleaning products, without her husband's permission. A major concern on her mind is that Rahim only sees her as a provider for sex, as it resulted in three children over the years in addition to three terminated pregnancies. Her job is looking to promote her but that also means having to work fulltime, and they are not willing to cover for additional leave for pregnancies.

Usha (played by Ratna Pathak Shah) is a 55 year old widow and the strong willed tough soul of the living complex. She is called "Auntie" by everyone and is looked up to by all, but she has a longing for love again. Her current choice of literature is the erotic pulp novel "Lipstick Dreams" in which the protagonist Rosy finds love in various situations. When Usha almost drowns in the swimming pool one day trying to save a young boy who was just messing around, the young lifeguard Jaspal (played by Jagat Singh) offers her swimming lessons. But with embarrassment buying a swimsuit at her age and feeling the touch of a young man, along with the parallels felt in the novel she is reading, Usha's sexuality is awakened for the first time in a long while, but what will the rest of the community think?

"Lipstick Under My Burkha" has its laughs along the way with awkward situations of love and sex through the eyes of various females, but the main theme is about sexual liberation that is unseen in most of Indian cinema with sex being a seriously taboo subject matter. It is not an explicit film as there is no nudity though there are sex scenes with most clothes on and suggestive scenes of sex and mutual masturbation. For women to feel free to express their sexuality, and the film expresses the needs through the four stages of a woman - the virgin (Rehana), the young woman prior to marriage (Leela), the married woman (Shirin), and the elderly woman (Usha). Each of their needs is different. Rehana is exploring everything outside her cultural norm at school, through music, fashion, and of course socializing with boys and with her peer girls. She may not have the experience yet, but the others in her school are and eventually will lead her to experiment and experience sexuality. Leela's story is about making the right choices for her future. Arranged marriages are still a commonplace in India and her story is common. She must decide on sex with the man she is having fun with or marriage and cannot have both. The crossroad divides her heart and she must decide on staying as a carefree girl or an adult woman. Shirin's issue of being a working woman behind her husband's back may sound like an absurdly outdated notion in many westernized countries, but still a commonly frowned upon topic in some places. Sex is not on her mind as lovemaking with her husband is barely considered love and more of a mechanical and cold way of connecting. She wants to feel that love but career and taking care of the family is the core. It is clear that even women post menopause have sexual urges and Usha becomes reawakened through the circumstances. Even though these feelings are completely natural for women, why are people scared of the subject, whether in Indian culture or others?

Director and co-writer Alankrita Shrivastava is a rare female Indian director working in India. Directors like Mira Nair and Gurinder Chadha have made acclaimed female-centered films over the years, but not in India, and not subject to Indian censorship for their work compared to what Shrivastava had experienced. Finding funding and support for "Lipstick Under My Burkha" took quite a lot of work, having to abide by censorship rules and find cinemas that were even willing to screen the film which went against much of the Bollywood standard. There are no extravagant singing and dancing musical scenes - with the exception of the engagement ceremony scene, and there are no male hero dominant characters. It was female led, female made, and made for females of many generations. It is wonderfully directed with the actors portraying their characters with full gusto and sincerity, great cinematography giving life to the Hawai Manzil complex and its surroundings, and both the humor and the drama come very well across. But does the film have a happy ending? It is a questionable one that leaves things open. Will all the women find happiness eventually? The film cannot explain that until society can do the same. "Lipstick Under My Burkha" may not change Indian culture entirely, but it shows that there are voices to be heard and heart to be felt, and possibly a better world for the future for women.

The film was first screened at various film festivals in late 2016 and in 2017 worldwide before an Indian theatrical release from July 21st 2017. The film won many awards including the "Spirit of Asia Award" at the Tokyo International Film Festival, the "Best Film on Gender Equality" at the Mumbai Film Festival, the "Audience Choice Award" at the Minneapolis St. Paul International Film Festival, "Best Film" and "Stand Out Performance" by Ratna Pathak Shah at the London Asian Film Festival, "Best Film" at the Granada Film Festival Cines del Sur, and the "Best Film" award at the Film De Femmes.

Note this is a region ALL Blu-ray which can play back on any Blu-ray player worldwide

Video


Reliance Entertainment presents the film in the theatrical 2.40:1 aspect ratio in 1080p in the AVC MPEG-4 codec. It's a very vibrant film with its great use of colorful costumes and designs, brightly colored and very beautiful. The darker scenes are also appropriately dark, detail is great, and overall looks wonderful. Note that every time a character is shown smoking or holding a lit cigarette the text SMOKING KILLS is displayed in small letters in the bottom right corner of the screen. It is not too distracting but it does occur at least twenty times during the film.

The film's runtime is 118:20, and this includes an anti-smoking ad (in Hindi) along with a large amount of distributor and sponsor logos for about 2 minutes.

Audio


Hindi Dolby TrueHD 5.1
Hindi Dolby Digital 5.1
The original Hindi (with some portions in English) audio is presented in both lossless Dolby TrueHD and standard lossy Dolby Digital both in 5.1 surround. As with many Indian productions, music takes a very big stage, though note this is NOT a Bollywood standard fare and there is only one technically "musical" segment which is at the beginning with the engagement party. For other scenes, the music with Rehana's auditions, the club scenes, and other music backed segments fully utilize the 5.1 soundscape without deafening the dialogue scenes which sound excellent and well balanced.

There are optional English subtitles in a white font for the main feature. The subtitles are well timed and easy to read. There was one instance of "college" spelled as "collage" and it sometimes uses American English spelling like "flavor" and other times with British English spelling like "neighbour". But for 95% of the time the subtitles were excellent.

Extras


There are no extras on the disc. There is a standard scene selection as well as a song selection menu found on most Indian releases. No featurettes, interviews, commentaries, unfortunately.

The trailer which is not on the disc has been embedded below.


Packaging


The original pressing includes a slipcase with identical artwork. All the inlay art, disc art, and disc menus are in English only.

Overall


"Lipstick Under My Burkha" showcases female sexuality and the consequences through the eyes of four Indian women though fun comedy and emotional heartbreak with very satisfying results. Reliance Entertainment's Blu-ray features excellent video and audio but unfortunately void of any extras on disc.
| | | | | |
| --- | --- | --- | --- | --- |
| The Film: A | Video: A | Audio: A | Extras: F- | Overall: B |