Super Inframan (The) AKA Inframan AKA Zhong guo chao ren (Blu-ray) [Blu-ray]
Blu-ray B - United Kingdom - 88 Films
Review written by and copyright: Rick Curzon (15th April 2018).
The Film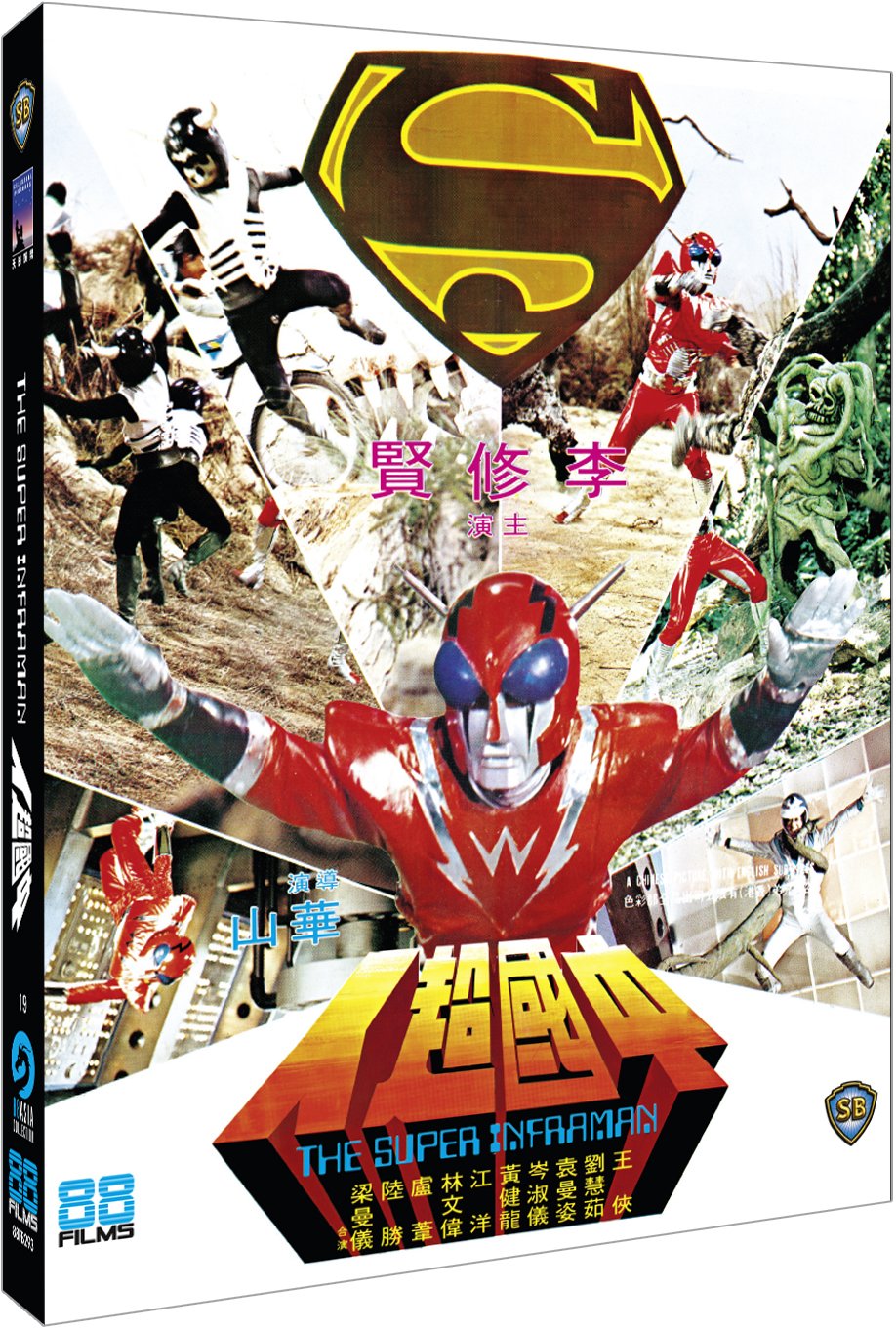 God bless the brilliance of Danny Lee (THE KILLER/ THE UNTOLD STORY) who emerged onto the Shaw Brothers scene with such outlandish fantasies as MIGHTY PEKING MAN (1977) and THE SUPER INFRAMAN (1975) - a tale of futuristic heroism and spandex costumes that could only have been dreamed up during the golden age of Hong Kong cinema. Featuring the sort of ambition that puts most superhero flicks to shame, this is a brilliant bicep-flexing bout of good vs. evil - as a costumed Chinese patriot takes the fight to a city-destroying mega-villain. Undoubtedly one of the finest Far Eastern action flicks of all-time, THE SUPER INFRAMAN makes its UK debut in a muscular HD transfer that could only have come from the Oriental-cinema obsessives at 88 Films!

Video


The evil Demon Princess Elizebub (Terry Liu) invades the Earth and Professor Liu Ying-Te (Hsieh Wang) turns willing colleague Rayma (Danny Lee) into Inframan; a super strength bionic superhero to fight the evil Princess and her monster minions.

Utterly bonkers and thoroughly charming Kaiju Eiga (monster movie) made by the Shaw Brothers in Hong Kong. Shot through with bright, candy colours and plentiful amazing action, choreography and SPFX; truly spectacular. This is an infectious, bubbly creation perfect for a lazy afternoon and if you have any children to entertain, they should eat this up!

Famously the late, great US film critic Roger Ebert (1942-2012) loved it, claiming that if they stopped making this kind of film "a little light would go out in the world"; he also loved Mighty Peking Man (1977) also from Shaw Brothers ... and also on my wish list! Pure U - PG material given a daft 12 certificate by the BBFC.

We have another aged master from Celestial Films (see also One-Armed Swordsman, The Ghost Lovers, The Dragon Missile et al) so my expectations were suitably lowered.

However, this transfer is a distinct step up in quality despite having a low bitrate with a rich colour palette that emphasises the primary colours and with many of the cast wearing brightly coloured outfits that come over very well here. The image has some detail in both fore and background although DNR has still been applied. Skin and fabric textures are not all they could be but waxiness isn't as distracting here as on some of the other Celestial transfers due to the nature of the film and it's cinematography.

I didn't notice any print damage or reel change marks so that's all good. Grain is just about present albeit not to the levels I would expect from a film of this vintage and budget, but some grain is better than no grain at all. Black levels are deep and rich and didn't notice much if any crush. Contrast is also pleasing with no blowouts in lighter. Encoding is adequate and 88 Films have been improving in this regard although they still have some way to go.

All told a generally good transfer, well worth getting. In motion it plays very well and I just loved the candy-coloured look of this little gem.

1080/24p / MPEG-4 AVC / 2.35:1 / 87:36

Audio


Mandarin LPCM 2.0 Mono
English LPCM 2.0 Mono
Subtitles: English (optional)

A standard lossless mono track (Mandarin) of the period so nothing too impressive but about as good as we can hope to have short of a full-blown 5.1 upmix. However, that would require all of the sound stems to be any good and a load of moolah, but they may not exist now. There is no significant distortion that I could detect although the dubbed dialogue does have that slightly canned, breathy quality the other Celestial films had.

Anyway, as good as can be given the source.

The English track is also pretty typical of the period and is slightly garish when compared to the more elegant Mandarin. In any case, unless you're watching with kiddies this is fairly redundant, but of mostly similar quality to the Mandarin.

Optional English subtitles have the odd mistake but are here for those who don't speak Mandarin.

Extras


Stills gallery (HD) (1:43)

Lovely HD slideshow of stills, publicity stills and gloriously comic-bookish poster artwork.

Reverse sleeve with original Hong Kong poster art

A choice betwixt a photoshop montage and the original Hong Kong poster.

8-page liner notes booklet "Cool as Kaiju" by Callum Waddell

Another of Waddell's interesting essays that covers all the essentials and is a welcome addition.

Overall


A solid disc of a truly wonderful live action comic book crossed with a Kaiju Eiga! 88 Films' disc is a decent affair with decent image and sound quality and an essential purchase for those into such films. This is also perfect family fare and there is the English dub track for little 'uns.

Extras are sparse which is a shame but what little there is is of a good standard.

A film I've been wanting to see ever since coming across Roger Ebert's warm review years ago, and thanks to 88 Films I've had the opportunity.
| | | | | |
| --- | --- | --- | --- | --- |
| The Film: A | Video: B+ | Audio: B+ | Extras: C | Overall: B+ |

---
DVD Compare is a participant in the Amazon Services LLC Associates Program and the Amazon Europe S.a.r.l. Associates Programme, an affiliate advertising program designed to provide a means for sites to earn advertising fees by advertising and linking to amazon.co.uk, amazon.com, amazon.ca, amazon.fr, and amazon.de.