The Film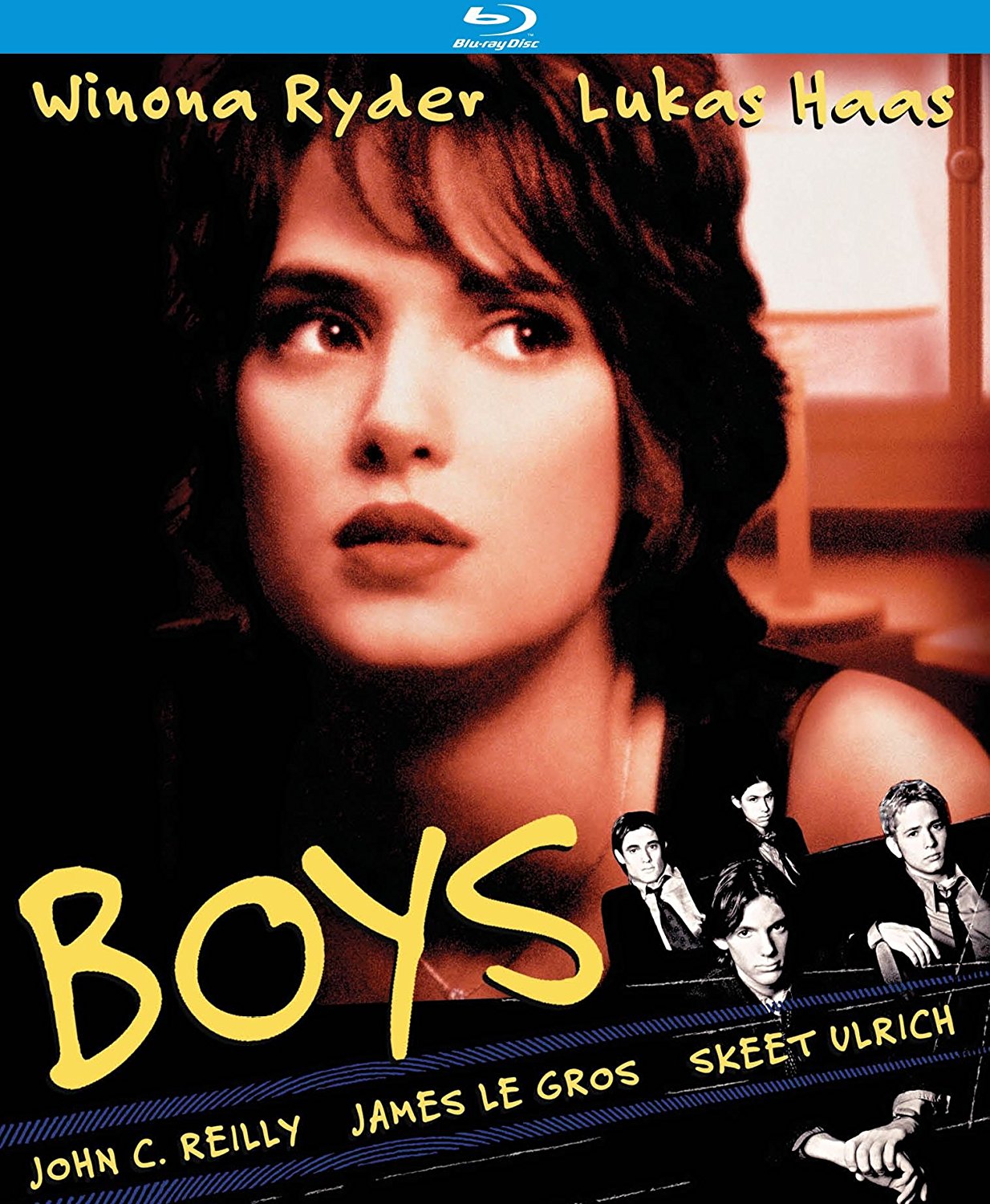 I canít blame Winona Ryder for wanting to step out of her comfort zone and play a character that has a bit of an edge to her personality, after starring in those good girl roles in the films "Age of Innocence" (1993) and "Little Women" (1994), but she should have not accepted the lead role in this film for a number of reasons. First of all, is the sad fact that this is a terrible film. Secondly, its source was an eight page short story by James Salter; can you say, lacking in substance? The eighty six minutes worth of time is a burdened affair and director Stacy Cochran should have steered clear from this story of a twenty-five year old woman with a desperate secret for obvious reasons.

"Boys" tells the story of Patty Vare (Winona Ryder) on the run from her family, the police and a terrible secret, suddenly appears at an exclusive prep school, searching for a safe place to hide. But when a rebellious student helps to keep her identity a secret, they soon find themselves intimately involved... with time running out and the authorities closing in!

Even in the hands of a masterful director, like say Robert Altman for example, who worked wonders with the material of Raymond Carverís short stories in "Short Cuts" (1993), still needed a substantial collection in order to work miracles. James Salter may be viewed as a writerís writer, but there just isnít enough here to make a feature length motion picture out of. I feel sorry for poor Winona and her miscalculated acceptance of this role, but it truly is like stretching the material of a snack into a full course meal. When I think of how incredible and truly believable Laura Dern was in Joyce Chopraís exquisite short film, "Smooth Talk" (1985), it makes me ponder the fact that perhaps the directorís gender got in the way of her delivering a better product than this rather pedestrian fare.

It's not to say that the cast doesnít try their best to make something more substantial out of this brief story. John Baker Jr., the lead character, is portrayed by Lucas Haas, and he does try to make his characterís yearning for freedom and maturity visible, but it falls short of the goal. Patty is the object of his affection and we can see her struggling to make her character come alive, but she too fails at the task at hand. The supporting cast is made up of some names and faces that we might recognize: Skeet Ulrich as the "had-a-few-too-many" baseball player, Chris Cooper as the overbearing father, Jessica Harper ultimately given nothing to do as the worrisome mother, and a young Catherine Keener as Jilly, a young woman with a dog that roams. Also John C. Reilly plays a state trooper who looks much too young for the job, let alone have a son and wife. Wiley Wiggins is a fellow student that smashes his hand into a wall during a fit of sexual frustration.

Ultimately, the lame plot, the fact that no one acts like an adult with a sliver of intelligence, and the overbearing and dull dialogue ridden scenes eventually sink this ship with its cast and crew on board. I couldnít believe that this film, which probably didnít do very well at the box office but probably played on repeat showings on Cinemax, was brought back from the VHS trash bin when there are so many other great films that need to be saved. I am a huge fan of Kino Lorberís and usually their selections are impressive, but not so here with this title. Just say pass and know that I did you a favor by saving yourself from wasting 86 minutes of your life.

Video


Presented in the film's original theatrical ratio of 1.85:1 mastered in HD 1080p 24/fps using AVC MPEG-4 compression, the visuals are ordinary and there is nothing intriguing or impressive here. Colors are muted and skin tones are flat. Inside scenes are a tad dark and there is occasional speckling seen.

Audio


English DTS-HD Master Audio 2.0 surround is the only option, the use of pop hits from the 80ís only irritated me and the soundtrack is not the selling point here. The sound mix is not overwhelming as the music plays in the background, not really highlighted exactly. Dialogue is clear and there is some interaction of the rear speakers during crowd scenes at the fair and at a party. There are no optional subtitles.

Extras


Audio commentary features writer/director Stacy Cochran and runs the length of the film.

"Production" featurette (4:07) is a very dated interview segment featuring Ryder and Haas; they discuss the characters and their motivations. Ryder is complementary to Haas as her co-star.

Selected B-Rolls (3:49) a behind the scenes look as the director manages her actors and the extras in the scenes at the fair, trying to make the scenes look realistic.

A music video (3:42) is included for the song ďAlrightĒ featuring various cast members.

The disc also included the film's original theatrical trailer (1:55).

Packaging


Packaged in a standard Blu-ray case.

Overall


The story goes nowhere fast, this vehicle is stuck in first gear and doesnít advance any further than that.
| | | | | |
| --- | --- | --- | --- | --- |
| The Film: D | Video: B+ | Audio: B+ | Extras: B | Overall: C- |