The Film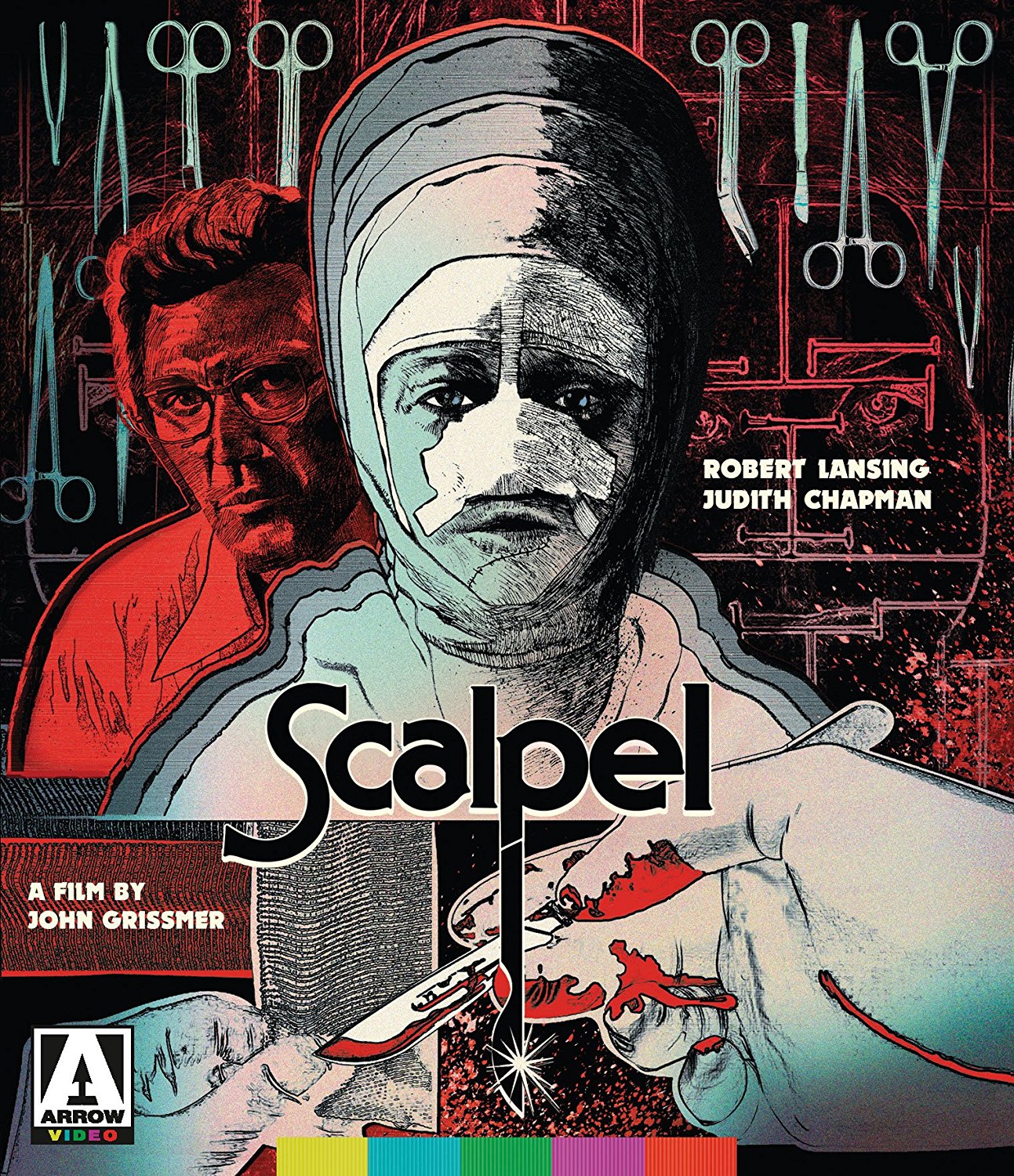 There is a long standing tradition in the horror cinema regarding the dramatic license of utilizing identical twins, mistaken identities, and a Grand Guignol aspect. Bette Davis, alone, was the star of many films that specialized in this area of interest and the continued issue of Doppelgängers and mixed up identities has proven to be very successful at the box office throughout the age of cinema. Starting with Alfred Hitchcock's classic film of duel identities, "Vertigo" (1958), and Krzysztof Kieslowski's effective "The Double Life of Veronique" (1991) continues on with the idea of a doppelgänger out there in the world walking around, looking exactly like our heroine in the film. No one does it better than outré filmmaker David Lynch and he too examined the topic in his 1997 film, "Lost Highway", which was a hair raising tale of shifting identities, look alike duplicates and actors morphing into their on screen roles and vice a versa. In "Scalpel", we not only have the use of a doppelgänger, as well as a regional low budget horror film, but also a setting that is soaked in the Southern excess of its environment. I, however, felt that "Scalpel" was more a film noir stylized drama with some horror flourishes, but still keeping it in the Southern Gothic tradition. Basically I am saying that this was some fine drive in fare for the crowds back in 1977.

Plastic surgeon Dr. Phillip Reynolds (Robert Lansing) finds himself a pauper when his father-in-law suddenly dies and does not include him in the sharing of his wealth, instead leaving five million dollars to Reynold's missing daughter Heather (Judith Chapman); the only problem is that no one knows her whereabouts and Reynolds is scheming on how to not let that money slip through his greedy fingers. Reynolds is a boozer and a user and he is out on the town celebrating with his brother-in-law Bradley (Arlen Dean Snyder), but the winds of fate are soon to blow and an unfortunate stripper soon finds herself with her face destroyed due to a severe beating from an overly enthusiastic bouncer. The duo are driving through Atlanta's version of the combat zone when they stumble upon the girl wandering the streets with her visage destroyed. What luck! Reynolds rushes the unconscious girl to the nearby hospital where he works and the good doctor begins to put into action the first step of his evil plan.

Using the unknown girl, now labeled as "Jane Doe", Reynolds has a plan in mind to get some of that inheritance money, and since Heather is missing, why not simply recreate Heather by using Jane Doe's blank face as the baseline. She has the right eye color, the right height and weight, and he has all the skills to do the work, so what's stopping him from a little moral ambiguity? As the old saying goes, no good deed goes unpunished, Dr. Reynolds is the right man for the job, and we see him operating on Jane's face using his missing Heather's face as the blueprint. Jane is in the hospital recovering and incredibly she has no memory of her previous life; she is indeed a blank slate waiting to be filled in with memories, details and events that all happened to her facial role model. As we see the weeks go by, Jane is wrapped mummy like in bandages, completely encasing her facial features, this is a subtle reference to the 1960 French film, "Les Yeux Sans Visage" ("Eyes Without a Face") directed by Georges Franju. All this time, Dr. Reynolds is filling Jane's head with the memories of his missing daughter, quizzing her on who what relative is and what is Jane's relationship to them. This evil Svengali role playing is a nice part for Lansing and he is particularly good with the poker face, his expression a blank look, carefully concealing what he is really thinking or feeling. Judith Chapman is also extremely well cast as Jane/Heather as she subtly displays the difference between the two different characters and their opposite personalities. Jane has literally struck it rich, going from being a worn out stripper to now being a charming ingénue in the South, with several millions to show for the effort as well. By now I am sure that most audience members will not be surprised by the way the rest of the film progresses as Reynolds begins to reveal more and more of who he really is and Jane starts to become romantically involved with the man that saved her life. It is the director's causal way of revealing that Reynolds is in reality a psychopath that shows the most promise. We see how Heather's boyfriend came to an accidental demise shown in flashback (Reynold's of course is the cause) but also we learn via flashback that Heather's mother died while swimming and that it is no surprise that her husband was involved in that tragic death as well. The next to die is brother-in-law Bradley for suspecting a little too much and Jane watches in horror as Reynolds refuses to give the dying man his heart medicine while he coldly plays chopsticks on the piano. Apparently Reynolds is the real deal as far as cold blooded killers go and he is not going to let anyone stand in his way of claiming the inheritance, including his own authentic daughter.

As the audience was sure to guess, it was merely a matter of time before she returned home, and Reynold's is forced to come up with a scheme to deal with the third wheel of his daughter, Heather. The two plan a scheme where a hefty bartender is to be the hitman and he will cause a swift accidental death for Heather while Jane and he are having an afternoon at the lake. The film continually forces the audience to confront such ugly topics as incest, romantic obsession, criminal greed, and other unsightly topics that were simply unheard of in 70's cinema. Director John Grissmer is to be commended for his unusual choice of slightly racy subjects and his reinvention of the southern noir thriller. The relationship between Reynolds and Jane and Heather makes for an uncomfortable ménage a trio in more ways than one and it is not until the twist ending at the film's end, that we see Reynold's receive his proper due diligence.

Video


Arrow Films once again out does their selves by taking a seldom seen rarity as "Scalpel" and presents it with all the bells and whistles. Including two versions of the film, one being Cinematographer Edward Lachman's "warm" Southern tint and another version that is more of a mainstream look. The brand new 2K restoration from original film elements are presented in the film's original theatrical ratio of 1.85:1 HD 1080p 24/fps mastered using AVC MPEG-4 compression. Both versions are agreeable and the viewer can switch from one version to the other using the pop-up control on their remotes. This was a nice option that Arrow did not have to do and I personally enjoyed the more Southern take on the film. Lachman's vision of the South is filled with very nice yellows and greens and the outdoors scenes are very sharp, the colors are outstanding and very pastoral.

Audio


Original Uncompressed English LPCM 1.0 mono audio is included. The disc's linear track which runs at 48 kHz and is extremely effective; Composer Robert Cobert musical tracks really adds to the overall enjoyment of watching this film. Optional English subtitles for the deaf and hard of hearing are also included.

Extras


Collectors will want to dig into this edition with its wealth of extras and additional features. Extras include:

A brand new audio commentary by film historian Richard Harland Smith this runs alongside the film as an additional audio track and is fun and fact filled with great details and stories.

Brand new crew interviews, including an optional introduction by director John Grissmer (0:31):

- "The Cutting Edge" (13:52) a brand new interview with the director and his thoughts about the cinema.
- "Dead Ringer" (17:20) Chapman is interviewed and discusses her role and some of the shooting scenes are discussed.
- "Southern Gothic" (15:25) an interview with the Director of Photography Edward Lachman and how the craft of shooting films has changed with technology. The Southern look of the film is discussed as well.

Image gallery (3:31) the gallery includes on the set behind the scenes photos and some promotional materials.

The film's original theatrical trailer (2:42) is also included.

The first pressing also includes a collector's booklet with new writing on the film by Bill Ackerman.

Packaging


Packaged in a standard Blu-ray keep case with a reversible sleeve featuring original and newly commissioned artwork by The Twins of Evil.

Overall


The plot is nothing original, but there are some fresh twists and turns in this sordid pot boiler, and if anything, this is a thinking man's horror film in some ways. I welcomed the idea of a southern noir with its golden themed cinematography by Director of Photography Edward Lachman and the antebellum southern setting with all of its charm, both false and real, are used effectively to create a unique look and feel to this film.
| | | | | |
| --- | --- | --- | --- | --- |
| The Film: A | Video: A | Audio: B+ | Extras: A | Overall: A- |