The Film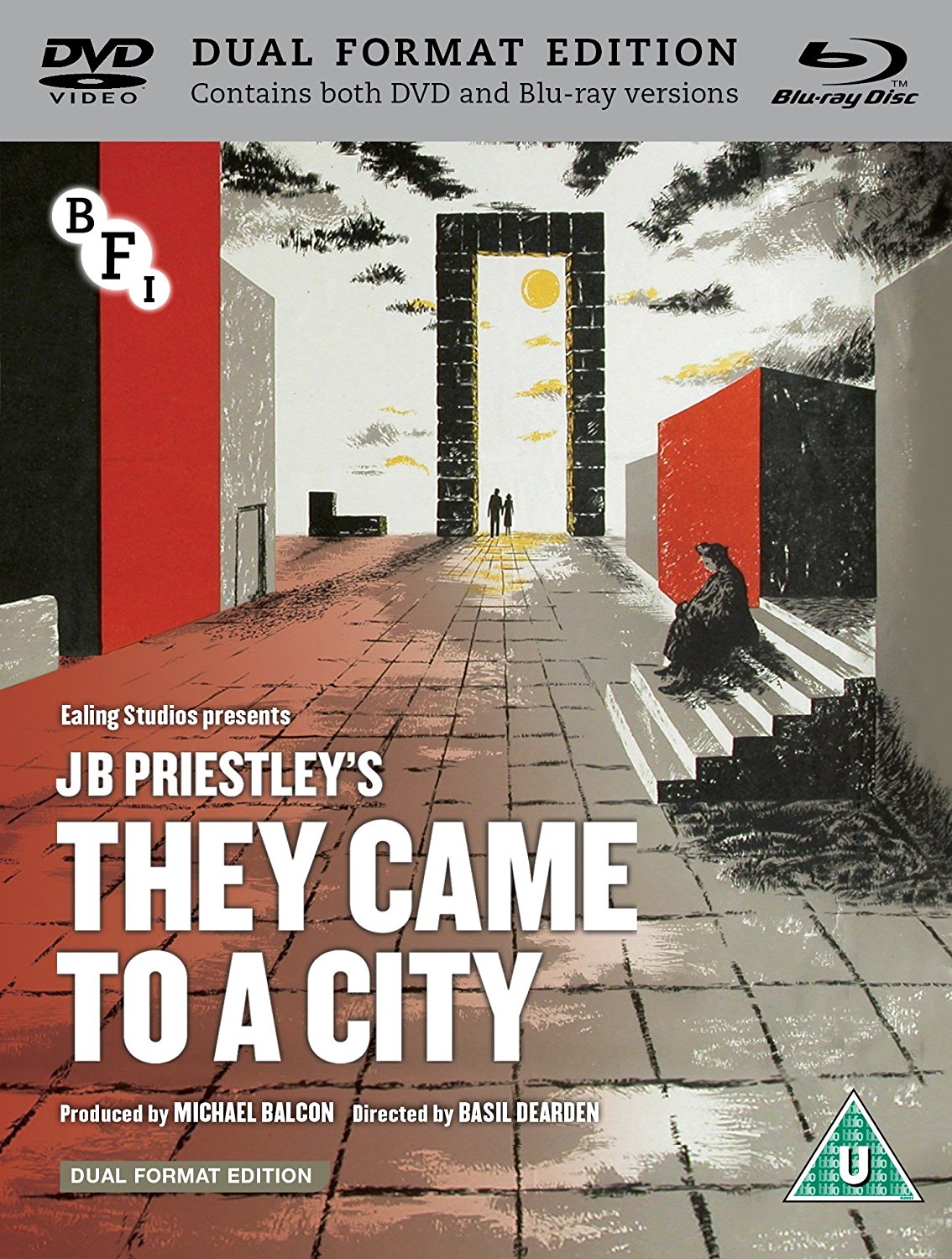 "They Came to a City" (1944)

A group of nine British individuals suddenly find themselves in a strange place away from their homes. A towering gateway, numerous staircases, and a mysterious door with no handle. The nine people are comprised of one husband and wife couple, a mother and adult daughter, and five other individuals from all over the country from all walks of life.

Philippa Loxfield (played by Frances Rowe) and her mother Lady Loxfield (played by Mabel Terry-Lewis) were at the post office and after walking out, found themselves in the mysterious city. Although Philippa is a full grown adult, her mother bears and overpowering presence over her, not having much in terms of personal freedom.

Mrs. Batley (played by Ada Reeve) is an elderly custodian who was only looking for her shopping basket in her closet stash when she suddenly found herself in the mysterious city. She may be old, but she has spunk and spirit, seeing many things and many people during her lifetime.

Mr. Cudworth (played by Norman Shelley) was looking for the post office to send some business telegrams when he suddenly found himself in the mysterious city. A businessman that sees nothing else besides business, he is also an old fashioned type that doesn't see women in a place of business.

Alice Foster (played by Googie Withers) just quit her job as a waitress after being fed up with the work and her treatment. She is ready to find something else on her own, and when she walks out of the establishment she finds herself in the mysterious city. She is a smoker, a drinker, and not afraid to show that women are just as powerful if not more powerful than men in society.

Malcolm Stritton (played by Raymond Huntley) and Dorothy Stritton (played by Renee Gadd) are a married couple who were on the train when they suddenly found themselves walking in the mysterious city. While Dorothy sees herself as a loving wide she is also one on the controlling side of the relationship, which slightly distances Malcolm.

Sir George Gidney (played by A.E. Matthews) is a retired man was on the golf course with his friends about to buy a new club, but after walking outside, he found himself in the mysterious city. He is certainly a wealthy man living lavishly and easily when he can.

Joe Dinmore (played by John Clements) is a mechanic working in the lower decks of a ship when he suddenly found himself in the mysterious city. He's traveled the world and seen all sorts of societies and people in his fairly young life. He is a pessimist on the stubborn yet outspoken side as he sees a cruel world for the lower class and finds overpowering fatcats the bane of the world.

What happens to people when society suddenly disappears? Money, government, class, gender are all thrown out and the people who had preconceived notions are suddenly placed where none of that matters - a place that is equally free as it is locked. "They Came to a City" is a fascinating "What-if?" piece of work where the main focus is not about people working together to escape from a mysterious place, but about the people themselves. They were like many different individuals around British society. The upper class, lower class, men, women, married, single, young, elderly - when they are placed together in one place how will each influence one another? Will the overbearing learn to be lenient? Will the rich see a different world without money involved? Will pessimism overtake optimism or vice versa? Written by novelist, playwright, scriptwriter, and broadcaster J.B. Priestley as a stage play in 1943, the work was adapted by the famed Ealing Studios in 1944 with Basil Dearden directing and Priestly supervising and playing a narrator of the film, along with all the principal actors from the stage playing their cinematic counterparts. In the 1940s Priestly broadcast many war propaganda pieces on the radio as well as narrating short film pieces for cinemas to boost the British morale and to expose the atrocities of the invading forces. "They Came to a City" can easily be placed as war propaganda and morale boosting, but it is much more than that by exposing the differences of the various people in society and their relationships broken down piece by piece. The ideal life and ideal society is seen differently through the eyes of the individuals and with war propaganda it is the main message for all to have one vision of an idea, and "They Came to a City" may have some of that as an element but not its entire message.

The six week production was completed in early 1944 and released in cinemas on August 17th 1944, with an American release half a year later on February 17th 1945. While the film was not a massive hit and some critics even giving negative reviews due to it being a dialogue heavy piece and not a "cinematic" piece with its nearly non-existent sets. For others, the minimal design and chessboard inspired sets are a perfect metaphor for the members as equal pawns in a mindgame. For many years the film was one of the least seen works in the Ealing library. Thankfully that is about to change with this Blu-ray and DVD release from the BFI.

Note this is a region B Blu-ray and a region 2 PAL DVD set

Video


The BFI presents the film in the 1.37:1 aspect ratio in 1080p, in the AVC MPEG-4 codec. The 35mm finegrain duplicate positive was scanned at 2K and restored by the BFI for the Blu-ray and DVD set. It may not be the original negative but the image from the DP elements are strong. The restoration has removed much of the damage, stabilized the image, balanced the grey levels all while keeping the original film grain intact. There are some damage marks such as minor horizontal scratches most notable on dark clothes and dark scenes. It is not as pristine as it could be but it does not hinder on viewing pleasure at all. A great job on the restoration overall.

The runtime of the film is 77:57.

Note the following screenshots are taken from the standard definition DVD copy and not from the Blu-ray



Audio


English LPCM 2.0 mono
The original mono track is presented in uncompressed lossless mono. Remastered from the 355mm optical track negative, the sound is probably what should be expected from a film from its era. Thankfully with the film almost entirely shot on set indoors, dialogue is fairly clear for the most part, though it does have its limitations due to the original recording with fidelity issues. Dialogue is almost always easy to hear though the music at times can be a little overpowering. The remastered track has no issues with pops or cracks, but there can be a occasional hiss here and there.

There are optional English HoH subtitles for the main feature in an easy to read white font.

Extras


The BFI's release of "They Came to a City" is a dual format Blu-ray+DVD release, with the film and extras presented on the Blu-ray disc and repeated on a region 2 PAL encoded DVD.

DISC ONE (Blu-ray)

Michael Balcon NFT Lecture (audio only, plays over the film) (58:40)
Recorded at the National Film Theatre on May 4th 1969, Ealing producer Sir Michael Balcon discusses his long career in the industry, with how he entered the business, the start with industrial films, the change from silents to talkies, the overall British cinema industry, and many more. Later on there are some special guests invited to the stage - actress Jessie Matthews, screenwriter T.E.B. Clarke, and filmmaker Alexander Mackendrick. This extra plays as an alternate audio track with the film. Once the lecture finishes, it reverts back to the film's audio.
in English LPCM 2.0 with no subtitles

"We Live in Two Worlds" 1937 short (13:52)
This joint production by GPO Film Unit UK and Pro Telehon-Zurich Switzerland is an educational short on the wonders of modern communication technology connecting the distant lands of the United Kingdom and Switzerland. Narrated by J.B. Priestley, it is a distant cry from the Internet era and fairly fascinating though it barely gets into the technical aspect of the processes.
in 1080p AVC MPEG-4, in 1.33:1, in English LPCM 2.0 with no subtitles

"Britain at Bay" 1940 short (7:06)
In this GPO Film Unit war propaganda short narrated by J.B. Priestley, footage of Nazi Germany and their atrocities are shown to invigorate British morale to fight against the oncoming regime.
in 1080p AVC MPEG-4, in 1.33:1, in English LPCM 2.0 with no subtitles

"A City Reborn" 1945 short (22:22)
In this short film directed by John Eldridge, this documentary/dramatization film features people dealing with the reconstruction of Britain post war, with soldiers returning, job creation, reconstruction of homes, hostels, and other buldings, and more.
in 1080p AVC MPEG-4, in 1.33:1, in English LPCM 2.0 with no subtitles

"Charley in New Town" 1948 animated short (8:33)
Animators Jon Halas and Joy Batchelor may be best known for "Animal Farm" (1954) - the first feature length animated British film released to cinemas, but their career started much earlier with short films, and the first in the series of public information films in the power-war period starred Charley as it narrates about urban expansion of cities outward to the rural areas.
in 1080p AVC MPEG-4, in 1.33:1, in English LPCM 2.0 with no subtitles

"Your Very Good Health" 1948 animated short (8:58)
Another short from Halas and Batchelor featuring Charley, this short is about the new health act and how staying healthy and how health care will be from thereon.
in 1080p AVC MPEG-4, in 1.33:1, in English LPCM 2.0 with no subtitles

There is a "Play All" function with a total runtime of 60:53, which plays all the extras with the exception of the lecture in succession.


DISC TWO (DVD Copy)
The film and the extras are repeated on the region 2 PAL DVD.


Booklet
There is a 36 page booklet included with essays, biographies, stills, information, and more. The first essay is "Some Kind of Miracle: Ealing and Fantasy" by BFI curator Dr. Josephine Botting, who discusses about the fantasy elements of the film along with others in the time period at Ealing Studios. Next is "A New Jerusalem: Ealing's Mild Revolution" by author Alan Burton who discusses the importance of the forward thinking Ealing Studios. There is a biography of director Basil Dearden written by Tim O'Sullivan, a biography of Michael Relph by John Oliver, and a biography of J.B. Priestley by Alan Burton. In addition there are film credits, special features credits and notes, notes on the presentation and lastly acknowledgements.

Overall


"They Came to a City" is a fascinating piece of work that went to stage to screen with very little lost in adaptation, with its themes of society and individuals well placed. It is a sparse film in terms of visuals but much of what was relevant in the early 1940s still remains true to this day. The BFI has graciously restored the film with a very good presentation and great extras in this dual format set. Very recommended.
| | | | | |
| --- | --- | --- | --- | --- |
| The Film: A | Video: B | Audio: B | Extras: B+ | Overall: B+ |