The Film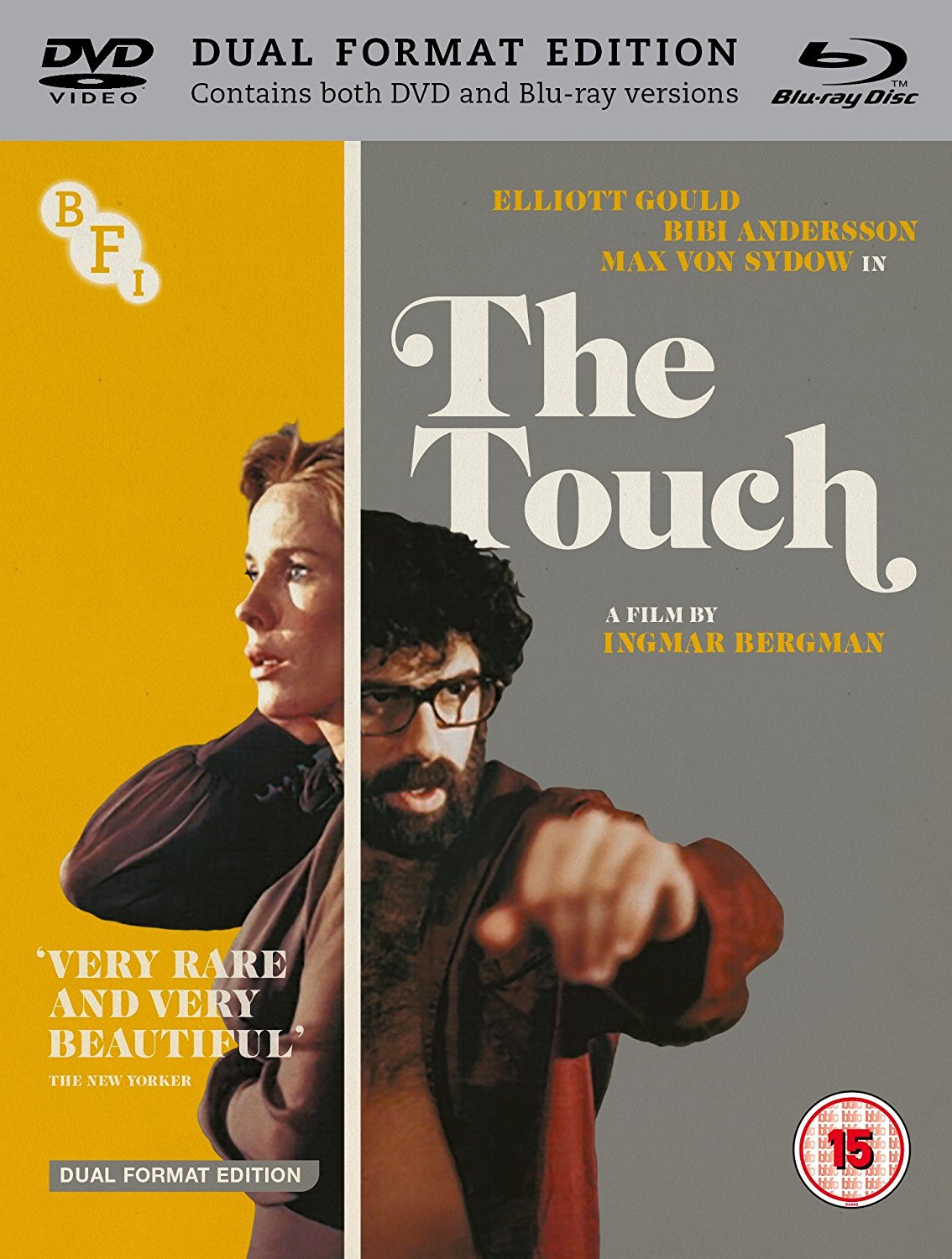 "The Touch" (1971)

Karin (played by Bibi Andersson) and her husband Andreas (played by Max von Sydow befriend David (played by Elliott Gould), an American archaeologist temporarily working in their town in Sweden to excavate by a local church. David makes a bold gesture by confessing that he has fallen in love with Karin ever since he first saw her. Karin is basically flattered but does not see it as an offer as she is a married mother of two and happily so. Or is she? Her sex life has become stagnant after fifteen years of marriage and every day has become routine. Plus with the death of her mother from not too long ago she has never fully recovered emotionally from the tragedy.

David and Karin begin a romantic relationship in secret but it is not only Karin who is emotionally stricken. David is also a broken soul. He was born in Germany and was able to escape from the wartime atrocities but most of his Jewish relatives were wiped out in the Holocaust, and even as an adult still unable to get over the anger and trauma of war. Will the two find their way together towards happiness or will their secret romance fueled by trauma lead to more broken hearts?

Touted as director Ingmar Bergman's first English language film, "The Touch" was co-produced by the American ABC Pictures Corporation and shot in two versions simultaneously. A Swedish version which would have the actors speaking in English in most scenes and Swedish in others, and an English language version which the actors would speak entirely in English, with the latter version by the insistence of the American production company. Bergman directed some of his most acclaimed works with "The Virgin Spring" (1960), "The Silence" (1963), "Persona" (1966), and "The Passion of Anna" (1969) to name a few, and being at the forefront of arthouse and international cinema. For "The Touch", Elliott Gould would be the first non-Scandinavian star actor to star in a production by Bergman, alongside Bibi Andersson and Max von Sydow who both have had lengthy credits with the famed director. With a screenplay written by Bergman, shot in his native Sweden and made with many of his crew that worked on previous films including cinematographer Sven Nykvist, it seems strange that the film has had little to no praise or mention when discussion Bergman's filmography in general, especially when it is sandwiched between his creative 1960s works and his acclaimed early 1970s works.

Is "The Touch" a lost masterpiece? Unfortunately no, it isn't. Is it a horrendous work that deserves to be forgotten about? Not at all. "The Touch" certainly has it's Bergman-esque touches, from the emotionally frail female lead, the affects of infidelity, heartbreak, death, and self reflection. The performances by Andersson and Gould are exceptional, and there are some very intense scenes within. The script being translated to English would usually cause some awkwardness, but as it was performed by actors proficient in the language there isn't a misstep with the language difference from Bergman's previous Swedish productions. But what doesn't make the film work? The infidelity story is almost too simple. The start of the relationship is not a slowburning build-up but an very sudden happening with no growing emotional pull. Instead the audience is not attached to the characters when they make their descent into immorality, and when they start revealing themselves to each other, not much can be done to keep the audience from being outsiders. In addition to that, most of the world received the English-only version which had the Swedish characters speaking awkwardly to each other in English. The reception to the film was mostly poor with box office sales also reflecting the negative aspects.

The film opened on July 14th 1971 first in the United States, followed by a Swedish release on August 30th 1971 and in other territories in late 1971 and 1972. Though there were a few positive reviews by critics, it could not help build up a reputation for the film, and the negatives it lapsed into obscurity. Bergman would return a year later with "Cries and Whispers" (1972) and delved into television works to high acclaim with "Scenes from a Marriage" (1974) and "The Magic Flute" (1975). Bergman's career or the actors' careers did not falter, but the critical and commercial failure of "The Touch" left the film unreleased to the home video market until now, with the BFI's worldwide debut of the film on Blu-ray and DVD in this dual format set. While many will view to it as "lesser Bergman", it is still a fascinating piece with powerful performances that can finally be seen by a larger audience and possibly with a better re-evaluation.

Note this is a region B Blu-ray and a region 2 PAL DVD set

Video


The BFI presents the film in the theatrical 1.85:1 aspect ratio, in 1080p in the AVC MPEG-4 codec. The original 35mm negatives of the Swedish version of the film were scanned at 2K by the Swedish Film Institute for the restoration. The color palate is mostly on the greyish drab side but when colors pop they certainly pop. Bibi Andersson's dark blue eyes, the wardrobes of characters, the reds of flowers and garments are bold. Detail is very strong with great depth, damage is basically non-existent with scratches and specs removed while still keeping a healthy grain structure. It's a great looking restoration by the Swedish Film Institute and an excellent transfer by the BFI.

As stated there were two versions of the film shot but the only version available here is the director's preferred Swedish version of the film. The runtime of the film on the Blu-ray is 114:24

Note the following screenshots are taken from the standard definition DVD copy and not from the Blu-ray



Audio


English/Swedish LPCM 1.0
The original mono track is presented in lossless mono. The track is a mix of Swedish and English, with interactions with David's character in English and the Swedish characters speaking their native tongue otherwise. The film is about 70% English and 30% in Swedish. The audio has been restored from the original elements and sounds fairly good. Dialogue is clear and intelligible, music and effects are not overbearing keeping a well balanced environment, and there are no issues of hisses, pops, or any particular damage to the audio.

There are optional English subtitles for the Swedish portions in a white font. They are well timed and easy to read. Strangely the BFI has opted not to include English HoH subtitles for the entire film. This does seem like a strange oversight as the BFI are usually very good with including HoH subtitles for their English language main features. It would be understandable if there were only a few lines of English but for this it is the spoken language for most of the film.

Extras


The BFI's release of "The Touch" is a dual format Blu-ray+DVD release, with the film and extras presented on the Blu-ray disc and repeated on a region 2 PAL encoded DVD.


DISC ONE (Blu-ray)

"Ingmar Bergman" 1971 documentary (55:12)
While "The Touch" was for a long time one of the hardest-to-see works by Bergman, this 1971 documentary was even rarer to see. Directed by Stig Björkman, it is a wonderful behind the scenes look at the making of "The Touch", featuring behind the scenes footage, rehearsals, camera tests, plus interviews with Bergman, Gould, Von Sydow, and Andersson. Bergman discusses some of his creative processes while the actors discuss what it is like working with the director. Gould obviously speaks English while the rest speak in Swedish. The film was shot in 16mm and the high definition transfer was provided by the Swedish Film Institute, looking exceptional as well.
in 1080p AVC MPEG-4, in 1.33:1, in Swedish/English LPCM 2.0 with optional English subtitles for the Swedish portions

"Liv Ullmann in Conversation" interview (71:57)
Frequent Bergman collaborator Liv Ullmann appears on stage at a 2018 Bergman Q&A at the BFI Southbank, interviewed by Michael Muncer. In the fairly lengthy talk, she recalls Bergman's last days, how many of his works echoed his own life, as well as personal stories about herself getting into acting, her many roles in Bergman's film as well as other films, directing Bergman's script of "Trolösa" and much more.
in 1080i 60hz AVC-MPEG-4, in 1.78:1, in English LPCM 2.0 with no subtitles

"Sheila Reid: The Touch" interview (20:39)
Actress Sheila Reid has the distinction of being the only British actress cast in an Ingmar Bergman film. Although her role in "The Touch" was for one scene lasting only a few minutes, she was still one of the top credited in the production. She recalls her early stage career, meeting Bergman, and about her part in the film and how she interprets the character.
in 1080p AVC-MPEG-4, in 1.78:1, in English LPCM 2.0 with no subtitles


DISC TWO (DVD Copy)
The film and the extras are repeated on the region 2 PAL DVD.


Booklet
A 16 page booklet is included. The first essay "The Human Touch" by BFI Southbank programmer Geoff Andrew in which he puts the film into perspective on where it stands in Bergman's filmography and the reception it received when first released. There is also a positive contemporary review of the film by Jan Dawson originally printed in Monthly Film Bulletin in October 1971. There are also stills, film credits, special features notes and film credits, notes on the transfers, and acknowledgements.


Having the lengthy supplements especially the documentary is excellent, but it is an unusual addition for the Liv Ullmann Q&A as she did not appear in this movie. She may be the actress to know Bergman best alongside Bibi Andersson, but sadly after a stroke in 2009 leaving her unable to speak, we may never get to see an interview with Andersson in the future.

Overall


"The Touch" is by no means a lost Ingmar Bergman masterpiece, nor is it as negative as contemporary critics had made it out to be. Nearly fifty years later, one of Bergman's least seen and least appreciated works can finally be seen for what it is - an immoral tale of emotionally frail lovers. The BFI set has an excellent transfer of the restored film with lengthy supplements. Highly recommended.
| | | | | |
| --- | --- | --- | --- | --- |
| The Film: B- | Video: A | Audio: A- | Extras: B+ | Overall: B+ |