The Film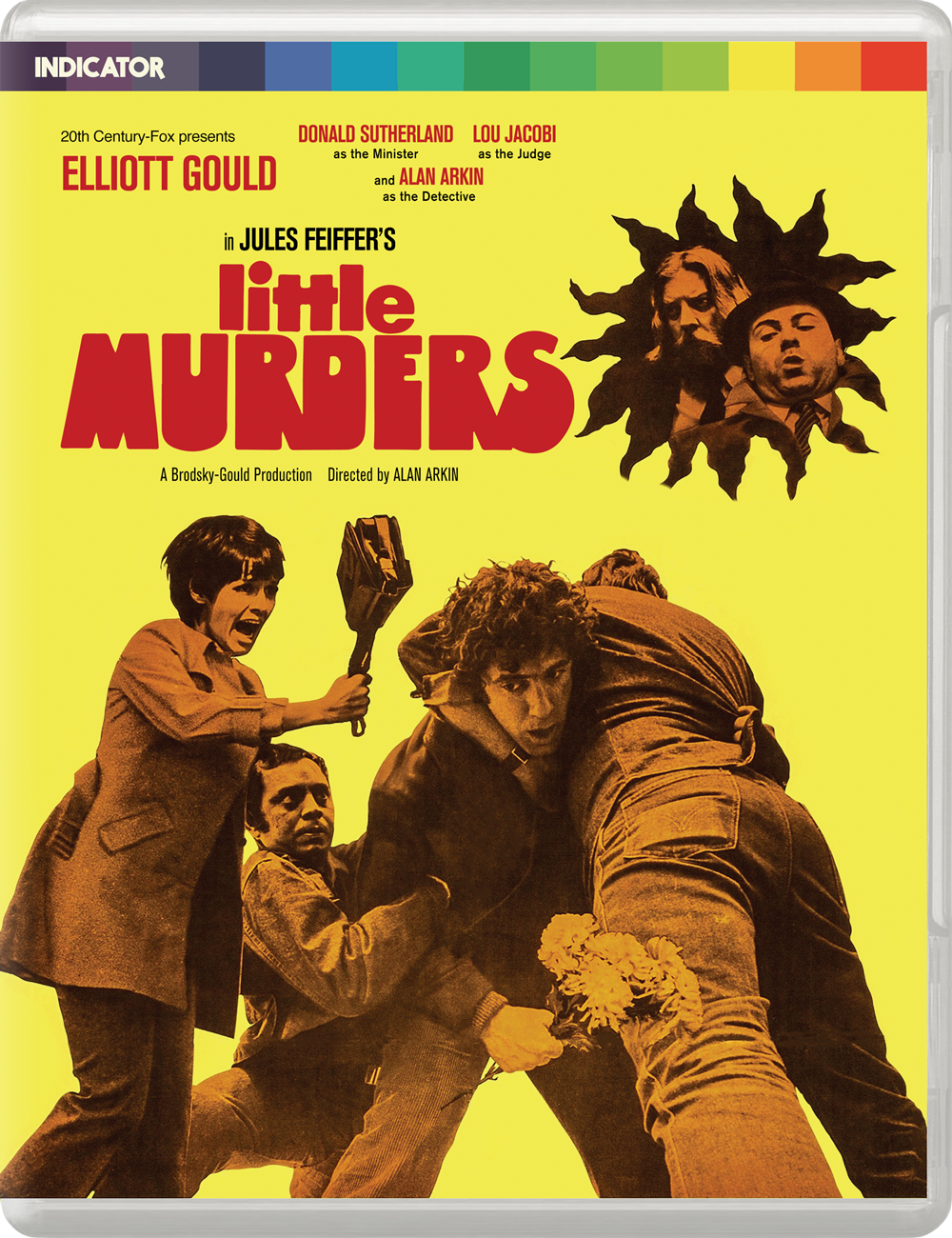 Adapted from the controversial stage play by Jules Feiffer (Carnal Knowledge), this savage, nihilistic black comedy was the startling directorial debut of actor Alan Arkin. When a severely depressed fashion photographer (Elliott Gould M*A*S*H, The Long Goodbye, California Split) meets an optimistic young woman (Marcia Rodd Citizens Band, Last Embrace), she is determined to save him amidst the series of random muggings, sniper shootings, garbage strikes and total blackouts that are ravaging the city of New York.

Video


I really didn't click with this film and as such I feel that it's worth me pondering it much further before actually passing any comment on it. It's sold as a funny film but it's so deep, dark and black and very satirical it requires much more consideration.

This is a film of very natural colours, not desaturated as we have to suffer through now in the digital age but one that favours a normal, everyday colour palette. If I had to be more specific I'd say Arkin favours browns, greys, blacks, yellows but the warmer end of the spectrum does pop up ... this is the early '70s after all complete with naff fashions. The movie was shot at a time when natural lighting was coming into vogue in American cinema which means that we have a very strong, ever present grain field throughout although the overall look still has some Hollywood slickness in evidence.

The grain is at it's at it's most course in skies and darker, low lit interiors and is handled superbly well by encoding maestro David Mackenzie and his impeccable encode of potentially difficult visual material.

I could detect no print damage at all, nor could I see any evidence of digital artefacts. The disc is a BD50 and the film has a very high bitrate ... all is well.

1080/24p / MPEG-4 AVC / 1.85:1 / 108:06

Audio


English LPCM 1.0
Subtitles: English HoH

As good a representation of the film's original, limited sound mix as we could hope to have. It's a very dialogue heavy film which isn't surprising as it's based on a stage play. The score is minimal and never interrupts.

English subtitles for the hard of hearing are essential.

Extras


(1.) Audio commentary with Elliot Gould and Jules Feiffer

A vintage track from the 2004 R1 DVD. Both are recorded separately and then edited together. This yaktrak focuses on two of the primary contributors who discuss mainly from their personal perspectives covering how they came to the project etc. Plenty of interest here but it's not quite as interesting as the second commentary ....

(2.) Audio commentary with Samm Deighan

A more academic track focussing on the film's unloved reputation, on Arkin and his career which encompassed writing, directing, acting and his earlier theatre career. The rest of the primary cast do get covered to a satisfying level of detail throughout the track. The characters within the narrative and the themes of the film get discussed in detail. The Marcia Rodd character analysis was particularly interesting in how Deighan relates her to the TV Mary Tyler Moore role as being more career focussed and how this relates to the feminist movement at the time. Also interesting is the discussion of the influence of the European New Wave on Arkin's camera and directorial choices and of the moral approach to social issues.

"Alan Arkin Introduces Little Murders" optional introduction (:30)
"Jules Feiffer Introduces Little Murders" optional introduction (:45)

Arkin's intro focusses on his pride at bringing it to the screen, whereas Feiffer is more on it's broadway origins and how many of the cast of the film ported over as well as his pride in both.

"Beginner's Luck: Alan Arkin Talks About Little Murders" featurette (18:23)
"A Certain Amount of Black: Elliot Gould Talks About Little Murders" featurette (17:34)
"Acts of Random Violence: Jules Feiffer Talks About Little Murders" featurette (31:31)

Three featurettes that effectively form a loose making of running time of 67:22. Obviously other material in the careers is also covered by the main focus is Little Murders.

"Speaking of Films, Little Murders: Jules Feiffer Discusses His Little Murders" featurette (30:11)

The actual title of this "Talking about Films". A vintage radio show (circa 1985) with Susan Rice presenting Jules Feiffer, Robert Geller, Leonard Maltin and Sean Driscoll all discussing the film. This plays over a selection of scenes from the film.

Radio Interviews (31:37)

Audio interviews prepared by Fox to promote the film with questions that could be dropped in by local interviewers. Elliot Gould, Alan Arkin and Donald Sutherland feature.

Theatrical Trailer (3:32)

A comedy-orientated trailer with a slyly funny voiceover.

Trailers from Hell with Larry Karaszewski on Little Murders (3:48)

The co-screenwriter of the likes of Ed Wood (1994) and The People Vs. Larry Flynt (1996) rates this film as one of his favourite. He focuses on the bleak comedy aspects, Gould's career as producer and the influence of the recent high profile assassinations of JFK, RFK and Martin Luther King. He also mentions the the fact this film flopped.

TV Spots (1:51)

These are concise little adds describing the film as a "terrifying comedy" which I suppose it is but like the trailer they make the film seem goofier, lighter and funnier than it actually is.

Radio Spots (2:34)

These are more realistic in their tone of advertising the film as darker than the more inaccurate trailers.

Little Murders Image Gallery: Original Promotional Material (47 images)

Excellent if brief gallery of HD images of promotional material for the film's release.

40-page booklet with an essay by Jim O'Rourke, cast and crew profiles, original promotional discussion guide, contemporary critical responses, and film credits

Another excellent analysis of the film via a series of articles. Most interesting to me - a secondary school teacher - was the discussion guide for "school, college, press, church and family discussion groups by leading screen educators" which was a real gem of a find; perhaps I shall find a way to involve this film in my teaching?

Overall


Another winner and I'd predict that this is going to be on many lists of best Blu-rays of the year. Picture and sound are as good as can be shy of a 4K UHD release and the extras are as comprehensive as can be.

Highly, highly recommended!
| | | | | |
| --- | --- | --- | --- | --- |
| | Video: A+ | Audio: A+ | Extras: A+ | Overall: A+ |