The Master: The Complete Series [Blu-ray]
Blu-ray A - America - Kino Lorber
Review written by and copyright: Anthony Arrigo (23rd April 2018).
The Show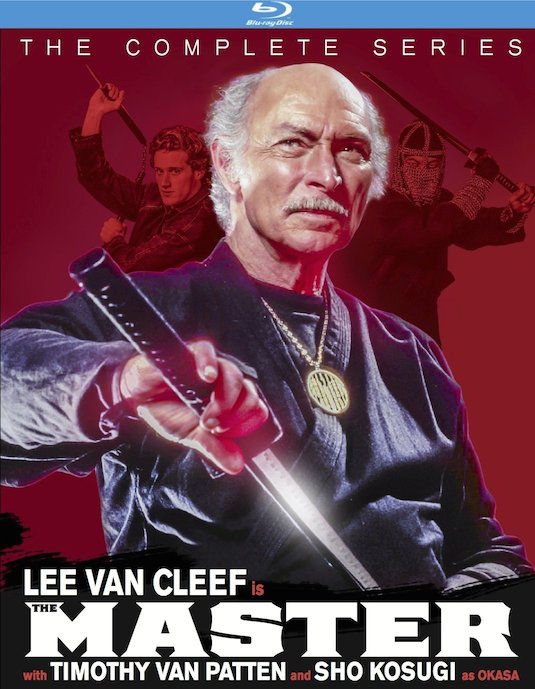 Although we now live in a new Golden Age of Television, thanks to a wealth of high quality shows too numerous to count, there remains a certain charm to the wild and crazy concepts of the 70's and 80's. In what other time could legendary actor Lee Van Cleef, best known for his westerns, be cast as an aging ninja master who travels the American countryside in a van, helping the less fortunate and oppressed? That's the basic gist of "The Master" (1984), a kung-fu version of "The A-Team" (1983-1987) with fewer actors but just as much testosterone.

Van Cleef stars as John Peter McAllister, a former American military officer who remained behind in Japan after WWII, training his way up to becoming a ninja master. McAllister learns he has an estranged daughter back in the States, so he heads back home in search of her. His quest takes him from town to town with his sidekick, Max Keller (Timothy Van Patten), a hot-headed pupil with an affinity for hamsters and being thrown through windows. On their trail throughout the series is Okasa (Shô Kosugi), a former student of McAllister's who resents his abandonment of the ninja life and vows to make him pay for this perceived slight.

If the premise and transportation aren't cribbing enough from "The A-Team" for viewers, this series also features a plethora of famous faces popping up in cameo roles each episode. Demi Moore. Clu Gulager. Art Hindle. George Lazenby. Claude Akins. Ok, ok, so the roster doesn't quite reach the level of "him too??" that comes with "The A-Team" but suffice it to say, fans of that most manly of men show will find this a fun complement. Everyone knows the plot lines are formulaic and redundant from week to week – it's pretty much expected – because the real joy is derived from watching a show full of crazy moments and wild characters.

An interesting note is that the series was edited down into a series of seven movies, released on VHS in 1984 and 1985. These were typically two television episodes edited together to make one feature. There have been no releases for these films outside of VHS.

"The Master: Complete Series" contains all thirteen episodes produced during its run in 1984 and are presented in broadcast order. The episodes are as follows:

"Max"
"Out-of-Time-Step"
"State of the Union"
"Hostages"
"High Rollers"
"Fat Tuesday"
"Juggernaut"
"The Good, the Bad, and the Priceless"
"Kunoichi"
"The Java Tiger"
"Failure to Communicate"
"Rogues"
"A Place to Call Home"

Video


The episodes are presented in their original broadcast aspect ratio of 1.33:1, with an upgrade to 1080p 24/fps AVC MPEG-4 encoded HD. The series' look is typical of 80's TV productions that have been given new life in HD. Dirt and debris are minimal, definition is often pleasing, and film grain is evident but never overbearing. Colors appear well saturated and have a vibrancy likely never before seen. Much of the show was shot outside in sunny Southern California and the abundance of light allows for many fine details to become more apparent. It's almost stunning, really, and the improvement picture quality graces the series with a highly competent aesthetic that prevents it from appearing to be a cheap program.

Audio


An English DTS-HD Master Audio 2.0 mono capably carries the limited television series sound design. Dialogue is consistently clear and crisp, with no detection of hissing or pops. The show's theme song is incredible, delivering a level of searing 80's intensity fans of the current retro resurgence will immediately love. It sets a clear tone that each episode manages to achieve. There are no subtitles.

Extras


This is a three disc Blu-ray set, the first two discs feature five episodes each, the final disc feature the remaining three episodes and a collection of bonus trailers for:

- "For a Few Dollars More" (2:29)
- "The Good, the Bad & the Ugly" (3:22)
- "Death Rides a Horse" (1:32)
- "Sabata" (1:37)
- "Return of Sabata" (2:08)
- "Barquero" (2:36)
- "Enter the Ninja" (2:53)
- "Revenge of the Ninja" (1:41)

Packaging


Packaged in a standard 3-disc Blu-ray keep case.

Overall



| | | | | |
| --- | --- | --- | --- | --- |
| The Show: B | Video: A- | Audio: B | Extras: F | Overall: C+ |

---
DVD Compare is a participant in the Amazon Services LLC Associates Program and the Amazon Europe S.a.r.l. Associates Programme, an affiliate advertising program designed to provide a means for sites to earn advertising fees by advertising and linking to amazon.co.uk, amazon.com, amazon.ca, amazon.fr, and amazon.de.