The Film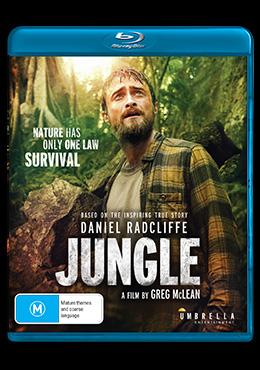 "Jungle" (2017)

Yossi Ghinsberg (played by Daniel Radcliffe) has been living the life of a backpacker for some time. Forgoing college against his parents' wishes, Yossi traveled around North and South America and has now arrived in Bolivia alone. He then encounters Marcus (played by Joel Jackson, a Swiss school teacher and Kevin (played by Alex Russell, a well-known American photographer in the backpacking community. While searching for the next place to travel, Karl (played by Thomas Kretschmann, an Austrian traveler offers the three to a journey into the Amazon jungle - where they can meet undocumented natives, explore sights unseen, and experience an adventure unlike any other. Marcus and Kevin are slightly skeptical about the proposition of Karl guiding them through undocumented lands, but Yossi sees the adventure and wonder and convinces his new friends to join in.

During their quest into the jungle tensions start to rise between the group. Marcus' feet injuries slowing the group down, Karl's mysterious nature, and a certain distrust for one another the deeper they go. Not only does their camaraderie split apart but they physically split as well, when Yossi is washed down the river's strong currents. Completely alone in the depths of the jungle where there is no help, no signs of civilization, and little hope of rescue, Yossi must find a way to survive and possibly escape from certain death.

Based on the true story of Yossi Ghinsberg's experience of his three weeks stranded in the Amazon jungle in 1981, and this may be a spoiler but he miraculously survived. Ghinsberg recounted his story with the book "Jungle: A Harrowing True Story of Survival", published in 2005, and shopped around the movie adaptation rights in Hollywood for some time. Unfortunately, studios wanted to change certain aspects in the story, furthering it from the truth and adding more fiction to the mix which discouraged Ghinsberg from licensing the adaptation. He met with producer Dana Lustig a fellow Israeli who was very interested in adapting the survival story as true as possible, and that led to an Australian-Colombian co-production with writer Justin Monjo adapting the novel to screen and Greg McLean in the director's seat. McLean had directed other survival films such as "Wolf Creek" (2005), "Rogue" (2007), and "The Darkness" (2016) to his credits but this would be the first to be from a true story.

The film adaptation is certainly well made with the first half setting up the four main characters and the environment while the second half is almost entirely a one-man show, like "Alone Across the Pacific" (1973), "127 Hours" (2010), or "All Is Lost" (2013) where the only real connections to others are from flashbacks/hallucinations. The casting of Daniel Radcliffe as Yossi may not be the instant choice to mind, though he does a very good job with the strenuous task of acting mostly alone for half of the film while having a likable personality, even if filled with naivety. Yossi Ghinsberg was not an experienced hiker with very little knowledge of survival skills, and the film like the book touches on that. This is not a film that shows how to survive but one of strenuous outcomes and extreme physical pain. The other three actors that make up the team also do very well with the characters - Karl being slightly mysterious in his intentions, Marcus worried about his third wheel status (or maybe fourth wheel here), and Kevin who actually has much experience in the field and is the one who does not give up on Yossi even if they had known each other for a very short period. The film does have a few drawbacks such as Markus and Karl not being fleshed out as the others though in defense by Ghinsberg, he did not want to make assumptions on their characters and their separate journeys, as spoilers it may be, in real life they were never seen again after they separated in the jungle from Yossi and Kevin. The hallucination scenes are welcome in these types of films, but they don't seem to have the horror elements pushed to the limits as compared to the real-life counterparts, such as Yossi having to cut his head open to remove worms infested in his forehead from an injury, the rotting feet from fungal infection, or the fire ants scene which seemed a bit cartoonish rather than horrific.

The film premiered at the Melbourne International Film Festival on August 3rd 2017 and having scattered theatrical releases around the world from late 2017 to early 2018. "Jungle" may not become a classic in survival biopics, though the film certainly has its strengths. None will ever compare to Ghinsberg's real three weeks in the jungle alone but the filmmakers were able to make a fairly entertaining piece with the materials.

Note this is a region ALL Blu-ray which can be played back on any Blu-ray player worldwide

Video


Umbrella Entertainment presents the film in the 2.40:1 aspect ratio in the 1080p AVC MPEG-4 codec. Shot digitally and using vintage anamorphic lenses, the film feels like a production taking place in 1981 while the clarity and depth is in tune with a modern cinematic feel. The colors of the jungles of Colombia substituting for Bolivia look breathtaking and the hallucinogenic scenes are bright and bold. Dark colors are also sharp giving a lot of life to the image. As expected from a new production, it looks quite flawless.

The film's runtime is 115:09.

Audio


English DTS-HD Master Audio 5.1
The lossless surround track is an excellent one, with a great balance between the center based dialogue, and the music and effects taking up the surrounding channels. Gunshots, river currents, animals, lightning, and all the powers of nature are present, and nothing seems forced or too loud in the mix. Dialogue is always easy to understand even with each character having slight differing accents.

There are optional English HoH subtitles in a yellow font for the main feature. There are also some minor Spanish portions in the film that included burned-in English subtitles in a yellow font.

Extras


"Becoming Yossi" (9:46)
In this featurette Daniel Radcliffe along with the cast and crew talk about the challenges of playing the real-life survivor who was also on set for guidance. From getting the Israeli accent right, the physical challenges such as the amount of weight loss, being covered in ants, being pushed by strong currents, and even being nearly buried in quicksand, Radcliffe went through quite a lot, but nothing compared to what the real Yossi had to go through.
in 1080p AVC MPEG-4, in 1.78:1, in English Dolby Digital 2.0 with no subtitles

"The Making of the Yossi Ghinsberg Story" featurette (13:57)
Featuring interviews with the cast and crew plus on set footage, the filmmakers talk about the realism they were going for, the challenges faced, and some of the wonders seen in the production.
in 1080p AVC MPEG-4, in 1.78:1, in English Dolby Digital 2.0 with no subtitles

Cast and Crew Interviews (120:43)
In this series of interviews with actors Daniel Radcliffe, Thomas Kretchmann, Alex Russell, Joel Jackson, and Yasmin Kassim, director Greg McLean, the real Yossi Ghinsberg, production designer Matthew Putland, director of photography Stefan Duscio, and producers Dana Lustig, Mike Gabrawy, Todd Fellman, and Gary Hamilton, the cast and crew are interviewed one by one on set during the production. These are electronic press kit interviews, with each interviewee receiving mostly the same questions such as how it is working with the other actors etc. Ghinsberg's discussions are the most fascinating from the journey of getting the book to screen and descriptions of his real encounters that were recreated for the film. Some of the interview footage from these interviews are seen in the two previous featurettes, but these interviews here are present in full form.
in 1080p AVC MPEG-4, in 1.78:1, in English Dolby Digital 2.0 with no subtitles

Theatrical Trailer (1:53)
The Australian trailer is presented.
in 1080p AVC MPEG-4, in 2.40:1, in English Dolby Digital 2.0 with no subtitles


With nearly 2.5 hours of extras, it does seem packed, but it seems there could have been more comments from the real Yossi Ghinsberg and director Greg McLean on the adaptation process and comments on the reality vs re-creation. An audio commentary would have been welcome, but sadly not one was done for this release.

Packaging


The packaging states region B only, but this is in fact a region ALL Blu-ray.
The cover is reversible, with the only difference being the Australian M rating logo is removed from the front.

Overall


"Jungle" has its strengths and weaknesses but overall is a more positive uplifting experience rather than a survival horror that it could have been turned into. Umbrella Entertainment's release has stellar video and audio as well as lengthy supplements making this recommended.
| | | | | |
| --- | --- | --- | --- | --- |
| The Film: B | Video: A+ | Audio: A | Extras: B | Overall: B+ |