The Film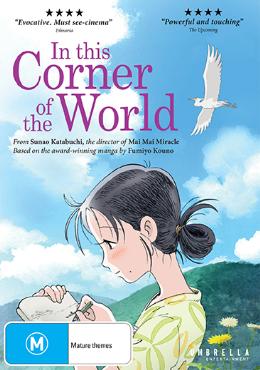 "In This Corner of the World" 「この世界の片隅に」 (2016)

Taking place in wartime Japan, Suzu Urano (played by Non) is the middle child in a family with three children. Living in a fairly average household in Hiroshima, she is arranged to marry Shusaku Houjo (played by Yoshimasa Hosoya), a young Navy clerk who lives with his family in the naval port town of Kure. Things are awkward for her as she is inexperienced with the daily tasks of cleaning, cooking, and others, and having to take care of her ill mother in law has been troublesome as well. Help comes unexpectedly with the return of Shusuke's aggressively strict sister Keiko (played by Minori Omi) to the family home along with her young daughter Harumi (played by Natsuki Inaba). Taking control of the household, she frequently scolds Suzu for her inept skills as a wife and criticizes the rest of the family for everything else.

One thing that keeps Suzu strong is her love for art as she continues to draw as she did as a child, from making stories to tell her siblings and for her colored art of her surroundings. But with the war escalating further and raids and bombings coming closer to home, her little world is slowly crashing down into inevitable doom.

Manga artist and writer Fumiyo Kōno's "In This Corner of the World" was a weekly manga which ran for two years from 2007 to 2009. The story of a young girl growing up in Hiroshima in the 1930s and 1940s through war and old systematic values while dreaming in her world of art and imagination, the manga was an award winning series, later published in a three volume set. The story was adapted into a television movie in 2011 starring Keiko Kitagawa and Keisuke Koide in the leads. Anime film director Sunao Katabuchi made an announcement on Twitter in 2012 that he with studio MAPPA was going to develop an animated adaptation of the manga, but funding and support was not an easy sell. The project was not moving forward, so instead they started a Kickstarter campaign in 2015 with a pilot film to show potential crowdfunders. 3374 backers and a total of 39,121,920 yen raised for the project, it became the most successful crowdfunded Japanese film with Kickstarter, though it would only be for a fraction. There were ideas to make the film into multiple parts, or a single 150 minute film. But with an estimated budget of 400 million yen for a 150 minute feature, compromises were made to create a 120 minute feature for 250 million yen instead.

The theme of WWII explored in Japanese anime is not entirely new. Through children's eyes "Barefoot Gen" (1983) showed possibly the most horrific depictions of the atomic bomb blast in any film. "Grave of the Fireflies" (1988) also saw the world of war through children and is one of the most gutwrenching war films ever made, and "Giovanni's Island" (2014) was a post-war film but where children saw the effects of Soviet occupation in the Kuril Islands. "In This Corner of the World" may have an older protagonist, but the innocence is still felt with the character of Suzu being an 18 year old married off so young. Like many common Japanese young citizens of the time, she saw the war through Japanese propaganda. The Japanese military was strong and their men were off to fight for the greater good and the common people had to endure hardships such as food rationing. Were there leftist that tried to protest? Of course. Were people jailed? Yes. Did the average person know about such things? Not at all. It is no fault that the film doesn't address who is the "good guy" or "bad guy" in the war or the politics of the Pacific War. The issues are more about the difficulties that one woman must go through during a time of war being a convenient background as a parallel.

The character of Suzu is not a particularly special person. She is naive, daydreamy, and very average, as she even says early on that she expects her younger sister to get married first as she is much prettier. Of things expected in a woman for marriage she lacks basic skills and must learn quickly but she fails in challenges. While never having an experience of falling in love, once she does experience love with her husband, she suddenly sees that some undying feelings for her childhood friend and now Naval officer Tetsu (played by Daisuke Ono questions her heart and motivations. Her innocence certainly helps audiences relate to the character fully and even with the war theme, the film is most about old traditions, adhering, learning, and the strides that women had to face more than half a century ago is still in the modern age a hurdle to overcome. The film hits some especially hard notes in the latter portions, with deaths of certain characters being extremely devastating while one character having to live as an amputee (without spoiling who) are absolute wake-up calls to the war happening and the impending doom that is the first atomic bomb. The theme and storytelling plays very closely with the cinematic works of Kenji Mizoguchi and Yasujiro Ozu rather than faster paced and flashier animation films in the modern era, and setting apart from the competition makes it stand high above the others in terms of powerful substance and style.

Produced almost entirely independently, the wartime drama was completed and premiered a year later at the Tokyo International Film Festival in 2016. A theatrical rollout in Japan started on November 12th 2016 at a small count of 63 theaters. Word of mouth spread for the small film and eventually theatrical showing increased with over 450 venues showing the film within a six month period. Like the wildly successful anime film "Your Name." released a few months earlier and also breaking box office records, word of mouth from cineastes, anime fans, and average filmgoers helped the film reach unexpected success. The long run in cinemas led the film to gross 2.67 billion yen - more than ten times the film's budget. It won major awards including Best Film and Best Director at the Kinema Junpo Awards, Best Director at the Blue Ribbon Awards, and Best Animation Film at the Japanese Academy Awards among others.

Note this is a region 0 NTSC DVD which can be played back on any DVD or Blu-ray player worldwide

Video


Umbrella Entertainment presents the film in 1.85:1 with anamorphic enhancement in the NTSC format. This is a bright palate animated film where the colorful brushstrokes of the Suzu character echo the world she draws and vice versa, and the DVD presents the animation beautifully. The dual layer disc gives the film room to breathe and there are no issues of compression or errors in the transfer. Even if this is standard definition, it does come as a strong transfer. The credits are presented in the original Japanese.

The runtime of the film is 129:28.


Audio


Japanese Dolby Digital 5.1
English Dolby Digital 5.1
The original Japanese language track and the dubbed American English track are both presented in 5.1. The soundscape is fairly quiet for the most part with centralized dialogue and the music by Kotringo along with effects are used in the surrounds. But when explosions and airplanes come into the fold, the sound comes in very well.

There are optional English subtitles of the Japanese translation in an off-yellow font. The subtitles are well timed though at times two words are combined without a space, such as in the screenshot above with stove of written as stoveof. At first I thought it was happening once or twice, though I lost count when it happened over 20 times and the film wasn't even halfway over. Seems no one was spellchecking and this is a major oversight in the quality control department. On the plus side the subtitles are fairly well translated, though in the opening segment Suzu says in Japanese the prices of goods using Sen - like "5 sen" or "10 sen", though the subtitles write them out as "0.05 yen" or 0.1 yen". Sen is equivalent to cents with dollars, with 100 sen equaling 1 yen. With postwar inflation the sen was taken out of circulation in 1953 leaving only the yen as the currency of Japan, with sen only used in decimals for trade and exchange and in expressions such as 「一銭もない」 "I don't have a sen" meaning not having any money, like saying "I don't have a cent". Strangely in the English dub, she clearly says "5 sen" and "10 sen".

Extras


There are no extras on the disc. There is no menu as the film starts when the disc is played and the disc stops once the film is over. Note included on the disc, here is the trailer, courtesy of Umbrella Entertainment:



The US Blu-ray/DVD set includes more than an hour's worth of interviews, featurettes, and trailers including a US exclusive featurette. The UK Collector's Edition and German Blu-ray/DVD releases have the same extras sans the US featurette. In Japan it was released in a standard edition Blu-ray and DVD which included two commentaries and minor additional extras plus Limited Edition Blu-ray set which includes a bonus Blu-ray with numerous featurettes, interviews, pilot film, and more with a 100 page book. It's unfortunate that Umbrella did not license any extras or make any of their own, nor did they release the film on Blu-ray like other countries.

Packaging


The packaging states the disc is region 4 only but it is in fact a region 0 DVD.

Overall


"In This Corner of the World" is a heartwarming yet heartbreaking war film with wonderful animation, though it may not be for children with its themes of marriage and war being the centerpieces. The Umbrella Entertainment disc has great video and audio but unfortunately lacks in the extras by offering none.
| | | | | |
| --- | --- | --- | --- | --- |
| The Film: A | Video: A | Audio: A | Extras: F- | Overall: B |